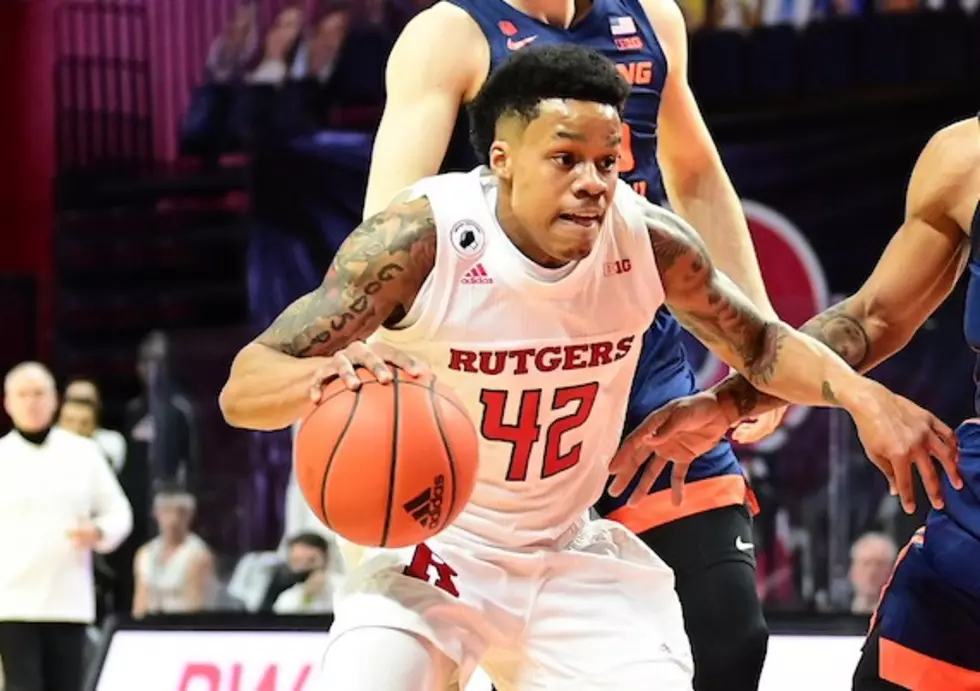 College Basketball – No. 23 Michigan State Dominates No. 15 Rutgers
Rutgers senior Jacob Young drives against Illinois guard Adam Miller. (Photo by Ben Solomon/Rutgers Athletics)

Enter your number to get our free mobile app
There were no moral victories and no excuses to provide consolation for Rutgers head coach Steve Pikiell and his team on Tuesday night in East Lansing, Mich. Just a slice of humble pie that reminded the Scarlet Knights of their darker days in the recent past.
A team trying to turn back the clock to 1976 – the last and only time Rutgers reached the Final Four – looked more like the Rutgers team from 2016 Tuesday night in dropping a 68-45 beatdown at the hands of Michigan State, which improved to 11-0 all-time against Rutgers.
Rutgers' other two losses came with difficult circumstances or close finishes - with Ohio State taking advantage of injuries and foul trouble on the Rutgers interior and Iowa beating Rutgers in a close game that saw the Scarlet Knights outplay the No. 5 team in the country in several areas.
There was nothing to take from Tuesday's loss other than the reminder that Rutgers is still not immune from a bad night, particularly against the Spartans and Tom Izzo.
"Coach Izzo had them ready," Pikiell said. "I didn't have my guys ready. That's on me. We certainly have to play better than this, on the road, in a league like this, but Michigan State was terrific and coach Izzo was terrific. One of the best to ever do it and he had his guys ready to go. They beat us in every area tonight and it's just disappointing."
Rutgers put forth a commendable effort on the defensive end for the first 35 minutes, forcing 18 Michigan State turnovers – including 14 in the first half – but an abysmal shooting night from the floor and again at the free-throw line broke the spirits of the Scarlet Knights.
Michigan State (8-3, 2-3) led by double-figures for the final 11:44 of the game but Rutgers (7-3, 3-3) had a chance to build some momentum for the final seven minutes when Ron Harper Jr. hit a short jumper to cut the deficit to 51-40. Michigan State, however, responded with 14 unanswered points, with a three-pointer by Joshua Langford that made it 56-40 with 5:17 left serving as the backbreaker.
"They did (seem discouraged)," Pikiell said. "We've got to be more mature than that. When the ball doesn't go in, we've got to do a better job. I didn't like that, especially for veteran guys."
When the final horn sounded, the numbers on Rutgers's offensive performance – and on Michigan State's inspired defensive performance – were eye-opening. The Scarlet Knights shot 18-for-59 (30 percent), making as many field goals on offense as they forced turnovers on defense. Jacob Young consistently navigated into the paint against Michigan State's defense but struggled to finish and shot 5-for-18 for the game with 11 points – 10 coming in the first half.
Montez Mathis, Myles Johnson and Paul Mulcahy all shot under 50 percent in the paint as well, with Mathis hitting his only three-point attempt but missing on three attempts around the rim.
Then, there was the free-throw shooting. Coming off a 4-for-12 game from the line in a two-point home loss to Iowa, the Scarlet Knights were almost as bad on Tuesday night, going 6-for-17 (35 percent). Prior to a pair of free throws by Harper and a three-point play by Mamadou Doucore after the outcome was already cemented, the Scarlet Knights were 3-for-14 (21 percent) while they still had an outside shot of winning the game.
"It's an issue, we've got to get better at it and we will," Pikiell said.
Michigan State also outrebounded Rutgers by 20 (45-25) although missed shots had more to do with that disparity that Michigan State significantly outworking Rutgers on the glass. Rutgers had a 9-8 edge in offensive rebounds and missed 10 more shots from the field and eight more from the foul line than did Rutgers.
"They were tough and obviously, we missed a ton of shots," Pikiell said. "We had a lot of opportunities to rebound and we didn't."
Michigan State's turnover-riddled first half kept Rutgers in the game but Aaron Henry's 20-point performance on 8-for-13 shooting got the Spartans through the turbulence and was the lone bright spot in an otherwise-ugly offensive game by both teams.
Harper led Rutgers with 13 points on 5-for-12 shooting, which was the highest field-goal percentage by any Rutgers player who played more than one minute. No other player who played more than one minute shot better than 33 percent from the floor.
To add injury to insult, Geo Baker turned his right ankle in the final minutes and limped off the court. Baker missed three games with a left ankle sprain earlier this season.
"I hope it's nothing serious," Pikiell said. "It's tough when you miss twenty days and you get thrown back in against teams like this, but Geo's going to be fine."
Rutgers has now lost three of four, including two definitive road losses to Ohio State and Michigan State, to fall to .500 (3-3) in Big Ten Conference play. The Scarlet Knights will attempt to get back on track and pay back Ohio State on Saturday at the Rutgers Athletic Center.
More From Shore Sports Network