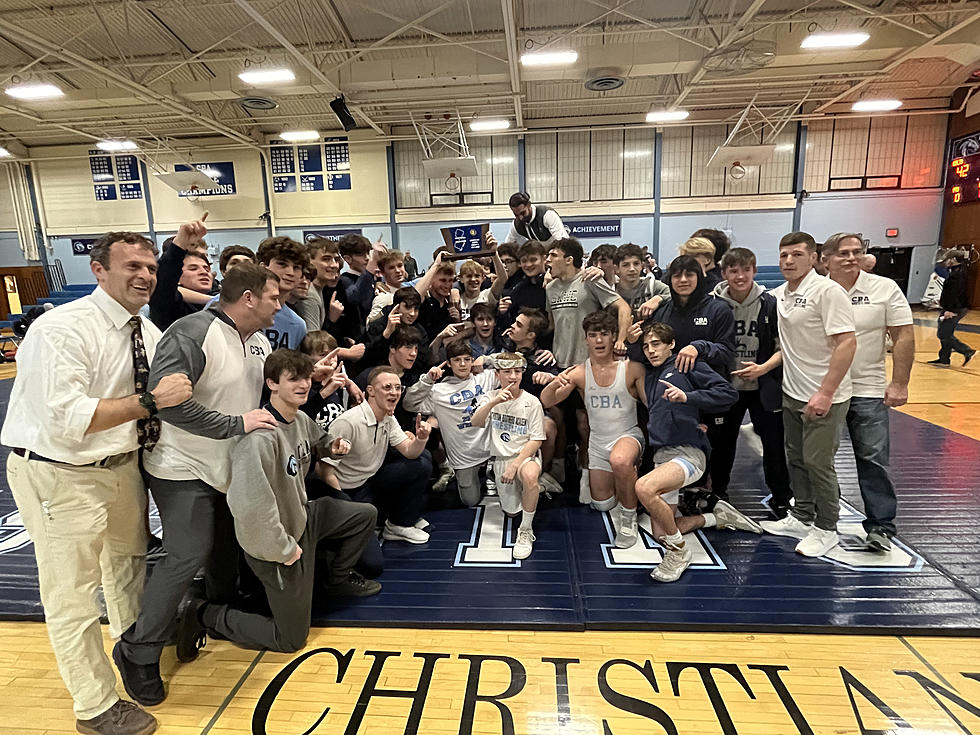 Christian Brothers Academy Rolls Past St. Augustine to Win Non-Public South A Sectional Title
Robert Badders

MIDDLETOWN -- When Billy Ashnault arrived in Lincroft four years ago to lead Christian Brothers Academy's wrestling program, the task was to build the Colts back into a championship contender in one of the best high school wrestling conferences in New Jersey.
After the result on Friday night, it is clear that not only has CBA completed its rebuild, the Colts have surpassed anything the program has previously accomplished. It's a new era for CBA wrestling, which is now, unquestionably, one of the very best teams in the entire state.
The host Colts, seeded first, ranked No. 2 in the Shore Sports Network Top 10 and No. 6 in New Jersey, won nine of 14 bouts, piled up 15 bonus points, and defeated two-time defending sectional champion St. Augustine, 42-26, to secure the 2022 NJSIAA Non-Public South A sectional championship. It is CBA's fourth sectional title in program history and first since 2013.
Senior Garrett Totten and junior Julian George won by fall, junior Zander Silva won by technical fall, junior Rob Canterino won by major decision, and freshman AJ Falcone, junior Tyler Barrett, and junior Nick Stump each won by decision. Sophomores Tyler Venet and Alex Nini received forfeits.
"It's great to be a Colt right now," Barrett said. "Everyone did their part tonight."
CBA will wrestle Bergen Catholic in the Non-Public A state championship match at 11:30 a.m. on Sunday at Franklin High School. The Crusaders won an instant classic over Delbarton in the Non-Public North A final, winning on criteria J - most nearfall points. Delbarton entered the match ranked No. 1 in the state with Bergen Catholic ranked No. 2.
It's been a steady climb to the ranks of the elite for CBA since its previous high-water mark season of 2016 when it won the Shore Conference Tournament for the first time in program history. The Colts then had four straight seasons with a sub-.500 record, including a low point of just three dual-meet wins in 2019. But when their current junior class entered the program for the 2019-2020 season, it was clear the foundation was in place for Ashnault's vision to succeed. Two years later, the Colts have won division, conference, and state sectional championships in the same season.
"When I came here it was tie your shoes, put on your headgear, and let's just wrestle and get better," Ashnault said. "Obviously we had to put some culture in place and things like that, and we did and it's paying off. These guys are working hard, they're stepping on the line and beating guys they're not supposed to bet, and they're doing their job for the team to win."
"Since freshmen year when I came in with Zander and Julian, from losing to teams that now we crush, to see the progress that started with us is a great feeling," Barrett said. "It's something we share with our coach. I feel like it's a big project. We started from the bottom, a lot of guys bought into the whole process, and now we're having success."
Much of the drama was curtailed prior to the match when the weigh-in sheet revealed St. Augustine did not have anyone weighed in at 106 or 126 pounds, which included not having three-time state qualifier D'Amani Almodovar in the lineup at 126. The Hermits still had plenty of firepower to contend with, however, with three state medalists, two more state qualifiers, and a region medalist in their formidable lineup.
"They definitely still had potential and we knew it was going to be a tough battle," Totten said. "We prepped for it. We knew in those grind matches if we kept on them and kept our pace we would break them."
"On paper, the numbers and rankings were pretty tight between us," Ashnault said. "I knew there'd be some toss-ups and our guys just wrestled a little harder than them tonight."
One of those state place-winners staked St. Augustine to a 5-0 lead when senior Alex Marshall, who was eighth in the state at 170 pounds last season, won by 18-3 technical fall over Peter Grippo at 190 pounds. CBA answered at 215 when Canterino continued his breakout season with a 15-3 major decision over Asher Jenkins, pulling the Colts within one point two bouts into the championship dual.
St. Augustine went ahead at heavyweight when Brady Small pinned Taig Sheehy late in the second period, but CBA got those points right back via the forfeit to Venet at 106. The Hermits sent out another state medalist, junior Kaden Naame (8th at 106) vs. CBA senior Vin Principe at 113 and Naame worked a 10-4 decision to give his team a 14-10 lead. Principe was on the verge of being majored in the third period but did a good job to limit the damage and avoid allowing any bonus points.
St. Augustine weighed in freshman Jackson Slotnick at 120 pounds and had the choice of putting him out at either 120 or 126, neither of which were great options considering Nini (8th place at 113) and Totten (7th place at 120) are both returning state medalists and ranked among the top eight in New Jersey at 120 and 126 pounds, respectively. St. Augustine elected to forfeit to Nini at 120, making the score 16-14 CBA, and sent out Slotnick against Totten at 126. If was six at one, half dozen the other - literally - as Totten pinned Slotnick in 1:10 to give CBA a 22-14 lead through seven bouts.
CBA put the match out of reach in the next two bouts. Falcone wrestled his way to a 5-0 decision over Brandon Borman at 132 pounds and George, the state eighth-place finisher at 132 pounds last season, locked in a cradle and pinned Cooper Lange at the 1:39 mark of the first period. CBA 31, St. Augustine 14 with five bouts left.
St. Augustine got a much-needed win with bonus points at 144 pounds when junior Richie Grungo took a 2-0 lead into the second period against Nico Punzi and worked for the fall with eight seconds left in the period. Grungo was fifth in the state at 145 pounds last season. The Hermits had trimmed CBA's lead to 31-20 with four bouts left, but CBA still had three of its hammers looming, and it was that trio that put the finishing touches on the sectional title.
At 150 pounds, Barrett won a battle of state qualifiers, scoring the only offensive points of the bout in a 3-2 victory over Jake Slotnick. Barrett's takedown in the first period was the difference. Then, at 157 pounds, Silva clinched the match with a 16-1 technical fall victory over Tristian McLeer, giving CBA an insurmountable 39-20 lead with two bouts left.
"Tyler is just very consistent at holding good positions and having control of a match," Ashnault said. "We'd like him to break some habits and shoot more and score more but he wins a lot of matches and he gets the job done in the end."
CBA could have forfeited the final two weights, but Stump wanted a matchup with St. Augustine junior Dennis Virelli at 165. Stump is a two-time region qualifier and Virelli is a two-time region place-winner, including finishing sixth at 182 pounds last season.
Virelli got the jump on Stump with a takedown and two back points in the first period, and when he escaped early in the second period he extended his lead to 5-0. Stump's comeback began with a takedown to make it 5-2, but Virelli answered with a reversal to go up 7-2. Stump countered with a reversal of his own to make it 7-4 and Virelli almost hit another reversal but it was waived off to make it a three-point bout heading to the third period. In the final two minutes, Stump scored another reversal and put Virelli to his back for two nearfall points and an 8-7 lead. He then rode Virelli out the rest of the way for a big individual victory that closed out the Colts' championship in style.
"I thought about forfeiting, to be honest, and just ending the night but he was excited and he wanted to wrestle," Ashnault said.
CBA then forfeited to Trey McLeer at 175 pounds to cement the final scoring margin.
The task ahead of CBA now is certainly daunting with Bergen Catholic up next. The Crusaders have been the gold standard in New Jersey for the past decade and already beat CBA, 51-12, earlier this season. It's hard to pull major upsets in wrestling duals because there are 14 bouts and so many factors that would have to change, but that won't alter the Colts' mentality when they take the mat on Sunday morning.
"That's a tough team, obviously," Totten said. "We just have to go in like we have been, stay tough and grind, not giving up bonus points, maybe upset a kid or two and make it a match. We're going to go in there and have fun."
"We have to let it all hang out," Barrett said. "We went into Bergen earlier this year, a hostile environment like we hadn't seen before. Now that we have everything under our belt, this is the last time to prove ourselves. If not now, then when?"
"We're excited just to wrestle them," Ashnault said. "We're going to show up and go hard on Sunday."
Box Score
Non-Public South A Final
1-CBA 42, 3-St. Augustine 26
190: Alex Marshall (SA) tf. Peter Grippo, 4:43 (18-2)
215: Rob Canterino (CBA) md. Asher Jenkins, 15-2
285: Brady Small (SA) p. Taig Sheehy, 3:42
106: Tyler Venet (CBA) by forfeit
113: Kaden Naame (SA) d. Vin Principe, 10-4
120: Alex Nini (CBA) by forfeit
126: Garrett Totten (CBA) p. Jackson Slotnick, 1:10
132: AJ Falcone (CBA) d. Brandon Borman, 5-0
138: Julian George (CBA) p. Cooper Lange, 1:39
144: Richie Grungo (SA) p. Nico Punzi, 3:52
150: Tyler Barrett (CBA) d. Jake Slotnick, 3-2
157: Zander Silva (CBA) tf. Tristan McLeer, 5:06 (16-1)
165: Nick Stump (CBA) d. Dennis Virelli, 8-7
175: Trey McLeer (SA) by forfeit
All We Know About Asbury Park's Lindsay Dolashewich Who Will Be Competing On Survivor 42
CBS's Survivor 42 has just announced the cast list and one contestant is a born and raised Jersey Shore gal. Introducing Lindsay Dolashewich!
More From Shore Sports Network