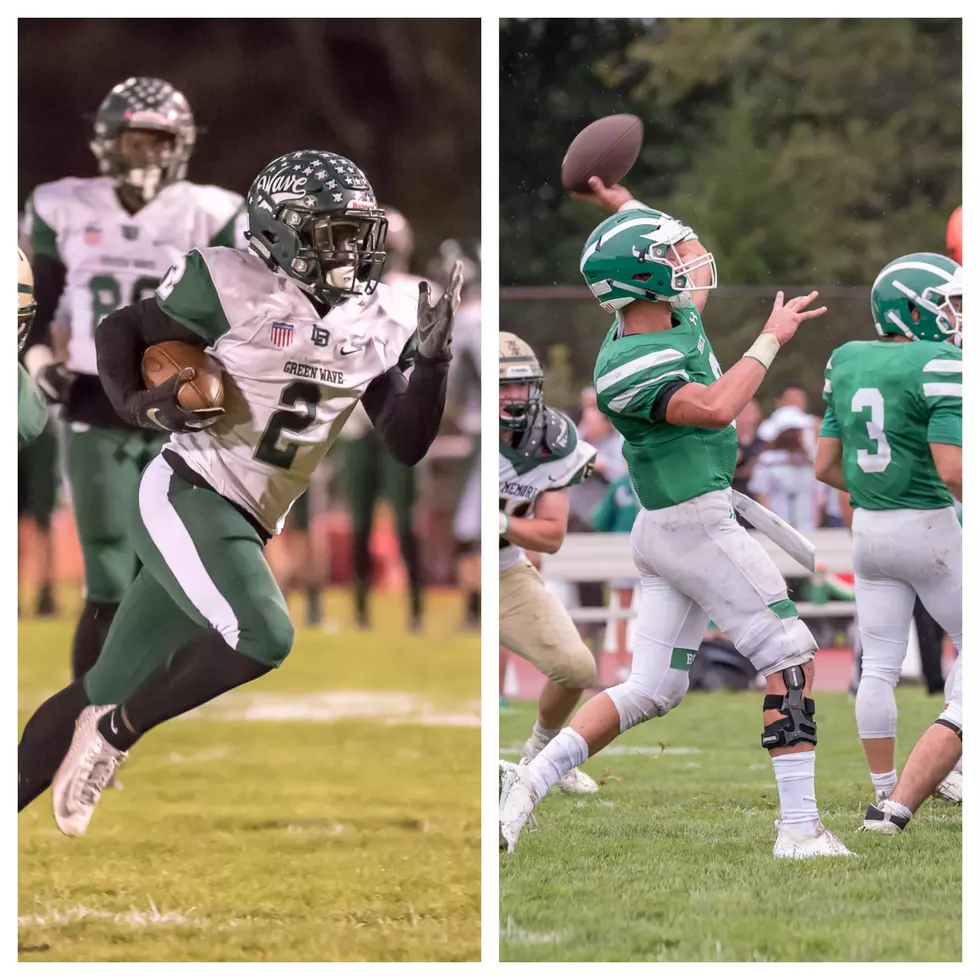 Central Jersey Group 4 Championship Preview: Brick vs. Long Branch
Photos by Richard O'Donnell.
Unfortunately, due to technical difficulties, we will not be showing video of this game. We will, however, broadcast the game in its entirety on 92.7 WOBM and WOBM.com. 
CENTRAL JERSEY GROUP 4 FINAL
WHO: 3-Brick (8-2) at 1-Long Branch (9-1)
WHEN: Friday, Nov. 16, 7 p.m.
WHERE: Bresett Stadium at Long Branch High School
LISTEN: Radio broadcast on 92.7 WOBM-FM.
LONG BRANCH'S ROAD TO THE FINAL: Defeated Middletown North, 42-0, in the quarterfinals; defeated Brick Memorial, 47-14, in the semifinals.
BRICK'S ROAD TO THE FINAL: Defeated Jackson Memorial, 17-3, in the quarterfinals; defeated Middletown South, 42-14, in the semifinals.
LONG BRANCH'S BEST WIN: 34-0 over Manalapan on Oct. 19
BRICK'S BEST WIN: 42-14 over Middletown South on Nov. 9
PLAYOFF HISTORY: Long Branch is the defending Central Jersey Group 4 champion…The Green Wave are 20-15 in 18 playoff appearances…They have reached in nine sectional championship games with three victories, including last season's epic 43-42 overtime win over Freehold…Long Branch is trying to win back-to-back state titles for the first time in program history…Brick has made 28 playoff appearances all time with a 24-21 record…The Dragons have reached 12 sectional finals and have seven NJSIAA sectional titles, the last of which came in 2014…Brick reached the CJ-4 final in 2016, falling to Allentown in the title game.
-Marc Dennis, Sr., QB: 74-for-103,  1,177 yards 17 TDs, 0 INTs; 65 carries for 291 yards and 2 TDs.
-Jermaine Corbett, Jr., RB: 176 carries for 1,662 yards and 23 TDs, 17 rec. for 202 yards and 4 TDs.
-Matt Clarke, Sr., WR: 23 rec. for 419 yards and 4 TDs.
-Luke Arnold, Sr., LB: 105 tackles
-Jayson Glasper, Jr., LB: 6.5 sacks
-Devyn Blount, Sr., DB: 5 INTs
-Jimmy Leblo, Sr., QB/WR/DB: 101 carries for 742 yards and 11 TDs; 11 rec. for 296 yards and 6 TDs; 17-for-44, 168 yards, 2 TDs; 75 tackles, 6 INTs.
-Anthony Prato, Jr., QB: 30-for-64, 519 yards, 7 TDs, 2 INTs; 46 carries for 361 yards and 2 TDs.
-Rich Tallmadge, Sr., LB: 155 tackles (85 solo), 12 TFL, 2 sacks, 2 forced fumbles, 2 fumble recoveries.
-Joe Carchio, Sr., RB/LB: 58 carries for 308 yards and 4 TDs; 40 tackles, 6 sacks. (Missed first five games of the season with an injury).
-Mike McGuigan, Sr., DB: 47 tackles, 7 INTs.
-Cory Englehardt, Sr., DE: 94 tackles, 12 TFL, 5 sacks, 2 forced fumbles.
-Dylan DeAlmeida, Sr., LB: 84 tackles, 4 sacks.
A bracket that began with seven of the eight teams from the Shore Conference predictably has an All-Shore final as top-seeded Long Branch and third-seeded Brick will square off for the NJSIAA Central Jersey Group 4 championship.
Long Branch has certainly fit the bill as a No. 1 seed with blowout victories in the first two rounds, crushing Middletown North, 42-0, and then doing the same to Brick Memoria., 47-14. The Green Wave are the defending champions in the bracket and enter with an 8-1 record. Their only loss this season is to the No. 1 team in the Shore, undefeated Red Bank Catholic.
Long Branch's offense is one of the Shore's best and also one of its most balanced. The Green Wave are averaging 32.6 points per game and boast arguably the Shore's best running back in junior Jermaine Corbett, who has rushed for a conference-leading 1,662 yards and scored a conference-best 28 total touchdowns. Senior quarterback Marc Dennis has been incredibly efficient in throwing for 1,177 yards and 17 touchdowns with zero interceptions. He's a pocket passer but also has the legs to make plays on the run if he has to. Dennis also has great poise and is one of Long Branch's top leaders. The offensive line, led by senior Kevin Cerruti, has been outstanding all season.
Last season Long Branch beat teams by outscoring them with a powerful offense. The Green Wave still score in bunches, but the biggest difference has been a ferocious defense that is allowing just 8.9 points per game and has posted five shutouts. Senior linebacker Luke Arnold leads the way with over 100 tackles while junior linebacker Jayson Glasper has a team-high 6.5 sacks and senior defensive back Devyn Blount leads the secondary with five interceptions.
Brick enters the title game playing its best football of the season following a 42-14 demolition of second-seeded Middletown South. Senior Jimmy Leblo has been the Dragon's Swiss-Army knife this season with 1,206 yards of offense between rushing, receiving and passing and 20 total touchdowns. Brick's offense is unpredictable – in a good way. Leblo and junior Anthony Prato rotate in and out at quarterback, and while Leblo is more of the runner and Prato more of the passer, defensives still have to honor the other option with both. Senior Joe Carchio has taken back the starting running back job after missing the first five games of the season with an injury and has played very well. The x-factor is the health of senior Cole Groschel. Injuries have plagued the returning First Team All-Shore selection for most of the season, but if he's ready to go he is a major weapon as a wide receiver.
Brick's defense is allowing 11.4 points per game but the actual defense has allowed more than one touchdown in just four of its 10 games. Senior linebacker Rich Tallmadge leads the Shore in tackles with 155 and is the leader of the Dragons' defense. Brick's secondary is the best in the Shore at taking the ball away as senior Mike McGuigan leads the conference with seven interceptions, Leblo is second with six and Groschel has three. Senior defensive end Cory Englehardt is one of the best in the Shore with 94 tackles, 12 tackles for loss and five sacks, and senior linebacker Dylan DeAlmeida has also had a big season with 84 tackles and four sacks Carchio had a record game against Jackson Memorial in the quarterfinals with 5.5 sacks and also has 40 tackles in five games.
On special teams, Joe Mazza has been reliable on extra points for Long Branch, converting 37 of 46 kicks. Senior Jake Wynkoop is Brick's kicker and has been great on extra points while also kicking four field goals with a long of 39 yards.
An obvious key to the game is Brick being able to slow down Corbett. He had 314 yards rushing and five touchdowns in the semifinal win over Brick Memorial, and if he has another big game it's going to be hard for any team to beat Long Branch. Even if Brick can keep him from going off, Dennis is more than capable of leading the offense to a win, and that's what makes Long Branch's offense so dangerous.
Brick has plenty of offensive weapons, especially if Groschel is healthy enough to play significant snaps, but it's safe to say Leblo will get much of the focus when he's lined up at quarterback. On defense, it's an interesting matchup between Brick's secondary and Dennis. The Dragons' defensive backfield has 17 interceptions this season while Dennis has not thrown a pick all year. Something has to give.
Prediction: Long Branch 28, Brick 24
Unfortunately, due to technical difficulties, we will not be showing video of this game. We will, however, broadcast the game in its entirety on 92.7 WOBM and WOBM.com. 
Managing editor Bob Badders can be reached at bob.badders@townsquaremedia.com. Follow him on Twitter @Bob_Badders. Like Shore Sports Network on Facebook and subscribe to our YouTube channel for all the latest video highlights.
More From Shore Sports Network