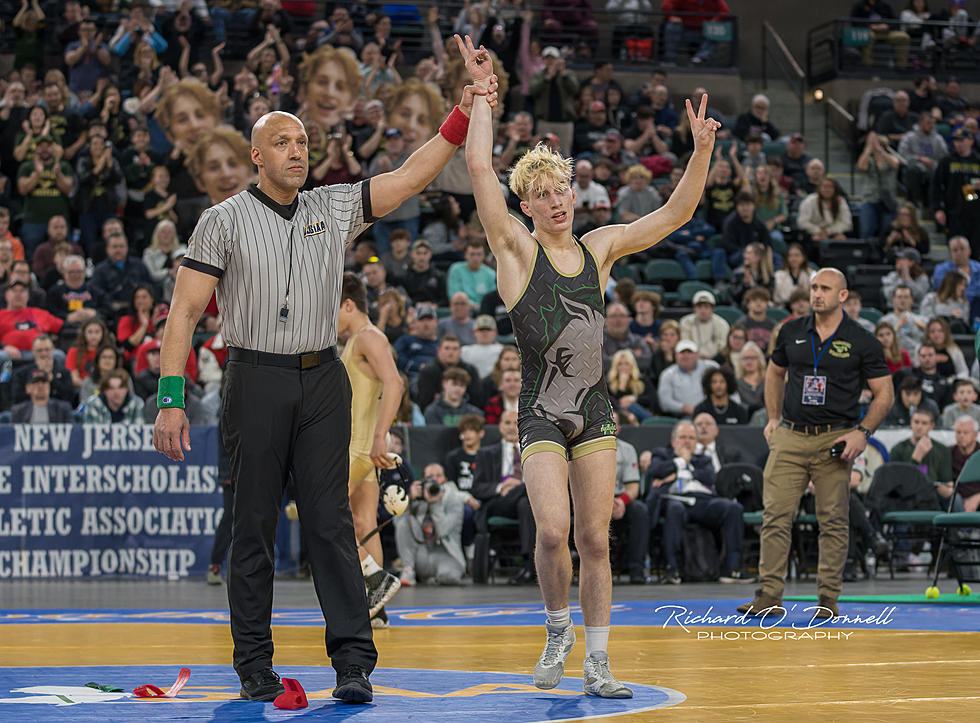 Brick Memorial's Evan Tallmadge Wins Second State Title With Dramatic Finish
Richard E. O'Donnell

ATLANTIC CITY -- There were 30 seconds on the clock in the state final and Brick Memorial senior Evan Tallmadge needed one takedown to complete his high school wrestling legacy.
In the storybook ending, a big move in the final seconds would deliver a state championship. On Saturday afternoon inside Boardwalk Hall, the dream became reality.
Down by one point in the closing seconds, Tallmadge hit a pancake to throw Roxbury's Luke Stanich to his back on the edge of the mat, scoring a takedown and piling on three near-fall points to win the NJSIAA 120-pound state title, 7-3, and close his career with his second New Jersey state title.
"My mind said score, just go," Tallmadge said. "Literally it's just about your heart. I was tired but I needed to push through. I just couldn't stop until I got what I wanted."
Tallmadge, who was last season's 113-pound state champion, joins Nick Angen (1994, 1996) as the only two-time state champions in Brick Memorial history.
No matter what happened in this year's state final, Tallmadge's career resume would have been excellent. He finished fourth in the state at 106 pounds as a sophomore and then won last year's 113-pound crown. He is a two-time region champion and a three-time district champion, as well. But his approach this tournament was one of desperation, not of a wrestler looking to just tack on another accolade.
"If would have lost this match I would have been devastated," Tallmadge said. "I would have been so heartbroken. It's everything I've been talking about. My career would not be complete without it. Being a two-time state champion completes my whole high school career."
"We talked a lot about his mentality and being present in the moment," said Brick Memorial head coach Mike Kiley. "He told a bunch of us before the semifinals that he was back. And now he's back on top."
After finding his groove again during a 7-2 victory over Christian Brothers Academy's Alex Nini in the semifinals, Tallmadge planned on starting fast and never letting up in the state final. But that plan went sideways when Stanich landed the bout's first takedown in the opening minute. Tallmadge was able to escape to leave the score 2-1 heading to the second period.
"He caught me off guard with that ankle pick in the first period," Tallmadge said. "That was not my plan. I planned on taking him down right away and riding him out. He's tough. His hand fighting is good and, to be honest, I may have underestimated him a bit. I didn't think he was going to be that strong. He was always in the right position."
Tallmadge had choice to begin the second period, chose bottom, and escaped 11 seconds in to tie the bout 2-2. The bout remained tied heading to the third period thanks to Tallmadge's uncanny takedown defense. Twice Stanich had him in a compromising position on the edge of the circle but both times Tallmadge was able to split with one leg behind him and the other in front all while hand fighting to keep Stanich from closing the distance. Both times he kept the bout at neutral and avoided being scored upon.
"I was comfortable there," Tallmadge said. "Not a lot of people know that but I'm great in that position. I like being there. I feel like I can still score even when he has my legs. I swear, I'm there every time in practice and they can't take me down."
"What a freak, in a full split. That was unbelievable," Kiley said. "And he peels the hands and meets him with his head. I wouldn't even be able to get back up if I was in that position."
Tallmadge rode Stanich for just over 30 seconds in the third period before the Roxbury senior escaped to take a 3-2 lead with 1:22 on the clock. Tallmadge knew it was takedown or bust from there.
"I almost did that the first time but it didn't work out so I knew it was going to be there again," Tallmadge said. "I faked, got him in a front head, let him come up a little bit, and then pancaked him."
As Tallmadge held Stanich on his back he was able to glance up and see the clock head toward zero. 3, 2, 1, buzzer, state champ. Again. He pumped his fist as the buzzer sounded and raised two fingers to the crowd as the cheers rained down. All Evan Tallmadge ever wanted was a New Jersey state title. Then he knew he had to have another.
Mission accomplished.
"I needed it and I had to get it done," Tallmadge said. "I put in so much work, grinding every day, two times a day. Two is way better than one. I needed that so bad."
10 Best Ice Cream Places in Ocean County, NJ
More From Shore Sports Network