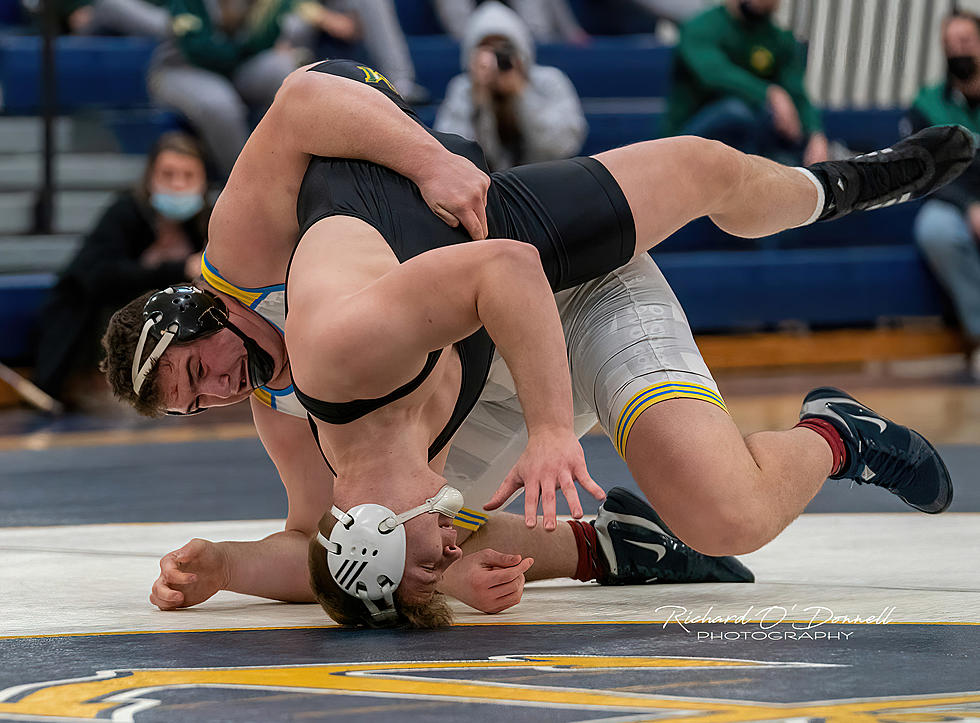 Brick Memorial's David Szuba Wins Marquee Heavyweight Showdown vs. Toms River North's John O'Donnell
Richard O'Donnell

TOMS RIVER – Seven bouts, seven wins by fall for Brick Memorial senior David Szuba. But his latest conquest was a completely different animal.
On Thursday afternoon, the main event during No. 2 Brick Memorial's 54-16 win over Toms River North was at heavyweight where Szuba squared off against Toms River North senior John O'Donnell. Szuba was a state finalist at 195 pounds last season and is ranked No. 1 in the Shore Conference and No. 2 in New Jersey at 285 pounds. O'Donnell, a Region 7 champion last season, is ranked No. 2 in the Shore and No. 3 in New Jersey. Adding to the intrigue, the two are training partners at Shore Thing Wrestling Club.
The bout lived up to the hype.
Szuba survived a scare against the 6-foot-4, 280-pound O'Donnell and did what he has done to every other opponent he's faced this season, winning by fall 17 seconds into the third period to earn a huge win in his final regular-season bout. Szuba led 2-0 entering the third period and O'Donnell chose defense. He tried to escape using a Granby Roll right off the whistle but Szuba caught him, put him to his back and finished off the fall at the 4:17 mark.
Click here for a photo gallery by Richard O'Donnell
"He does a lot of Granbys. I know he thinks it's going to work because of the momentum but I guess I just timed it with a chop," Szuba said. "I thought I would just get two backs there but he just kept rolling and I kept rolling and ended up on top."
It is the first time all season an opponent has gone beyond the first period with Szuba but it wasn't exactly a surprise. O'Donnell is big, strong and very quick for a wrestler of his size. He had a hold of Szuba's ankle early in the first period and nearly scored a takedown before Szuba was able to use his own athleticism and flexibility to stay at neutral.
"He's a freakin' man, he's a big beast," Szuba said. "I just knew I had to wear him down."
In the second period, Szuba chose defense and during his attempt to get to his feet left himself vulnerable to a cradle attempt. O'Donnell nearly locked it in tight but Szuba was able to get free and shortly after scored a reversal to take a 2-0 lead.
"I can't believe I let myself get in that position," Szuba said. "I knew I couldn't give up backs there. I had to break the grip and restart and that's what I did."
"That's where I think Szuba's advantage is," said Brick Memorial head coach Mike Kiley. "He's a big, strong kid but is also very agile and quick, and I think that's what is going to be the problem for the really big heavyweights."
Thursday's match could be the first of three this season.
The next time Szuba and O'Donnell take the mat will be at the NJSIAA Central Super Region Tournament at Hunterdon Central High School on April 17. Szuba will not wrestle during Brick Memorial's Shore Conference pod matches in order to prepare for the tournament and Toms River North opted out of the team pods.
Szuba is a shoo-in to be the No. 1 seed and O'Donnell will likely be the No. 2 seed at the Central Super Region, which will include teams from Region 5 and Region 6. Assuming the seeds hold through the region tournaments and regardless of who wins a potential super region final between Szuba and O'Donnell, St. Joseph Regional (Montvale) sophomore Jimmy Mullen will be the No. 1 seed for the state tournament since he is the defending state champion. That means Szuba-O'Donnell 3 could be for a spot in the state final.
"Every time we're at Shore Thing we're always working out; he's always texting me, I'm always texting him to work out," Szuba said. "We're just trying to make each other better. We know we're going to eventually have to wrestle each other but we put that aside and we keep working hard. It's what we did all summer. I hate to have to wrestle him but that's the way it is, you know.
Szuba may have won by fall but it was far from an easy victory. The strong test was exactly what he was looking for.
"I know what I have to work on now so I'm pretty pumped," Szuba said. "This is it until super regions so I'm just going to keep grinding and then hopefully go get my damn title."
LOOK: Famous Historic Homes in Every State
More From Shore Sports Network