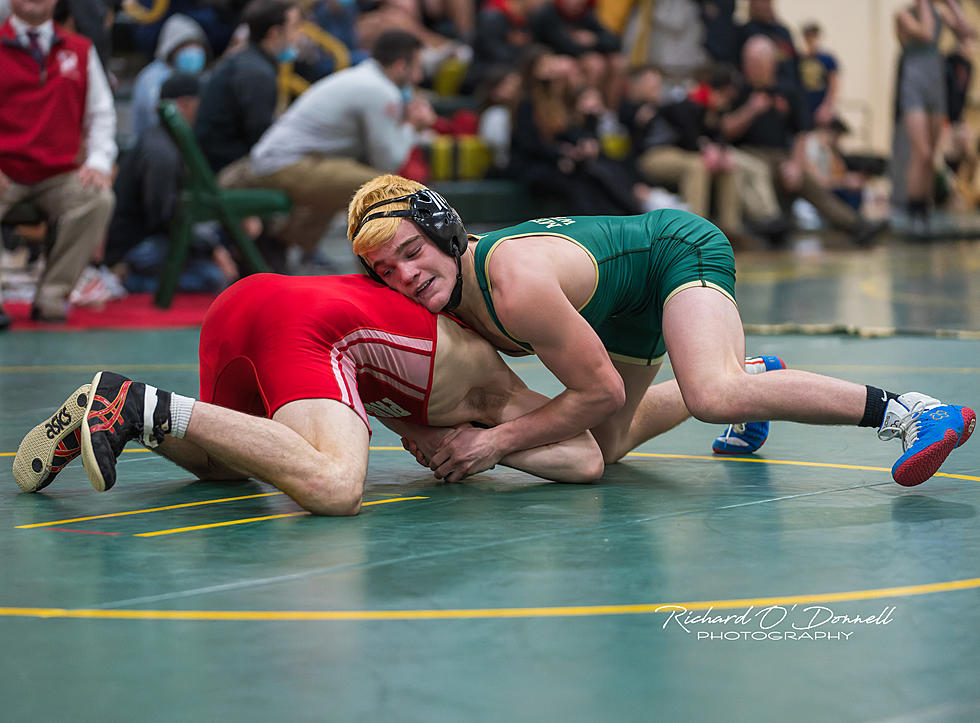 Brick Memorial's Anthony Santaniello wins Mustang Classic Outstanding Wrestler, Eyes Revenge for Beast Loss
Richard E. O'Donnell

BRICK TOWNSHIP – Anthony Santaniello would certainly rather have left Delaware with a Beast of the East championship on the opening weekend of the high school wrestling season, but what he gained after a rare defeat may end up serving him better.  
Competing for the first time since placing second at the Beast of the East, Santaniello returned to action inside his home gymnasium and dominated his way to the Mustang Classic 132-pound championship on Tuesday afternoon. The Brick Memorial junior had one victory by fall and three technical falls in which he outscored his opponents 55-9 without surrendering an offensive point, and was selected as the tournament's Most Outstanding Wrestler for the lower weights.  
What Santaniello brought home with him from the University of Delaware wasn't the first-place medal he coveted, but rather a chip on his shoulder. That form of motivation had been removed last April when Santaniello claimed the NJSIAA 120-pound state championship and in the process avenged his only career loss. After losing to Kinnelon's Evan Mougalian in the 106-pound state final as a freshman, Santaniello returned the favor as a sophomore. That chapter was over, but a new one began when Delbarton's Tyler Vazquez handed Santaniello a 6-5 loss in the Beast of the East 132-pound championship bout. Instant fuel to stoke the fire for a quest toward another state championship.  
"I want that match back for sure and it eats at me a lot, but it's nice to take a loss and just get a fire under my butt for the future," Santaniello said. "I want to take it all home again this year and be dominant and avenge my loss. I don't want to beat him by one or two points, I want to win by 7, 8, 9, maybe pin. I want to dominate everybody. I just have to work harder and grind past my limits." 
Santaniello has just two career high school losses so navigating the waters after a defeat isn't something he's used to doing. Still, this latest defeat has provided him a renewed perspective and put him back in the mindset he lived in all of last season on his way to a state title.  
"Before I wasn't chasing anything," Santaniello said. "I wanted a Beast title and maybe a World Team spot, but now it's nice to have a goal to dominate everyone and avenge my loss." 
Santaniello was one of two champions for the Mustangs, who had six top-three finishers to place third in the team standings (a team trophy is not awarded but scoring is automatically kept via TrackWrestling). He polished off his second Mustang Classic title with a 20-5 technical fall over Paulsboro's Jackson Sichelstiel, a returning state qualifier.  
After a surprisingly early exit at the Beast of the East, Brick Memorial senior Evan Tallmadge, also a returning state champion, responded predictably by cruising to the 120-pound Mustang Classic title. Tallmadge won by technical fall in the first round and major decision in the final to add another tournament title to his impressive resume.  
Senior Ryan Smith, a two-time state qualifier who is back after not wrestling last year, reached the 150-pound championship match where he was defeated by Kingsway's Josh Palmucci to finish second. Senior Braden Scott (138), sophomore Mason Pirnik (144), and freshman Harvey Ludington (175) each wrestled back for third after reaching the semifinals.  
"Yesterday coach (Mike Kiley) was telling us how important this tournament is to the program," Santaniello said. "Everybody knows about the Mustang Classic. This is home and it felt normal again. And I think our team performed really well. We have a lot to work on but I think we have a lot to be happy about." 
Two other Shore Conference wrestlers secured Mustang Classic championships with Middletown North sophomore Brady Klinsky winning the 106-pound bracket and Colts Neck senior Matt Jannucci winning the 285-pound title. 
The 106-pound weight was turned upside down and it ended up being the sixth-seeded Klinsky defeating the No. 5 seed, Camden Catholic's Dom Digiacomo, 5-4 in a highly-entertaining championship bout. Klinsky won by technical fall in the quarterfinals and by fall in just 25 seconds in the semifinals. He entered high school with some hype surrounding him, both for his grade school accomplishments and for the fact that his older brother Tyler was the 113-pound NJSIAA state champion in 2020. Klinsky was 6-2 and reached the super region tournament last year but the truncated season didn't offer him many opportunities to get going.  
"It's definitely exciting to get more matches, more tournaments, get to districts," Klinsky said.  
Brady looks like his older brother and wrestlers like him, too, which isn't surprising considering the home battles they've had over the years, even if they were mostly one-sided.  
"He beat me up," Klinsky said. "But it helped me a lot, him showing me moves and just getting better." 
At heavyweight, Jannucci rolled to the title with three first-period falls and a comfortable 7-3 decision over Camden Catholic's Jonathan Graham in the championship bout. A state qualifier last season, Jannucci is out to a 9-0 start this year. 
Finishing second were Freehold's Coltan Lawlor at 113 and Ocean's Jared Tracey at 190. Third-place finishers included Colts Neck's Michael Lyristis at 132, Colts Neck's Joe Cilea at 190, and Middletown North's Lucas Ainbinder at 215.  
Check back for an expanded photo gallery by Richard O'Donnell
2021 Mustang Classic
15 Italian Restaurants That You Need to Try
More From Shore Sports Network