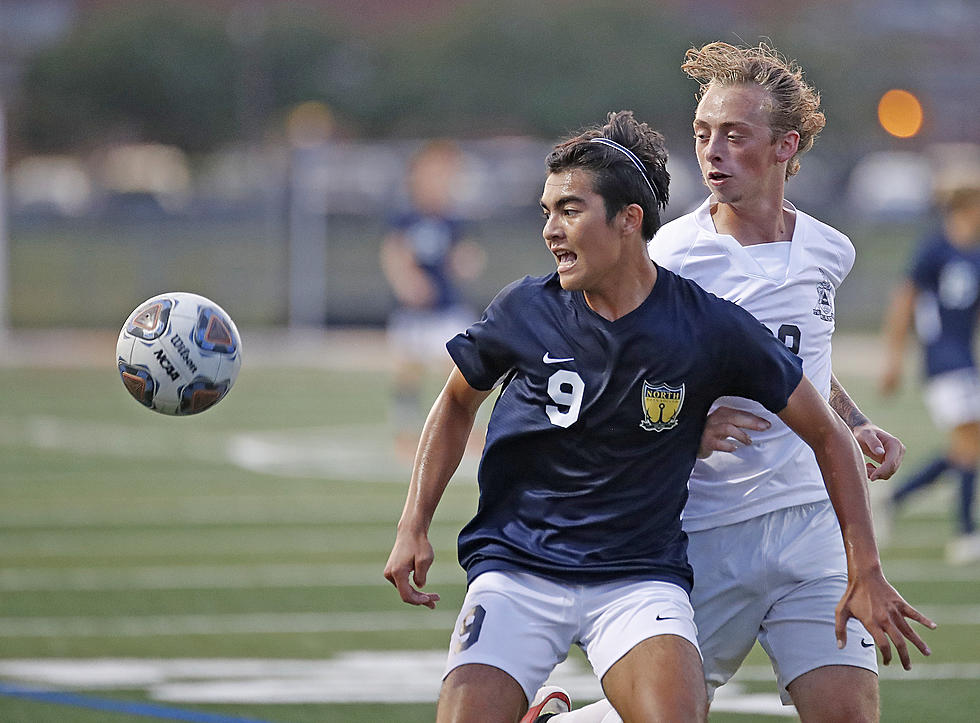 Boys Soccer – Toms River North Hammers TR East For Opening-Night Statement
Toms River North senior A.J. Emnace. (Photo by Ray Richardson)

TOMS RIVER - With two seniors from the 2020 team taking 27 combined goals with them following graduation, the Toms River North boys soccer team is going to be a more balanced attack without a big scorer, according to coach Joe Mahon and his returning players.
If Wednesday night's opener is any indication, the Mariners might have a balanced attack that includes a long list of big scorers in 2021, led by the by a trio that calls themselves the "JAM Fam."
Facing a senior-laden Toms River East team with elevated expectations for 2021, Toms River North - the No. 2 team in the Shore Sports Network Preseason Top 10 - dismantled its crosstown rival, 5-0, to open the new season with a resounding statement to the rest of the Shore Conference Class A South division and the conference as a whole.
Two members of the JAM Fam, which includes seniors Jared Brown, A.J. Emnace and Mattia Assante, turned in big scoring games on Wednesday, with Emnace scoring twice and Brown adding a goal and an assist. The three teammates have a long history playing with one another and at the team's three top returning scorers.
"Me, Jared and Mattia have been playing together for a long time now, to the point we call ourselves the JAM Fam after our first names - Jared, A.J. and Mattia," Emnace said. "We just have this connection that's hard to explain and now that we're seniors, I think that's a big advantage for us. Just knowing what each other is doing and what we're all thinking."
The Mariners may have graduated two major goal-scorers from 2020 in Ali Baish and Parker Nickelsen, but they proved Wednesday they have plenty of players who can finish - even beyond the JAM Fam. Chief among those players is Emnace, who scored five goals as a junior playing primarily off the bench and kicked his senior year off by scoring two of Toms River North's first three goals in Wednesday's opener.
"We have definitely had to change around our game without Ali, who was a really fast player," Emnace said. "We play more to feet, we connect with our forwards more from the midfield. We're not going to dwell on our losses. We're a team that is going to adapt and playing under Ali and Parker, they helped me improve a lot, so I feel like I have been ready for the challenge."
Toms River North scored only one first-half goal despite dominating the first 25 minutes. The Mariners cashed in on their surge in the 21st minute, when Emnace one-timed a corner kick from senior David Anderson into the left corner of the goal. That was one of nine first-half corner kicks earned by Toms River North, eight of which came in the first 25 minutes.
"I would have liked to see us get another goal in that first half, just based on the way we were playing," Mahon said. "We did a lot of good things and I think as a coach, you'd just like to see that reflected on the scoreboard but to their credit, our guys kept the pressure on in the second half and started converting."
In the second half, Toms River North turned their decided advantage in possession and shots into a decided advantage on the scoreboard as well. Brown drew a takedown inside the 18-yard box in the second minute of the second half and stepped to the spot for the attempt.
Toms River East freshman goalkeeper Bobby Calvo stopped the initial attempt, but Brown pounced on his own miss and buried the follow-up for a 2-0 Mariners lead.
Brown and Emnace combined on the third Mariners goal 4:30 later, with Brown slipping a through-ball to Emnace running at the left post and Emnace slotting his finish inside the near post for a 3-0 lead in the 47th minute.
The Mariners flashed their depth the rest of the way, highlighted by sophomore Anthony Ruggiero up top. Ruggiero assisted the final two Toms River North goals in similar fashion, which came within two minutes of one another.  On the first, he shook off a defender along the endline on the left side and centered a cross to the top of the six-yard box, where classmate Luke Montanile finished the fourth Mariners goal in the 65th minute.
Two minutes later, Ruggiero again beat his man along the endline and found junior Ray Keller for the close-range finish.
Even as four Toms River North players scored goals on Wednesday, it's top offensive threat was not among the scorers. Assante, who scored four goals and handed out 10 assists as a junior, controlled the game from the center midfield of the field despite not finishing or assisting any of the five Mariners goals.
"Mattia is a dog," Mahon said. "You know coming into the year that he is going to do his job, but for us, it's about finding out which guys are going to step up. Every year, it's a different team, so you don't know how it's going to go."
Toms River North is a two-time defending NJSIAA sectional champion, although last year's repeat was a limited slate of games due to the COVID-19 pandemic that shortened the season. The Mariners played 14 regular-season games against seven Class A South opponents and two of their three tournament games against teams from their own division.
A semifinal win over Freehold Township was the only game Toms River North played outside of Class A South and this year, with a team Mahon and Co. hope to be as good or better than last year's 15-1-1 squad, the Mariners will test themselves against the likes of Marlboro, Christian Brothers Academy, South Brunswick and Freehold Township.
"Last year would have been nice to be able to go out and play more teams with that group that we had," Mahon said. "This year, we don't have a lot of games, but we do have South Brunswick, we do have CBA, Marlboro on Monday night. So we get to go out and I think the guys are looking to get out other than just playing every A South team twice."
More From Shore Sports Network