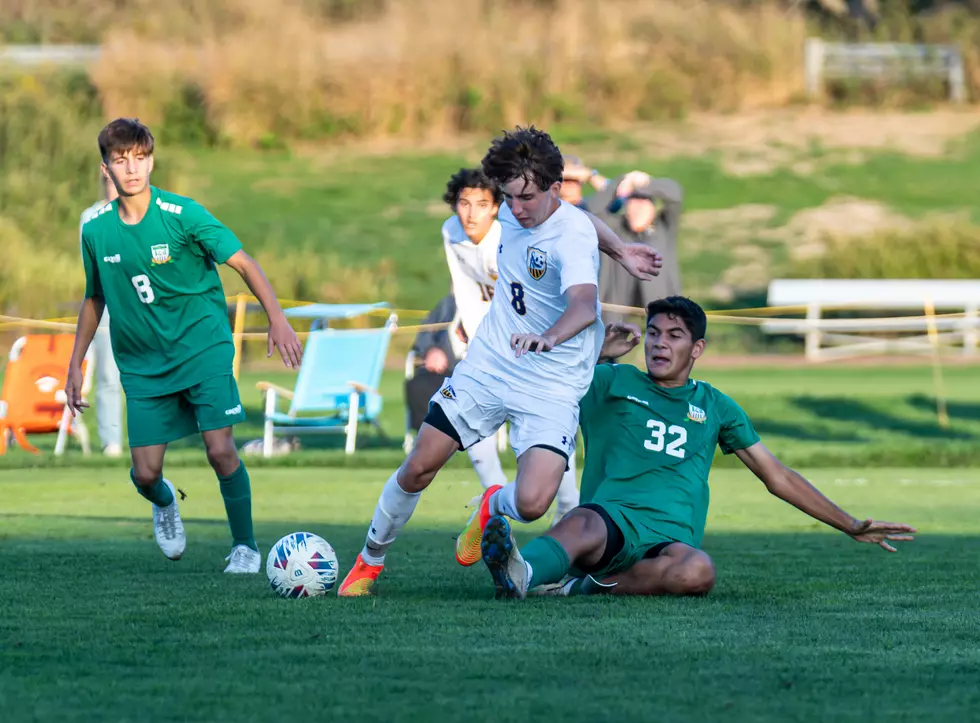 Boys Soccer – St. Rose, Bishop Eustace Clash for Long-Awaited Sectional Championship
St Rose senior Packy O'Hearn (8) draws a foul. (Photo: Tom Smith | tspsportsimages.com)

Although some standout talent graduated from last year's team – particularly when it comes to scoring – St. Rose returned a core of players from the 2021 squad that are extremely motivated to finish off a championship run Wednesday on their home field. A year ago, St. Rose dropped a 1-0 loss at Ranney in the sectional semifinal and returning starters like Diego Nieves, Packy O'Hearn, James Vitale and Jack Harmon have been waiting for a chance at redemption.
The Purple Roses have already surpassed their 2021 performance by reaching the sectional final round just the second time in the last 12 seasons and first time since 2018. This will be St. Rose's first chance to host the sectional championship game on its highly-regarded natural surface, which the Purple Roses will have a chance to do by virtue of earning the No. 1 seed in the South Jersey Non-Public B section. Four years ago, St. Rose made it to the final as the No. 8 seed and lost to Rutgers Prep, 2-1, after falling behind early and mounting a second-half push that ultimately came up short.
This year's group will be looking for a quicker start to the game, which it has been able to do in each of the first two rounds. St. Rose raced out to a 3-1 lead on defending sectional champion Princeton Day in the first round before winning, 4-3, in overtime while playing a man down. On Saturday, St. Rose stormed out to a 3-0 lead on the way to a 3-1 win over Moorestown Friends – the 2019 sectional championship team.
Vitale has been the star for St. Rose during this run, with the senior scoring two goals in each of the past two games after scoring one the entire season prior to the Nov. 2 win over Princeton Day.
To get back to the Non-Public B for the first time since 2010, St. Rose will have to get past a Bishop Eustace side in search of its first sectional title since 2001. The Crusaders have faced its share of quality competition and will be ready for what St. Rose can throw at them. It helps to have a legitimate goal-scoring threat, which senior Liam Higgins has proved to be during a 26-goal season in 2022. St. Rose's defense and goalkeeper Jack Harmon have been a driving force for St. Rose this season, so Higgins vs. that group should represent a strength-vs.-strength matchup.
The winner of Wednesday's South Jersey championship figures to be a considerable underdog against the North Jersey champion, although defending champion Gill St. Bernard has looked more beatable this season than in recent years – enough that Montclair Kimberly is also in play to come out of the North Jersey section.
NJSIAA South Jersey Non-Public B Championship
No. 3 Bishop Eustace at No. 1 St. Rose, 2 p.m.
Bishop Eustace (8-9)
Head Coach: Vito DiSanti
Last Sectional Championship: 2001
Road to the Final: Defeated No. 6 Ranney, 1-0; No. 7 Noor-ul-Iman, 2-0.
Players to Watch
Liam Higgins, Sr. (26 goals, 2 assists)
Jackson Gatelin, Sr. (6 goals, 9 assists)
Matt Connelly, Sr. (4 goals, 7 assists)
Jackson Adams, Sr. (1 goals, 9 assists)
Karl Wissman, Sr. (4 shutouts)
St. Rose (10-4-3)
Head Coach: Simon Muckle
Last Sectional Championship: 2010
Road to the Final: Defeated No. 9 Princeton Day, 4-3 in overtime; No. 12 Moorestown Friends, 3-1.
Players to Watch
Diego Nieves, Jr. (9 goals, 5 assists)
James Vitale, Sr., (5 goals, 2 assists)
Packy O'Hearn, Sr., (4 goals, 7 assists)
Aiden Bonczek, Jr. (8 goals, 2 assists)
Jack Tiernan, Jr. (7 goals)
Andrew Restiano, Jr. (2 goals, 4 assists)
Isaiah Taylor, Jr. (3 goals, 4 assists)
Matt Cheney, Sr. (2 goals, 1 assist)
Mike Conlon, Sr. (1 goal, 2 assists)
Matt Alexis, Jr. (1 assist)
Jack Harmon, Jr., Goalkeeper (9 shutouts)
SSN Prediction: St. Rose, 2-1
LOOK: Stunning vintage photos capture the beauty of America's national parks
Today these parks are located throughout the country in 25 states and the U.S. Virgin Islands. The land encompassing them was either purchased or donated, though much of it had been inhabited by native people for thousands of years before the founding of the United States. These areas are protected and revered as educational resources about the natural world, and as spaces for exploration.
Keep scrolling for 50 vintage photos that show the beauty of America's national parks.
More From Shore Sports Network