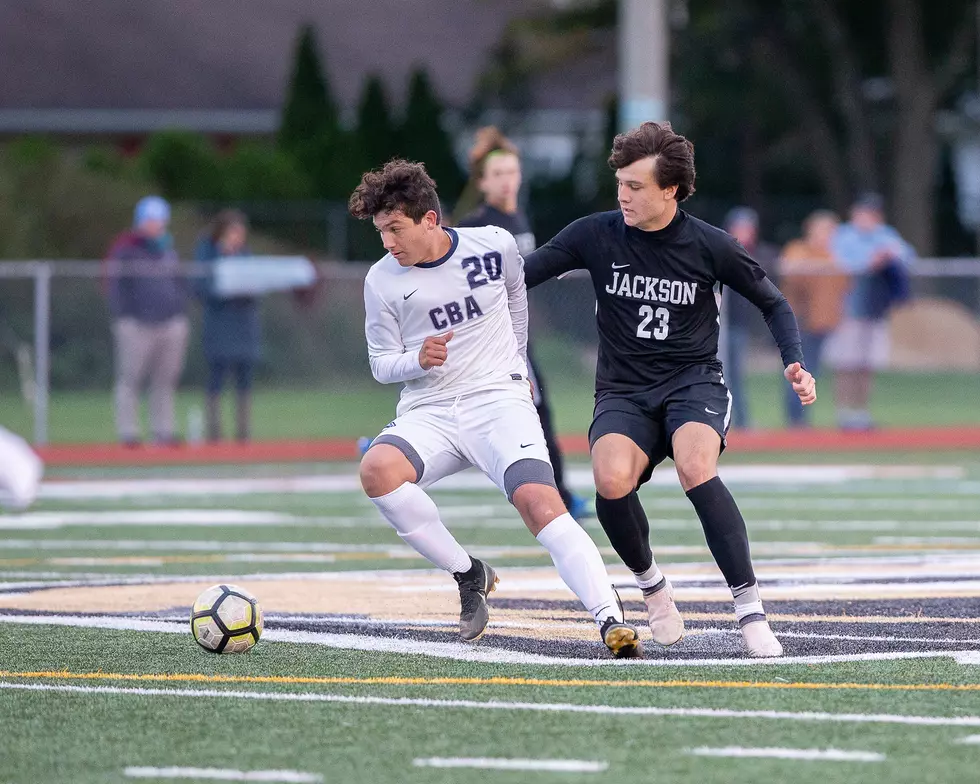 Boys Soccer – SSN Top 10, Nov. 5
Luke Pascarella of CBA and Ron Bantang of Jackson Memorial will go head-to-head in the SCT for the second straight year. Photo by Paula Lopez)
There are only two weeks left in the 2019 soccer season and the No. 1 spot in the Shore Sports Network Top 10 remains up-for-grabs. There are at least six teams still vying for the top spot and Long Branch, Toms River North, Toms River South, Monmouth and Ocean could all force their way into the picture by continuing their state tournament runs.
As it stands, there is a new No. 1 but that remains subject to change.
1. Christian Brothers Academy (12-3-3, 4-2-1) Last Week: 3
For the first time since losing to Long Branch early in the season, CBA returns to the No. 1 spot. The Colts beat Freehold Township head-to-head, beat Jackson Memorial on penalty kicks and tied Manasquan before losing to the Warriors on penalty kicks in the SCT semifinals. CBA's hold on No. 1 is a tenuous one and the longer CBA lasts in the state tournament, the better chance the Colts will have of holding on to the No. 1 spot to end the year.
2. Freehold Township (14-6-1, 6-1-0) Last Week: 1
With a first-round exit in the NJSIAA Tournament, Freehold Township slips a spot to No. 2. The Patriots still have a strong case to be the No. 1 team but finishing in that spot is a harder sell. Six losses is a high number for a No. 1 team and the fact that Freehold Township tied Manasquan in the SCT championship game make it a little easier for some of the teams behind Freehold Township to take a run at the Patriots' spot.
3. Jackson Memorial (15-2-2, 7-0-0) Last Week: 4
The Jaguars are in a very good position to win the South Jersey Group IV title heading into the week and if Jackson Memorial can go deep into the Group IV Tournament, it has a real shot to finish No. 1. They were an undefeated team in Class A South and while the Jaguars did not reach the SCT semifinals, they bowed out on penalties to the team ranked No. 1 right now. If CBA goes out before the Non-Public A final and Jackson Memorial plays into next week, Jackson Memorial will have a compelling case.
4. Holmdel (16-0-2, 6-0-0) Last Week: 2
Despite finishing the season without a straight-up loss and currently boasting a 54-game unbeaten streak, the Hornets are essentially out of the running for No. 1 because of early exits in the Shore Conference and NJSIAA Tournaments. Head-to-head wins over Manasquan and Marlboro keep the Hornets in the top-five right now but Manasquan and Marlboro are both positioned to jump Holmdel if they can play into next week.
5. Manasquan (11-5-4, 4-2-0) Last Week: 5
The two wins in South Jersey Group II were not enough to move Manasquan up in this week's rankings, but if the Warriors get two more wins this week, they will most definitely climb. Going through Oakcrest and Delran to win a sectional championship would be a major statement and would more than make up for a loss to Holmdel and a penalty-kick loss to Freehold Township in the SCT final.
6. Long Branch (10-7-2, 5-2-0) Last Week: 10
The most significant jump of the week belongs to Long Branch, which knocked off Shore Conference Tournament champion Freehold Township in the opening round of the Central Jersey Group IV Tournament, followed by a road win over Princeton. The Green Wave also picked up a win over Marlboro and a draw vs. Jackson Memorial between the SCT and state tournaments and when you throw in a win over CBA and a second-place tie in the A North standings, the resume is mighty compelling. Seven losses will limit Long Branch's ceiling in the top 10 but as a Group IV team that is still alive in the sectional semifinals, there is still some room to climb.
7. Marlboro (14-4, 5-2) Last Week: 6
Although the Mustangs fell one spot, they are in very good position to finish in the top-five and perhaps even make a run at No. 1. Marlboro starts the week with a chance to exact revenge on Long Branch after losing to the Green Wave on Oct. 17 and if the Mustangs can overcome that game and one against Hunterdon Central to win the program's first ever sectional title, the No. 1 ranking is all of a sudden on the table.
8. Wall (15-4, 6-1) Last Week: 7
Wall's situation is similar to Marlboro's: Long Branch's win over Freehold Township dropped the Crimson Knights, but they are still alive in Central Jersey Group III with homefield advantage as long as they keep winning. Wall has a better chance to win a section than Marlboro, but that is because the section is not quite as difficult as Central Jersey Group IV. Wall could very well reach the Group III final but climbing to the top of the standings will be hard without a high-profile team standing in its way. At this point, Wall has its eye on its first Group III title in 15 years and should the Crimson Knights get it, they will be in the No. 1 discussion.
9. Colts Neck (11-4-2, 5-1-1) Last Week: 8
An early exit in the NJSIAA Tournament on penalty kicks ended a season that can only be seen as a success for Colts Neck, which graduated 18 seniors from 2018. The Cougars reached the semifinals of the Shore Conference Tournament for the first time since 2001 and finished second in a deep Class B North division behind only Wall. It will take some losses by teams like Toms River South, Toms River North and Monmouth to keep Colts Neck in the top 10, but a top-10 finish would be a big accomplishment for this year's team.
10. Southern (12-3-3, 5-1-1) Last Week: 9
A 3-0 loss to Jackson Memorial in the South Jersey Group IV quarterfinal was a disappointing loss for a Southern team that returns most of its lineup next year, including 18-goal scorer Kevin Kiernan. Southern should be considered among the favorites in the Shore and South Jersey Group IV next year but for a team that has not been past the quarterfinals of either tournament over the past three years, winning a championship would mark a big jump.
Toms River South (10-5-2, 4-2-1) – As it usually is, Toms River South is among the few Shore teams playing for a sectional championship this week and with another two wins, would have an undeniable top-10 case.
Toms River North (10-7-1, 3-3-1) – The Mariners might be the surprise team of the entire state tournament and a win over Jackson Memorial could push them over the top and into the top 10.
Middletown South (9-5-4, 2-3-2) – A penalty-kick loss to East Brunswick ended Middletown South's season and while the Eagles won't finish in the top 10, they were consistently one of the best 12 teams in the Shore throughout the year.
Monmouth (15-4-2, 4-2-0) – With Holmdel's shocking exit, Monmouth has a chance to win its first sectional title in more than five decades if it can do what Shore did last year: beat Delaware Valley on the road.
Rumson-Fair Haven (9-6-3, 3-2-1) – It is fair to say Rumson will end the year as the Shore's most improved team and with a lot of young talent on the field, the Bulldogs will be a team to watch in 2020.
Ocean (10-9, 4-3) – Ocean has languished below .500 for most of the season but now finds itself a home win away from a third straight appearance in the sectional final.
More From Shore Sports Network