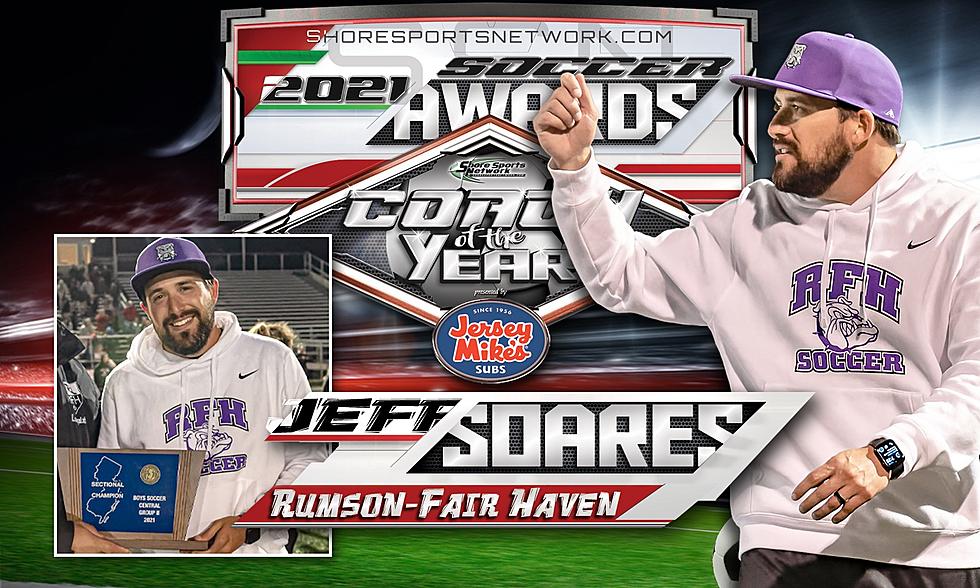 Boys Soccer – Shore Sports Network 2021 Coach of the Year: Jeff Soares, Rumson-Fair Haven
Photos by Tom Smith.

Coming from a decorated Ocean Township program, Jeff Soares took over a Rumson-Fair Haven boys soccer team in 2019 that just one year earlier went 1-14-1. While the cupboard was not bare of talent, the taste of 2018 still sat with many of the returnees, including then-sophomore Luke Pentikis.
As a freshman, Pentikis got to see significant time but the cost was playing for a team that was successful just once in 16 matches. The returning players needed a new day-to-day feel and having just served as the top assistant for an Ocean team that finished No. 5 in the entire state with Shore Conference Tournament and NJSIAA Group III championships, Soares had the cache to bring that change.
In many ways, Soares has already done his best job at Rumson-Fair Haven prior to this season when he led the Bulldogs to a 9-6-2 record one year after winning just the one game. While that may have been a harder job, it wasn't quite the complete job. That came in 2021.
Three years after taking over a one-win team that, as a program, had never won a postseason tournament of any kind, Soares led Rumson-Fair Haven to its first division championship since 2015 and its first NJSIAA sectional championship in program history. Throw in a No. 8 ranking in the final Shore Sports Network Top 10 and it is a resumé fit for the 2021 Shore Sports Network Boys Soccer Coach of the Year.
"I'm so proud of this group because these seniors and juniors were all here when I got here after they went 1-14," Soares said after his team won the Central Jersey Group II championship. "They really bought into the culture I was trying to build, the family concept, the dog mentality I wanted them to play with. They have all been on board from day one and even though it didn't happen for us that first year, we always felt like if we did the right things, we could get to this moment."
After graduating most of its roster from 2020, including the entire back line, Rumson had a team with talented young attacking players but questions about whether it could prevent goals well enough to have the kind of breakthrough season it eventually did. From the start of the season, the defense held its own, senior goalkeeper Aiden Colburn stepped up his game in his third year as a starting and the defense continued to improve throughout the season and peaked once the Bulldogs had a healthy lineup.
"We lost 21 seniors from last year," Soares said. "I knew there was talent here, but it was a young team and I really wanted to get them experience playing in as many big games as possible. We had a big list of goals and we checked off every box, minus the Shore Conference title."
Speaking of a healthy lineup, that was a luxury Soares did not have in full until mid-October. Rumson started the season without junior starting center midfielder Antonio Santos and on the day Santos returned from a sports hernia, Pentikis went down with a knee injury.
The initial prognosis on Pentikis's injury was that the senior midfielder could miss the remainder of the season, but he instead resolved to come back by the Shore Conference Tournament. With Pentikis out, the Bulldogs marched on, winning the Shore Conference Class A Central championship with a 5-0-1 record in division play. Rumson took down Holmdel and Monmouth with Santos still recovering and with Pentikis out, the Bulldogs knocked off both Ocean and Wall.
Pentikis made good on his goal to return for the postseason, coming back to lead Rumson-Fair Haven to a first-round win over South Jersey Non-Public B runner-up Ranney in the Shore Conference Tournament. In the next round, however, Rumson ran into a Wall side hell-bent on payback for a 5-1 loss at Rumson and dealt the Bulldogs a 3-0 defeat in the rematch.
Following the loss to Wall, Rumson regrouped for the Central Jersey Group II Tournament, which it entered as the No. 3 seed. After coasting through the first round vs. Spotswood, the Bulldogs survived a penalty-kick shootout at home vs. Governor Livingston, then wiped out No. 2 seed South River on the road to punch their ticket to the sectional final for the third time since 2013.
Thanks to fourth-seeded Holmdel knocking off top-seeded Voorhees in overtime, Rumson earned the right to host the sectional final against the rival Hornets, whom Rumson defeated during the regular season, 2-1, to end a six-game losing streak that dated back to the 2016 state tournament.
Five years after beating Holmdel on the road to earn a trip to the 2016 sectional final, Rumson was locked in a tight battle with the Hornets that extended into overtime. This time, however, the Bulldogs prevailed, with junior Alec Pentikis burying the golden goal in the 13th minute of overtime to set off the first ever tournament championship celebration in the history of the boys soccer program at Rumson.
Despite losing to eventual Group II champion Delran in the Group II semifinal, Rumson left its home field one last time feeling optimistic, with the seniors taking solace in the fact that they made it farther than any Rumson team prior, the underclassmen knowing what it's like to win a championship and Soares and his staff looking forward to a strong wave of talent returning over the next several seasons.
"We have a good group coming back," Soares said. "We're going to be a force to be reckoned with for the next couple of years."
More From Shore Sports Network