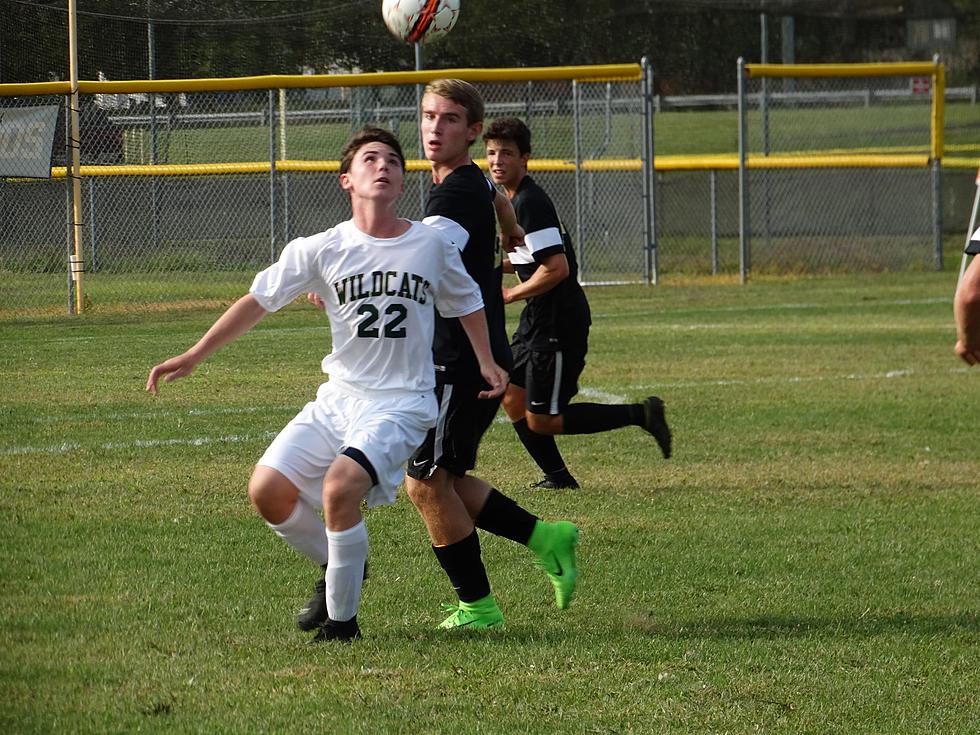 Boys Soccer – SCT Round of 16 Predictions
Pinelands junior Kieran Sundermann. (Photo by Matt Manley)
The Shore Conference Tournament opening round provided some surprises and some tight competition, with four road teams advancing to the round of 16 – including two teams seeded in the 20's. Of the 13 first-round games, eight were decided by a one-goal margin and two of the three teams that won by more than a goal did so as the road team (Wall and Shore). Seeds higher than 14 don't typically find their way into the quarterfinals, so Middletown South, Shore, Raritan, Monmouth and Wall will be worth keeping an eye on during Wednesday's action as it's quite possible, though still unlikely, that one of them sneaks through.
After a rather uninspiring 10-3 performance in the first round, I'm limiting this week to quicker breakdowns given the quick turnaround from the Rumson night game Tuesday to the Pinelands-Long Branch game on Wednesday. Turns out writers are also better with a day off between games.
(16) Middletown South at (1) CBA, 3:45 p.m.
The two neighbors will renew an old crosstown rivalry from A North with a trip to the SCT quarterfinals on the line. The Eagles played an impressive half against another A North team, Freehold Boro, on Monday and held on for dear life in the second half to advance with a shot to take on the top seed in the tournament. Middletown South is an improved team that is still improving yet, but this will be its toughest test yet. They will battle, but CBA is equipped to wear the Eagles down. The Pick: CBA, 3-0
(18) Shore at (2) Holmdel, 6 p.m.
This will be the third time these two teams have met and while Shore lost the second meeting, 4-1, the Blue Devils were within 2-1 at one point in the second half. You never know how a season is going to go for a team that lost to one Group II powerhouse 6-1 (Holmdel) and another 8-1 (Haddonfield), but the Blue Devils have apparently grown from those losses. Still, Holmdel is loaded and on a mission and the Hornets know now that the Blue Devils aren't backing down. The Pick: Holmdel, 4-0
(19) Raritan at (3) Jackson Memorial, 4 p.m.
A rematch of a 2016 first-round game that went to penalty kicks, Raritan is out for revenge after Jackson Memorial knocked the Rockets out on their own home turf last year. The Rockets can really make this one sting for Jackson since the Jaguars are the No. 3 seed and have designs on reaching the SCT semifinals – and for good reason. The natural surface at Southern did not bother Raritan and that will have to be the case again on Wednesday. Raritan will be physical with Jackson Memorial and while the Jaguars always have a reputation for being tough, this team is younger and leans on its skill more. With the struggles of A South and the battles Raritan has endured with Holmdel and Rumson this year, revenge is within reach. The Pick: Raritan, 1-0
(20) Monmouth at (4) Freehold Twp., 4 p.m.
Joel Burgos returned to action in a major way Monday, scoring the first of two Monmouth goals to help the Falcons win their first SCT game since 2007 by beating Toms River North. Now the Falcons will travel to Freehold Township, where the Patriots are 7-1 with just a 2-1 loss to CBA on a goal in the final minutes damaging the perfect home record. Freehold Township sometimes struggles finishing chances, which can be a dangerous tightrope to walk when facing a player like Burgos. In this game, though, the Patriots should find their way, even if it's a little uncomfortable. The Pick: Freehold Twp., 3-2
(12) Point Boro at (5) Ocean, 3:45 p.m.
Both of these teams enter the game on a roll when it comes to keeping opponents off the board, with Point Boro allowing only 10 goals in 15 games all season long and Ocean surrendering just five goals during its current 11-game winning streak. That streak is the longest in the Shore Conference this season and the Spartans have done it with defense and a pair of dangerous strikers in Steve Carton and Santieno Harding. Point Boro has some help back now that Liam Kirinovic (ankle) is healthy again, but the Spartans have a little more firepower. The Pick: Ocean, 2-0
(11) Long Branch at (6) Pinelands, 3 p.m.
This figures to be one of the more entertaining games of the tournament, with a bunch of skilled attacking players on display. Juan Carlos Merino vs. Aniello Lubrano will be a fun matchup to watch and both back lines will be tested – with Long Branch contending with Dominic Dos Santos and Kieran Sundermann and Pinelands looking to contain Venancio Fernandes and Renan Azevedo. Pinelands will have the grass advantage on its home field and probably has the defensive edge as well. Long Branch's ceiling makes them a threat to beat just about anybody in the field, but Pinelands has been as steady as they come this year and has the weapons to play with Long Branch. It's a tossup game, but the safest bet is still the home team. The Pick: Pinelands, 3-2
(23) Wall at (7) Howell, 3:45 p.m.
Fresh off the biggest upset of the first round – at least according to the seeds – Wall will try to keep its run rolling into the quarterfinals by knocking off another of the Shore Conference's surprise teams from this year. Howell is coming off a resounding 8-1 win over Barnegat, which was Howell's first SCT game since a quarterfinal shootout loss at home to Holmdel back in 2011. The goals won't flow like they did in the first game, but the Rebels are solid enough in the back and in goal to win a lower-scoring game this time around against a very scary 23rd seed. The Pick: Howell, 1-0
(9) Rumson-Fair Haven at (8) Toms River South, Thursday at 4 p.m.
Rumson got through a very emotional and trying game against Lacey on a lot of levels Tuesday night and now can start rallying around the possibility of turning this into a special SCT run. It took a 76th-minute goal to send the game to overtime, but it took only two overtime minutes to end a game in which the Bulldogs controlled the vast majority of play. Toms River South, meanwhile, scored early and made it count in a 1-0 win over Matawan on Tuesday, which was the very same Huskies team that tied Rumson, 3-3, the last time the two sides met. Rumson would be far more dangerous with a healthy Owen Greengrove, but between last year and the last week, the Bulldogs have played without him enough to know what it takes. With everything that's going on with Rumson right now, it feels like that have one more moment in them. At least one more. The Pick: Rumson, 2-1
First Round Picks Record: 10-3
More From Shore Sports Network