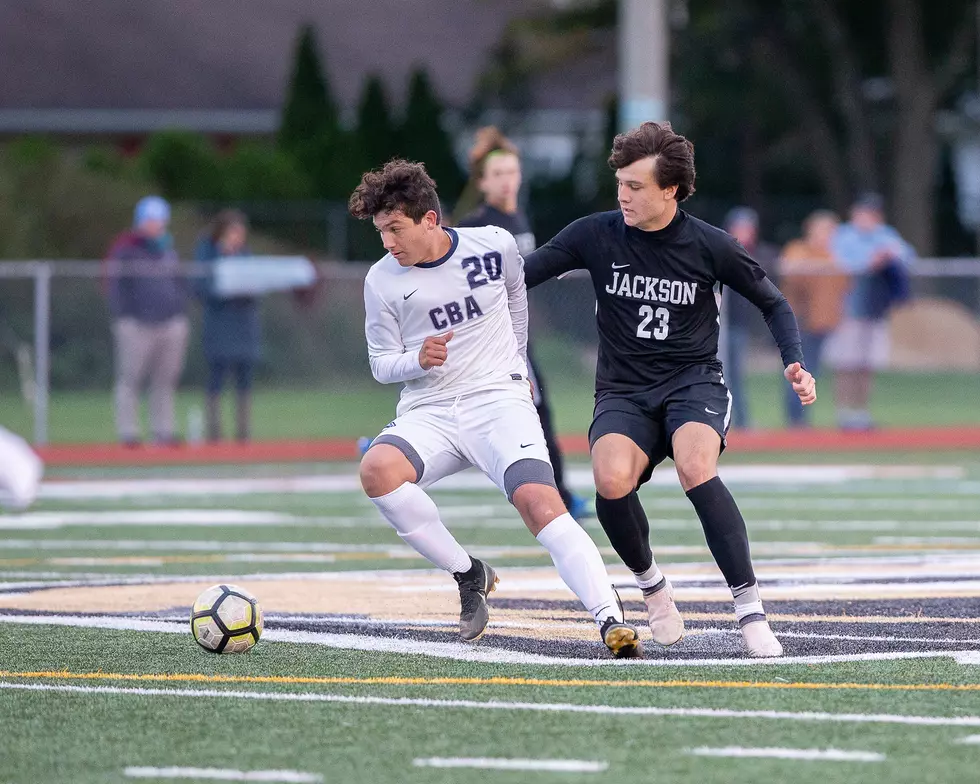 Boys Soccer – SCT Quarterfinal Preview, Predictions
Luke Pascarella of CBA and Ron Bantang of Jackson Memorial will go head-to-head in the SCT for the second straight year. Photo by Paula Lopez)
This year's Shore Conference Tournament field figured to be unpredictable and in the round of 16, it did not disappoint. Although only two road teams advanced, they were the unlikeliest by the seeds - No. 15 Manasquan and No. 16 Toms River South. Records on the Shore Conference Tournament are sparse but it's fair to say that the top two seeds have never lost their first game in the same year, at least since the tournament expanded beyond 16 teams.
Now that Holmdel and Marlboro have been eliminated, the default at this point should be to expect the unexpected heading into the final three rounds of action. Just look at the four road teams in this round: Two of them (Manasquan and Toms River South) have already pulled off major road upsets and the other two (CBA and Wall) have a better combined record than their opponents (Jackson Memorial and Freehold Township).
In a tournament that has already provided some chaos, don't be surprised to see the bracket turned upside down in advance of Saturday's semifinals.
Shore Conference Tournament Quarterfinals
No. 16 Toms River South at No. 8 Colts Neck, 3 p.m.
Colts Neck was not expecting a home game in three straight rounds but the Cougars caught a break (or so it would seem) when Toms River South shocked the Shore and took out top-seeded Holmdel on penalty kicks. Instead of playing the No. 1 team in the tournament on its home turf, Colts Neck will host a team that plays its home games on turf on its natural, unpredictable pitch.
Although the newly-crowned Cinderella of the tournament, Toms River South's program has been here before. The Indians were an SCT semifinalist two years ago as a No. 8 seed after knocking out top-ranked CBA in the quarterfinals. Current senior goalkeeper Jalen Folsom was a sophomore standout on that team and his presence in goal this year gives Toms River South a chance in any game and any situation, which makes the Indians dangerous for as long as they stick around.
Despite some close calls, Colts Neck has not been to the SCT semifinals since 2001, when the Cougars lost in the championship game to Ocean. Now they find themselves one home win over a 5-4-2 team away from breaking into the final four for the first time in 18 years despite losing 18 seniors from last year's team. Colts Neck has posted a shutout in each of its eight wins and the strength of its team is the goal-prevention, led by senior goalkeeper Dylan Jacobs and junior center back Stephen Ciccarone.
With two defensive-minded teams on the field for this one, expect it to come down to a goal. Toms River South went 100 minutes with Holmdel and will be hungry for a real goal to back Folsom this time around. The Pick: Toms River South, 1-0.
No. 6 CBA at No. 3 Jackson Memorial, 3:45 p.m.
A lot has changed for both CBA and Jackson Memorial since the two powerhouses met in last year's SCT semifinal round – a game won by CBA in overtime. CBA graduated seven starters from its Non-Public A championship team while Jackson Memorial lost its top two goal-scorers – one to graduation and another to the New York Red Bulls Academy. Despite that, there are some key players back for both teams that should give this game more of a rivalry feel this time around.
Jackson Memorial enters the game a team that has welcomed the tense moments and come out a winner far more times than not. The Jaguars are 6-1 in games decided by one goal, including a 2-1 win over Neptune Friday in the round of 16. They are also healthier than they have been all season, with senior defenders Ben Schnaak and Ron Bantang both bouncing back from injuries. With CBA coming to town, the senior-led defense will have to be on its game against one of the Shore's most formidable attacks.
CBA has made its case in recent weeks as the Shore's top team, pushing national powerhouse St. Benedict's to the brink in a 2-1 loss and picking up big wins over Seton Hall Prep and Freehold Township within the span of five days. Senior Luke Pascarella has the hot foot, running his season total to 13 goals, which matches his output from all of last year. He also scored the golden goal in last year's win over Jackson Memorial, as well as in the Non-Public A final vs. Delbarton.
Jackson Memorial should benefit from getting CBA off its home field, where its only loss is against St. Benedict's, and if the Jaguars can be opportunistic, they can move on to the SCT semifinals for the second straight year. CBA, meanwhile, will play its game and if they can wear down the Jaguars and slip in a second goal, that should do the trick. The Pick: CBA, 2-0
No. 15 Manasquan at No. 7 Southern, 4 p.m.
One way or another, there is going to be an unfamiliar jersey at Saturday's SCT semifinals. Southern has been to just one SCT semifinal, which came back in 1990. Manasquan, meanwhile, has never made it to the conference semifinals. One of these two teams will end a long drought and will be taking on one of the preseason favorites in either CBA or Jackson Memorial on Saturday.
The thing is, Manasquan was a Shore Conference favorite heading into the season and Southern was not far behind. Although both teams are venturing into uncharted waters, both expected to be in this position in 2019, especially after both made it to the SCT quarterfinals last year. Manasquan got off to a nightmare start to this season but rallied to qualify by the skin of its collective teeth and win two impressive games against Toms River North and on the road vs. No. 2 seed Marlboro.
Southern, on the other hand, had a rough week prior to the tournament but got back on track last week with one-sided wins over Ranney and Central, followed by a narrow win over Middletown South – which entered on a nine-game unbeaten streak – in the round of 16. The Rams' attack revolves around junior Kevin Kiernan (13 goals), but has gotten timely contributions from the likes of sophomore Mario Addiego and juniors Brandon Notte, Nico Leonard and Ryan Leavitt. The Rams also have a quality defense in front of goalkeeper Kayce Bennet, who owns nine clean sheets this year.
Manasquan was one of the Shore's top defensive teams a year ago but endured its share of struggles early on when it came to keeping the ball out of the net. The Warriors made a personnel change, shifting seniors Rich Maloney and Tyler Guagenty back to the back line and kicking senior Chris Pierro from center back to outside back – a move that has resulted in back-to-back shutouts. With Tommy Johnson and Drew Greenblatt still on the attack, the Warriors still have the firepower to threaten the opposing goal while better protecting its own.
The change has Manasquan playing with a lot more confidence than it had several weeks ago and Johnson and Greenblatt will challenge Southern's strong defense. It's going to be hard to keep both of these teams off the board but it's also going to be tough to score a second goal. If it's a 1-0 game, Southern is in good shape but if it comes down to that second goal, the Warriors should have the edge. The Pick: Manasquan, 2-1
No. 5 Wall at No. 4 Freehold Twp., 3 p.m.
The last of the quarterfinal matchups will pit two high-profile programs that rarely meet and should be evenly-matched, as the seeds suggest. Since a 2-1 loss to Rumson on Sept. 23, Freehold Township has won seven of eight, losing only to CBA on the road. The Patriots did, however, barely get by Rumson on Saturday despite taking a 2-0 lead in the first 15 minutes and playing with a man advantage for more than three-quarters of the game. Letting opponents hang around has been an issue at times for Freehold Township, which has been bitten twice in such instances in losses to Toms River North and Rumson.
Wall also has one such game in its 2019 rearview mirror – a 3-1 loss to Matawan. Outside of that, though, the Crimson Knights have been pretty reliable when it comes to performing for 80 minutes and bringing their best in big games. Even in a 1-0 loss to Marlboro, Wall gave up a goal on a deflected shot and missed a penalty kick that would have tied the game while playing the No. 2 seed in the tournament as tight as possible in a losing effort.
The matchup to watch in this one is Wall's stingy defense against Freehold Township's dynamic duo of Bennett Messinger and Zach Orrico, who have combined for 24 goals this season. Junior Adam Havens has also come up with some big plays for the Patriots as well and it's going to take more than one to beat this Wall team and its all-senior defense. Senior Tagg Ancrum leads the back line that includes classmates Matt Penkethman, John Knight and Bladmir Vasquez – a quartet that, along with junior goalkeeper Sebastian Campanile, has allowed just eight goals in 15 games.
On the other side of the coin, Freehold Township has had some trouble keeping the ball out of the net while Wall generally has been pretty reliable scoring it. Junior Jake Pepe has been a handful for opposing defenses and when the Crimson Knights earn free kicks and corner kicks, they are especially dangerous with Ancrum and junior Nico DellaPietro on the service.
Freehold Township is the more explosive team and on a good day, the Patriots might be the best team in the field. It remains to be seed, though, which version Freehold Township will show up and even if it is the best version of the Patriots, they will still be in for a battle. The Pick: Wall, 2-1
Overall 2019 Picks Record: 15-6
More From Shore Sports Network