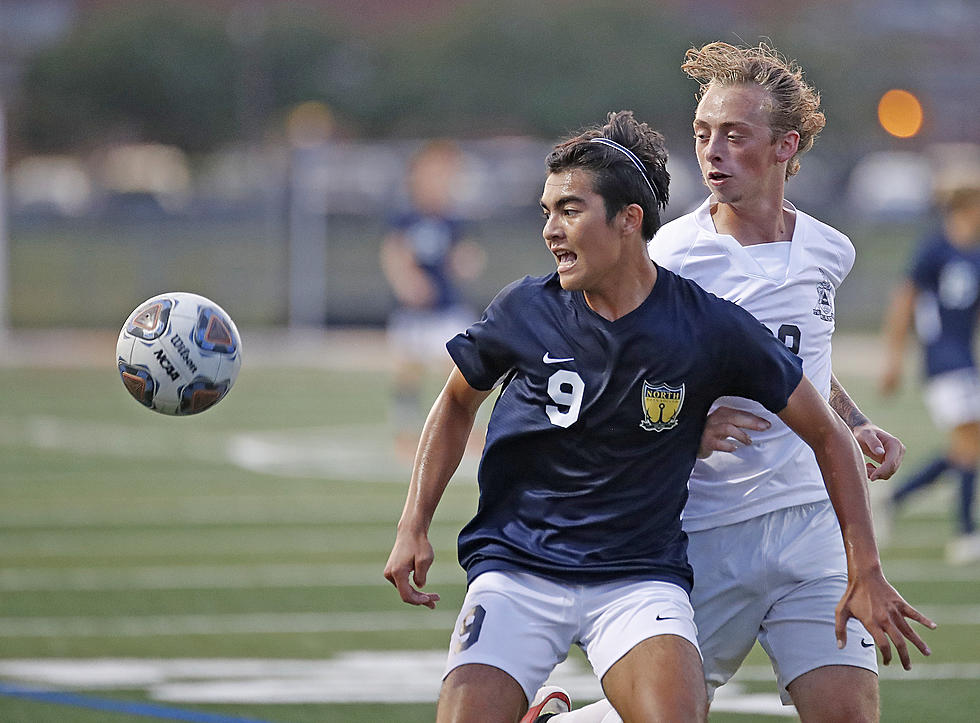 Boys Soccer – Reloaded Toms River North Convincingly Beats Freehold Township to Reach Shore Conference Final
Toms River North senior A.J. Emnace. (Photo by Ray Richardson)

BARNEGAT -- Toms River North seniors A.J. Emnace and Jared Brown are not secret weapons. They are the top two scorers on a Mariners boys soccer team ranked No. 2 in the Shore Sports Network Top 10, seeded No. 3 in the Shore Conference Tournament and ranked No. 20 in the state by NJ Advance Media.
On Tuesday, however, Toms River North faced Freehold Township in a rematch of a scoreless regular-season draw, now with a spot in the Shore Conference Tournament final on the line, and yet, Freehold Township was getting its first up-close look at both Mariners forwards.
If the Toms River North dynamic duo was not a pair a secret weapons, they were certainly wild cards.
Emnace scored two goals and Brown notched one to go with two assists as Toms River North raced past Freehold Township, 4-1, to reach the SCT championship game for the first time since 2010.
"I think they probably didn't know what was coming," Emnace said. "They didn't get a taste of me and Jared when we played them the last time and I think having both of us out there makes it a different game."
Toms River North attacked into a strong wind during the first half and while that wind did its part in limiting the Mariners to only two shots in the first 40 minutes, Toms River North made the most of both chances.
The first came just over three minutes into the match. Brown beat goalkeeper Giancarlo Pantano to a pass ahead from senior Jimmy Ruppe by sliding for a shot that rolled into the right corner of the goal.
"It was a great ball from the weak side," Brown said. "Luckily, I beat the defender, I had a good touch and I put it away."
Emnace then scored in the 17th minute by slamming a cross from senior Nico Gonzalez in from inside the six-yard box.
Gonzalez, Brown and Emnace all sat out of Toms River North's 0-0 draw with Freehold Township on Oct. 12 and all three made their presence felt within the first 17 minutes.
"We were also missing Nico, who is a huge player for us in the midfield," Brown said. "He has been playing really well for us and our midfield, as a whole, has been huge for us all year."
Freehold Township drew even in the 25th, when senior Josh Hocheiser slammed home a shot off a pass through the defense from senior Herman Colbert.
The Patriots made a serious push to score again, taking advantage of a strong wind blowing from west to east. When Freehold Township had the wind at its back in the first half, the Patriots outshot the Mariners, 7-2.
"Coach (Joe Mahon) just kept telling us that the wind was going to feed into what they were doing," Emnace said. "They want to play direct, so coach was saying 'Just get through this first half and in the second half, it's going to be our game.'"
In the second half, Toms River North took full advantage of the same wind and put the game away. Emnace scored his second goal after Brown made a run and took an initial shot. Emnace knocked in the rebound in the 60th minute.
Toms River North capped the scoring in the 67th, with senior Mattia Assante finishing off a cross from Brown.
In all, Toms River North won the battle for shots with an 13-9 edge over Toms River North, which was after the Mariners won the second-half shot count, 11-2.
Freehold Township welcomed back senior J.T. Gold, who suffered an early-season foot injury and took the most dangerous of the Patriots' six missed shots in the first half. While they got a key player back, they also lost senior goalkeeper Giancarlo Pantano early in the game to a hand injury with the score already 2-0. Senior Rich Lockard relieved him and finished the game.
Toms River North has failed to win only twice this year -- once vs. Freehold Township and the other vs. its next SCT opponent. The Mariners lost at Christian Brothers Academy, 4-2, on Oct. 2 and will now look to solve the top-seeded Colts when the two teams clash again Thursday at Barnegat in the SCT championship game.
It has been 16 years since a team from Ocean County has won the Shore Conference Tournament, with Toms River North the last squad to do it back in 2005. Toms River North is also the first team from Ocean County to play in the final since the Mariners lost to CBA in the 2010 championship game and, along with Toms River East in 2006, are one of only two teams from Ocean County to reach the final since that 2005 season.
"We know that Monmouth County has dominated this tournament and we definitely want to be the team to change that," Emnace said. "We didn't get a chance to do it last year and we want to be the team to do it this year."
More From Shore Sports Network