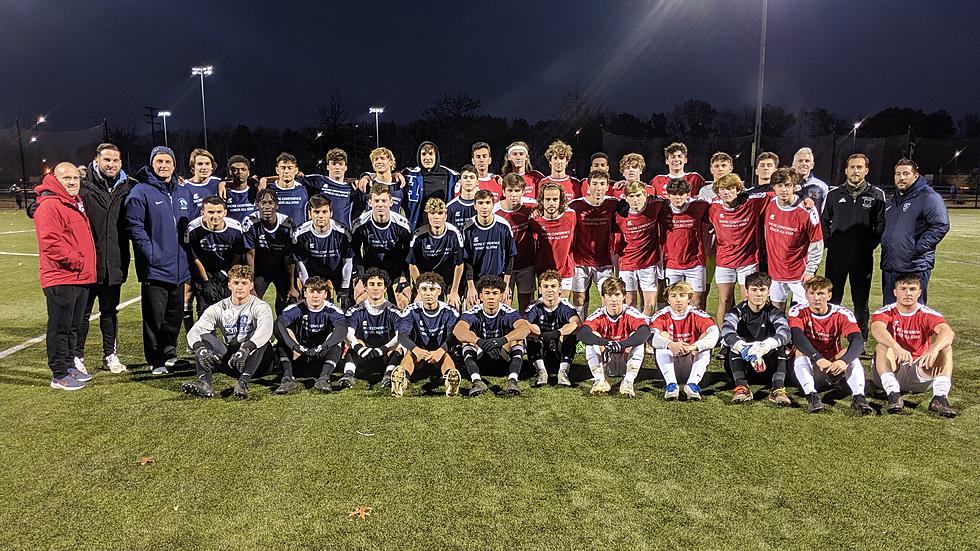 Boys Soccer – Ocean Strikes Back with All-Star Win over Monmouth
Photo by Matt Manley

TINTON FALLS -- It has only been three years since the Shore Conference Senior All-Star Game returned after more than a decade in proverbial storage, but for the Ocean County side, it felt like even longer since the southern county of the Shore Conference had a moment of glory at the expense of Monmouth County.
In Friday's boys all-star showdown at the Capelli Sports Complex, Ocean County finally got the better of its Monmouth counterpart by a 4-2 count behind a collection of Toms River North standouts and game Most Valuable Player Steve Bado from Jackson Memorial.
Bado nabbed MVP honors by scoring two goals, both of which gave Ocean County the lead. The first of the two came in the first half to make the score 2-1, with the 6-foot-3 senior wiggling through a wave of defenders for a finish. He scored again early in the second by knocking a cross from Toms River East's Noah Raimonde off a Monmouth defender and in for a 3-2 lead.
Monmouth jumped on top within the first minute of the game on a rip of a finish by Ocean Township 25-goal scorer Aidan Tisony. Ocean County responded shortly thereafter with a goal by Toms River North's Jared Brown off a pass from Mariners teammate Mattia Assante.
After Bado sent Ocean to the half with a 2-1 lead, Monmouth struck back early in the second when another Ocean Township senior, Michael Reid, buried a shot off a pass from Rumson-Fair Haven's Luke Pentikis.
Toms River North goalkeeper Dawson Kaniuk also played a key role for Ocean County by stopping a series of first-half shots by dangerous Monmouth County duo of Tisony and Christian Brothers forward Dylan Cupo. Toms River North's defensive trio of fullbacks Jimmy Ruppe and Ryan Maguire and defensive center midfielder Jake Nagle.
Unbeknownst to most of the people on the field, including the Monmouth County coaching staff and the officials, Monmouth County played for a significant stretch of the latter stages of the second half with 12 players on the field -- the result of a substitution snafu.
Not only did the man advantage not help Monmouth; Ocean County scored while playing a man down. Central Regional forward Gianni Smith ran onto a touch from Donovan Catholic's Preston Kyriakoulis and finished for a 4-2 Ocean County lead with eight minutes to go.
In the fun spirit of the all-star game, when the Ocean County sideline and the officials noticed the extra man on the field, rather than pull a Monmouth senior off the field, Ocean added a 12th man to finish the game.
Bado and Tisony capped their four-year varsity careers at their respective schools with awards on Friday night. While Bado was the game MVP, Tisony was the Monmouth MVP for scoring in the blink of an eye off the opening whistle and nearly hammering in a scissor kick out of the air off a corner kick. Tisony connected on the volley, but the shot hit the ground and then the left post before bouncing away.
Tisony completed a monster season with Ocean, scoring a conference-leading 25 goals to go with 10 assists, which placed him second in the conference in total points (60).
Bado, meanwhile, scored 10 goals while leading a young Jackson Memorial team that struggled to win games but remained competitive on a game-to-game basis. Bado -- the son of longtime head coach Steve Bado, Sr. -- has been Jackson Memorial's top scorer in each of the past two seasons.
It should come as no surprise that Toms River North's six representatives helped lead the way on Friday. The Mariners' 2022 graduating class has been part of three consecutive NJSIAA sectional championship teams and this past season, led Toms River North to a 15-2-3 campaign that included a trip to the Shore Conference Tournament championship game and an NJSIAA South Jersey Group IV championship for the second time in three years.
Since the All-Star game returned in 2018, Monmouth County has rolled in each game, with the 2020 festivities cancelled due to the COVID-19 pandemic. In 2018, Monmouth County ran out a starting lineup entirely comprised of players from its three state championship teams from Holmdel, Ocean Township and CBA. That loaded lineup overwhelmed Ocean County, 7-2.
In 2019, Marlboro's Max Shushkovsky won the MVP in leading Monmouth to a 3-1 win.
On top of the All-Star game dominance over the past two years, Monmouth County has been home to the last 15 Shore Conference Tournament champions. The 2020 season appeared to have some promise for Ocean in both the SCT and the All-Star game, with Toms River North and Southern Regional putting together memorable seasons.
The Shore Sports Network Player of the Year, Southern's Kevin Kiernan, was also a player from Ocean County and players like Ali Baish (Toms River North), Parker Nickelsen (Toms River North) and Johnny Hart (Pinelands) were as talented and accomplished as any players in the conference.
Instead, it was Dec. 3, 2021 in which Ocean County had its night in Shore Conference soccer thanks to the goal-scoring prowess of Bado, winning pedigree of the Toms River North six, and solid contributions across the board.
More From Shore Sports Network