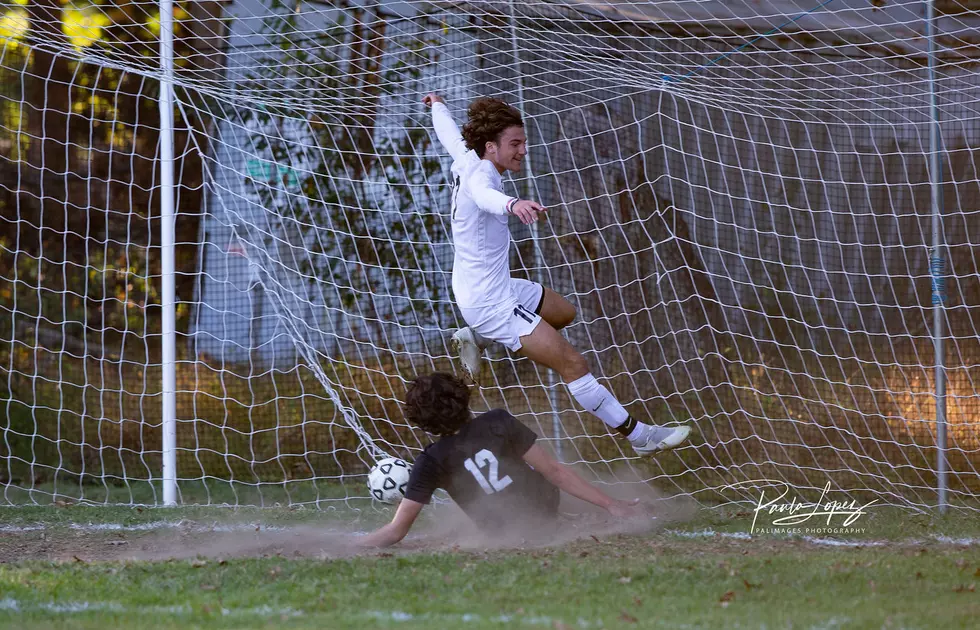 Boys Soccer – No. 3 Toms River North Turns Back Jackson Memorial
Toms River North senior Parker Nickelsen leaps into the goal after scoring in the second half Tuesday vs. Jackson Memorial. (Photo by Paula Lopez)

Enter your number to get our free mobile app
JACKSON TOWNSHIP  - Last season, the Toms River North boys soccer team showed how good it could be when a championship is on the line. This year, with the vast majority of its roster back from the 2019 NJSIAA South Jersey Group IV championship team, the Mariners want to be a championship-caliber side from start to finish.
Returning to the scene of one of its dramatic postseason wins in 2019, Toms River North - the No. 3 team in the Shore Sports Network Preseason Top 10 - fought off No. 8 Jackson Memorial, 2-1, Monday for their third straight win to open the season.
"Everyone knows the standard we have to play at," senior Parker Nickelsen said. "It starts day one and we just have to keep muscling up and staying with it."
Jackson Memorial is the three-time defending Shore Conference Class A South champion and despite the Jaguars losing their first two games of the season to No. 2 Southern Regional and with 10 new starters Tuesday relative to last year's team, they remain a contender in A South for championship hopefuls to overcome.
"We knew coming here, this game was going to be a hard one," Toms River North senior defender Danny Moreno said. "It's Jackson - they are always a great team."
On Tuesday, the Jaguars played without junior goalkeeper Charlie Harrison and senior Zach Rogacki - an outside back, throw-in extraordinaire and Bucknell baseball commit - manned the net in his absence. Toms River North controlled possession throughout but produced a limited number of challenges against the backup keeper in the first half.
Toms River North's relentless pursuit of a first goal ended in the 49th minute, when Moreno drew a trip just inside the top of the 18-yard box to set up a penalty kick. Moreno then stepped to the spot and hammered home a shot that gave the Mariners a 1-0 advantage.
Jackson Memorial got off just two shots over the ensuing 28 minutes and in the 77th, Toms River North made the Jaguars' climb back into the game even more difficult. Senior Ali Baish played a pass up to Nickelsen, who beat two defenders and walked the ball into the net for the game's second goal.
The insurance goal proved to be essential for Toms River North because Rogacki returned to the field and set up a head-ball goal by senior Joey Giusti with a long throw-in in the 78th minute.
Jackson Memorial earned a direct kick from 22 yards out in the final seconds but Toms River North junior goalkeeper Dawson Kaniuk covered the shot as time expired.
Tuesday's final tally mirrored that of last year's South Jersey Group IV semifinal, in which 16th-seeded Toms River North stunned the fourth-seeded Jaguars on a goal in the final two minutes. While Tuesday's winning goal was Nickelsen finishing a pass from Baish, last year's dramatic goal was Baish knocking in a cross from Nickelsen.
Last year's Toms River North team had three senior starters, with Logan Mack and Jake Baurerband playing key offensive roles during their team's five-game run while Baish and Nickelsen led the scoring charge. This year's team has Baish and Nickelsen on the attack and Moreno and Jack Montanile in the back as seniors, with a deep, talented junior class surrounding them.
"This year, we prepare for our opponent, but we're going to play the way we want to play," Moreno said. "We have really good juniors in the midfield and they are able to kind of carry us in the midfield now that they are a year older and more experienced. Last year, we had us as juniors helping out the seniors and now the juniors are doing the same for us."
Toms River North already got its sectional championship last season, but the returning Mariners were still laser-focused on returning to the field ready to win - even while sports and school were shut down early in the summer.
"We played to expect a season," Nickelsen said. "We did everything we could, got as fit as we could and there was no letdown. We knew that we did something great, but that's in the past. We know what we have to do this season."
More From Shore Sports Network