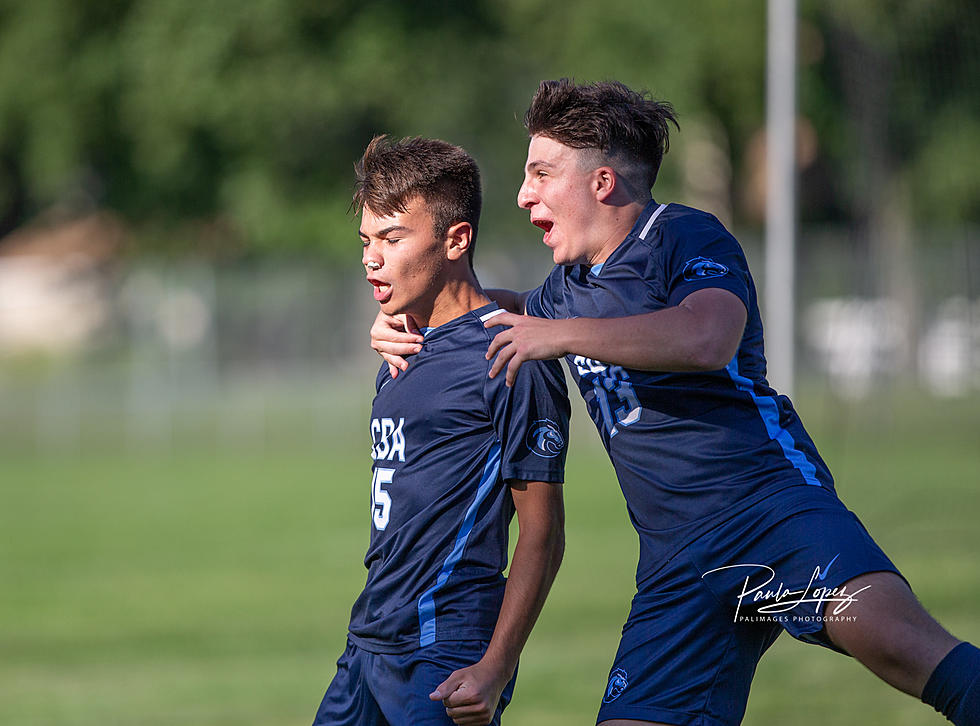 Boys Soccer – No. 1 CBA Shakes Off Slow Start for Impressive Opening-Day Win Over Long Branch
Senior Jake Homowitz celebrates his goal with teammate Joe Lucignano. (Photo by Paula Lopez)

MIDDLETOWN - A season ago, the Christian Brothers Academy soccer team did not play its first game until Oct. 10 - which is right around the time the Shore Conference Tournament typically starts. The school was shut down due to multiple COVID-19 cases among its student body just before the start of the soccer season, which was already slated to begin nearly a month later than usual.
Given the late start in 2020, it is forgivable that CBA might need some time to round into form in 2021, even as the No. 1 ranked team in the Shore Sports Network Top 10. As it turned out, it took all of 20 minutes for CBA to find its equilibrium during the new season.
After falling behind against No. 8 Long Branch, CBA stepped up its game over the final 59 minutes to secure a 3-1 win over the Green Wave Tuesday to open up its season.
PHOTO GALLERY: Long Branch at CBA by Paula Lopez
During its 13-0-1 2020 season, CBA did not trail at all during the entire season. On Tuesday, however, the Colts found themselves in a 1-0 hole a little more than 20 minutes into their new season.
"We really just had to keep our heads straight," senior center midfielder Jake Homowitz said. "Once you go down, it can sometimes be easy to get on your heels and let them keep attacking, but we knew we had to be the ones to attack and make sure we got the next goal."
Long Branch manufactured the best opportunities of the first quarter of the match, with senior midfielder Brian Yocute drilling a shot off the crossbar in the 14th minute. A little more than six minutes later, the Green Wave broke through when senior center back Davenson JoinVilmar headed in a free kick by senior Cesar Rojas Lopez, putting Long Branch ahead in the 21st minute.
"It wasn't that surprising," CBA senior defender Declan Kelly said. "Long Branch are a very good team. They are quick, they are athletic, they work hard. It's never an easy game to play so it wasn't a shock to us that they were able to score first, maybe a little sloppy on our part. It was just a matter of us doing a better job of playing the way we wanted to play and to start looking to maybe attack a little bit more, which we were able to do."
JoinVilmar spent his first three high-school seasons as a varsity player at Asbury Park and was a first-team All-Class B Central midfielder as a junior. After transferring the Long Branch, JoinVilmar has assumed a starting role as a center fullback and pushed up for his first goal as a member of the Green Wave.
Long Branch's icebreaker, as it turns out, woke up CBA's attack. The Colts put together a surge and senior center midfielder Jake Homowitz capitalized with the equalizer in the 26th minute. Long Branch cleared the ball out of the 18-yard box on a free kick by Kelly, but Homowitz settled it just outside the 18 and hit a shot with the outside of his foot that bent toward the right side of the back netting.
"I have played Long Branch a couple of times now," senior Dylan Cupo said. "They always come ready to play and they are a tough team. We had to match their tempo in the first half and we were able to make them match us in the second half and I think just having some fresh legs helped us wear them down a little bit. Once we got the first goal, things got a little easier from there."
In the 52nd, Long Branch's chances took a hit when senior defender Chris Lazo-Quintanilla was issued his second yellow card for an illegal tackle, disqualifying him for the game and giving CBA an 11-on-10 advantage.
"Attack," Cupo said of the team's mentality upon seeing it's opponent lose a player. "We have all this space and we have our flanks to attack it and that's what we love to do anyway. When you have guys with that speed and you have Cupo with them up top, it makes it pretty easy to attack."
Ten minutes later, junior Will Thygeson turned the corner on the left side, played a low cross to the near left post, when Cupo knocked it out of the air and into the net.
Cupo is CBA's top returning scorer after connecting on seven goals as a junior, but the CBA forward was quick to pass credit to junior teammates Thygeson and Jack D'Eletto, who wore out Long Branch on either flank - particularly in the second half.
PHOTO GALLERY: Long Branch at CBA by Paula Lopez
"We are young in the midfield but there is still a lot of talent," Cupo said. "You can quote me on this, though: I think we have the two fastest kids in the Shore on the wings. Thygeson and Jack D'Eletto were beasts today."
Senior goalkeeper Carlos dos Santos kept Long Branch within striking distance by denying two shots by sophomore Dylan Millevoi and one by Thygeson, but Millevoi finally broke through with a 20-yard rip in the 79th minute for his first varsity goal.
Millevoi's goal capped a dominant run by CBA since the goal by JoinVilmar. Upon taking the 1-0 lead, Long Branch was outshooting CBA, 4-2. Over the final 59:40 on the clock, CBA outshot the Green Wave, 13-0.
PHOTO GALLERY: Long Branch at CBA by Paula Lopez
While the CBA midfield boasted three new starters - senior returnee Marco Mastrianni is out with a hamstring injury, according to CBA coach Tom Mulligan - the defense also has three new starters alongside Kelly, who has moved from an outside back spot to the middle.
Senior Jack McGagh is now sharing the middle of the defense with Kelly while juniors Charles Paparella and Joe Lucignano occupy the outsides. As it did throughout last year, CBA went with a split game in goal, this time with junior Ryan Hayes covering the first half and sophomore Joe Grossman taking the second half.
"It's obviously hard to replace those three guys (Jack Longo, Ryan Mojares and Ethan Beyer)," Kelly said. "They are very good players but I just feel like these guys are young, but they are three good players. They are smart, they hung in there today and I just feel like it's a good group to build around."
PHOTO GALLERY: Long Branch at CBA by Paula Lopez
With the opening-day win, CBA hopes they are embarking on a championship season after getting just a small taste of a typical soccer season in N.J. last year. The Colts did not play enough games to clinch even an unofficial Class A North division championship and their Non-Public sectional championship did not require them to go through some of the high-end state-level programs that it usually does.
This season, however, the Colts will look to win their first Shore Conference Tournament title since 2016 and get back to the NJSIAA Non-Public A championship game after losing in the South A sectional final against St. Augustine in 2019.
"We were undefeated last year, but we didn't play a lot of the best teams in the state like we usually do," Homowitz said. "This year, we're going to play more of those games. We have the states, we have the Shore Conference Tournament, we're playing all of these these teams and our mentality is to go right after them and not back down from anybody."
"Looking back at last year, you kept seeing the word 'unofficial' in front of everything you win," Cupo said. "This year, we are out for some hardware. We want the real deal."
PHOTO GALLERY: Long Branch at CBA by Paula Lopez
More From Shore Sports Network