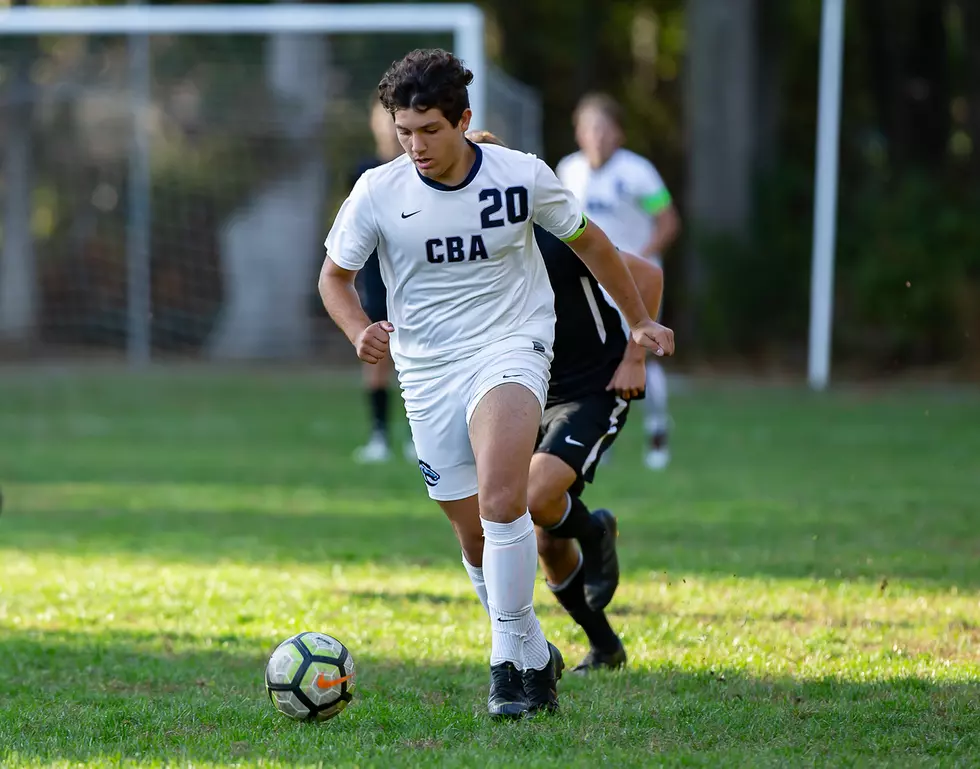 Boys Soccer – NJSIAA Tournament Preview: Non-Public A and B
CBA senior Luke Pascarella. (Photo by Paula Lopez)
When it comes to non-public programs in the nominal South Jersey, it has been CBA, St. Augustine, Notre Dame and then everyone else. Since Tom Mulligan took over at CBA in 2016, the Colts have been the dominant program, reaching the Non-Public A final in each of his three seasons and four in a row overall since 2015. St. Augustine has returned to the fold this season, as has Notre Dame.
Beyond those three teams, the rest of the non-publics in South Jersey - which includes the rest of Non-Public A and all of Non-Public B - are all pretty close in talent. While the A bracket looks like a three-horse race, Non-Public B has proven to be unpredictable and this year should be no exception.
South Jersey Non-Public A
Shore Teams in the Field: No. 2 CBA, No. 9 Donovan Catholic, No. 10 Red Bank Catholic
Defending Champion: CBA
Top Seed: St. Augustine
Favorite: St. Augustine. The Hermits suffered their first in-state loss on Oct. 14 to Oakcrest and later fell, 2-0, to Moorestown a week later. Their last three games have come against the No. 2 in South Jersey Group II (Oakcrest) and the No. 1 seeds in Central Group I (5-1 win over Florence) and South Group III. Those recent tests should center St. Augustine as it prepares to defend its own No. 1 seed in South Jersey against a solid-but-inexperienced CBA team and a surging Notre Dame side.
Darkhorse: No. 5 Bishop Eustace. South Jersey Non-Public A is arguably the thinnest section in the state, with only 10 teams total and likely only three with a realistic shot to win it. Bishop Eustace doesn't appear to be among the contenders but the Crusaders do look strong enough to win on the road in the sectional quarterfinals against Paul VI and take a shot at St. Augustine in the semis.
Bracket Overview: Despite returning only three starters from last year's Non-Public A championship team, CBA finds itself right back in the mix to reach the state final thanks to a stellar back line and the emergence of a handful of offensive threats to complement seniors Luke Pascarella and Michael Casper. Notre Dame has taken off under former Rutgers head coach Dan Donigan and could potentially knock the Colts off in a semifinal matchup at CBA.
(9) Donovan Catholic over (8) Camden Catholic
(7) St. Thomas Aquinas over (10) Red Bank Catholic
(1) St. Augustine over (9) Donovan Catholic
(5) Bishop Eustace over (4) Paul VI
(3) Notre Dame over (6) St. Joseph Metuchen
(2) CBA over (7) St. Thomas Aquinas
(1) St. Augustine over (5) Bishop Eustace
(2) CBA over (3) Notre Dame
(2) CBA over (1) St. Augustine
South Jersey Non-Public B
Shore Teams in the Field: No. 7 St. Rose, No. 9 Ranney, No. 10 Mater Dei Prep
Defending Champion: No. 5 Rutgers Prep
Top Seed: Wardlaw-Hartridge
Favorite: No. 2 Moorestown Friends. Two years removed from winning the section, Moorestown Friends is coming off a disappointing exit in 2018, when it ran into a red-hot St. Rose team in the sectional quarterfinals. This year, the Foxes appear primed to take back the section, which remains wide open.
Darkhorse: Ranney. With a young team, Ranney has had some memorable moments in 2019, including winning the Shore Conference Class B Central title for the first time. The Panthers should be adequately-prepared to take on Trenton Catholic and top-seeded Wardlaw-Hartridge in back-to-back rounds and if they do pull off the two road wins, the bracket becomes a free-for-all.
Bracket Overview: St. Rose came so close to finishing off a championship run last year before ultimately falling to Rutgers Prep last year and those two teams can't be counted out this year either. The Roses will face B Central rival Mater Dei in the opening round, with the Seraphs looking to cap a season of great progress with a state tournament win over one of last year's finalists.
(9) Ranney over (8) Trenton Catholic
(5) Rutgers Prep over (12) Holy Spirit
(4) Wildwood Catholic over (13) Immaculata
(3) Holy Cross Prep over (14) Doane Academy
(6) Timothy Christian over (11) Gloucester Catholic
(7) St. Rose over (10) Mater Dei Prep
(2) Moorestown Friends over (15) Calvary Christian
(9) Ranney over (1) Wardlaw-Hartridge
(5) Rutgers Prep over (4) Wildwood Catholic
(3) Holy Cross Prep over (6) Timothy Christian
(2) Moorestown Friends over (7) St. Rose
(9) Ranney over (5) Rutgers Prep
(2) Moorestown Friends over (3) Holy Cross Prep
(2) Moorestown Friends over (9) Ranney
More From Shore Sports Network