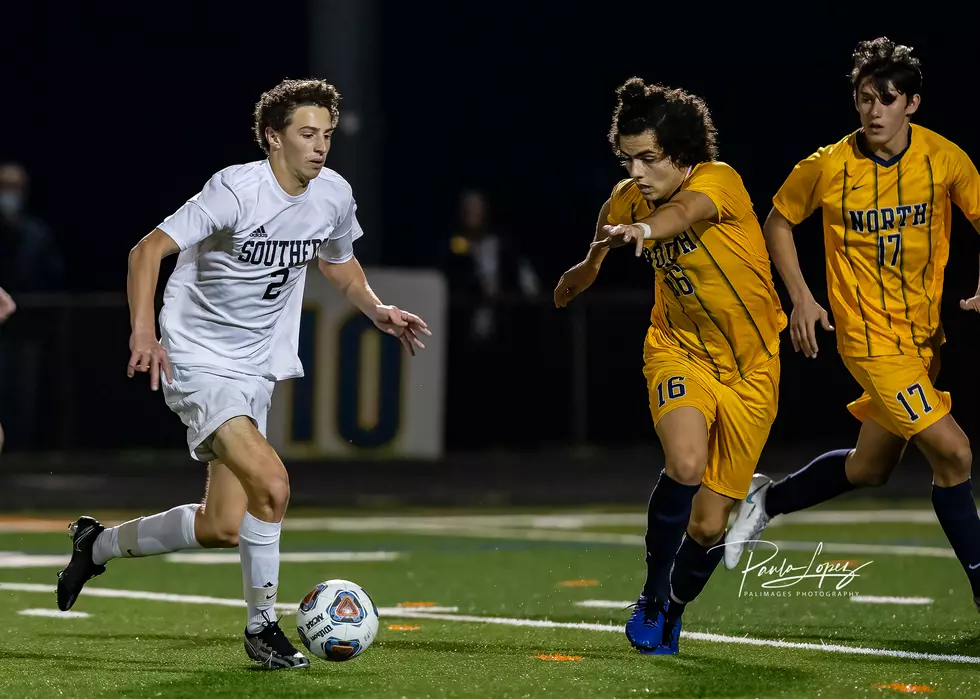 Boys Soccer – NJSIAA Sectional Final Previews: Shore Conference Edition
Southern's Kevin Kiernan handles the ball vs. Toms River North seniors Danny Moreno (16) and Jack Montanile (17). (Photo by Paula Lopez)

Enter your number to get our free mobile app
We have, rather improbably, reached the final day of the 2020 boys soccer season in New Jersey and there will be five games in which at least one Shore Conference team will be playing for an NJSIAA Sectional Championship.
Nine teams from Monmouth and Ocean County will play for a title and the group is a mix of established programs that have won championships over the past two seasons (Wall, CBA and Toms River North), teams that have been in championship games somewhat recently but have waited a while to win one (Colts Neck, St. Rose, Monmouth, Toms River East), and a pair of teams that are both in uncharted waters (Southern and Manchester).
Below, you will find a preview of each of the five sectional final matchups involving teams from the Shore Conference and a prediction following each. Regardless of the outcome, however, that the season is set to end with five champions being crowned on the final scheduled game of the season is already an upset of sorts and it is on the cusp of happening.
NJSIAA Tournament Sectional Finals
Central Jersey East Region
No. 2 Southern (14-1-1) at No. 1 Toms River North (14-1-1), 11 a.m.
Southern: Defeated No. 10 Manalapan, 6-0; No. 3 Long Branch, 1-0
Toms River North: Defeated No. 9 Jackson Memorial, 2-0; No. 4 Freehold Twp., 3-2
Last Sectional Championship
Toms River North: 2019 (South Group IV)
Southern: Kevin Kiernan, Sr., Midfield (25 goals, 9 assists); J.P. Prosperi, Sr., Defense (5 goals); Ryan Leavitt, Sr., Forward (7 goals, 6 assists); Nico Leonard, Sr., Midfield (1 goal, 4 assists)
Toms River North: Ali Baish, Sr., Forward (10 goals, 11 assists); Parker Nickelsen, Sr., Forward (14 goals, 5 assists); Mattia Assante, Jr., Midfield (4 goals, 10 assists); Jack Montanile, Sr., Defense (4 goals, 5 assists)
Saturday's Central East Group IV South championship game will mark the third meeting between the two best teams in Ocean County and it will be the third time that a championship will be on the line with these two teams on the field. Toms River North had a chance to clinch first place in Class A South on Nov. 9 but Southern denied the Mariners a celebration in Toms River with a 4-3 overtime win. That made last Saturday's game the de facto A South championship match and the two teams played to a 3-3 draw.
Saturday will be again be for a championship and Southern has a chance to leave no doubt who the best team in A South and Ocean County is. The Rams are led by Shore Conference leading scorer Kevin Kiernan, who has scored at least one goal in 15 of Southern's 16 games this season and scored four in the two matches vs. Toms River North – including the overtime winning on Nov. 9. Kiernan is part of a decorated senior class that is the backbone of Southern's 2020 team, with J.P. Prosperi, Nico Leonard, Ryan Leavitt, Kevin Cooney and Brandon Notte leading that group.
Southern has never played for a sectional championship, so even a title in a modified version of the state playoffs would be an accomplishment for a group that has been a once-in-a-generation class for the Rams.
Toms River North, meanwhile, is looking to repeat as a sectional champion after winning the always-grueling South Jersey Group V bracket as a No. 16 seed a year ago. Southern is the only team Toms River North has failed to beat this season, so the Rams make for a worthy obstacle for the Mariners to clear to finish off their season. Like Southern, Toms River North has a senior group at the heart of its success, with Ali Baish, Parker Nickelsen, Jack Montanile and Danny Moreno playing key roles on the team. Toms River North does lean on a deep group of juniors as well, particularly in the midfield with Mattia Assante, Jared Brown and Jake Nagle and on defense with Ryan Maguire, Jimmy Ruppe and David Anderson in front of junior goalkeeper Dawson Kaniuk.
The two regular-season games were back-and-forth affairs that saw Toms River North erase two one-goal deficits in game one, while Southern rallied from a goal down in both games. Southern found a way to win the first game despite being under fire from Toms River North's attack for most of the game, so the Rams will have to stave off another push from a battle-tested Mariners team hungry for payback
The Pick: Toms River North, 4-2
No. 2 Cranford (7-5-1) at No. 1 Colts Neck (14-2), 2 p.m.
At Five Points Park (across from high school on Five Points Road)
Cranford: Defeated No. 6 Colonia, 1-0
Colts Neck: Defeated No. 8 JFK-Iselin, 6-0; No. 4 Matawan, 2-1
Last Sectional Championship
Colts Neck: 2000 (Central Group I)
Cranford: Tim O'Donovan, Sr., Forward (8 goals, 2 assists); Mateo Beltran, Jr., Defense (3 goals); Owen Maher, Jr., Midfield (2 goals, 2 assists); Ryan Dooley, Sr., Forward (4 goals, 1 assist)
Colts Neck: David Tuschmann, Jr., Forward (22 goals, 7 assists), Jake Gershon, Sr., Midfield (12 goals, 11 assists), Ryan Lee, Sr., Midfield (4 goals, 3 assists); Stephen Ciccarone, Sr., Defense (2 goals, 4 assists); Derek Haaf, Sr., Forward (9 goals, 6 assists); Tom Samaras, Jr., Midfield (9 goals, 8 assists)
The final week of the regular season was a disappointment for Colts Neck, which lost two 2-1 games against Wall with first place in Class B North on the line. The Cougars regrouped with a convincing 6-0 first-round win and then, for the first time all season, they won a game with a game-winning goal in the final minutes to knock out Matawan, 2-1.
Colts Neck has been a dominant side for most of the year, with 72 goals scored in 16 games against only 10 allowed. The Cougars were placed in an NJSIAA bracket that started with only eight teams, had two (Middletown North and Summit) drop out, and may not have a team that has the horses to stay with Colts Neck over 80 minutes. Matawan did an admirable job and now Cranford will try its best to do the same.
The Cougars are 20 years removed from winning the Group I title and by late Saturday afternoon, they should have something else to celebrate.
The Pick: Colts Neck, 3-0
No. 11 Toms River East (7-7-2) at No. 1 Wall (16-0), 4 p.m.
At Wall Municipal Complex
Toms River East: Defeated No. 6 Allentown, 2-1; No. 3 Lacey, 2-0; No. 2 Pinelands on penalties, 0-0 (4-3)
Wall: Defeated No. 9 Toms River South, 2-1 (OT); No. 5 Brick, 3-1
Last Sectional Championship
Toms River East: 1985 (South Group IV)
Wall: 2019 (Central Group III)
Toms River East: Alex Heid, Sr., Forward (9 goals, 4 assists); Mike Conklin, Sr., Defense (3 goals, 5 assists); Noah Raimonde, Jr., Midfield (7 goals, 4 assists); Kajus Matazinskas, So., Forward (4 goals, 2 assists)
Wall: Jake Pepe, Sr., Forward (9 goals, 15 assists); Sean Southwell, Sr., Defense (3 goals, 4 assists); Terence Byrnes, Jr., Forward (10 goals, 1 assist); Philip Lyons, Sr., Midfield (4 goals, 2 assists); Nico DellaPietro, Sr., Midfield (5 goals, 1 assist)
While it is hard to place a value on these 2020 sectional championships given how different the brackets are compared to most years, Saturday's game at Wall will be meaningful for both participants. For the host Crimson Knights, they have a chance to complete a perfect season with a sectional championship to go with a first-place finish in Class B North.
Wall was the runner-up for the overall Group III championship in 2019 and did not allow a goal in the run of play during the entire six-game run through the tournament. The Crimson Knights graduated their entire defense and had to replace injured goalkeeper Sebastian Campanile with junior Joe Gisoldi, who has delivered for the Knights in his first year as a starter. The defense has also remained stellar, with Sean Southwell, Christian Cosenza, Kyle Horowitz and Dan Hyde comprising a group that has allowed only nine goals in 16 games.
The Wall attack, meanwhile, has plenty of experience. Jake Pepe missed a brief stretch of the regular season with a groin injury but has come back strong and scored five of his nine goals over Wall's last four matches – must-win games against Colts Neck (twice), Toms River South and Brick. Terence Byrnes, Philip Lyons and Nico DellaPietro have been productive again this year and Emmett Aravich and Matt Murphy have stepped in as capable first-year junior starters.
On the other side, Toms River East has not won a sectional championship since winning Group IV in 1985 and is playing in a sectional final for the first time since 2011 – the third of three losses in the South Jersey Group IV final in a span of six years.
Toms River East has made its living off throw-ins and defense during the state tournament, with senior Mike Conklin figuring prominently into both of those facets of the Raiders' success. He assisted a goal win a throw-in in each of the first two wins and even threw one into the goal (with some help from Allentown) in the come-from-behind first-round win. Junior Noah Raimonde has stepped up as a goal-scorer during the playoffs, while senior Alex Heid remains the top goal-scoring threat from the season.
While some of the championship runs throughout the state will be watered-down as a result of smaller sections, a Raiders championship would be no such thing. Just to make it to the final, the No. 11 seed had to knock off a capable Allentown side in round one, then win back-to-back games on the road against the top two teams from Class B South – Lacey and Pinelands. If Toms River East can knock off Wall, it would cap a four-game run that compares to most sectional-championship runs in Group III during a normal year and would end with a win over one of Group III's top programs.
No. 9 Monmouth (8-7-1) at No. 6 Manchester (9-5-2), 11 a.m.
Monmouth: Defeated No. 8 Manasquan, 4-1; No. 4 Point Beach, 2-1 (OT)
Manchester: Defeated No. 11 Shore, 2-0; No. 3 Asbury Park, 8-1; No. 2 Raritan, 2-1
Last Sectional Championship
Monmouth: 1965 (Central Group III)
Monmouth: Ryan Kuldanek, Jr., Midfield (13 goals, 10 assists); Kaan Pehlivan, Jr., Midfield/Forward (9 goals, 3 assists); Bryan Leonard, Sr., Forward (5 goals, 5 assists); Ethan Wallace, Jr., Midfield (4 goals, 2 assists); Aiden Hicks, Jr., Midfield (3 goals, 3 assists); Tom Siracusa, Sr., Defense (1 goal, 1 assist)
Manchester: Owen Edwards, So., Midfield (10 goals, 5 assists); Brandon Sogness, Jr., Midfield (7 goals, 4 assists); Logan Duffy, Jr., Forward (5 goals, 5 assists); Trevor Juralewicz, Sr., Defense (3 goals, 4 assists); Blake Weiner, Sr., Midfield (4 goals, 3 assists); Vincent Paolillo, Jr., Midfield (5 goals, 3 assists)
For one of these teams, the 2020 season is going to end with a historic result – even if the 2020 sectional championships are viewed differently from championships in normal years. This section has an additional qualifier, as top-seeded Holmdel had to pull out of the tournament due to multiple confirmed cases of COVID-19 among its players.
In 2020, however, staying virus-free is, unfortunately, part of winning a championship and these two teams can boast that, and then some, to this point. Monmouth was the direct beneficiary of Holmdel's misfortune, with the Falcons set to play the No. 1 seed when the news came down that Holmdel's season was over. That allowed Monmouth to skip to the semifinals and the Falcons barely escaped Point Pleasant Beach thanks to an overtime goal by Ryan Kuldanek.
Kuldanek is the leader of Monmouth's standout junior class, which makes the Falcons a threat to follow up this year's playoff run with some more magic next year. This season started off terribly for Monmouth, which started 0-7-1 but has since rattled off eight straight wins. Now, the Falcons are on the doorstep of winning their first sectional championship since 1965, when they won all of Group III. Their last sectional final appearance, however, came just three years ago, when Holmdel trounced the Falcons, 6-0, in the Central II final.
Manchester's march to the final has been the more impressive of the two, with the Hawks shutting out Shore, hammering Asbury Park, 8-1, and stunning No. 2 seed Raritan, 2-1, on a goal by Owen Edwards with 23 seconds left. Edwards has emerged as Manchester's top offensive player as a sophomore and – like Monmouth – the Hawks boast a roster full of players due back in 2021. Midfielder Blake Weiner and defenders Trevor Juralewicz, Dallas Hopkins and Xavier Millan are the only seniors in the starting lineup.
Not only has Manchester never won a sectional championship in the history of the program; the Hawks have never even played in a sectional final. Saturday will be a landmark day for the Hawks, no matter the outcome, and the winner of the match will have completed a very special season.
No. 3 St. Rose (11-2) at No. 1 CBA (12-0-1), 1 p.m.
St. Rose: Defeated No. 6 Donovan Catholic, 3-0; No. 2 Ranney, 3-0
CBA: Defeated No. 5 St. Joseph Metuchen, 1-0
Last Sectional Championship
St. Rose: 2010 (South Non-Public B)
CBA: 2018 (South Non-Public A)
St. Rose: Matt Kirkpatrick, Sr., Midfield/Forward (13 goals, 2 assists), Kyle Corrigan, Jr., Midfield (9 goals, 8 assists), Luke Hamill, Jr., Midfield (4 goals, 10 assists), Matt Gowen, Jr., Defense (1 goal), Morgan Fahy, Sr., Midfield (5 goals, 2 assists)
CBA: Brett Sieg, Sr., Midfield (5 goals, 4 assists), Shane Borenius, Sr., Midfield (7 goals, 3 assists), Jack Longo, Sr., Defense (1 goal, 1 assist), Dylan Cupo, Jr., Forward (6 goals, 1 assist); Christian Mojares, Sr., Defense
When CBA defeated Holmdel, 3-1, to end the Hornets' 65-game unbeaten streak, it figured to mark the last time CBA would play a team that – at least on paper – would challenge the Colts. That has not been the case, though, with winless Manalapan playing CBA to a scoreless tie and St. Joseph of Metuchen staying within a goal of the Colts on Thursday in a 1-0 CBA win.
With all that being said, CBA has been a dominant side in 2020, conceding only three goals all season long and picking up wins over some of the Shore's best: Holmdel, Freehold Township (twice), Long Branch and Rumson-Fair Haven. Their No. 1 ranking in the Shore Sports Network Top 10, while not etched in stone, is relatively secure as long as the Colts can finish off a sectional championship on Saturday.
Monmouth commit Brett Sieg is CBA's centerpiece and his absence due to a foot injury played a significant part in the scoreless draw vs. Manalapan. Sieg is back for the state playoffs and runs a midfield that includes top scorer Shane Borenius, fellow senior Graydon Santos and impact juniors Jake Homowitz and Marco Mastriani. Jack Longo and Christian Mojares have anchored the back line, with Declan Kelly and Ethan Beyer handling the edges of the defense. Dylan Cupo, Will Thygeson and Jack D'Eletta have all had their moments playing up top and Thomas Manners and Michael Jakub have performed well as a tandem of first-year keepers.
To finish the season unbeaten, CBA will have to get through a St. Rose team eager to prove itself under first-year coach Simon Muckle. The Purple Roses stormed through their Class B Central schedule, then handled two Shore Conference opponents in Donovan Catholic and Ranney during the state tournament. Their only losses this season have come to larger non-public programs – St. Peter's Prep and aforementioned St. Joseph of Metuchen.
Matt Fitzpatrick and Morgan Fahy are the senior leaders, with Fitzpatrick leading the team in scoring. St. Rose also boasts a strong junior class, led by Luke Hammil, Matt Gowen, Kyle Corrigan, Colin Westhoven and Jeff Vitale. St. Rose has also gotten eight goals out of sophomore Jake Vitale.
Senior goalkeeper Shane Killeen will be under the microscope against CBA, with Gowen and the defense hoping to protect him. Even with a pristine effort in the back, St. Rose is going to have to find a way to do what only Freehold Township, Holmdel and Howell have done this year, which is to score a goal on CBA. In addition to only conceding three times, CBA has not trailed all season so it will require a series of firsts for the Purple Roses to spring the upset.
More From Shore Sports Network