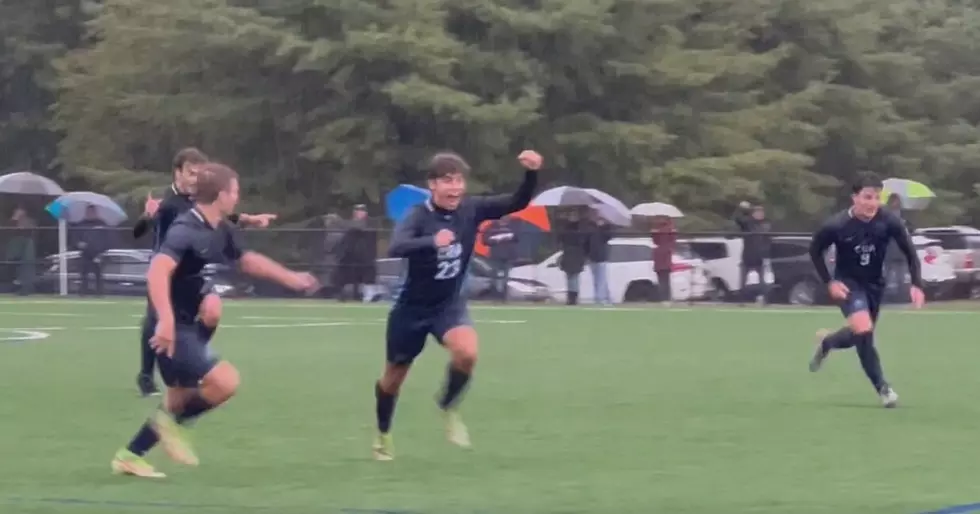 Boys Soccer – Millevoi Scores Golden Goal, CBA Beats Freehold Township in Rain-Soaked Showdown
Dylan Millevoi (23) celebrates his game-winning goal in overtime Monday vs. Freehold Twp. (Image: Matt Manley)

MIDDLETOWN -- On a day that was anything but perfect with respect to the weather, there came a point at which the Christian Brothers Academy boys soccer players stopped looking for the perfect goal to beat Freehold Township and set out in search of any goal at all.
If the lone goal of the anticipated game wasn't perfect, the ending sure was for CBA.
Junior Dylan Millevoi held his onside position just long enough before receiving a pass from classmate Dimitry Corba and tapping home the golden goal five minutes into overtime to give the Colts -- No. 1 in the Shore Sports Network Top 10 -- a 1-0 win over No. 2 Freehold Township on a rainy Monday evening.
"We knew it was going to be one of those days where ugly goals count," Millevoi said. "All you have to do is look for those moments where you get that tap-in or get that goal to win it for your team.
"The fact that we can win in these kinds of conditions just shows how good we are and how good we can be later in the Shore Conference and state tournament."
The first 80 minutes of Monday's game featured a fair share of chances for both teams -- some legitimate shots and others mishits or straight-up whiffs attributed to the wet, windy conditions. Millevoi had one of those mishits early in the second half and later in the second half, was called offside before he had a chance to finish a one-on-one opportunity that could have ended the game five minutes earlier.
"It's difficult to play in these conditions," Millevoi said of playing in the rain, which was steady throughout and came with wind that picked up significantly around the midway point of the first half. "The ball is bouncing everywhere and it's a different kind of ball when it's played to you. It's also fun to play in sometimes. You're sliding all over the place and it's just like you're having a good time with your friends."
Millevoi learned from each earlier mistake, both by holding the line before Corba's pass and executing his shot under pressure. In the fifth minute of overtime, Millevoi made his run, Corba slipped him the ball and the junior buried the winning shot into the lower right corner of the goal.
The official on the scoring side of the field initially signaled a goal but the celebration was delayed as he pointed to a spot inside the 18-yard box, which led several players on the field to believe he was indeed calling Millevoi offside. As it turned out, he was attempting to explain his call to the Freehold Township players and again signaled for a goal, allowing CBA to resume its celebration.
"I was waiting so I wouldn't be offsides," Millevoi said. "(Corba) passed the ball right to me, I saw that corner and I hit it. When it happened, it felt so good. There was some confusion with the ref -- I thought he might be calling offsides, so the celebration had to wait. Once it happened, it was a great feeling.
Freehold Township had its share of opportunities as well. Midway through the first half, junior Victor Torres played a cross from the left side that past through a dummy and to the opposite end of the 18-yard box. Junior Alessandro Principato nailed a one-time shot that was ticketed for the upper right corner of the goal, but CBA junior goalkeeper Miles Gallagher made a leaping save to preserve the scoreless deadlock.
"All the props to Miles Gallagher," Millevoi said of the CBA goalkeeper, who took over the starting job when returning junior starter Joe Grossman suffered a season-ending knee injury in the preseason. "He made such great saves to keep us in this game. Without him, we wouldn't have made it to overtime and been able to win this kind of game."
Early in the second half, senior Aidan Englander played through classmate Tim Bertscha for an open chance at the six-yard mark, but Bertscha could not connect on a shot attempt.
Later in the half, Freehold Township senior Kyle Chalfin cracked a 35-yard blast that dipped toward the top-right corner of the goal, but nicked the top of the crossbar for another Patriots near-miss.
Monday's game played out similarly to CBA's season-opener against Marlboro, although the Colts came away with the 1-0 loss in that one on a golden goal by Mustangs junior Cade Jacobs. Since then, CBA has won nine straight.
"After the Marlboro game, we didn't know how good we'd be doing," Millevoi said. "Then we started beating teams from all around the state and from other states."
This time around, CBA dodged some near strikes by Freehold Township and and overcame a lockdown Patriots defense that gave up some early breakouts by senior wingers Will Thygeson and Jack D'Eletto, but kept the dynamic duo quiet in the second half while CBA was playing into the wind. Despite a shortage of second-half shots against Freehold Township goalkeeper Jack Goldsmith, CBA kept the ball moving in search of an opportunity and capitalized in a key moment.
Monday's result at Dan Keane Field coupled with a Howell win over Middletown South means CBA has clinched no worse than a share of the Shore Conference Class A North division championship and can clinch he outright title with a win or a tie at Middletown North on Thursday, or with a tie between Howell and Freehold Township in another Thursday game.
As for the postseason, Millevoi and his teammates were impressed enough with Freehold Township that they expect to meet again in the Shore Conference Tournament, which will be seeded on Thursday night and begin on Tuesday, Oct. 11.
"Freehold Township played a great game," Millevoi said. "They're a very good team and I'm expecting to see them again in the Shore Conference Tournament. It was a great game and we just didn't stop fighting. Coach (Tom) Mulligan tells us to play for 80 minutes and that's what we do, and if we have to go 100 minutes, we'll go 100 too."
Why NJ should have a designated weekend for Halloween instead of one day
It only seems logical to get a full weekend instead of a random single day at the end of the month
More From Shore Sports Network