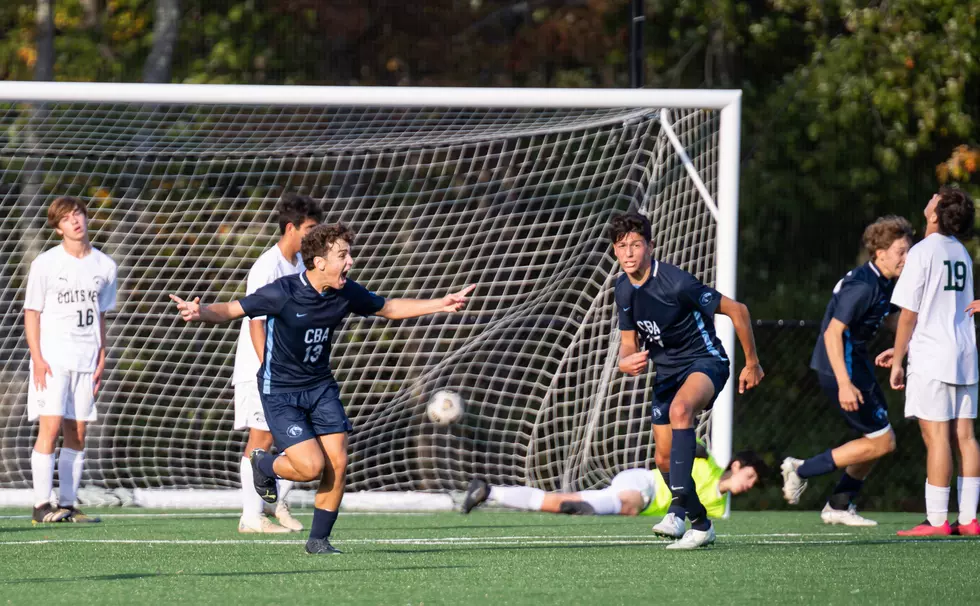 Boys Soccer – Final Four: Shore Conference Tournament Semifinal Preview, Picks
CBA junior Dimitry Corba celebrates his goal vs. Colts Neck. (Photo: Tom Smith | tspsportsimages.com)

Shore Conference Tournament Semifinals
Thursday, Oct. 20, 2022
At Memorial Field, Summerfield School, Neptune
No. 2 Howell (10-2-2) vs. No. 3 Holmdel (12-1-1), 4 p.m.
Three of the four teams still playing in the Shore Conference Tournament advanced on penalty kicks on Monday and the first game on Thursday will feature two of them. While both teams advanced on shootouts, they did so after playing very different games. Howell battled to a scoreless draw with Rumson-Fair Haven before connecting on all four of its kicks in the shootout win, while Holmdel squandered a 3-1 in heading to the penalty round tied 3-3.
The three goals allowed by Holmdel nearly doubled the Hornets' total for the season and considering it was their first game of the season against a Class A North division team that qualified for the Shore Conference Tournament, there might be some concern on the Holmdel sideline that the Hornets' goal is more vulnerable against other top teams in the conference. Then again, the rainy weather Monday night could have had something to do with the scoring outburst from two teams that have mostly played in lower-scoring games when playing teams close to their level.
Howell, meanwhile, struggled to generate sustained possession and scoring chances against Rumson-Fair Haven and avoided some close calls on shots by the Bulldogs. Goalkeeper Charlie Scanlon turned in a standout performance and the defense held its ground for 100 minutes to get the game to penalty kicks, where its shooters came through for the second straight game. Howell is now 9-for-9 in penalty kick attempts and has the unique opportunity to play for a spot in the championship game despite not having scored a goal in the run of play yet.
At the start of this tournament, there were probably more questions surrounding Holmdel's ability to score at this stage of the tournament than Howell's, but the roles seem to have reversed. Holmdel creates chances and has multiple players with the capacity to finish. Howell has the same, but will have to snap out of its funk. The good news for the Rebels is their defense has been up to the task and now, they are another 80-to-100 minutes away from their first trip to the SCT final as a program since winning it in 2007. Believe in the Howell defense and give the Rebels their first goal of the tournament on Thursday night. The Pick: Howell, 1-0.
No. 1 Christian Brothers Academy (13-1) vs. No. 13 Middletown North (7-5-1), 6:30 p.m.
Middletown North was one of a handful of Shore Conference teams to play CBA to within a goal on the scoreboard, although the Lions ultimately fell, 1-0, on their home field. Middletown North can match up with CBA fairly well thanks to its talent on the back line, with C.J. Crolius captaining the defense at center back and sophomore Ryan Barnao offering some versatility to defend and score on the outside. The Lions are equipped to take advantage of set pieces and will likely have to earn and capitalize on those opportunities in order to have a chance at slaying the No. 1 seed.
CBA enters Thursday banged up, with senior standout Will Thygeson missing the quarterfinal win over Colts Neck with a hamstring strain and a number of other starters playing through ailments – par for the course for most teams at this point in the season. Once again, CBA has shown an ability to play with composure in tense games, evidenced by its overtime wins over Manalapan, Freehold Township and Southern. The Colts have not had a dominant run like they did heading into last year's SCT, but if the game is close, that doesn't necessarily feed the narrative that the underdog has the advantage.
Middletown North will also be a without a key cog in sophomore Josiah Stepney, who drew a red card at the end of the penalty-kicks win over Long Branch on Monday. That takes a dynamic wing player away and puts more pressure on players like Mike Colantino and Travis Soto to lead the attack. The Lions, to their credit, have been resourceful all season and have that reliable defense, so don't expect them to be overwhelmed. Scoring could be an issue, but CBA will have to earn it against its division foe. The Pick: CBA, 1-0 in overtime.
Quarterfinal Picks Record: 3-1
Overall SCT Picks Record: 19-7
LOOK: Stunning animal photos from around the world
From grazing Tibetan antelope to migrating monarch butterflies, these 50 photos of wildlife around the world capture the staggering grace of the animal kingdom. The forthcoming gallery runs sequentially from air to land to water, and focuses on birds, land mammals, aquatic life, and insects as they work in pairs or groups, or sometimes all on their own.
More From Shore Sports Network