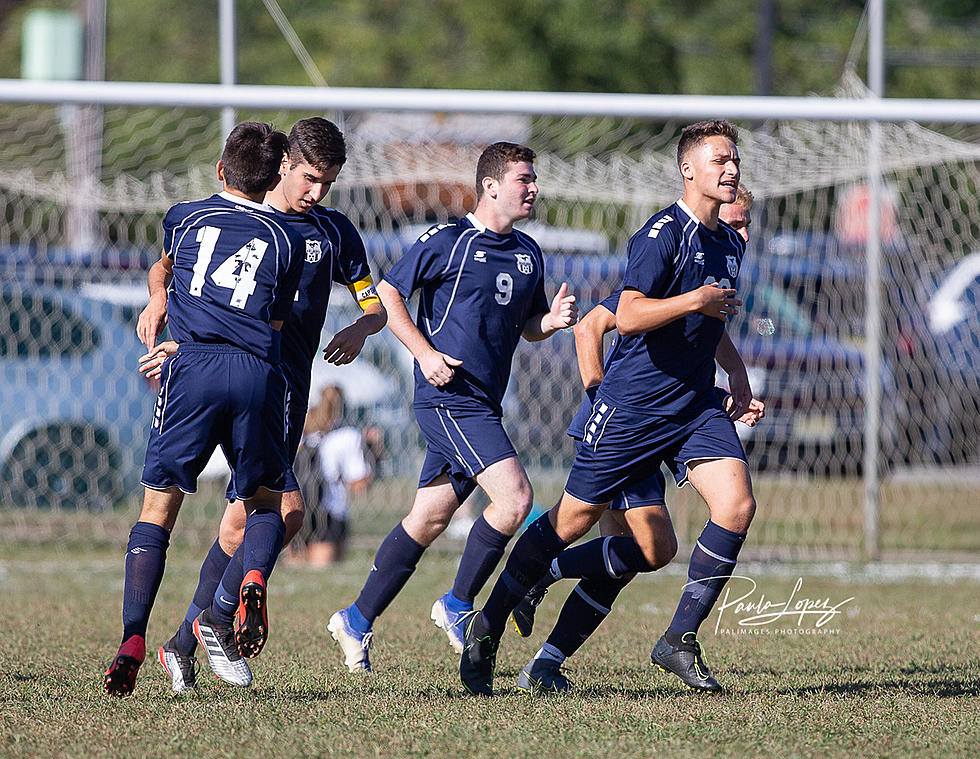 Boys Soccer – Back on Track, Marlboro Heads to CJ IV Semis
Marlboro celebrates a goal by Mike Steinberg (second from left) in the third minute of Tuesday's game vs. CBA. (Photo by Paula Lopez)
MARLBORO - A feel-good start to the season was a distant memory for the Marlboro boys soccer team on Tuesday. The Mustangs - the No. 1 seed in the NJSIAA Central Jersey Group IV Tournament - trailed No. 16 Montgomery by two goals in the second half and what seemed like a promising season heading into the postseason was on the brink of a sudden and unceremonious ending.
With its season on the line, the Mustangs rallied to win in overtime and earn another chance to extend its season Saturday against No. 9 North Brunswick. With a new lease on life, the Mustangs returned to form and advanced to CJ IV's final four.
Senior Mike Steinberg broke a scoreless tie in the first minute of the second half, classmate Max Shushkovsky added the clinched in the final minutes and Marlboro turned in a shutout effort on defense to beat the Raiders, 2-0.
Saturday's win means Marlboro will host No. 13 Long Branch, which beat Marlboro, 3-1, on Oct. 17 to deny the Mustangs a share of the Class A North championship. In that game, Marlboro lost senior center fullback Ethan Schlesinger to a red card early in the second half and give up two goals in his absence.
"I think we just have to play more under control," said Schledinger, who was red-carded for taking down a man on a breakaway as the last defender in the Long Branch loss. "We know what kind of game to expect and I think things just got away from us the last time. We are a really tight group - we love each other and we play hard for each other and we know that's going to carry us as far as we want to go."
With Long Branch having already advanced by beating No. 5 Princeton on Friday, Marlboro and North Brunswick battled for 40 scoreless minutes before reaching halftime on Saturday.
In the first minute of the second half, Steinberg lined up a bouncing ball in the box and slammed it into the goal to give Marlboro a 1-0 lead. The senior forward took a brief team lead with his 14th goal of the season to put the Mustangs in the driver's seat.
After giving up three unanswered goals against Montgomery on Tuesday following a 1-0 start to the game, Marlboro's defense and sophomore goalkeeper Nick Tango locked down North Brunswick for the remainder of the half.
"I don't think we needed to change anything," second-year Marlboro coach Ryan Morris said. "The goals we gave up on Tuesday were pretty unlucky. I thought what we were doing was working, we just needed to clean a couple small things up. If anything, sometimes you lose confidence when you see the ball go in your net and we just had to make sure our guys still believed in what we were doing."
"We talked with our coach and I think it was just a change in focus," Schlesinger said. "We did a better job of winning 50-50 balls and staying organized and that was the difference."
During an 8-0 start to the season, Marlboro allowed only four goals while posting four shutouts but over the next nine, the Mustangs conceded 16 goals with just one clean sheet. Saturday was a return to an early-season form that helped Marlboro earn the No. 1 seed in the first place.
"After we lost to Manasquan (in the Shore Conference Tournament round of 16) the guys were pretty deflated," Morris said. "I think it showed in some of the games we played after that. When they saw Manasquan get to the championship game, I think that helped boost their confidence because it showed that we lost to a good team, 1-0, in a game that we had opportunities."
With the clock winding down Saturday, Shushkovsky added an exclamation point to Marlboro's win by burying a 25-yard free kick to the lower far left corner of the goal with just over two minutes to play. The finish was also Shushkovsky's 14th goal, pulling him back even with Steinberg for the team lead and giving him three goals in two tournament games.
Marlboro is seeking its first ever sectional championship three years after falling at Hunterdon Central on penalty kicks in the 2016 Central Jersey Group IV championship. Hunterdon Central is the No. 2 seed in this year's bracket and hosts No. 11 Edison on Tuesday.
"We are more hyped that ever right now," Schlesinger said. "That comeback (against Montgomery) was the best thing we have done all season - even bigger than beating CBA. After that, we feel invincible."
Marlboro 2, North Brunswick 0
| | | | |
| --- | --- | --- | --- |
| | 1 | 2 | F |
| No. Brunswick (11-10-1) | 0 | 0 | 0 |
| Marlboro (14-4) | 0 | 2 | 2 |
Goals (Assists): (M) Mike Steinberg 41', Max Shushkovsky (DK) 78'
Shots: Marlboro, 11-8
Saves: (NB) Santiago Andino 4; (M) Nick Tango 4