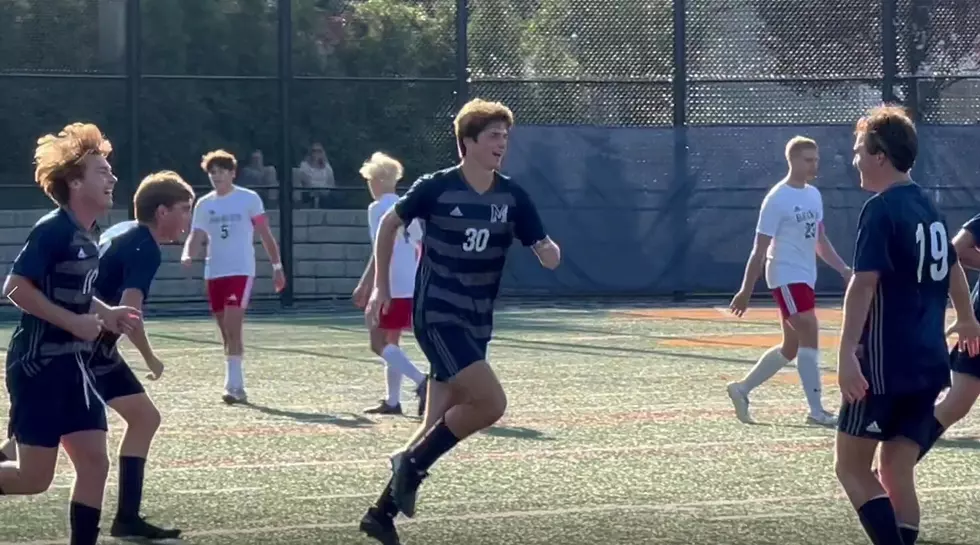 Boys Soccer – Armed With a Magic Seed, Manasquan Hoping for Another Deep SCT Run
Manasquan's Griffin Linstra (30) celebrates his Shore Conference Tournament goal vs. Manalapan. (Image: Matt Manley)

MANASQUAN -- When senior midfielder Aidan Sugrue saw his Manasquan boys soccer team drew the No. 15 seed in the Shore Conference Tournament, he couldn't help but get a little bit fired up.
On one hand, he thought the seed did not do justice to his Manasquan team, which has rounded into form over the last two weeks after opening the season as the No. 9 team in the Shore Sports Network Top 10.
On the other hand, the No. 15 seed was very kind to the Warriors when Sugrue was a freshman starter on the 2019 team that reached the Shore Conference Tournament championship game. Just as it was three years ago, the Warriors believe the Shore is sleeping on them and they kind of like it.
"That's exactly what I thought when I saw the seed," Sugrue said. "It was a really low seed freshman year and we had to win our last game just to get into the Shore Conference (Tournament). It started off like that and now it could end like that -- bring it back around for senior year."
Manasquan began its SCT run Tuesday by beating 18th-seeded Manalapan, 2-0, on a pair of late goals by sophomore Griffin Linstra and freshman Cruz Farkas. The Warriors now move on to face No. 2 Howell in the Shore Conference Tournament round of 16 on Friday.
"I think we're just hitting our stride right now," Sugrue said. "Shore Sports (Network) and places like that, I think they saw a couple close losses and I think they kind of counted us out. Now, I think the Shore Conference Tournament is our chance to prove them wrong."
During Tuesday's first half, Manasquan was the more dangerous side, although neither the Warriors nor the Braves tested the opposing goalkeeper during the first 40 minutes. After halftime, Manalapan made progress in its build-up to score, with its best opportunity coming on a left-footed rip by senior A.J. DeRosa that sailed just over the crossbar midway through the half.
"We just had to have grit, because they are a really good team," Linstra said. "They possess the ball very well, so we just had to sit in, pay attention to details and be scrappy. We knew the goal was going to come and we got a finish. Right place, right time."
That turned out to be Manalapan's last good chance and Manasquan's was still coming. In the 70th minute, senior Mike Flanagan fired a long throw-in into the box and after Manalapan goalkeeper Matteo Paolillo came out to try and grab it out of the air, senior Matt Karolak got his head on it.
The ball dropped right to the feet of Linstra, who tapped it in from point-blank range to break the scoreless deadlock.
"I love Mike's throw-ins," Linstra said. "It's such a plus to have that in your game. Having a long throw-in just creates so much chaos and gets a lot of goals."
Linstra is in his second season as a starter for Manasquan and as the team's center back, he has pushed up for four goals this season -- the first four of his career. At 6-foot-4, he is dangerous in the air on set pieces and throw-ins, but it was his patience and anticipation that led to his goal on Tuesday.
"I'm usually not very good in there on set pieces, at least last year I was terrible," Linstra said. "I've just been getting in there and the ball has been right there."
The insurance goal by Manasquan came just 1:20 after the winner. After another throw-in, Sugrue positioned himself for a bouncing ball on the right side of the box and knocked it toward the middle of the 18-yard box.
Farkas was wide open to receive it, lined up a shot from 14 yards out, and buried it into the left side of the goal.
Senior goalkeeper Tyler Collinson earned the shutout in goal and while none of his saves were of the jaw-dropping variety, he handled several booming attempts by Manalapan senior midfielder Anthony Sarkisov.
"He was good," Sugrue said of Sarkisov. "We tried to force them back as much as we could. We knew (Sarkisov) had a big foot, so when he wanted to send a long ball, we would see him wind up and take a few steps back to try to get the defense ready."
Manasquan's season opened up with a 4-0 loss to Howell -- the Class A North public division champion and No. 2 seed in the SCT. Since then, the Warriors have gone 8-3 with three one-goal losses to Neptune, Long Branch and Colts Neck, with two ending in overtime. Among those eight wins are victories over three teams from the A North division: Freehold Boro, Middletown South and Manalapan.
When Manasquan made it to the Shore Conference Tournament final in 2019, the Warriors went through two Class A North teams in Marlboro and Christian Brothers Academy, then lost on penalties to another (Freehold Township) in the championship game.
After a forgettable start to the season at Howell, the Warriors have rounded into form and will see how far they have come when they get their second crack at the Rebels on Friday.
"They got really good kids in the middle and fast wingers," Sugrue said. "I think overall we're just going to be better prepared this time around. We'll no what's coming, so no surprises."
"We've won three straight and we're starting to play like the team we knew we could be," Linstra said. "At the beginning of the year, we thought we could beat anybody in the Shore and we're starting to show it right now."
10 Popular Phrases Invented By TV Shows
These everyday phrases have their roots in lines of dialogue from television series.
More From Shore Sports Network