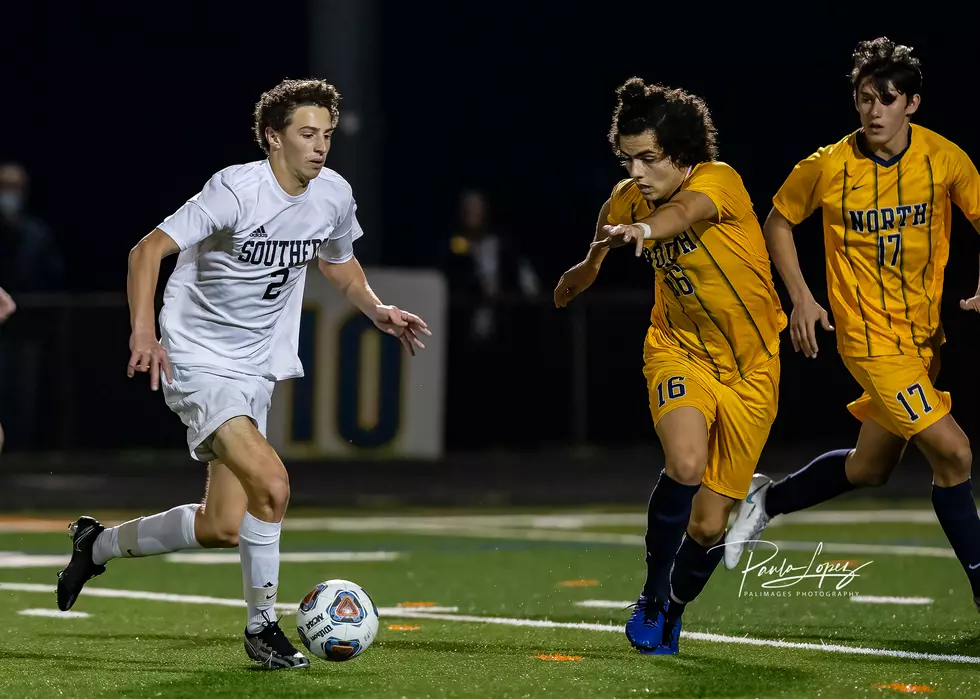 Boys Soccer – 2020 Player of the Year: Kevin Kiernan, Southern
Southern's Kevin Kiernan handles the ball vs. Toms River North seniors Danny Moreno (16) and Jack Montanile (17). (Photo by Paula Lopez)

Enter your number to get our free mobile app
Even the best players in their given sport have a bad day now and again and maybe that was true of Southern Regional star midfielder Kevin Kiernan during his first three high-school seasons.
If you are looking for a bad game during Kiernan's fourth and final season of high school soccer – one that was in doubt during the summer due to the outbreak of the COVID-19 coronavirus – you will be searching forever. He didn't have one.
Kiernan made the absolute most out of his last season on the pitch at Southern and his team just about did the same. With a Shore-Conference-best 27 goals and nine assists to lead his Rams to a 14-2-1 record, an unofficial Class A South co-championship for the first time in 31 years and a first ever trip to an NJSIAA sectional final, Kiernan is the hands-down choice for 2020 Shore Sports Network Boys Soccer Player of the Year.
"The kid is phenomenal," Southern coach Guy Lockwood – former standout player at Southern himself – said of his star player. "He has a great future ahead of him. He is just is way ahead up in the mind. We could see his brilliance as a sophomore. He is spectacular. He can change the game for you in a heartbeat and the way the guys play off of him is fantastic as well because they are very confident he'll put them in the right spot to do something with it."
It was one thing for Kiernan to lead the Shore Conference with his 27 goals and 63 total points while playing in a Class A South division that was, arguably, the toughest in the conference from top to bottom. It was another for him to score than many goals – the most by a Class A South player since Cameron Geerinck (Toms River South) and Robert Biele (Lacey) each scored 28 in 2015 – in just 17 matches.
The low games-played total – the product of a condensed 2020 season – was not even the most impressive part of Kiernan's season-long scoring barrage. Over the course of 17 games, in only one did Kiernan fail to score a goal and it came against a Central Regional side that finished the season 0-9-3. Even in getting shut out of a scoring a goal for himself, Kiernan assisted both goals in the Rams' 2-1 win over the Golden Eagles on Nov. 3.
The numbers associated with Kiernan's season are staggering, but the aesthetics to Kiernan's game are more smooth than spectacular. According to coach, there are subtleties Kiernan possesses that others don't and they help him get himself in position to score.
"He has this ability where, if you're the defender, he knows exactly when your foot is going to move to try to get to the ball," Lockwood said. "It's like a Messi brilliance. His strides are always set to what your feet are doing and as soon as you go to reach, he's already gone."
The 2020 season was arguably the best ever for the Southern program, whose only Class A South division championship was a co-title in 1989. The Rams failed to win three of their 17 games this season and it was not because the opponent shut down Kiernan. Southern's attacking midfielder scored two goals in each of those three games – a regular-season 3-2 loss at Brick, a 3-3 draw vs. Toms River North to end the regular season, and a 3-2 overtime loss at Toms River North in the NJSIAA Central Jersey East Group IV South championship game.
Of course, Kiernan's scoring prowess helped Southern win 14 games as well. He scored six game-winning goals, two overtime golden goals and scored five goals in three postseason games. His first golden goal came in a 2-1 win at Toms River South and he notched a second game-ending score to cap a thrilling, 4-3, win at Toms River North on Nov. 9. Kiernan also scored the lone goal in Southern's 1-0 win over Long Branch in the sectional semifinal round of the state tournament.
Kiernan posted multiple goals in eight games, with four two-goal performances in his final five games, including all three showdowns vs. fellow Class A South co-champion Toms River North. He recorded two hat tricks – one a four-goal performance vs. Brick Memorial and the other a three-goal match in a 3-0 win over Toms River East.
During his four-goal game vs. Brick Memorial on Oct. 6, Kiernan became Southern's all-time leading goal-scorer and created plenty of distance between himself and prior record-holder, Matt Kmosko, over the remainder of the season. Kiernan finished his career with 65 goals and 18 assists.
Kiernan remains uncommitted as a prospective college soccer player, according to Lockwood. He offers a unique set of skills, which includes that seemingly effortless pace that opponents struggle to match and surprising physicality for a player with his slender build.
"He is easily the best player I have ever played against," Toms River North senior Danny Moreno said of Kiernan. "He is insane. He is technical everywhere. He can pass, shoot, he is good in the air - which is insane."
Above all else, teammates, opposing players and coaches praise Kiernan's ability to see plays before they happen and position himself to score goals and set up teammates.
"He was a thorn in our side every game," Toms River North coach Joe Mahon said of Kiernan. "The ball always seems to find him, but he reads the game so well, that he is always anticipating. He is never reactive because he knows where the play is going. You can't follow the ball, you have to stay with him. We try to man-mark him, but he always finds a way. He's a special player."
More From Shore Sports Network