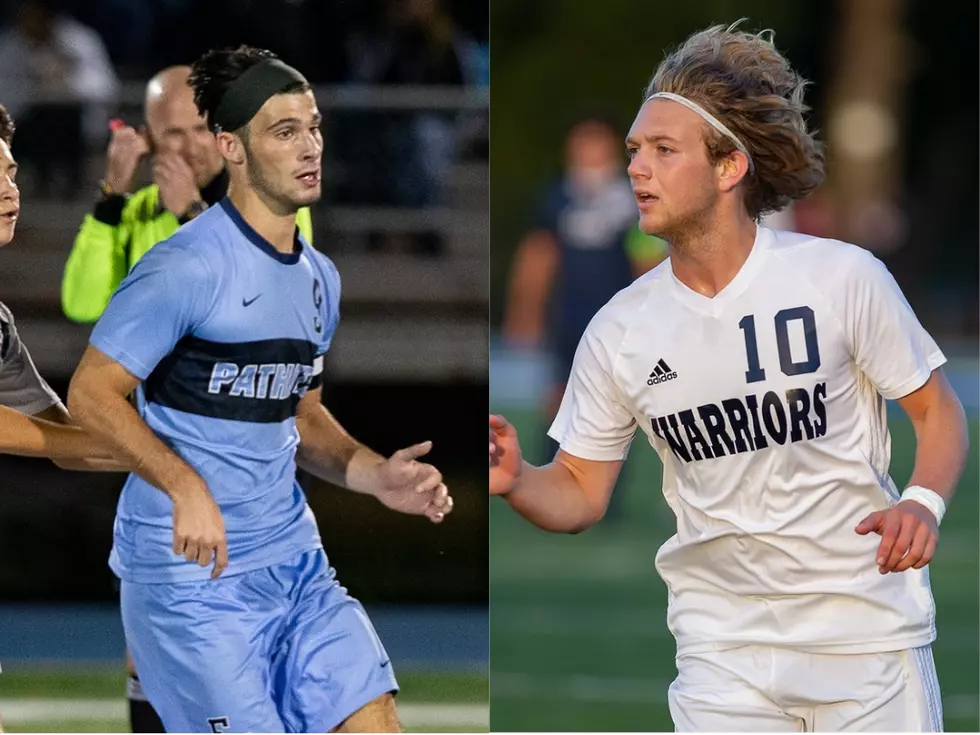 Boys Soccer – 2019 Shore Conference Tournament Final Preview: Freehold Twp. vs. Manasquan
Freehold Township senior Bennett Messinger (left) and Manasquan senior Drew Greenblatt. (Photos by Paula Lopez)
Shore Conference Tournament Championship
Wednesday, Oct. 23, 5 p.m.
At Shore Regional High School
No. 4 Freehold Township vs. No. 15 Manasquan
Freehold Township (13-5, 5-1 in Class A North)
Head Coach: Josh Mehl, fourth season
SCT Championships: 1987 (Co-championship), 2008, 2014
SCT Final Appearances: 1987, 2008, 2014
Road to the Final: Defeated No. 29 Mater Dei Prep 4-0; No. 13 Rumson-Fair Haven 3-2; No. 5 Wall 2-1; No. 8 Colts Neck
| | | | |
| --- | --- | --- | --- |
| No. | Player | Year | Position |
| 3 | Zach Orrico | Jr. | Forward |
| 7 | Adam Havens | Jr. | Midfield |
| 9 | Bennett Messinger | Sr. | Midfield |
| 6 | Evan Savino | Sr. | Midfield |
| 23 | Joe Lardaro | Jr. | Midfield |
| 1 | Nick Schulman | Sr. | Midfield |
| 11 | Shane O'Malley | Jr. | Defense |
| 25 | Connor Finn | Sr. | Defense |
| 21 | Josh Leonetti | Jr. | Defense |
| 13 | Connor Latona | Sr. | Defense |
| 0 | John Wilhelm | Jr. | Goalkeeper |
Manasquan (8-5-3, 4-2-0 in Class A Central)
Head Coach: Tom McGill, sixth season
SCT Final Appearances: None
Road to the Final: Defeated No. 18 Toms River North 3-0; No. 2 Marlboro 1-0; No. 7 Southern 1-1 (8-7 on penalties); No. 6 CBA 1-1 (4-2 on penalties)
| | | | |
| --- | --- | --- | --- |
| No. | Player | Year | Position |
| 10 | Drew Greenblatt | Sr. | Forward |
| 3 | Mike Cafiero | So. | Midfield |
| 29 | Simon Cardenas | Jr. | Midfield |
| 23 | Tommy Johnson | Jr. | Midfield |
| 2 | Caeden Miller | Sr. | Midfield |
| 18 | Aiden Sugrue | Fr. | Midfield |
| 15 | Chris Pierro | Sr. | Defense |
| 21 | Rich Maloney | Sr. | Defense |
| 20 | Brady Barry | Sr. | Defense |
| 8 | Tyler Guagenty | Sr. | Defense |
| 9 | Joe Weinstein | Sr. | Goalkeeper |
The two teams playing for the Shore Conference title this season are embodiments of an old adage: It's not how you start; it's how you finish. Both Manasquan and Freehold Township were ranked in the top three of the Shore Sports Network Preseason Top 10 and stumbled out of the gate – each of them falling out of the Top 10 for a period of time.
Freehold Township dropped its first two games against Toms River North and Holmdel, got handled at Elizabeth, 4-1, and suffered a 2-1 loss at Rumson-Fair Haven to fall to 4-4.
Manasquan opened the season 2-0 with wins over Neptune and Red Bank Catholic before losing three straight overtime games to Ocean, Rumson-Fair Haven and Jackson Memorial. After losses to Wall and Holmdel, the Warriors sat at 3-5 and needed to go no worse than 2-0-1 to qualify for the Shore Conference Tournament.
Both teams righted the ship just in the nick of time.
Patriots Adjust on the Fly
Since its 4-4 start, Freehold Township has gone 9-1 with its lone loss coming at Christian Brothers Academy, which is also the Patriots' only loss within the Class A North division.
The season started with major expectations thanks to a wealth of returning talent, plus the addition of standout midfielder Tiron Shatku. After recording a hat trick in his first high school game – a 5-4 loss to Toms River North – and threatening in a 1-0 loss to Holmdel, Shatku left the team to pursue a professional career in Europe.
Although Freehold Township lost its most dynamic scorer, the core that remained was a significant part of last year's team, which went 11-5-3 and lost a classic Central Jersey Group IV quarterfinal match to South Brunswick on penalty kicks to end the season. Senior Bennett Messinger and junior Zach Orrico have stepped their games up in Shatku's absence, with the duo combining for 25 goals and 12 assists.
Junior Adam Havens has been a source of clutch scoring, with his three goals serving as game-winners against Marlboro, Jackson Memorial and Colts Neck. Havens was the hero on Saturday night, when he scored the golden goal to send the Patriots to the championship game with a 1-0, overtime win over Colts Neck.
Senior midfielder Evan Savino has been a leader on the field over the latter part of his four-year varsity career and classmates Connor Latona and Connor Finn have a similar impact on the defense. Juniors Joe Ladaro, Shane O'Malley and Josh Leonetti have emerged within a strong defensive core, with Ladaro bringing a defensive presence to the midfield while also getting involved in the scoring effort.
Backs Against the Wall, Manasquan Goes Back to its Roots
Needing at least a tie to keep its SCT hopes alive, Manasquan trailed Middletown South, 3-1, with 10 minutes to play on Friday, Sept. 27. Junior Tommy Johnson hit a free kick to cut the deficit to 3-2 and then, in the 76th minute, headed in a cross from senior Drew Greenblatt to tie the game at 3-3. The two teams ran out the 20 overtime minutes and Manasquan escaped with the draw it so desperately needed.
That set up the Warriors to qualify for the SCT if they could beat both Raritan and Monmouth – both of which qualified for the SCT. Manasquan handled Raritan, 6-0, to set up a showdown with a Monmouth team that had only one loss at the time.
After falling behind, 2-1, Manasquan pulled even on a strike from senior Tyler Guagenty midway through the second half, but the Warriors still needed one more goal to pick up the win and qualify for the tournament.
With under three minutes to go in the second overtime period, Manasquan was approaching the zero-hour of its SCT bid when Greenblatt emerged with what could prove to be a championship-saving play. The senior headed in a flick from Johnson in the 98th minute to give the Warriors a golden-goal victory and officially send them to the Shore Conference Tournament.
Since beating Monmouth, Manasquan has been as hot as any team in the Shore Conference, going 3-0-2 with penalty-kick wins over Southern and CBA in the SCT.
The draw against Manasquan prompted coach Tom McGill to make some changes to the lineup to make the Warriors a more defensive-minded group. Last year, Manasquan goalkeeper Joe Weinstein and his defense posted 12 shutouts on the season and allowed seven goals in 13 games after Oct. 1.
Since the Raritan game on Oct. 1, Manasquan has rediscovered that October magic. With senior Rich Maloney moving from forward to center back alongside fellow senior Brady Barry, Guagenty moving from midfield to right back and senior Chris Pierro sliding from center back to left back, Manasquan's all-senior defense has become its strength once again. In seven games since the change, Manasquan has outscored opponents 16-4 while posting a 5-0-2 record.
Why Freehold Township Should Win
As is the case in most seasons, Freehold Township is arguably the Shore's most battle-tested public-school program. In addition to playing in a Class A North division that requires games against CBA, Marlboro, Long Branch, Middletown South, Freehold Boro, Manalapan and Howell, the Patriots also challenged themselves against the likes of Holmdel, Elizabeth, Jackson Memorial, Toms River North and Rumson-Fair Haven. While the first four of those particular non-divisional challenges resulted in losses, Freehold Township has learned from them and since defeated Jackson Memorial, Rumson-Fair Haven, Wall and Colts Neck.
Manasquan has been a different team thanks to its defensive adjustment, but the Warriors are likely going to be facing a scoring tandem that is better than any they have seen since losing to Holmdel, 5-2, during the regular season. Messinger and Orrico have carried the scoring load and have made their presence felt in just about every match during the current 9-1 run, save for the overtime win over Colts Neck.
The Warriors were saddled with the No. 15 seed in the tournament and no team seeded higher than No. 11 has ever won the whole thing (Freehold Township won as a No. 11 seed in 2014, coincidentally). Anyone who had seen Manasquan at close to its best, however, knew the Warriors could be among the most dangerous teams in the field even before the tournament started. Like Freehold Township, Manasquan also tested itself against quality competition (Holmdel, Monmouth, Jackson Memorial, Wall, Middletown South, Neptune, Rumson-Fair Haven) before the Shore Conference Tournament and has taken down some big names within the bracket.
Manasquan's road to the final has been considerably harder than Freehold Township's and considering the work Manasquan had to do just to get in, the Warriors are playing with an edge that has been unrivaled by any team in the tournament. They have been in must-win mode since the calendar flipped to October and have not lost since.
While Freehold Township has its two dangerous scorers, Manasquan has its own dominant duo in Greenblatt (13 goals and five assists) and Johnson (nine goals and six assists), who have been carrying the scoring for the last two years. The Warriors have also showed they can win with other scorers, as they have survived their last three matches without either logging a goal or an assist.
X-Factor: Freehold Township
Havens has been a difference-maker in big games, while Lardardo has the kind of size and nose for the ball that could present Manasquan problems in the middle of the field. Both will have to be involved Freehold Township winning the game, along with the usual impact from Messinger, Orrico and Savino.
The difference in the game, however, could very well be junior John Wilhelm in goal. In his first season as a starter, Wilhelm has had some ups and downs and his recent strong play in goal has coincided with Freehold Township taking off. Facing a team that can score in several ways, is particularly dangerous on set pieces, and has its own standout keeper, Wilhelm will be put to the test on Wednesday night after a relatively uneventful night in the box against Colts Neck.
There are a few possibilities for Manasquan when it comes to winning variables. Weinstein's ability to come up with momentum-shifting saves is very likely to come into play. The Warriors have four defenders who can push up and score, as three of them showed against CBA on Wednesday. Guagenty smoked a 28-yard tracer for Manasquan's first goal, but Pierro and Maloney also threatened to score when both hit the crossbar off set-piece services.
Manasquan's secret weapon, however, in recent weeks has been Cardenas. The junior did not play last year while committed to playing academy soccer but has rejoined the program and worked his way into a key role. After a quiet start, Cardenas has made noise in the postseason, scoring his first goal in the penalty-kick win over Southern and finishing off the shootout against CBA.
With Greenblatt drawing attention up top and Johnson commanding attention on the outside, Cardenas should find himself with some opportunities to impact the game.
The road to the championship is often a good indicator of how the final game will go. Freehold Township played three home games and its toughest opponent was No. 5 Wall on a rainy, windy afternoon on the grass at Freehold Township. Manasquan, meanwhile, hammered Toms River North (which beat Freehold Township early in the season), then went on the road to pick off Marlboro, Southern and CBA – all teams that spent time ranked No. 3 or higher in the Shore Sports Network Top 10 this season.
Freehold Township is battle-tested but degree to which Manasquan has been challenged and answered that challenge over the last two seasons is undeniable. With their defense intact, one of the Shore's best goalkeepers in a groove and a growing stable of scoring threats, the Warriors are riding the wave heading into Saturday night. After two overtime semifinals and an overtime final last year, it's looking like a repeat this year.
The Pick: Manasquan, 3-2 (OT)
Semifinal Picks Record: 1-1
2019 SCT Picks Record: 18-9
More From Shore Sports Network