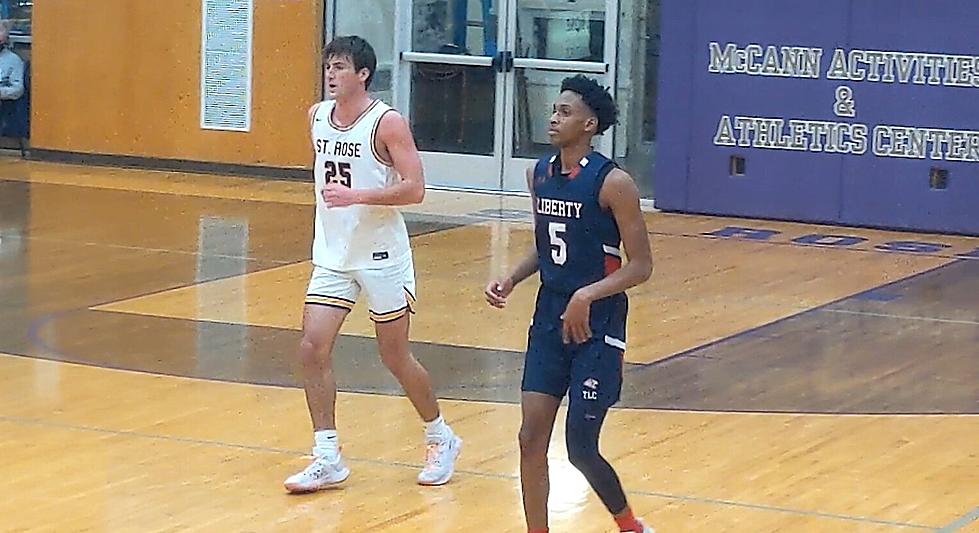 Boys Basketball – St. Rose, Lynch Pick Up First Win on the Backs of Senior Captains
St. Rose senior Luke Farrell (left) and Jackson Liberty senior Phanique Dupree. (Photo by Matt Manley)

BELMAR -- Brian Lynch did not know much of anything about the St. Rose High School boys basketball roster upon taking the job as the new head varsity coach in August, but he most certainly knew about the school.
Lynch -- a Christian Brothers Academy and Villanova graduate and former professional player and coach in Europe -- lives just steps away from St. Rose in Belmar and was a regular at the Jersey Shore Basketball League played in the McCann Activities and Athletic Center on campus during so many summers.
"When I came home from Europe being a professional coach, I had to decide if I wanted to pursue that here," said Lynch, who coached for seven years in Belgium before returning back to the Jersey Shore. "As avenues started to open up and I started making contacts with the NBA and the G-League, I started to realize if I do this, it's not like Belgium where I could make it home every day and have dinner with my family. The NBA and G-League, you're gone seven or eight months out of the year and I'd probably have to leave New Jersey.
"I chose family, and once I chose family, the next coolest thing I could do was get into high school basketball."
After playing and coaching in Belgium and travelling all over Europe following his playing career at Villanova, Lynch coached his first official game Monday just a couple minutes on foot from his house and the result was one both he and his team can used to.
Lynch picked up his first win as a high school coach Monday, with his Purple Roses finishing strong for a 53-43 win over Jackson Liberty in their 2021-22 home opener.
Seniors Luke Farrell and Nick DiNatale led the way, with Farrell posting 15 points and 11 rebounds and DiNatale going for 14 points. Farrell and DiNatale are the lone returning starters from last year's team, which finished 3-7 while playing one of the Shore's tougher schedules -- one that featured ranked opponents from Manasquan, Ranney and Wall.
"Nick and Luke are our captains and I think those guys are going to step up and help us win a lot of games this year," Lynch said. "I thought, especially toward the end, Nick really held himself together without turning the ball over and allowed us to grow the lead. And then Luke was just Luke. Luke is a monster: the boards, the blocks, the big shots in the third quarter, especially. It was two good efforts by the captains."
Senior Colin Westhoven also helped nail down the win by scoring six of his nine points in the final two minutes, including a long two-pointer that gave St. Rose its first double-digit lead at 47-37.
In addition to his double-double, the 6-foot-6 Farrell kept Jackson Liberty 6-5 senior standout Phanique Dupree in check over the course of his 32 minutes of game time. Dupree finished with 10 points, five rebounds and four blocked shots.
"I got to know a lot of the things he does," Farrell said of Dupree. "He is really athletic and he loves to finish around the rim, so whenever he got the ball around the rim, I tried to wall up against him and not let him have a lot of leeway so he couldn't get to his strong hand. I just tried to light-contest when he shoots and limit the number of touches he gets on the ball, because I know he is a very strong scorer."
Senior Channing Williams led Jackson Liberty with 11 points and senior Dallas Weise and sophomore Dylan Teopaco each added nine for the Lions.
Jackson Liberty stayed close throughout the game and tied the game at 35-35 with a 7-1 run between the end of the third and early in the fourth quarters. St. Rose then responded with eight straight points to go up 43-35 -- the largest lead of the game for either team to that point.
Farrell has led his team in scoring in each of St. Rose's first two games this season, with Nick DiNatale one point behind in each game. With size, strength, experience and a shooting touch that he showed off multiple times during Monday's win, Farrell has a set of skills Lynch knew he could build the team around during his first season -- especially with DiNatale's poise and scoring ability in the back court to complement him.
"He has the outside three but where he is really devastating is in that mid-range area," Lynch said. "He is like an old-school, mid-range guy with that nice tough around the elbow area. We work a lot off him. Almost everything goes off of Luke and we try to play off of him and see what he can create for the guards."
"With me and Nick back, I knew that because we didn't have a lot of other guys with varsity experience, I was going to have to take on a bigger roll scoring and mentoring them on how to play varsity basketball," Farrell said. "Knowing that, I had to step up as a scorer and a leader on the court and by doing that, it has kind of led the way for the rest of our guys."
"I saw when I took the job that I had these two seniors in Nick and Luke that were year-round players with more advanced skillsets," Lynch said. "I saw the other guys as more utility guys: guys with strong bodies who are willing to work hard and are senior-heavy. With that group, I thought it was really important as a group to be really tough, put a lot of pressure on teams. We're going to live with a lot of mistakes because I'm speeding up the way they play and that's going to take some time to learn and I am prepared for that. I don't know if the parents are prepared for that, but I am, because that's the process."
On the other end, Farrell and his teammates welcomed a coach with Lynch's background and philosophy -- one that would open up the Purple Roses to get out and run the floor more than they have in most seasons under former coach Frank Carmody and longtime coach Dennis Devaney, who were proponents of the Princeton Offense.
"Hearing he was coming and knowing his background, I was super-excited he was coming," Farrell said. "I knew the way we play was going to change. Coach Carmody was a more of a slower-paced, pull-it-out kind of basketball coach. With Coach Lynch, it's a completely different game. We're getting out and running the floor when we can and I think knowing that was coming got me really excited, because we have a really good group of athletes on the team."
The new-look Purple Roses did not look so good on the road in Friday's season-opener against an experience-laden Raritan squad, which picked St. Rose apart in a 58-40 win. Monday showed the Roses can make adjustments, handle an athletic big man and defend their home floor.
"We watched the entire Raritan game and went over everything we did wrong," Farrell said. "I think being able to go through it play-by-play, then to go have a hard practice got us mentally prepared to play this game and we came out with a lot more confidence and a lot more focus."
"There are going to be games where a team is bigger and more athletic and wears us down and there are going to be games where we grind teams down," Lynch said. "That's just the identity of this team and I thought that they really embraced that identity (tonight) and I thought that against Raritan, it was the exact opposite. There were a lot of guys playing their first game on a varsity floor and it was almost that deer-in-the-headlights look. I didn't see those nerves tonight. I saw our guys being aggressive, which was awesome."
As for the future, Lynch hopes to make St. Rose an even more prominent option for the top young basketball players in the Jersey Shore area. He was a volunteer assistant for the state-ranked St. Rose girls team last season, is involved coaching AAU and runs his own camps -- all of which suggest there is a foundation for a successful run with the Roses when his playing and coaching experience is also taken into account.
"I looked at this as an opportunity to make a big difference," Lynch said. "It's a school that hasn't done well for a while. They want to rebuild, it's close to my home, it's our parish, my brother went here: there are a lot of connections. I thought, 'Why not give it a shot? Let's do it.'"
More From Shore Sports Network