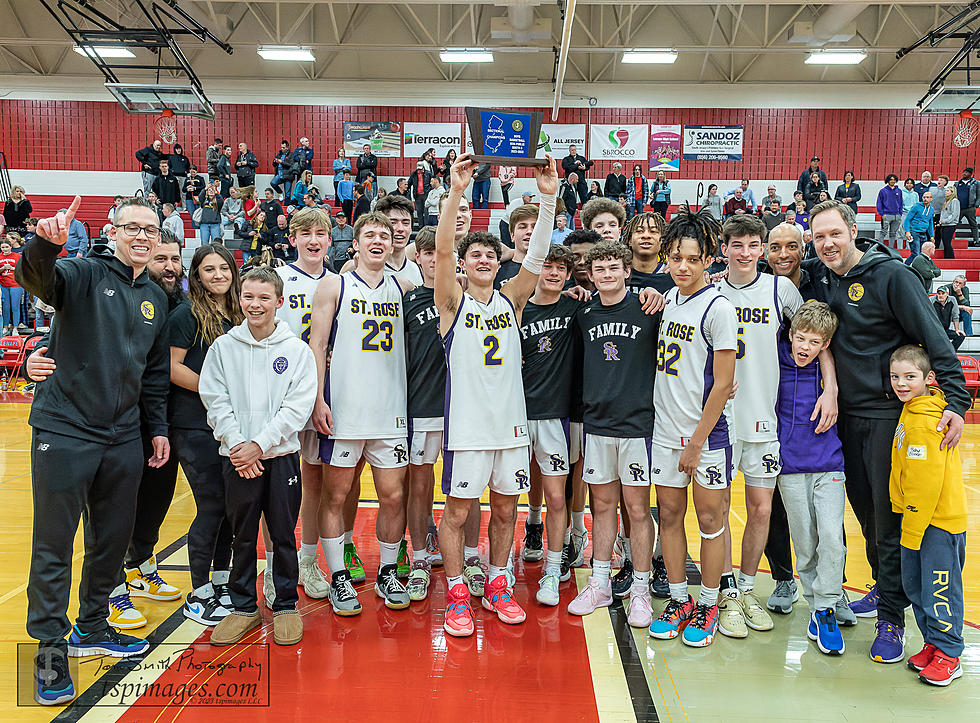 Boys Basketball – St. Rose Closes Out Bishop Eustace for First Sectional Title in 19 Years
Photo: Tom Smith | tspsportsimages.com

MEDFORD -- The St. Rose boys basketball team has come a long way in a calendar year, when its 2021-22 season ended with a loss to Bishop Eustace in the first round of the NJSIAA South Jersey Non-Public B Playoffs.
In that time, the Purple Roses added three international transfers and three more in-state transfers, climbed into the top 10 of the statewide rankings this season, won a share of a Shore Conference division championship and reached the Shore Conference Tournament semifinals for the first time in program history.
St. Rose has had had only a couple sobering moments as a program since that season-ending loss a year ago and one of them taught the Purple Roses a valuable lesson: when a championship is on the line, find the best player.
Junior Matt Hodge scored 12 of his game-high 20 points in the fourth quarter and this time, it was St. Rose that ended Bishop Eustace's season, topping the Crusaders, 59-43, at Lenape High School Wednesday to win the program's first South Non-Public B championship since 2004.
"We have a lot of talented players and winning the a piece of the C North division championship was a great step for us, but we hadn't really won anything," St. Rose coach Brian Lynch said. "It was a great experience playing some good competition and getting to the Shore Conference Tournament semifinals, but up until tonight, we were just a talented team that hadn't won anything.
"That was what I used to kind of keep them motivated and humbled throughout this season and I think the loss to Ranney was an eye-opener that we still have to go out and finish. Now, to come here and win a championship for the school for the first time in a while, these guys can say they have won a championship."
Wednesday's triumph came 15 days after St. Rose squandered a double-digit lead in the final two minutes of the fourth quarter in losing to Ranney in the Shore Conference Tournament semifinals -- a game in which Hodge starred, but touched the ball sparingly as the game was unravelling for the Purple Roses in the final two minutes.
"I have always been more a facilitator," said Hodge, who moved to the U.S. from Belgium before the current school year. "I like to get my teammates involved and I have a lot of trust in them. I think that Ranney loss showed I need to be a little more aggressive sometimes, maybe not shooting the ball but just making sure I go get it. I always try to make the right play, but I'm not afraid to take a big shot if my team needs it."
In Wednesday's sectional final, St. Rose had no such trouble getting the ball to its top player. A three-pointer by Gio Panzini in the final seconds of the third quarter gave St. Rose a 38-24 lead heading to the fourth, but Bishop Eustace chopped the deficit to 40-32 and forced a turnover to set up a chance to shrink it even further.
At that point, Hodge took over the game. The 6-foot-8 junior blocked a shot to turn away the Crusaders and on the other end, he buried a three-pointer to push the lead back to double-digits, 43-32. On the next Bishop Eustace possession, he delivered another thunderous block out of bounds, but Joe Callahan hit a floater after Bishop Eustace inbounded the ball.
Hodge made up for the two Eustace points with three on the other end, burying his second triple in as many possessions. One St. Rose possession later, sophomore Bryan Ebeling made it three threes in three possessions to force a Bishop Eustace timeout with the Purple Roses leading 49-34.
"The guys understand the pecking order," Lynch said. "We have a lot of talented versatile guys who can score, but when the money is on the table, we want the ball in Matt's hands to create for himself or his teammates. He is such a calming influence to where not only is he going to get us a good shot, but he is not going to turn it over."
The three-point barrage from Hodge and Ebeling was not the end of St. Rose's game-clinching run. Panzini blocked a shot and finished a layup on the other end, then freshman Jayden Hodge stole the ball to give himself a layup and his team a 53-34 lead. What was an eight-point game with a little more than five minutes left became a 19-point route with 2:20 left behind a 13-2 run by the Roses.
"We took a tough loss in the Ranney game," Lynch said. "When you're up 13 going to the free-throw line and you've got some of your fans walking out at that point and you still lose? There are two things that can happen at that point: either you get buried, or, as my buddy David Goggins says, you get calloused. I think we got calloused and it made us stronger. I have seen some of our best basketball in the last week, so I'm really proud of these guys."
Free-throw shooting was one of St. Rose's shortcomings in its SCT loss to Ranney and Matt Hodge was the elixir for that as well. He went 4-for-4 from the line in the final two minutes, while St. Rose went 6-for-10 as a team down the stretch.
"When I saw that Matt started getting going, we basically spread the floor and gave it to him," Lynch said. "We said, ''Listen, Matt, that big guy (Daniel Mason) is not going to guard you one-on-one so they are going to have to double-team you.' Matt is our best passer, so I figured he was going to get everybody else going and he has the ball for the isolation. He is our best one-on-one player and our best decision-maker, so we put the ball in our best decision-maker's hands."
Matt Hodge also posted seven rebounds, four assists and two steals to go with his 20 points and two blocks. Ebeling's three-pointer capped a 3-for-5 shooting performance from behind the arc and the sophomore finished with 13 points and three assists.
Jayden Hodge chipped in nine points and three assists, while Panzini and Mauro each added seven for the Purple Roses, with Panzini also contributing six rebounds and four blocks.
"We knew their big guy couldn't guard Matt, so either he was going to go by him and score or they were going to run a double-team at him and it was going to be a kick-out for a wide-open shot," Panzini said. "When we get to that part of the game and we can do that with Matt, it just feels easy."
Panzini also contributed some additional perspective having played at Lenape a year ago in the South Jersey Non-Public A final. Playing for Red Bank Catholic, Panzini and his team led by 12 with under 10 minutes to go and by four with 1:20 left before falling in the end to Rutgers Prep.
"Tonight brought back a lot of memories," Panzini said. "We had that game, but we couldn't keep it up. Staying together and calming the game down when we needed it was really crucial for us tonight."
Wednesday night started off strong for St. Rose, which trailed briefly, 3-0, and took the lead for good with four straight points that kicked off a 12-2 run through the end of the first quarter.
Bishop Eustace cut the deficit to 12-10, but St. Rose answered with with a 9-0 run to build an 11-point lead that the Crusaders managed to shrink to 21-14 by halftime by holding the Purple Roses scoreless over the final 3:55 of the second quarter.
Another 9-0 run stretched St. Rose's lead from 29-24 to 38-24, ending with Panzin's three from the corner on the final shot of the third quarter. The final blow from the Roses was the 10 unanswered points that came from the second of Matt Hodge's threes, Ebeling's last three, a layup by Panzini and a steal-and-layup by Jayde Hodge.
The 59 points St. Rose scored came up well short of the 87 the Purple Roses scored on Monday against St. Joseph of Hammonton, but it passed the magic number that has beaten Bishop Eustace throughout the season. The Crusaders game into the game having allowed 50 points in a game just nine times this season and went 1-8 in those games. The most points Bishop Eustace scored in a win this season was 44.
"We knew they don't give up a lot of points, so it was going to be a little bit different approach," Matt Hodge said. "We came in like we always do -- with defensive energy. Unfortunately, our shots weren't falling in the first half, but we kept our composure, we kept our defensive energy and I think that helped at the end of the game."
After losing two straight games to Ranney and Marlboro, St. Rose has ripped off three straight impressive wins in the NJSIAA Tournament and will now prepare for a rematch with Roselle Catholic -- the top-ranked team in New Jersey.
Roselle Catholic beat St. Rose, 77-56, on Jan. 21 in Roselle in a game St. Rose played without Jayden Hodge due to illness and with Mauro still recovering from the flu. Roselle Catholic got a huge game from Duke commit Mackenzie Mgbako, who scored 27 points on 10-for-12 shooting, including five three-pointers.
"Obviously, they are a huge favorite and they are a tremendous, tremendous team," Lynch said of Roselle Catholic. "We just would have liked to have a chance to play them closer to full strength. So coming out of that game, we knew there was a possibility we would maybe have a chance to play them again for everything when we would be fully-stacked. Fortunately, we are: we're healthy, we'll have everybody this time, knock on wood."
Matt Hodge also had a strong showing in the loss, posting 21 points, nine points and five assists against the state's best. On Friday night at Jersey Mike's Arena on the campus of Rutgers University, Hodge and his team will again have a chance to take on a team that boasts three players -- Mgbako, Simeon Wilcher (North Carolina) and Akil Watson (Arizona State) -- already committed to power-five programs and won the final Tournament of Champions a year ago with Wilcher leading the way.
"It's the kind of opportunity I dreamed about coming over from Belgium," said Hodge, who has offers from Virginia Tech, St. Louis, Old Dominion and Maryland. "It's going to be a great environment against a great team and I know our team is really looking forward to having everybody healthy and ready for the challenge."
More From Shore Sports Network