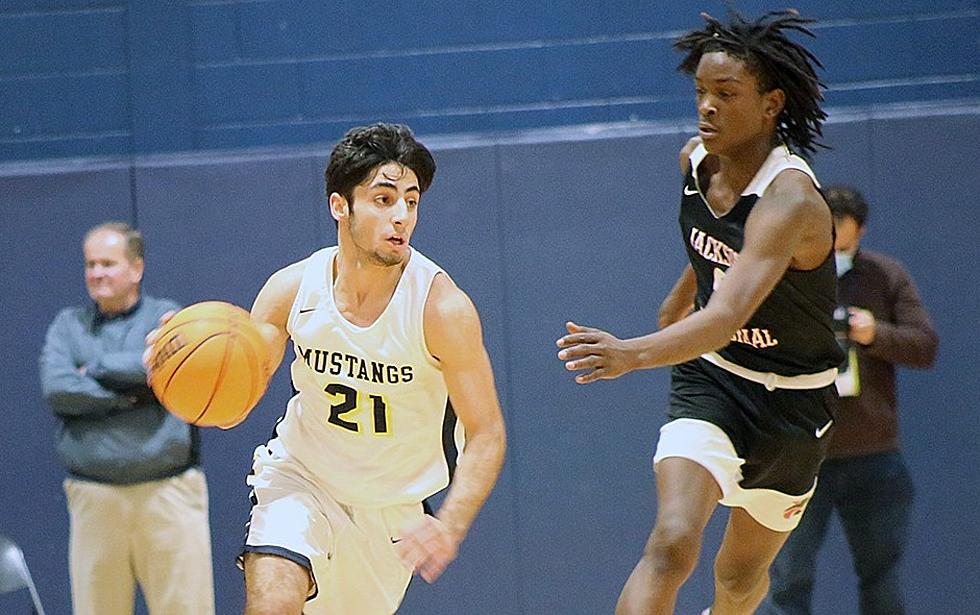 Boys Basketball – Shore Sports Network Top 10, Feb. 23
Marlboro senior Jonathan Spatola and Jackson Memorial junior Respect Tyleek. Photo: Steve Meyer.

The Shore Conference Tournament doesn't always provide much of a Top 10 shakeup and up until Sunday, that shakeup was set to be relatively minor.
Then, Christian Brothers Academy reverted back to its early-season form and upset Rumson-Fair Haven to break up the parade of favorites reaching the Shore final four. Throw in some jostling at the bottom of the rankings and there are some more changes to the Top 10 than we're used to during this particular week of the season.
1. Red Bank Catholic (21-3, 9-1) Last Week: 1
The Caseys are back in the SCT semifinals and are once again back to full strength, or at least on the cusp of it. Zach Meeks returned from a sprained ankle for the start of the Shore Conference Tournament and while freshman sharp-shooter Ryan Prior missed last week with a non-COVID illness, he is expected to be ready for Thursday's semifinal, according to coach Tyler Schmelz. RBC had to battle to get by Manchester and will next face a Manasquan team that is playing like a top-20 team in the state.
2. Marlboro (21-2, 11-1) Last Week: 2
Of all the teams at Middletown South Sunday for the SCT quarterfinals, Marlboro was the most impressive. All five of its starters scored in double-figures and the defense was on its game as well in holding Jackson Memorial to 44 points. This has been a team on a mission since the final buzzer of 2021 and with five seniors seemingly peaking right now, it will be tough to stop the Marlboro train from reaching a championship destination.
3. Manasquan (20-4, 12-0) Last Week: 5
Ever since a loss to St. John Vianney in the WOBM Christmas Classic quarterfinals, Manasquan has been steadily improving and now, the Warriors look like a team that can make a serious run at both a Shore Conference Tournament title and an NJSIAA Group III crown. The starting lineup has five players who can carry the scoring load for stretches and the four underclassmen are now starting to look like a burgeoning juggernaut on the defensive end. Thursday's semifinal showdown vs. Red Bank Catholic will be a great test and it's one that the group might not have been ready for in December but appear ready to handle now.
4. Christian Brothers Academy (17-5, 8-4) Last Week: 6
When CBA lost five out of nine games following a 10-0 start, the only thing that kept the Colts ranked in the top six of the Shore Conference was some early wins against teams ranked ahead of them: Rumson-Fair Haven, Marlboro and St. John Vianney. As it turns out, maybe CBA is just built to play every team close and when you play enough close games, you will figure out how to win a few. Despite struggling heading toward the SCT cutoff, CBA is now two wins from its first conference tournament title in 12 years after stunning Rumson in overtime on Sunday.
5. Rumson-Fair Haven (17-3, 9-1) Last Week: 3
The Bulldogs had every right to love their chances at winning this year's Shore Conference Tournament. Since the return of Geoff Schroeder, they were 13-0 and blew out every Shore Conference team on the schedule, including top-seeded Red Bank Catholic. So, when Rumson faced at CBA team that beat the Bulldogs in December with Schroeder out, the team felt good about a 14th straight win and felt even better about it with an 11-point lead at halftime. Then, CBA put the clamps on in the second half and pulled out an improbable win, sending Rumson back to the drawing board ahead of the NJSIAA Central Jersey Group II Tournament. The Bulldogs at the No. 1 seed in the section, so there is a good chance they can add a third sectional championship in six years to ease the pain of Sunday's loss.
6. St. John Vianney (19-6, 10-0) Last Week: 4
St. John Vianney developed a nice track record in close games during the course of its 19-win regular season, but some of those close games were against unranked teams, some even with losing records. Playing to the competition finally burned the Lancers last week, when Donovan Catholic upset SJV in the SCT round of 16. St. John Vianney gets a rematch in the first round of the NJSIAA South Jersey Non-Public A Tournament, with the winner having to travel to St. Thomas Aquinas – the No. 3 team in New Jersey.
7. Jackson Memorial (18-6, 9-3) Last Week: 8
Although Jackson Memorial's exit from the SCT was one to forget, the ride was one the Jaguars will want to remember. For the first time since 2014, Jackson Memorial made it to the SCT quarterfinals and did so with a scintillating comeback to beat Holmdel in overtime in the round of 16. The Jaguars let Sunday's game vs. Marlboro get out of hand at the end of the third quarter and early in the fourth, but it should serve as a valuable lesson for junior-heavy Jackson Memorial, which is the No. 3 seed in Central Jersey Group IV and could run into Marlboro again in the sectional final.
8. Ranney (18-4, 12-0) Last Week: 10
Ranney has a pair of agonizing losses, which came to CBA and Raritan, but has also been blown out twice (by Red Bank Catholic and Manasquan) and have piled up most of its wins against unranked competition. With that being said, the Panthers own a convincing win over Manchester and have handled the middle class of the Shore with wins over the likes of Keyport (twice), Middletown North, Red Bank and Howell.
9. Manchester (19-5, 10-0) Last Week: Not ranked
The Hawks reached the SCT final for just the second time in program history and first time since 2004 when they topped Class A South champion Brick Memorial on Thursday. They also turned in a strong effort on Sunday in falling to top-seeded Red Bank Catholic, 50-41, in the SCT quarterfinals and have three convincing wins over fellow quarterfinalist Donovan Catholic, so Manchester has proved at several turns that it belongs in the Top 10.
10. Brick Memorial (17-6, 10-2) Last Week: 7
As the champion of a competitive Class A South champion with a road win over Jackson Memorial, Brick Memorial gets the nod as the Shore's No. 10 team, although there are a handful of challengers for one of the last spots. The Mustangs have a decent draw in the Central Jersey Group III Playoffs as well, with a chance to make it to the sectional championship as a No. 3 seed.
Dropped Out
Raritan (15-7, 5-5) Last Week: 9 – With wins over Ranney and Holmdel and a close loss at CBA, Raritan has kept itself in the conversation for a Top 10 spot heading into the state tournament.
Top 10 Watchlist
Donovan Catholic (16-7, 10-2) – The Griffins have a pretty good case for a Top 10 spot after its wins over Keyport and St. John Vianney in the Shore Conference Tournament. With a first-round state game at St. John Vianney, the Griffins can likely submit a season-ending ranking with a win.
Holmdel (14-9, 5-5) – The only other team all that close to cracking the Top 10 heading into the state tournament, the Hornets had Jackson Memorial down double-digits heading to the fourth quarter and couldn't close it out.
More From Shore Sports Network