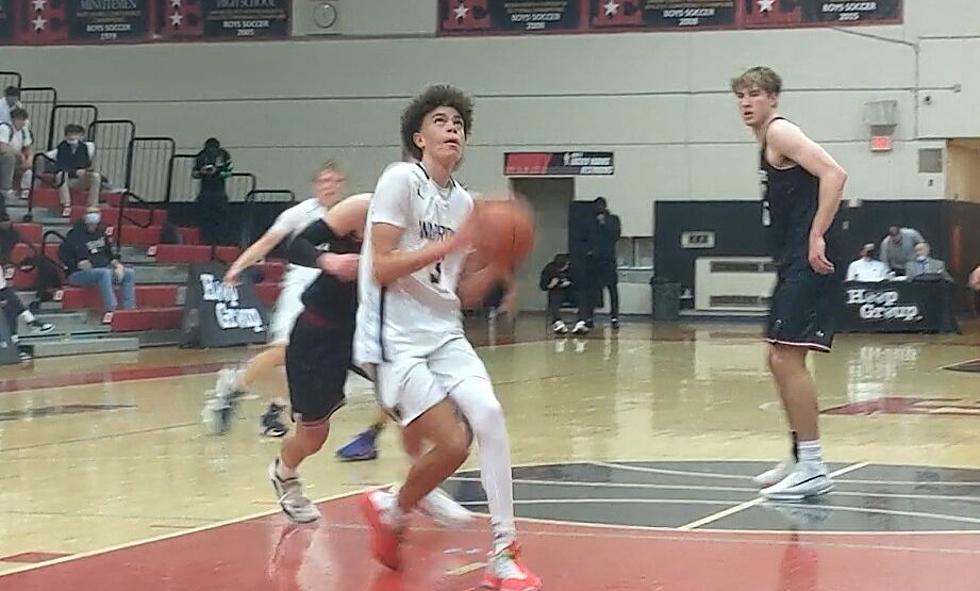 Boys Basketball – Rutgers Prep Takes Young Manasquan Team to School in Season-Opening Loss
Manasquan freshman Darius Adams goes for two of his seven points. Photo by Matt Manley

ELIZABETH -- For the past three years, the Manasquan boys basketball team poured every ounce of collective sweat into winning every single game it played and over the last two, the Warriors were successful 43 out of 44 times they took the court.
For those teams, a 20-point loss would have been repulsive, but this season, head coach Andrew Bilodeau is not so hell-bent on winning games -- at least not right away. With an All-State guard on the bench in street clothes, no starters back and a starting five that includes two sophomores and two freshmen, a large portion of this Manasquan season will be more about learning than about winning.
That was abundantly clear on Sunday evening at the Dunn Center in Elizabeth for the Hoop Group Tip-Off Classic, where Rutgers Prep -- the No. 11 ranked team in New Jersey, according to NJ Advance Media -- rolled through Manasquan, 71-51, in the Warriors season-opener.
"There is a lot of learning that needs to take place," Bilodeau said. "This isn't AAU. The guys play harder, they're organized, there are scouting reports involved. Teams know you, they know your tendencies. You call a set, they know it. It's harder and it's different: high school basketball is physical, it's tough and it's a grind. All those things need to be learned and it's just a long journey. We took one step today against a really good team."
Sunday was the first varsity action for three of the five Manasquan starters and the other two -- senior Matt Solomon and sophomore Ryan Frauenheim -- were the first two players off the bench on the 12-0 2021 team.
"You're trying to indoctrinate a number of guys into our way," Bilodeau said. "You're trying to teach guys an entire team instead of just two or three guys new to the varsity a new way: how we practice, how we play, how we ride the bus -- how to do everything.
"To Matt Solomon's credit, he has been absolutely fantastic with the younger guys and Ryan Frauenheim as a second year guy has been been fantastic, as has Danny Hyland -- another senior who played for us and came off the bench. So we have guys that are helping in that process."
While there were some encouraging moments during the first half, Rutgers Prep made Manasquan pay at the end of each of the first two quarters, closing the first with seven straight points to go up 16-8 and finishing the first half on a 12-1 run to carry a 36-17 lead into the locker room.
The Warriors were more competitive in the second half, but Rutgers Prep still outscored them, 35-34. Frauenheim showed his varsity experience relative to his fellow underclassmen, scoring a game-high 20 points, including 14 in the third quarter.
"I think the first half is what you might have expected given our situation," Bilodeau said. "They speed you up, they do a very good job defensively, they are quick and athletic. I thought in the second half we settled in and had a great third quarter."
Sophomore Alex Konov and freshman Darius Adams each added seven points and hit a three-pointer a piece, each offering a faint glimpse of his potential while adjusting to how fast the game moves when on of the top 15 teams in the state is on the floor.
Solomon, meanwhile, chipped in five points and freshman Griffin Linstra scored four in his high-school debut.
As his teammates worked through their opening-night issues, senior Ben Roy watched from the sideline, where he has settled in as a cheerleader and liaison between the coaches and players thanks to his unique perspective as a four-year starter, two-time Shore Conference Player of the Year and a two-time Shore Conference champion.
"Ben has insight for kids that no coach can give from his perspective," Bilodeau said. "He has been instrumental to me in talking about the guys. He has been at scrimmages and practices and I'm sure he has been instrumental to them in their individual conversations. He has insight, I'm sure, that none of us (coaches) could give."
With Manasquan expected to have Roy on board for his senior year, the Warriors accepted invitations to a number of showcase games like the one the Warriors played in on Saturday: games that included opponents like No. 2 Roselle Catholic, No. 4 Bergen Catholic, No. 14 St. Joseph of Metuchen and Union Catholic from outside the conference. In the WOBM Christmas Classic, which tips off tomorrow night, Manasquan could also conceivably face No. 12 Red Bank Catholic and, if the Warriors advance to the final, No. 9 Marlboro -- the top-two ranked teams in the Shore Conference.
Even without Roy, Bilodeau and his crew are not backing down from playing any team.
"We'll play anybody," Bilodeau said. "We'll play anybody, anywhere. That's always going to be our mindset. We'll the best games we can and we'll play them. We've got some great non-conference games coming up but the biggest game of the year is the next one."
Junior Jadin Collins matched Frauenheim with 20 points to win game MVP honors and classmate Cameron Piggee pitched in 16 for Rutgers Prep. Senior Ryan Zan -- a 6-foot-7 transfer from Ranney who faced Manasquan as a sophomore with the Panthers in 2019-2020 -- also added 13 points and 13 rebounds in the win.
Zan's Ranney squad lost to Manasquan in the 2020 Shore Conference Tournament quarterfinals and never got a chance to play the Warriors last year after two regular-season meetings were canceled due to a COVID outbreak within the Manasquan team and Marlboro knocked off Ranney in the Shore Conference Tournament Playoff semifinals to reach the championship game at Manasquan.
"It meant a lot to me," Zan said. "It was kind of a revenge game. It was good for morale and to get back at them from a couple of years ago. Me and Ben have been boys for a while, so it was good to see him. It's tough for him, but I'm happy for him going to Boston (University) and I'm hoping that works out for him."
Zan was one of two Ranney starters to transfer for his senior season, with Elijah Perkins moving south to play for Camden. Zan has posted an averaged of 12.5 points and 11.5 rebounds through three games, while Perkins only scored four points in Camden's Friday win over Roselle Catholic, but two of them came on an acrobatic putback dunk that emphatically won over his new home crowd in Camden.
Just as Perkins left to play for the No. 1 team in the state, Zan too hopes he has joined a team with a legitimate shot to be the last ever NJSIAA Tournament of Champions winner. The state recently voted to abolish the T of C after 33 years, beginning in 2022-23.
"I love the fit," Zan said. "I want to set a record for double-doubles, if that's a thing. We want to be top-three in the state. Our final goal is to win the TOC. We want to be the last team to win it and I think it's possible for us to do that. We have all the pieces we need."
As for Manasquan, the Warriors aren't built to win the last T of C, but don't rule out Manasquan getting there. Bilodeau has been pleased by what he has seen on the court and on paper, the road is easier this year than it has been in a long time for Manasquan when it comes to the state tournament. Manasquan is now in Group III, which means that Camden no longer stands between the Warriors and the Group II championship game.
Colonia is currently the highest-ranked team in the state from Group III at No. 14 and no team from either Central or South Jersey Group III opened the season with a ranking. West Morris (No. 19), which shares a section with Colonia, is the only other Group III team currently ranked.
Before this iteration of Manasquan can start dreaming about winning a championship in the state tournament, it will try to bounce back from Sunday's loss with a win in the WOBM Christmas Classic Holiday Tournament. The Warriors are seeded No. 3 in the field of 16 and will take on No. 14 Colts Neck in the second game of the day, with tip-off scheduled for 11:30 a.m.
"I thought we did a really good job in the second half, but it's win or learn," Bilodeau said. "I thought we did a good job. I'm really pleased."
More From Shore Sports Network