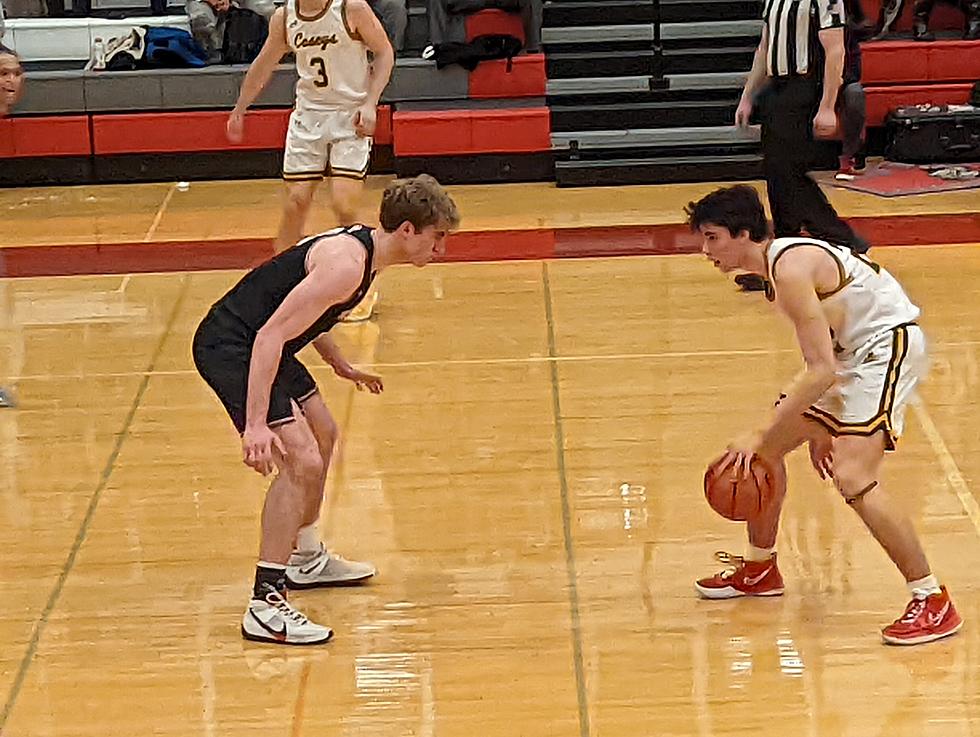 Boys Basketball – Rutgers Prep Denies Red Bank Catholic Long-Awaited Championship
Red Bank Catholic sophomore Gioacchino Panzini guarded by Rutgers Prep senior Ryan Zan. (Photo by Scott Stump)

By Scott Stump – Shore Sports Network contributor
MEDFORD – For 31 minutes on Wednesday night, Red Bank Catholic's boys basketball team looked ready to end a 45-year drought of NJSIAA sectional titles by taking down one of the state's best teams for the second time this season.
It's that last minute they wish they could have back.
The top-seeded Caseys led nearly the entire way before falling 63-60 in heartbreaking fashion to third-seeded Rutgers Prep in the Non-Public South A final at Lenape High School.
The Argonauts (26-3) hadn't been in front since a brief 17-15 edge early in the second quarter when they took a 60-59 lead on a fadeaway jumper in the lane by star guard Jadin Collins with 25 seconds left in the game. They then drew a huge charging call while making just enough free throws to hold on for their first sectional title in program history.
"Wild shots from Collins falling in," RBC coach Tyler Schmelz said. "Obviously he's an amazing player, and he made some crazy shots that burned us, (plus) turnovers and offensive execution."
Collins erupted for 20 of his game-high 33 points in the second half to power the comeback and combined with center Ryan Zan (17 points) for 50 of the Argonauts' 63 points.
"We just wanted it more," Collins said. "They beat us the first time, so we just had a way bigger chip on our shoulder."
RBC had a 4-point lead with 1:19 left in the game and a one-point lead with 59 seconds remaining and the ball, only to watch it slip away to come up just short of its first sectional title since 1977.
"Everyone's season ends on a heartbreaking loss, and it's tough to do it here," Schmelz said.
The Caseys, who beat Rutgers Prep 90-79 during the regular season, had a 29-23 lead at the half thanks to 11 points from senior guard C.J. Ruoff, who led RBC with 18 points.
RBC was continuously getting into the lane off the dribble for kickouts or easy baskets in the paint, but 16 turnovers through three quarters allowed Rutgers Prep to keep the game within reach. The Argonauts were also consistently getting to the foul line, as they ended with 25 attempts compared to only eight for RBC.
The Caseys had the lead as high as 12 when they took a 44-32 advantage on a driving layup by Ruoff with 1:35 left in the third quarter. However, a 6-0 run to end the period allowed Rutgers Prep to go into the fourth with momentum after senior guard Ryan Pettit hit a buzzer-beating bomb from just over midcourt to trim RBC's lead to five.
A dunk by Collins off a turnover cut RBC's lead to 50-48 midway through the fourth, but the Caseys would not give in. They answered with a two-handed slam in transition over a defender by sophomore Gioacchino Panzini, who scored nine of his 15 points in the second half, to get the lead back to four.
However, the Argonauts caught RBC napping after Panzini's dunk by pushing it ahead to Zan, a Ranney transfer who dropped in a layup to cut RBC's lead back to two.
Panzini then came up with another clutch play with 1:19 left when he scored and was fouled to give the Caseys a 59-55 lead. Collins fired right back with a 3-point play of his own to close the gap to a point with both student sections roaring.
RBC then had the ball and the lead, but its 21st turnover of the game turned out to be one of its most costly. The Caseys threw the ball out of bounds on their possession to give the Argonauts a chance to take their first lead of the second half. Collins seized the moment by hitting a tough jumper in traffic.
"It was energy that just skyrocketed after that (RBC turnover)," Collins said. "After that we knew we were going to keep on getting after it and win this thing."
RBC still had a shot to take the lead back, but Panzini was whistled for a charge on a drive to the basket with under 20 seconds to go.
"That's a 50-50 call that doesn't go your way," Schmelz said. "You've got to play good enough that 50-50 calls don't decide the game."
RBC was forced to foul and sent Collins to the line with 9.3 seconds remaining. He buried them both for a 62-59 lead.
"It's nerve-racking," Collins said. "We've got the student section for Red Bank Catholic going crazy. We needed those."
Rutgers Prep then intentionally fouled Panzini so RBC couldn't get a potentially game-tying 3-pointer off, and he missed the front end of a one-and-one. However, Collins missed two ensuing free throws, giving RBC another shot to tie it. Pettit wisely fouled Ruoff with 2.5 seconds left instead of allowing him to launch a 3-pointer.
Ruoff made the first foul shot and missed the second, but Zan secured the rebound and then added a free throw with 1.2 seconds left. RBC's desperation heave at the buzzer was off the mark to touch off the Argonauts' celebration.
It was a bitter pill for the Caseys to swallow in their first sectional final appearance in 22 years, but the silver lining is that some of the players who made the biggest impact on Wednesday night will be returning. In addition to Panzini, freshman guard Ryan Prior had 10 points on the big stage, and sophomore forward Zach Meeks chipped in six while battling foul trouble.
"I think the future is very bright," Schmelz said.
That only partially eases the sting of RBC's best opportunity to win a sectional title in nearly a half century.
"This is the chance of a lifetime for kids," Schmelz said. "I told all my younger kids that, too – that you might not get another shot at this. You never know, the bracket's impossible. You have to beat great teams, but I think we're on the path to have an opportunity to get back."
Box score
Rutgers Prep 63, Red Bank Catholic 60
Rutgers Prep (26-3)  14   9  18   22 – 63
RB Catholic (24-5)      15 14  17 14 – 60
Rutgers Prep: Atkins 0 0-0 0, Collins 11 10-14 33, C. Piggee 2 1-2 5, Pettit 3 0-0 8, Zan 6 5-9 17, Jones 0 0-0 0. Totals: 22 16-25 63. Three-pointers: Pettit 2, Collins. Fouled out: Pettit.
RB Catholic: Arvanitis 1 0-0 2, Ruoff 8 1-3 18, Panzini 7 1-3 15, Bauman 4 1-2 9, Meeks 3 0-0 6, Brown 0 0-0 0, Prior 4 0-0 10, Burnham 0 0-0 0. Totals: 27 3-8 60. Three-pointers: Prior 2, Ruoff. Fouled out: Brown.
More From Shore Sports Network