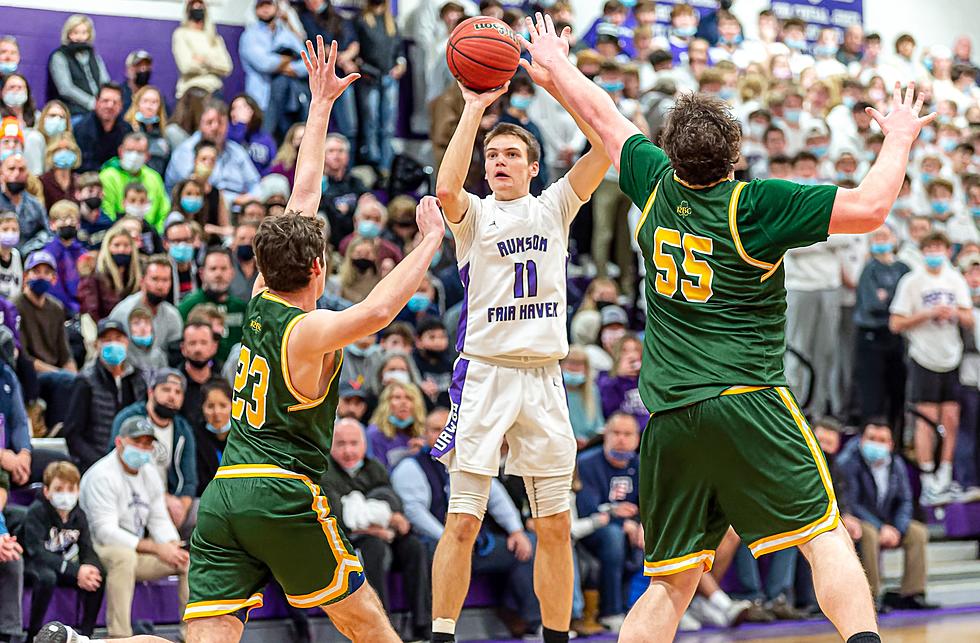 Boys Basketball – Rumson Upsets No. 1 Red Bank Catholic in Dominant Fashion
Rumson-Fair Haven senior Trent Sloan. (Photo: Tom Smith | tspsportsimages.com)

RUMSON -- Just having senior Geoff Schroeder on the floor Tuesday night made a difference for the Rumson-Fair Haven boys basketball team, which was without its senior guard the first time the Bulldogs met Red Bank Catholic back on Jan. 13.
For three quarters, the Bulldogs made due with just his presence and his defense, but in the fourth, Schroeder caught fire and helped the Rumson-Fair Haven -- ranked No. 6 in the Shore Sports Network Top 10 -- bury the No. 1 team at the Shore.
Senior Trent Sloan led the way with his scoring, senior Scott Gyimesi battled his way to a double-double and Schroeder served as the closer in Rumson's 53-37 win over Red Bank Catholic, which snapped an 11-game winning streak by the Caseys.
"Credit to everybody on the team tonight," Schroeder said. "Everyone stepped up huge throughout the game. When I wasn't hitting shots early, other guys stepped up and found ways to score and so many guys gave an incredible effort on both ends."
Schroeder missed the first six games of the season with an ankle sprain suffered in Rumson's final football game of the fall and it would have been a larger collection of missed games were it not for a 10-day program shutdown due to COVID protocol. The last of those six games was a 52-34 loss at Red Bank Catholic in which the Bulldogs led after one quarter and trailed by just seven heading into the fourth before the Caseys pulled away late.
"We knew with Geoff coming back, we had a good shot," Gyimesi said. "We have been rolling these last couple weeks. We have been playing the best basketball I have ever seen us play."
Since that loss to RBC, Schroeder has worked his way back into the mix and the entire Bulldogs team has been on a shooting tear. In the three games prior to Tuesday -- wins over Newark East Side, Holmdel and St. Rose -- Rumson drained a total of 40 three-pointers, with at least 11 in all three.
"When Geoff plays, it opens up everything," Gyimesi said. "Geoff was hurt for the first month or so of the season and we were still really confident. When we lost a couple games early in the season, we were close and kind of faded late because the floor wasn't as open without him. With him back, it's instrumental what he does for our team. He allows our guys to create for themselves and when the defense bites, he's a knock-down shooter."
Rumson hit nine three-pointers on Tuesday night and eight of them came in the second and fourth quarters. Gyimesi -- who was held to only six points in the first meeting vs. Red Bank Catholic -- got the Bulldogs off to an 8-1 start by scoring all eight of his team's points in the first quarter.
Red Bank Catholic cut the Rumson lead to 8-7 by the end of the first quarter, but the Bulldogs responded by finding their touch from beyond the arc. Senior Cal Famula and Sloan hit threes early in the second and Gyimesi later scored inside, but the Bulldogs still had not yet shaken off RBC, which trailed 16-11 with 2:30 left in the half.
At that point, the Bulldogs hit RBC with three more threes before the end of the half, with Sloan hitting two and Famula one to send Rumson into the locker room with a commanding 25-11 lead. With Sloan and Famula leading the way, the Bulldogs went 5-for-9 from three-point range in the quarter while limiting the Shore's No. 1 team to 4-for-19 shooting over the first 16 minutes.
"Going back to last week, our energy has been at an all-time high in practice," Sloan said. "Obviously, shooting has been great recently since the last game against (RBC) and being at home tonight, with the Dawg Pound here, it was great."
Gyimesi joined the fun with a three-pointer that stretched Rumson's lead back to 14 at 32-18 in the third quarter, but the Caseys responded with the final six points of the third to pull within 32-24. After outscoring Rumson, 19-9, in the fourth quarter on Jan. 13, RBC was positioned to spoil the upset bid if it could author another strong finish.
That's when Schroeder stepped in. The senior guard was scoreless through three quarters but started the fourth by nailing a three-pointer from the top of the key to stretch Rumson's lead back to double-digits, 35-24.
"My shots weren't falling early, but Tucker Reid, one of my teammates, came to me and said, 'Don't panic, you know what you can do. We all believe in you,'" Schroeder said. "That really got me going to not give up on myself. It gave me the confidence to keep shooting."
Schroeder then buried his next two three-point tries and Rumson's defense shut down RBC on the other end, stretching the Bulldogs lead to 17. Sloan then put the exclamation point on an 11-0 Rumson run with a two-handed dunk to give Rumson its largest lead of the game, 43-24, with 3:55 to go.
"It was amazing," Sloan said of the dunk that sent Rumson's student section into a frenzy. "I've dreamed of nights like this since I was five, so it was awesome. Dream come true."
Sloan finished with a game-high 18 points, while Gyimesi battled for 13 points, 15 rebounds and three assists to lead the Rumson effort. Schroeder scored all nine of his points on his three fourth-quarter threes and also dished out four assists.
Seniors Cyril Arvanitis and C.J. Ruoff each scored 10 points to lead Red Bank Catholic, which was again without 6-foot-5 sophomore Zach Meeks due to a sprained ankle. With Meeks out, Rumson coach Chris Champeau crafted his gameplan anticipating how Red Bank Catholic would compensate, with some of his ideas coming after watching the Caseys beat previously-undefeated Rutgers Prep, 90-79, on Sunday.
"We knew they were going to be without Meeks," Sloan said. "He's big and quick, so without him, we knew they were probably going to play more of a zone, which they did in their last game. We just had to keep moving the ball and we were going to get open shots and if we can get open shots, they are eventually going to fall. We knew it was coming, we planned for it and (Champeau) did a great job."
With Meeks out, Rumson shut down the paint for RBC, with Meeks's replacement in the lineup -- sophomore Tyler Burnham limited to one point.
"(Burnham) is a great player but we thought it was a better matchup for me than Meeks was," Gyimesi said. "(Champeau) said before the game, 'Take your guy down low,' and I ended up with the first eight points for our team. That really opened things up for the second quarter and then it felt like everyone was hitting threes."
Rumson also quieted RBC senior standout Alex Bauman, who did grab a game-high 17 rebounds but mustered only four points with Gyimesi on him most of the way.
"Last year, we had them here and we got totally out-hustled by them," said Schroeder, referring to a 2021 game in which Bauman put up 21 points and 25 rebounds. "We promised ourselves that, when we play them, whether it's a loss or a win, we're not going to get outhustled and I felt like we did such a great job on the boards and that was probably the biggest part of the game."
Since Schroeder's return to action, Rumson is 6-0 with several noteworthy wins to its credit. The Bulldogs have Top 10 wins over No. 10 Raritan and No. 1 Red Bank Catholic, a road blowout of Holmdel (9-6) and a home win over perennial Group IV contender Newark East Side (7-6).
Rumson's only other loss besides the January defeat at RBC was a 52-48 loss to No. 3 Christian Brothers Academy in the Albert E. Martin Buc Holiday Classic semifinals at Red Bank Regional.
"Within a few days during the preseason, Geoff, Trent and I all ended up in the trainer's room with sprained ankles," Gyimesi said. "(Champeau) would come in and say, 'Just get back for us. You're going to get back for us.'"
"Champeau told us at the beginning of the year that there is going to be adversity," Schroeder said. "It's not really about what that adversity is, it's just how you respond to it. I think all of our guys have done a great job not hanging their heads through some of the tough times. We really just dug into what RFH is all about: every single kid working hard and you saw that tonight."
More From Shore Sports Network