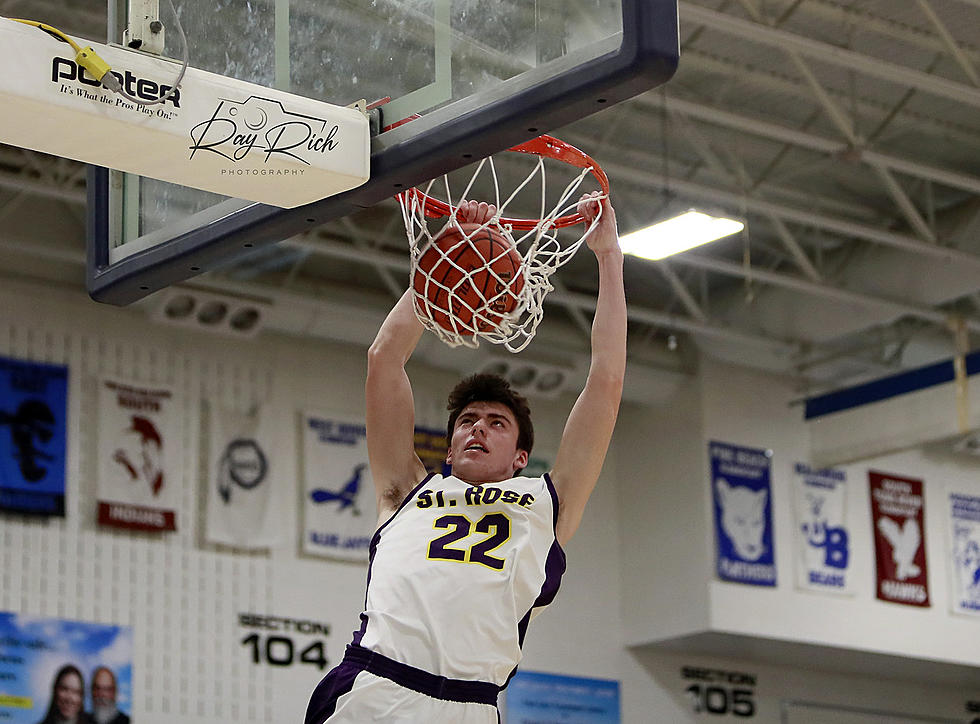 Boys Basketball – Re-Focused St. Rose Primed for First Sectional Title in 19 Years
St. Rose junior Gio Panzini. (Photo: Ray Rich Photography)

South Jersey Non-Public B Championship
Wednesday, March 1, 2023
At Lenape High School
No. 1 St. Rose vs. No. 2 Bishop Eustace, 5 p.m.
St. Rose (23-4)
Head Coach: Brian Lynch
Last Sectional Championship: 2004
Road to the Final: Defeated No. 8 Holy Cross Prep, 65-47; No. 4 St. Joseph Hammonton, 87-52
Top Players
Matt Hodge, Jr., 6-8 (14.4 points, 8.6 rebounds, 4.2 assists, 1.7 steals, 1.3 blocks)
Jayden Hodge, Fr., 6-4 (12.8 points, 4.5 rebounds, 2.2 assists, 2.1 steals)
Gio Panzini, Jr., 6-5 (10.5 points, 7.8 rebounds, 2.4 assists, 1.2 blocks)
Peter Mauro, So., 6-0 (8.1 points, 2.8 assists)
Bryan Ebeling, So., 6-1 (9.4 points, 1.6 steals)
Evan Romano, So., 6-2 (8.1 points)
Bishop Eustace (18-9)
Head Coach: Bob Falconiero
Last Sectional Championship: 1997
Road to the Final: Defeated No. 10 Trenton Catholic, 48-43; No. 3 Ranney, 48-44 (OT)
Top Players
James Ianelli, Sr., 6-2 (16.1 points)
Joe Callahan, Sr., 6-1 (9.8 points)
Tommy Semiraglo, So., 6-2 (10.5 points)
Daniel Mason, Sr., 6-8 (7.8 points, 8.0 rebounds)
A little more than two weeks ago, St. Rose looked poised to surge into the Shore Conference Tournament final for the first time in program history and take on Manasquan for the championship at Monmouth. Then, the Purple Roses endured the two minutes from hell to end the fourth quarter of their Shore Conference Tournament semifinal vs. Ranney and went on to lose in overtime after taking a 13-point lead into the final 1:56.
If there was any concern about how St. Rose would respond – especially after Marlboro beat the Purple Roses two days later in what amounted to a scrimmage that counted towards both team's records – the Purple Roses reverted back to their dominant form Monday night against St. Joseph Hammonton in the South Jersey Non-Public B final. Juniors Matt Hodge and Gio Panzini dominated during a 31-9 first-quarter by St. Rose, which has been the norm for the two juniors since Panzini – a transfer from Red Bank Catholic – became eligible on Jan. 14.
Prior to Panzini, Gill St. Bernard's transfer Peter Mauro and Holmdel transfer Evan Romano becoming eligible, freshman Jayden Hodge was St. Rose's top scorer, putting up 17.7 points per game through St. Rose's first 10 games. In 15 games since, Jayden Hodge is averaging 9.6 and with three additional scoring options in the rotation, he has not had to score 18 per night for St. Rose to thrive. Still, the freshman – who, like most of the St. Rose team, battled the flu during mid-January, according to head coach Brian Lynch – will be a key cog if St. Rose is going to win its first sectional championship since 2004, then give the North Jersey champion all it can handle.
The other two key pieces for St. Rose are sophomore Bryan Ebeling and freshman Tyler Cameron. Ebeling has remained a starter after the three transfers became eligible and serves as a defensive spark, knockdown shooter and a secondary ball-handler to complement Mauro and Matt Hodge. Cameron, meanwhile, has been the second player off the bench behind Romano since everyone became eligible and has given St. Rose a second major freshman contributor.
Wednesday night at Lenape, St. Rose will be facing a Bishop Eustace team that battled down to the wire in each of its NJSIAA Tournament games in order to make it to the sectional championship. The Crusaders are an organized, senior-led team that is looking to keep the game in the 40's. That might seem like a tall task against a St. Rose team that had 49 at halftime on Monday night, but Bishop Eustace held a potent Ranney team to 39 through 32 minutes on Monday and, earlier in the season, limited Jackson Memorial to 21 for an entire game.
That 50-point mark is a magic number for Bishop Eustace. The Crusaders are 1-8 when allowing 50 or more points and 17-1 when allowing under 50. As for St. Rose, the Purple Roses have scored under 50 in a game six times this season – twice since the three in-state transfers became eligible. The 50-point mark has not been a deterrent for St. Rose, which is 5-1 in those games.
Bishop Eustace will rely, primarily, on seniors James Ianelli and Joe Callahan for scoring, as well as sophomore Tommy Semiraglo. The trio accounts for about 36 points per game, while 6-foot-8 senior Dan Mason provides the work on the interior defending the rim and cleaning up the glass. Mason and Matt Hodge will be the matchup to watch in the paint, with Hodge's athleticism presenting a challenge for Mason in performing his usual duties inside. As for the other end of the floor, Hodge will be a major matchup problem for Bishop Eustace and could prompt Crusaders coach Bob Falconiero to throw in plenty of defensive wrinkles to try to stall the St. Rose attack.
Prediction
Teams with a commitment to slowing the game down against St. Rose have been successful in keeping the score low, but the Purple Roses have had no problem remaining poised in a more halfcourt offense and clamping down on the defensive end. Expect Bishop Eustace's pacing to keep the game out of the 60's, but it will take a uniquely great shooting performance for the Crusaders to pull the upset. The Pick: St. Rose, 57-45
10 of Jersey's Best Ice Cream Places Chosen By You
More From Shore Sports Network