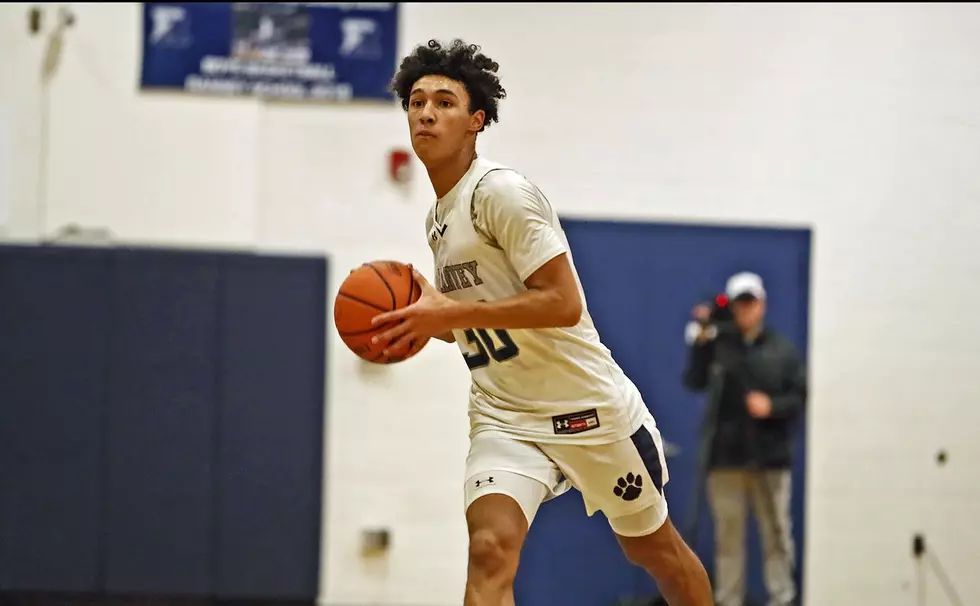 Boys Basketball – Ranney Shows its Ceiling in Advancing to Shore Conference Quarterfinals
Ranney junior Drew Buck. (Photo: Ray Rich Photography)

JACKSON TWP. -- Jahlil Bethea spent 30 days of his senior season watching his Ranney boys basketball season from the bench so he could eventually play for the Panthers at the most important time of the season.
So when his shots were not falling during the first three quarters of Ranney's Shore Conference Tournament round-of-16 game at sixth-seeded Jackson Memorial Thursday, he did not let it stop him from impacting the game on the other end of the floor and being the late-season x-factor the Panthers hoped they were getting.
Bethea was part of an all-around effort on both ends of the floor Thursday that carried Ranney - the No. 11 seed in the Shore Conference Tournament -- to a 61-55 win over Jackson Memorial. With the win, Ranney secures a spot in the SCT quarterfinals for the seventh time in the last eight seasons.
Bethea -- a Paterson native and transfer from the Patrick School -- finished with 13 points, four rebounds, three assists and four steals while shadowing Jackson Memorial's top perimeter scoring threat in senior Samir Padilla, holding him to 11 points.
Junior Drew Buck also played a standout all-around game for Ranney, posting a game-high 17 points to go with seven rebounds, four assists and three steals. After averaging just under 18 points per game while Bethea sat out for the season's first 30 days, Buck has acclimated to having two senior scorers alongside him in Bethea and Isaac Hester.
"It's a challenge when you have to shift roles in the middle of the season and he is till learning that," Ranney coach Tahj Holden said of Buck. "The way he plays and his capabilities makes that transition a little easier. It takes a lot of pressure off of him and now, he's just open more and he has those opportunities to make plays and we would actually like for him to be a little more aggressive. He looks for opportunities to make plays for other guys and he has been very good at that, but I have told him to shoot when he is open a lot more."
Hester also poured in 16 points on Thursday, with 12 coming in the first half. Hester -- who scored at least 20 points in Ranney's first 14 games this season -- also added eight rebounds, three assists and two steals in the victory.
Since Bethea's addition, Hester's scoring has slowed, but not by much and now he has two capable backcourt players alongside him, plus a knockdown shooter in Williams. With Bethea in the lineup, Ranney is 8-3 with wins over Immaculata (17-4), Jackson Memorial and Point Boro and three losses to three top 20 teams in the state: St. Rose, Manasquan and Rutgers Prep.
"They're very good basketball players but the key thing is they all complement each other so well," Holden said. "Isaac's midrange game and shooting abilities complement what Jah does getting to the basket. It's been a pleasure to coach those guys and then you have Drew Buck who steps up as the third option when, on a lot of teams in the Shore, he is one or two. His versatility allows us to play a little differently too, because he can guard bigs and guards."
Ranney struggled with Jackson Memorial's size and strength on the interior during the first half, particularly senior Charlie Meglio. The 6-foot-5 Campbell University Baseball commit scored all 14 of his points in the first half and also grabbed nine rebounds for the game, as the Jaguars grabbed a 31-30 lead going into halftime.
In the second half, Ranney was more proficient in keeping Meglio farther from the basket when he caught the ball and keeping him and junior Shaun Hubbard off the glass. Meglio also slowed down after coming down awkwardly on his ankle during the third quarter and hopping off the court. After a brief period with the athletic trainer, Meglio returned to the game, but was not as effective while favoring the ankle.
With Meglio hobbled and Padilla dealing with Bethea, Jackson Memorial could not muster the offense to keep up with Ranney in the second half. The Panthers scored the first five points of the third quarter to take the lead and steadily built it up to 10, with a dunk by Bethea off a steal giving the Panthers their first double-digit lead, 52-42.
Sophomore MeSean Williams hit two of his three three-pointers in the game during that stretch on the way to finishing with 11 points.
With Jackson Memorial looking for offense in the second half, senior Keith Adame hit two of his four threes in the fourth quarter and finished with 12 points. Senior Respect Tyleek finished with eight points, five rebounds and five assists, with senior Isaac Hester guarding him by allowing Tyleek to shoot while keeping his eye toward the passing lanes.
Ranney's defense has been a work in progress over the course of the season and appeared a legitimate strength for the Panthers on Thursday with Bethea, Buck and Hester leading the way and senior Glen Cantalupo battling in the paint.
The seven trips to the conference quarterfinals are the only such runs for Ranney in the history of the program, which did not join the Shore Conference until the 2012-13 season. They also coincide with the eight seasons under the direction of Holden, who led the Panthers to back-to-back championships in 2018 and 2019, as well as the Tournament of Champions title in 2019.
Thursday's win wasn't exactly a championship victory like the ones Holden experienced in 2018 or 2019, but it was a gratifying one for a team that started the season 0-4, has lost more players to transfers over the last two years than it has brought in and was seeded outside the top 10 of the Shore Conference Tournament for the second straight season.
This year, however, the Panthers are peaking at the right time and have a draw that appears conducive to a deep run into the bracket. In order to reach the program's first official trip to the Shore Conference Tournament semifinal since winning it all in 2019, Ranney will have to go through No. 3 Toms River North Saturday at Middletown High School South.
"The way the brackets shook out, we figured it was going to be a tour through Ocean County," said Holden, whose team beat Shore Conference Class B South co-champion Lacey at home in the opening round. "We knew we had to be ready for what these teams could bring and we would have a good opportunity to get to the semis if we could take care of our business. Nothing is easy -- these teams are very good -- but I like how we matched up with these first two teams and there is an opportunity for us there right now.
"Our goal is always to get to the semifinals and be one of those last four teams playing. If we can do that, we're in a good spot. We're confident in our group, because if we do what we're supposed to do, we're a pretty good team. When we play simple, but not casual, we're really good."
LOOK: These are the most Instagrammed sports stadiums in the world
OLBG
analyzed Instagram hashtags & revealed the most Instagrammed sports stadiums across the world, including those here in the United States. The top 10 are listed below, based on available data from February 7, 2023.
More From Shore Sports Network