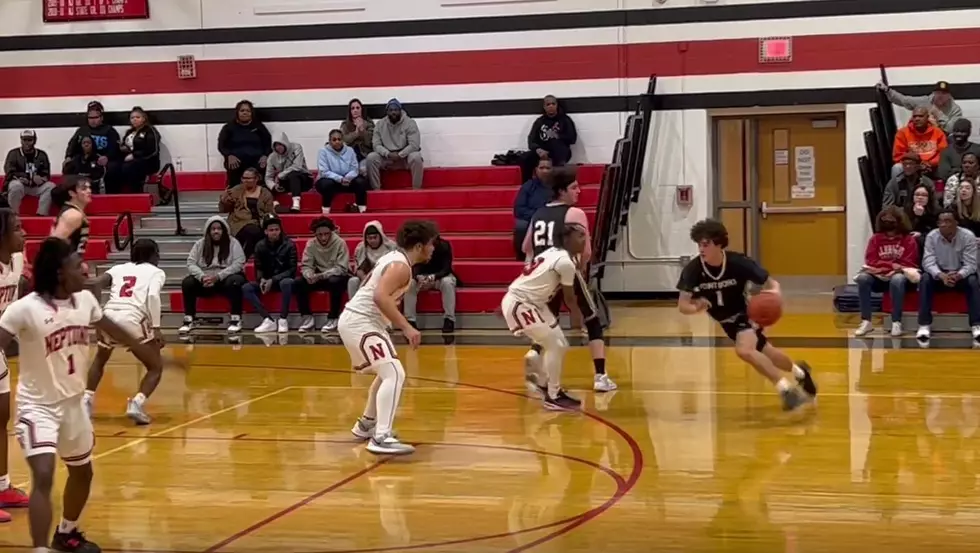 Boys Basketball – Point Boro Marches to 10th Win With Another Close Call vs. Neptune
Jake Venturoso handles the ball during Point Boro's win at Neptune Tuesday night. (Image: Matt Manley)

NEPTUNE -- Whether approaching 70 points or barely cracking 30, the Point Pleasant Boro boys basketball team can be confident of one thing: they are mostly likely playing a game that is going down to the wire.
Within that scenario, the Panthers -- ranked No. 6 in the Shore Sports Network Top 10 -- can rest assured of something else: they will likely find a way to win it.
Exactly half of Point Boro's 12 games so far this season have been decided by four points or fewer and the overall result is a 10-2 start that continued Tuesday with a 33-32 win over Neptune to complete a season sweep of the Scarlet Fliers in Shore Conference Class C North divisional play.
Point Boro is now 5-1 in those games decided by four or fewer points and both of its wins over Neptune were decided by a single point. After beating the Scarlet Fliers, 30-29, in their Class B North opener on Dec. 19, the Panthers won another low-scoring struggle on Tuesday -- this time in Neptune.
"We took decent shots today, but they just weren't going in," Point Boro coach Kevin Hynes said. "They were doubling (senior) Shane (Ryan), so that took away a lot of what we wanted to do and we had to run more isolation stuff, which is not our strength. But give our guys credit: they battle and they are not afraid."
To get past Neptune a second time, Point Boro had to withstand two Neptune runs that accounted for most of the Scarlet Fliers' scoring and gave the hosts their largest leads of the game. After the Panthers jumped out to a 6-3 lead after the first quarter, Neptune scored the first 10 points of the second to go up 13-6.
Point Boro responded with a 9-2 run to tie the game up, 15-15, by the early part of the third quarter, with the Fliers taking a 13-10 lead into the half. Panthers junior Jake Venturoso scored six points during the run and eight of Point Boro's first 15 points.
Neptune then hit back with a 9-2 run of its own to take a 24-17 lead into the fourth quarter, with senior C.J. Argilagos gliding in for a layup as time expired in the third to cap the run.
A putback by senior Davionne Pearson put Neptune ahead, 26-19, early in the fourth and Point Boro chipped away from there. Senior Noah Knauf hit a corner three-pointer to cut the deficit to four, then senior Danny Coughlan hit sophomore Thomas Turner for a layup to cut it down to 26-24.
Knauf tied the game with 5:18 left with a layup off a pass up ahead from classmate Shane Ryan after a Neptune turnover. Ryan hit a free throw on the Panthers' next possession to make it eight straight points for Point Boro and a 27-26 Panthers lead.
Pearson got Neptune back on track by assisting a layup by senior Anthony Banks, then scoring the team's remaining points. Pearson finished with a game-high 13 points and either scored or assisted all eight of Neptune's points in the fourth quarter.
Ryan answered Banks's go-ahead score with a go-ahead jumper to put Point Boro back up, 29-28, before Pearson responded with a drive of his own to reclaim the lead for Neptune on the very next possession.
Point Boro again struck back by giving the ball to Ryan, who drove hard for a tough finish that gave the Panthers a 31-30 lead -- one they would not give back. After a defensive stop, Point Boro extended its lead to three on a layup by Coughlan off a pass from senior Ryan Mellett.
Pearson gave Neptune a chance to pull even when he finished through contact to earn a chance at a three-point play with 1:11 left. He missed the potential tying free throw, which became commonplace during the final minute.
Venturoso then missed the front-end of a one-and-one for Point Boro, but Neptune could not deliver a go-ahead basket on the next possession, with Venturso fighting for the rebound of a missed three-point attempt by Banks.
Again, however, Venturoso missed the front end of a one-and-one with 17 seconds left to give Neptune a chance to win the game. Point Boro had only committed two team fouls at that point and proceeded to give three of their remaining four to slow down Neptune's offense.
The Panthers were ready to give their last foul, but James Atkins took a step-back dribble into a three-point shot that missed the mark and carried out of bounds with 0.4 seconds on the clock. Point Boro flipped the ball in bounds and time expired to end another tight Panthers victory.
Venturoso led Point Boro with 10 points, while Ryan scored five of his seven in the fourth quarter. Knauf (five points) and Turner (four) each scored all of their points in the fourth to power Point Boro to the finish line.
Point Boro is now 5-1 in those games decided by four points or fewer and the lone loss came last Thursday night against a 13-0 St. Rose team currently ranked No. 1 in the Shore Sports Network Top 10. Point Boro was winning that game, 26-21, with under three minutes to go before the Purple Roses closed with a 9-2 run to escape the upset.
The only other loss suffered by Point Boro this season was a 41-point rout on the road at No. 2 Manasquan. Other than the two losses to the top two teams at the Shore, Point Boro has been unblemished, which now included two wins over Neptune and a 67-64, Class C North divisional win over Ranney.
On top of finishing off the second turn through the division with games vs. Ranney, Manasquan and St. Rose, Point Boro will also fit in a game vs. Christian Brothers Academy, which was just added to the schedule for Jan. 28, according to Hynes
"This division is a gauntlet," Hynes said. "It's not just playing a good team like we did today, but now we have to turn around and play Ranney and then we're looking at Manasquan. We picked up CBA because Shore dropped us and now teams are a little hesitant to play us because they see our record. It's a little misleading, but the good thing about being 10-2 is we can test ourselves a little bit. We're going to face some really good competition and we'll see where we're at."
While Neptune is only 4-6 overall, the Scarlet Fliers have been a revitalized team of late. They lost, 51-45, at Manasquan on Jan. 9 after taking the lead with 4:50 to go, then beat Ranney in overtime three nights later.
"It's hard to come in here and win," Hynes said. "That's a really good team and I don't think people realize it because of their record. Neptune is going to beat some teams this year and I don't care what year it is, winning at Neptune is a big deal. This is a program win, so I'm really proud of our guys."
30 famous people you might not know were college athletes
Stacker
dug deep to find 30 celebrities who were previously college athletes. There are musicians, politicians, actors, writers, and reality TV stars. For some, an athletic career was a real, promising possibility that ultimately faded away due to injury or an alternate calling. Others scrapped their way onto a team and simply played for fun and the love of the sport. Read on to find out if your favorite actor, singer, or politician once sported a university jersey.
More From Shore Sports Network