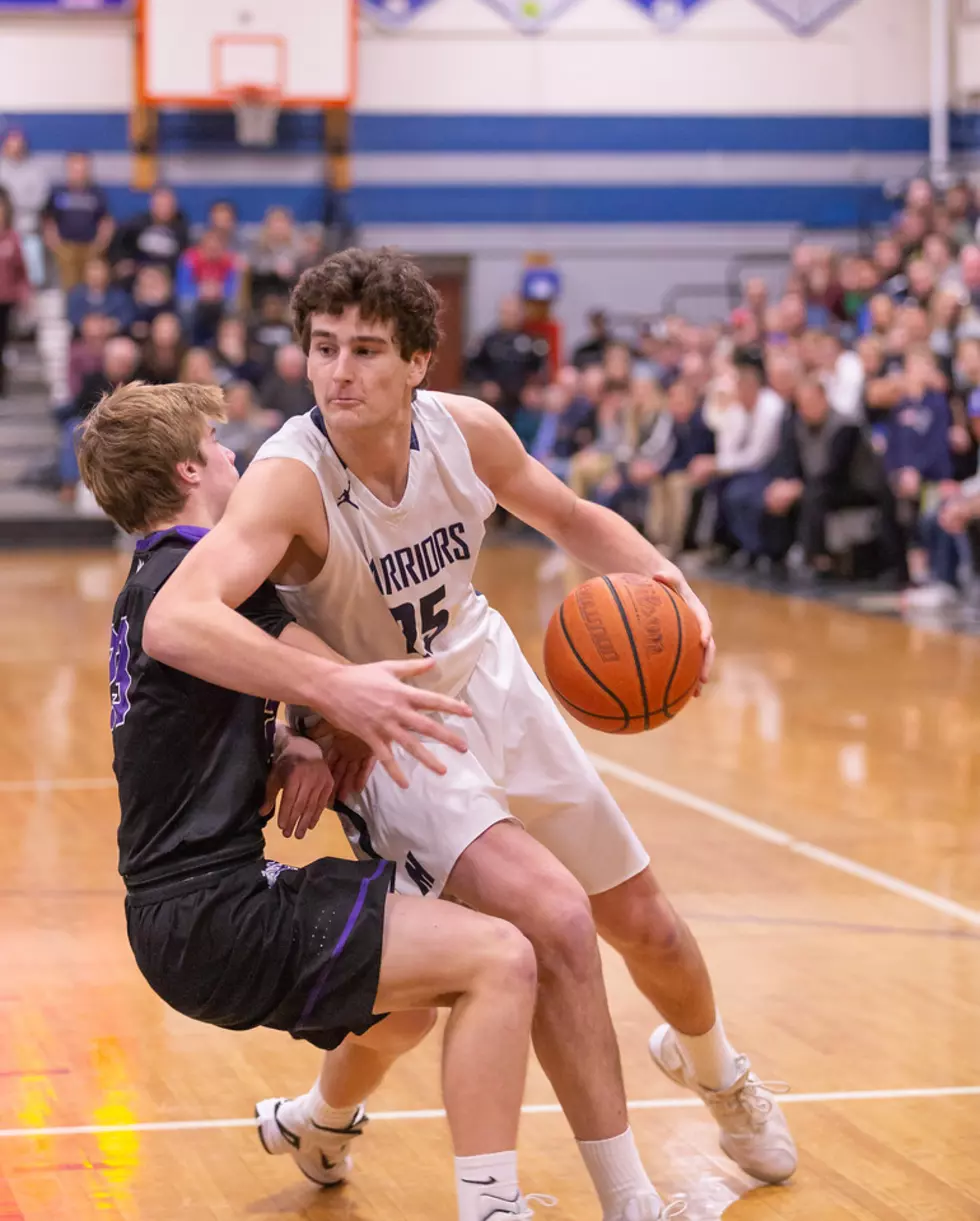 Boys Basketball – NJSIAA Tournament Preview: Central Jersey
Manasquan junior Alex Galvan. (Photo by Paula Lopez)
When it comes to the Shore Conference in the NJSIAA Tournament, Central Jersey is where the action is, particularly when it comes to winning sectional championships. The Shore has made some serious noise across the board in Central Jersey over the years but in recent years, most of that noise has come out of Group II. Central Jersey II could also prove prosperous for the Shore but CJ IV and III also have some big guns with a chance to in hardware.
Shore Teams in the Field: No. 3 Freehold Twp., No. 5 Middletown South, No. 8 Brick Memorial, No. 11 Jackson Memorial, No. 13 Marlboro
Defending Champion: Trenton
Top Seed: Trenton
The Favorite: Trenton. The champs are the champs until somebody beats them. Last year, the Tornadoes were road warriors on the way to capturing the sectional title, which ended with a hard-fought win at Colts Neck. This year, the road to the CJ IV goes through Trenton and that is enough to make the defending champs the favorite again.
The Darkhorse: Marlboro. The Mustangs have played their last three games without senior center Dylan Kaufman, who is under concussion protocol according to coach Mike Nausedas, and his status is the wild card for Marlboro. If Kaufman can get back for the second round – presumably against Middletown South – the Mustangs become a legitimate threat to win the section. Even with Kaufman sidelined, Marlboro is a feisty bunch and could definitely make it to Trenton for a quarterfinal showdown with the top seed. Howell, meanwhile, scored a memorable upset at Trenton back in 2010 as a No. 15 seed beating a No. 2 and with an explosive scoring like Matt Ganter leading the way and an imposing big man in Nick Hornung, the Rebels are hoping to do it again nine years later.
Prediction: Freehold Twp. over Trenton. Freehold Township has had more talented teams but this one is as well-positioned to win the program's first ever sectional title as any group in Brian Golub's tenure. Of course, there have been other years in which the bracket appeared to break the Patriots' way and the season still ended in heartbreak, so until the final buzzer of the final game sounds with the Patriots on top, there will always be some anxious moments. Middletown South will also be a threat to bring a sectional title back to the Shore, which the Eagles have not done in a decade. That's assuming they can get by Marlboro or Montgomery – the former of which has already won at Middletown and lost a Shore Conference Tournament showdown with the Eagles with Kaufman sidelined.
(1) Trenton over (16) Howell
(8) Brick Memorial over (9) West Windsor-Plainsboro North
(5) Middletown South over (12) Hightstown
(13) Marlboro over (4) Montgomery
(3) Freehold Twp. over (14) Princeton
(6) New Brunswick over (11) Jackson Memorial
(7) Monroe over (10) South Brunswick
(2) Old Bridge over (15) East Brunswick
(1) Trenton over (8) Brick Memorial
(5) Middletown South over (13) Marlboro
(3) Freehold Twp. over (6) New Brunswick
(2) Old Bridge over (7) Monroe
(1) Trenton over (5) Middletown South
(3) Freehold Twp. over (2) Old Bridge
(3) Freehold Twp. over (1) Trenton
Shore Teams in the Field: No. 1 Wall, No. 2 Neptune, No. 3 Matawan, No. 7 Brick, No. 8 Jackson Liberty, No. 9 Middletown North, No. 10 Colts Neck, No. 12 Ocean, No. 13 Red Bank
Defending Champion: Nottingham
Top Seed: Wall
The Favorite: Wall. Central Group III is as wide-open as any bracket you are going to find and when its no wonder when you consider almost half the bracket is the Shore Class B North. Seven of the eight teams from B North – the most competitive top-to-bottom division in the conference this year – are in CJ III and it's not an exaggeration to state that any of them could get hot and go on a run. Ultimately, Wall proved to be the most consistent, well-rounded team in B North this year and for that same reason, the Crimson Knights should be considered the favorite to win the section.
The Darkhorse: Ocean. The Spartans have a tough task ahead in travelling to Ewing in round one, but they are a dynamic offensive team thanks to Jack Miller, Corey Miller and Sam Meeks and Ewing is not the powerhouse it was just several years back. Ocean has already knocked off Wall this season so if the Spartans can get on a roll, they could be trouble. Then again, the same can be said for every other Shore team in the field: Jackson Liberty, Middletown North and Brick all have big-time scorers, Colts Neck made it to a sectional final last year (albeit with a totally different team) and Red Bank has been competitive throughout the year and played well to close out the Shore Conference season.
Prediction: (2) Neptune over (1) Wall. These two B North rivals have played two extremely competitive games this season and a rubber match is sure to be a classic in front of what would be a raucous Wall crowd. Neptune already won in Wall's gym and it was the more recent meeting so the Scarlet Fliers might have the edge despite being the road team. A Neptune sectional title would be a remarkable accomplishment considering the Fliers looked doomed after losing sophomore Sam Fagan for the season – testament to the resolve of the Neptune players and the coaching job done by Joe Fagan. It is tempting to go with a bunch of upsets in this bracket because Jackson Liberty, Middletown North, Ocean, Ewing, Brick and Colts Neck all have a chance to be dangerous.
(1) Wall over (16) Northern Burlington
(8) Jackson Liberty over (9) Middletown North
(12) Ocean over (5) Ewing
(4) Hopewell Valley over (13) Red Bank
(3) Matawan over (14) Steinert
(6) Burlington Twp. over (11) Somerville
(10) Colts Neck over (7) Brick
(2) Neptune over (15) Lawrence
(1) Wall over (8) Jackson Liberty
(12) Ocean over (4) Hopewell Valley
(6) Burlington Twp. over (3) Matawan
(2) Neptune over (10) Colts Neck
(2) Neptune over (6) Burlington Twp.
(2) Neptune over (1) Wall
Shore Teams in the Field: No. 1 Manasquan, No. 2 Rumson-Fair Haven, No. 8 Holmdel, No. 13 Monmouth, No. 14 Shore, No. 15 Raritan
Defending Champion: Rumson-Fair Haven
Top Seed: Manasquan
The Favorite: Manasquan. The Warriors were on a 16-game winning streak that ended at the hands of Ranney, the No. 1 team in the state, but not without Manasquan putting up a fight. The Warriors have proven they deserve to be considered for a top-10 spot in the state and could very well be the current favorite to win Group II. Manasquan handled Rumson and Holmdel during the regular season although a third win against a team in three tries can often be tricky.
The Darkhorse: Raritan. The Rockets gave Rumson trouble in Rumson in the first meeting between the teams and Rumson enters the tournament on a four-game losing streak and the Bulldogs' last win was, fittingly enough, on the road vs. Raritan. Beyond squaring off against a struggling team, Raritan is dangerous because of its senior influence, athleticism and its peak performance, which has been good enough to beat Red Bank Catholic and push Manasquan and Rumson in close games. Monmouth will also be dangerous at No. 13 but being on the same side of the bracket as Manasquan will limit how far the Falcons can fly.
Prediction: Manasquan over No. 3 Lincoln. It's hard to figure out what is going on with Rumson right now and if the Bulldogs can't get it together soon, they will be going home early. On the flip side, if they figure it out, they are a threat to win their third straight sectional title. They are not, however, the favorite as Manasquan rolls into the state tournament playing as well as any public-school team in the state. A second-round game against a dangerous Holmdel squad could be tricky but the Warriors have every reason to feel confident that this is their year in Group II.
(1) Manasquan over (16) A.L. Johnson
(8) Holmdel over (9) South River
(12) Hillside over (5) Delaware Valley
(13) Monmouth over (4) Governor Livingston
(3) Lincoln over (14) Shore
(11) Newark Collegiate over (6) Metuchen
(7) Bordentown over (10) Piscataway Tech
(2) Rumson-Fair Haven over (15) Raritan
(1) Manasquan over (8) Holmdel
(13) Monmouth over (12) Hillside
(3) Lincoln over (11) Newark Collegiate
(7) Bordentown over (2) Rumson-Fair Haven
(1) Manasquan over (13) Monmouth
(3) Lincoln over (7) Bordentown
(1) Manasquan over (3) Lincoln
Shore Teams in the Field: No. 11 Asbury Park, No. 16 Keyport
Defending Champion: Point Pleasant Beach
Top Seed: Willingboro
The Favorite: No. 2 Burlington City. Last year, the Blue Devils went down to the wire in the sectional final before ultimately losing to Point Beach in overtime on their own home floor. That bitter defeat is sure to be a motivating factor for Burlington City when the tournament starts on Tuesday and as a battle-tested team with a chip on its shoulder, the Blue Devils will be hard to stop. Willingboro will have something to say about that as the top seed with some quality teams on its schedule.
The Darkhorse: Asbury Park. When the Blue Bishops have had everybody on the floor, they have shown they can compete with some high-quality teams. A championship run might be a lot to ask but Asbury Park is capable of winning at least one game on the road and giving Bound Brook a real battle on the road, which would be a nice accomplishment for this Blue Bishops group. Keyport isn't quite ready to seriously push Willingboro but he Red Raiders are very young and should do plenty of maturing over the offseason.
Prediction: Burlington City over Willingboro. The top two seeds appear to be a cut above the rest of the field and on a collision course for the sectional final. One team to watch in the bracket is Academy Charter out of Lake Como. The Panthers enter the tournament 20-3 and although they are not a Shore Conference outfit, they will carry the Shore vibes into the tournament with a real chance to do damage behind 1,000-point scorer Dyshere Richardson.
(1) Willingboro over (16) Keyport
(8) Stem Civics over (9) South Hunterdon
(5) Academy Charter over (12) Riverside
(4) Perth Amboy Tech over (13) Somerset Tech
(3) Bound Brook over (14) Highland Park
(11) Asbury Park over (6) Palmyra
(7) Middlesex over (10) South Amboy
(2) Burlington City over (15) Manville
(1) Willingboro over (8) Stem Civics
(5) Academy Charter over (4) Perth Amboy Tech
(3) Bound Brook over (11) Asbury Park
(2) Burlington City over (7) Middlesex
(1) Willingboro over (5) Academy Charter
(2) Burlington City over (3) Bound Brook
(2) Burlington City over (1) Willingboro