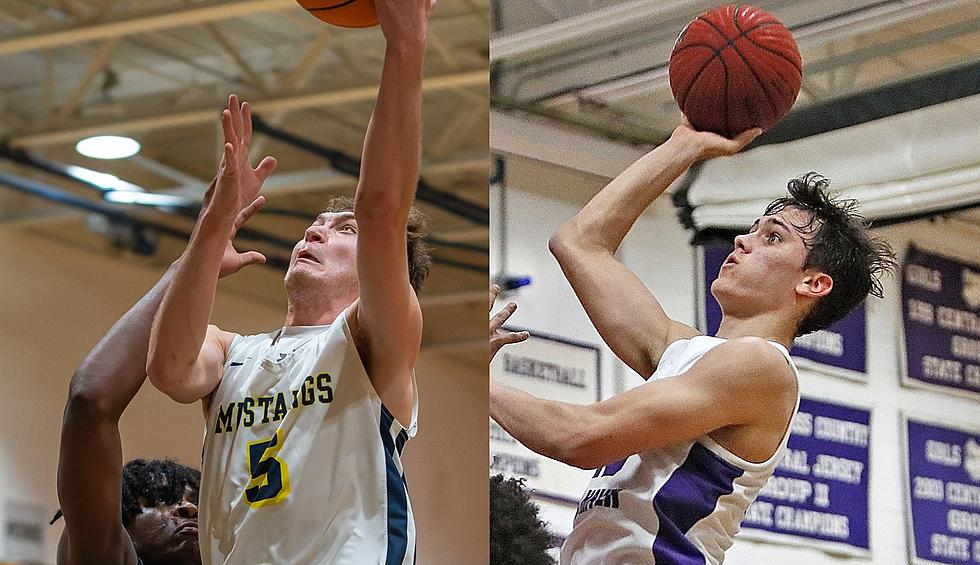 Boys Basketball – Marlboro, Rumson-Fair Haven Face Tall Orders in Wednesday's Group Semifinals
Marlboro senior Zack Molod and Rumson-Fair Haven senior Scott Gyimesi. (Photos by Tom Smith and Ray Rich Photography)

NJSIAA Tournament
Group Semifinals
At Egg Harbor Twp. High School
Group II
Rumson-Fair Haven (21-3) vs. Camden (28-2), 5 p.m. - Watch Live
For any standout team venturing into the Group II Tournament in 2022, the realistic goal has been pretty simple: make it to Camden and take your best shot.
The Panthers are an absolute juggernaut, boasting the best public-school team in the country and beating all comers from New Jersey so far this season. No team has sniffed them in the state tournament so far and while Rumson coach Chris Champeau loves a chance to gameplan and (possibly) gimmick his way into a competitive game against a name-brand team, this is a tall task even for him and his accomplished Bulldogs program.
There are a few things for Rumson to like about their chances, relatively speaking. The Bulldogs have a very athletic rotation with some good size and plenty of toughness. There will be no back-down from Rumson in this matchup and there can't be for the Bulldogs to stay close.
In addition, Rumson is comfortable letting it fly from three-point range and to make the Panther sweat, the Bulldogs will have to trade some twos for threes along the way.
The Bulldogs also have a Shore Conference Player of the Year candidate in Scott Gyimesi who will certainly battle inside against a physical, super-athletic Camden lineup that includes a seven-footer in Aaron Bradshaw.
Other than that, this will be a great challenge for what might be Rumson's best team since Champeau took over. D.J. Wagner might be the best junior in the country, Elijah Perkins is a Shore local who would like to remind some of his former Shore rivals of his ability and Desear Haskins and Cian Medley are two more capable scorers the Bulldogs will have to track throughout the game.
It is the longest of longshots when it comes to a group semifinal, but that's not because of Rumson. The Bulldogs are facing the absolute best and you can bet on this: Rumson will relish the underdog role and if that yields a strong start to the game – with the Bulldogs holding their own on the glass and raining threes – it could be a fun game.
The Pick: Camden, 79-64
Group IV
Marlboro (27-2) vs. Lenape (27-3), 7:30 p.m. - Watch Live
Marlboro's best season ever continues Wednesday night with what will likely be its toughest challenge of the season. Overcoming Red Bank Catholic to win the WOBM Christmas Classic was a great early-season test that the Mustangs overcame and getting past the past championship heartbreak to beat CBA and Manasquan to close out the Shore Conference Tournament, then Howell, South Brunswick and Trenton to win the Central Group IV title were massive accomplishments for a program that had never done either prior to this year.
On Wednesday, Marlboro will have even less margin for error against a team that is also senior-driven and, like the Mustangs, has had 2022 in its sights as a potential program-defining season. Senior guard and Rutgers commit Derek Simpson leads the way with 17.6 points and 5.9 assists per game, while classmates Aidan Anderson and Tayvon Gaither have been major producers as well.
While Simpson and his playmaking ability are major concerns for any opponent, Anderson and Gaither have shown the ability to carry the load, which Gaither did in scoring 24 of Lenape's 45 points in a 45-33 win over top-seeded Cherry Hill East in Monday's South Jersey Group IV final.
Led by that senior trio, Lenape has its sights set on the program's first Group IV championship since 2009, when the Indians beat Neptune at the buzzer in the Tournament of Champions quarterfinals to reach the T of C semifinals for the first and only time in program history.
Whatever happens on Wednesday night in Egg Harbor, Marlboro has already had far-and-away its best season in program history, claiming its first ever Class A North outright championship, Shore Conference Tournament title and Central Jersey Group IV sectional championship. In that respect, a loss on Wednesday will not tarnish that standing whatsoever and with the Mustangs' five senior starters feeling the grind of a long season over the last two weeks, it is plausible that they could run out of gas against a team of Lenape's caliber.
On the other hand, who knows when Marlboro will have a team capable of what this team is? Jack Seidler, Jon Spatola, Jay Ratner and Zack Molod have tasted season-ending defeat each of the past two seasons, leaving championship opportunities on the table both times. As satisfying as this season has been so far, Marlboro has a chance to go from best team in program history to one of the best public-school seasons in Shore Conference history.
As good as Lenape and the other two Group IV semifinalists – Elizabeth and Ridgewood – are, Marlboro is every bit the Group IV title contender as those four. Yes, the Mustangs will have to overcome the fatigue of playing five players almost 32 minutes per game every game, as well as in-game foul trouble like they faced against Trenton on Monday. But the potential is there to put up a lot of points on Wednesday and force Lenape to have to answer with big shots – something Trenton could not sustain on Monday.
This game is a toss-up and if there is a concern for Marlboro, it's that this is the part of the schedule where a team's depth is truly tested. Elizabeth is the kind of team that could really exploit a lack of depth and with one more night of magic, Marlboro could have a chance to find out if that is indeed the case. This is a three-point game one way or the other and since I can't, in good conscience, pick all four Shore teams to lose on Wednesday, I'll ride with the Mustangs at least one more time.
The Pick: Marlboro, 74-71
More From Shore Sports Network