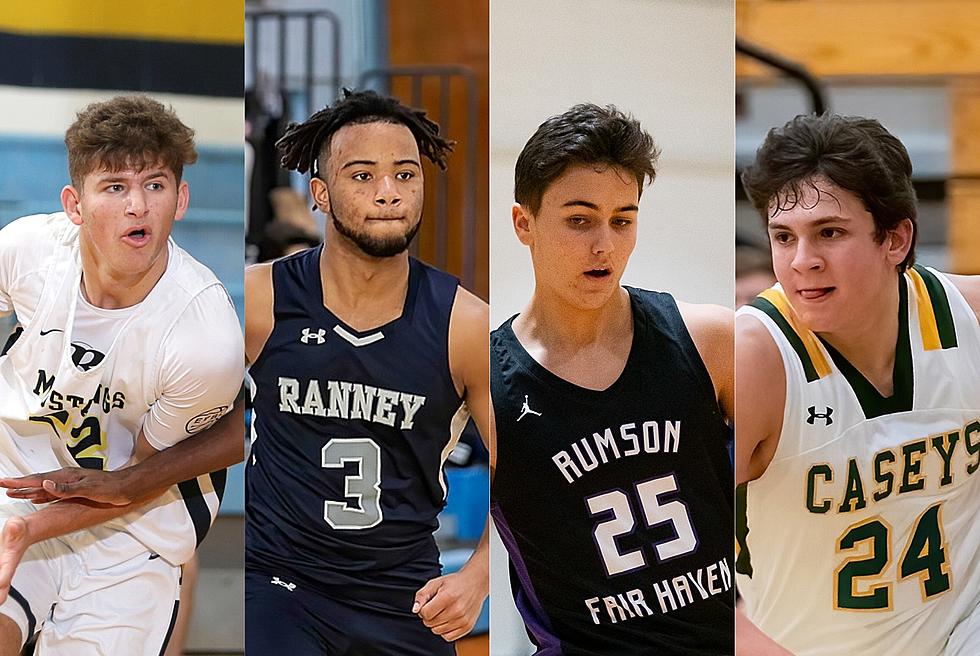 Boys Basketball – Marlboro Makes History as No. 1 at the Shore Ahead of 2021-22 Season
From left: Marlboro senior Jack Seidler, Ranney junior Isaac Hester, Rumson-Fair Haven senior Scott Gyimesi and Red Bank Catholic senior Alex Bauman. (Photos by Ray Richardson, Paula Lopez and Patrick Oliveira)

When last we left boys basketball at the Jersey Shore, the makeshift Shore Conference Postseason ended with a dramatic last-second shot in overtime to complete an undefeated season for a team ranked No. 1 at the Shore and No. 2 in the entire state.
Since then, some things have changed. Players from that championship team and others have graduated, as is the case every year. Key players have transferred, as is also the norm. Most notably, however, the season is once again starting in December and the expectation is that, for the first time since Ranney won the Tournament of Champions in 2019 (which feels like 10 years ago, at this point) there will be a complete high-school basketball season in New Jersey.
Assuming that full season indeed happens, we could be in for a bit of history. The team ranked No. 1 to start this year has never been ranked No. 1 at the Shore in program history, nor has it ever won a postseason tournament championship. As a matter of fact, the team ranked No. 2 has never won a conference or NJSIAA title either. It remains to be seen whether the up-and-comers can handle the high ranking and finish the job in late February and early March, but the elevated expectations make for an interesting preseason Top 10 and, hopefully, an entertaining season.
Teams listed with 2021 overall record and final 2021 ranking in the Shore Sports Network Top 10
1. Marlboro (9-4) Final 2021 Ranking: 3
The Mustangs were a play away from finishing the 2021 season as the Shore's top team and would have had four starters – including two All-Shore players in Jack Seidler and Jonathan Spatola – coming back from a championship-winning team. Instead, they have something even more dangerous: four starters back from a team that came that close to winning a championship without getting it. Marlboro has shown over the past two years that it is a championship-caliber team built for tournament time, only without that last inch to close out the program's first ever postseason title. The Shore Conference and Group IV Tournaments are exceedingly competitive, but the Mustangs will be driven to raise a trophy after at least one of them.
2. Red Bank Catholic (12-1) Final Ranking: 5
After steamrolling the competition during the regular season, Red Bank Catholic run into a prepared CBA squad in the Shore Conference Playoff Championship Pod and suffered its first and only defeat of the year. The Caseys return loaded with experience and just about everything a roster could want. They will also be taking on a more challenging schedule this year in order to better prepare for the postseason, when the RBC will look to win its first ever Shore Conference Tournament championship.
3. Ranney (9-1) Final Ranking: 2
The Panthers would have been a strong favorite to be No. 1 had they retained all their players, but losing Elijah Perkins to Camden was a major blow for the 2021-22 team and Ryan Zan transferring to Rutgers Prep also takes away considerable upside from Ranney's ceiling. With that being said, the Panthers still have a well-rounded starting five led by Isaac Hester and that should be enough for the Panthers to compete for the top spot in the Shore Conference.
4. Rumson-Fair Haven (8-5) Final Ranking: 10
The Bulldogs are dealing with ankle injuries to the three best returning players – Geoff Schroeder, Scott Gyimesi and Trent Sloan – and could be shorthanded to some degree for the early part of the season. This looks like a deeper roster this year and that should allow Rumson to deal with the injury bug early while rounding into form with that trio leading the way. There is a good chance Rumson sees CBA and, potentially, Ranney in the Buc Classic and might have to deal with those Top 10 teams at less than 100 percent.
5. Manasquan (12-0) Final Ranking: 1
Manasquan has no starters back and its two rotation players who are back each averaged under two points per game last year, so how is it that the Warriors are still a top five team heading into the 2021-22 season? Manasquan has two things going for it: the best young nucleus in the Shore Conference and upper-class program players who are embracing their roles. Darius Adams and Griffin Linstra are the freshman starters and Alex Konov and Ryan Frauenheim are impact sophomores and it's quite possible this team clicks quickly and climbs the rankings. For now, it's probably a good idea to hedge somewhat and that is the No. 5 spot.
6. Christian Brothers Academy (9-5) Final Ranking: 4
Youth is the word of the day at CBA, with the Colts returning two starters and one senior with experience. Scoring could be a question early in the year after the top three scorers graduated, but CBA will be a standout defensive team once again behind the efforts of juniors Joe White and Will Bradley, as well as Lautato. Manasquan might have more offensive upside, but CBA's young group of athletes should make the Colts another of the Shore's quality young teams.
7. Freehold Township (6-3) Final Ranking: Not ranked
Last year's 6-3 record, while solid, was not a fair sample for the 2021 Freehold Township graduating class to showcase its collective talent. Now that the Class of 2021 has moved on, the Patriots will try to maintain their high standards with a group that is somewhat light on experience as a whole, but has three key pieces back from a year ago. Jayden Holmes-Cotter is the kind of post player who can lead a very good team and if the Patriots can place some shooters around him, they could be a great team down the line.
8. St. John Vianney (6-6) Final Ranking: Not ranked
A young team in 2021, St. John Vianney is coming off an inconsistent 12 games last year. The Lancers also bring back just about everyone from that group and with senior guard Nate Williams and sophomore standout Dylan Seay leading the way, St. John Vianney has the makings of a roster that could win its Class B North division and make it to the Shore Conference Tournament quarterfinals – two major benchmarks for a boys program trying to break through as a brand name in the Shore Conference like its girls program has done on a state and national level.
9. Central (9-3) Final Ranking: Not ranked
There are a rather long list of candidates to capture the title of "Best in Ocean County" and to open the year, that team is Central. The Golden Eagles return All-Shore 6-6 forward Justin Soranno for his fourth varsity season and will surround him with a mix of seniors and underclassmen, as well as defenders and shooters from a fairly deep stable of options for coach Mike Clemente Jr. Toms River North has always been a foil in Class A South and still could be, but this season represents Central's best chance to capture a division title and make a push to represent Ocean County in the late rounds of the SCT.
10. Manchester (9-4) Final Ranking: Not ranked
The Hawks are still sorting through some transfers and lineup combinations, but this roster also has a chance to come together as the best team in Ocean County and, perhaps, a top-five team in the Shore Conference. Savon Myers is coming off a huge junior season and is part of a team that brings back three starters while adding an all-division guard in Donovan Catholic transfer Amari Ayala-Petty. Last year, Manchester was technically the first team out of the top eight teams included in the Shore Conference Playoff Championship Pod, so with so much talent back from that team, it would stand to reason that the Hawks have to be in the Top 10 conversation.
Top 10 Watch List
Brick Memorial (8-7) – With 6-7 center Luke Braaten back and healthy, the Mustangs are another team in the hunt in Class A South and Ocean County.
Raritan (8-6) – With an entire starting lineup back, the Rockets will be a very tough out for Rumson and RBC in Class A Central and should be battle-tested come playoff time.
Middletown North (8-7) – Tommy Giannone and Matt Kenny are accomplished players and should lead a Lions team that looked resurgent at the end of 2021.
Holmdel (8-3) – The Hornets will be one of the Shore's youngest teams, but there is talent on hand and plenty of program pedigree.
Howell (8-6) – All the pieces are there for Howell to have a big season and now the Rebels will try to put it all together while playing against an unforgiving Class A North schedule.
Jackson Memorial (4-7) – Last season was not conducive to starting over with a program and incorporating transfers who had to sit out half the season, so Jackson Memorial should be much more prepared to compete this year with Randy Holmes now settled in for his second season as head coach.
Toms River North (11-4) – The roster is much different than it was two years ago when Toms River North reached the Shore Conference Tournament final, but the Mariners are still entering the season expecting to defend their six straight division titles and 74-game A South winning streak.
Red Bank (5-9) – Patrick Murray is one of Class B North's top returning players and the Bucs will follow him as they contend for a division title.
Neptune (3-7) – The Scarlet Fliers are a work in progress with a lot of new players, but Joe Fagan has a track record of getting his teams up to speed by February.
Keyport (9-3) – With one of the Shore's best all-around players in D.J. Thomson, the Red Raiders have a legitimate chance to make some noise in the state tournament, perhaps even against some bigger schools in the SCT.
More From Shore Sports Network