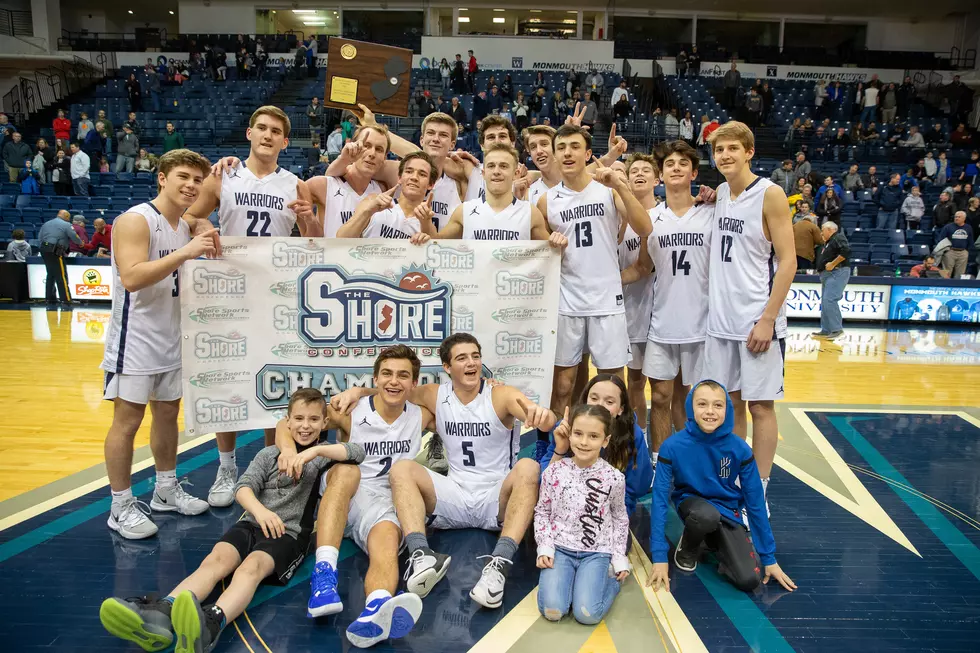 Boys Basketball – Manasquan Routs TR North for 1st SCT Title Since 1957
Photo by Paula Lopez
*Scroll to the bottom of the post to watch the full-game replay*
*Check back for more photos*
WEST LONG BRANCH - A year after their upset bid in the Shore Conference Tournament championship game came up short, the five returning Manasquan varsity basketball players returned to the OceanFirst Bank Center Saturday night against Toms River North and played like a team that has been waiting all year for another chance to play at Monmouth University with a championship on the line.
Manasquan ran third-seeded Toms River North over in the opening three minutes, then out of the building over the remainder of the half, beating the Mariners, 75-49, to clinch the program's first Shore Conference Tournament championship since 1957.
"We were here last year and couldn't get it done," Manasquan coach Andrew Bilodeau said. "It was a big deal for the kids to get back here and win it this time so good for them."
Sophomore Ben Roy won the game MVP with a championship game for the ages, leading the the top-seeded Warriors Saturday night with a career-high 31 points on 13-for-21 shooting, including 18 points in the second half to squash any hopes Toms River North had of rallying.
"This is a special group, a one-of-a-kind group," Roy said. "We could go down as one of the best Manasquan teams in history. We had a huge target on our backs throughout the season, but to win the WOBM (Christmas Classic), to win the Shore Conference, and now we want to make it to the (Tournament of Champions). Those have been our goals."
Two nights after rallying from a 10-point deficit to escape with a win over Holmdel, Manasquan made sure there would be no slow start or double-digit deficit to overcome. Roy and senior Alex Galvan combined on an 8-0 run over the first 3:30 of the game, with Roy hitting Galvan with a lob for the lay-in to force an early timeout by the Mariners.
Toms River North scored the next five points to pull to within 8-5, but Manasquan answered by unleashing a 24-2 run that opened up a commanding 32-7 lead by the midway point of the second quarter. Toms River North finished the half with a 10-4 run but the damage had already been done.
Galvan rode a strong start to 17 points, nine rebounds, three steals and four blocks while classmate Kieran Flanagan pitched in 11 points, seven assists and five steals for Manasquan.
Flanagan also turned in two highlight-reel assists - one in each half. He drove baseline and shoveled a pass to a cutting Galvan, who threw down a two-handed dunk that shook the shot clock at the top of the basket. Manasquan's senior point guard later topped that with a half-court, behind-the-back pass that hit Roy in stride for a transition lay-up, plus a foul, to put Manasqun up by 30 late in the fourth.
"We looked at it like we were the home team here this year," Flanagan said. "We had the home locker room, we wore the home whites, we knew the court from last year and we expected to be here. That definitely helped."
That three-point play bumped Roy to 26 points and he added his second three-pointer and another lay-up to cap a career performance on the biggest stage he has played on during his young and already-accomplished career.
"I was definitely feeling it tonight, I was pumped to be here, but it was only because of my teammates," Roy said. "They found me cutting to the basket and in good spots, so I couldn't have done what I did tonight without them.
"It's amazing to be standing at halfcourt and you look up and think, 'Wow, I can't believe how many people are here to watch us play. It's a once-in-a-lifetime opportunity and I'm just happy we came out with a championship."
Senior Tim McEneny and junior Casey Mulligan were the other two regulars from last year's SCT runner-up to Ranney who are current starters and both made an impact on the defensive end. Mulligan and Flanagan checked Toms River North senior guard Jakari Spence throughout the game and McEneny handled the bulk of the work against 6-foot-6, 280-pound Mariners center Najae Hallenbeck.
"He did it against Roselle Catholic, he did it against St. Peter's Prep and he did it again tonight," Bilodeau said of McEneny's defense. "I thought he was just marvelous. He did a great job on the glass, as well as defending Najae."
"They are tough matchups and I think we all did a great job," Flanagan said. "It's all the players - Jack Collins, Connor Walsh, Casey, Ben - I might take a play off (from guarding Spence) and Casey will switch on and do the job. We can rotate guys to almost any matchup and be fine."
Spence picked up three fouls in the first five minutes of the game but managed to return to the floor in the second quarter and stay there for the majority of the game, finishing with a team-high 23 points. Hallenbeck, meanwhile, finished with only six points and six rebounds against McEneny and Galvan - well below his season averages of 21.4 points and 12.4 rebounds.
"We were very disciplined on defense," Galvan said. "We weren't reaching and going for those highlight blocks and bailing them out. We have four 6-5 guys who are going straight up, it's not that easy to score. Don't bail them out, play good defense and that leads to offense."
Junior Jack Collins also gave Manasquan an early lift off the bench with all eight of his points during his team's 24-7 first quarter.
Manasquan opened the season as the No. 1 team in the Shore Sports Network Top 10 and endured two injuries to Galvan to make it to Saturday night with just one loss and as healthy as it as been all season. Galvan returned from a bruised shin Thursday night against Holmdel, which led Manasquan, 36-26, with 1:45 left in the third quarter before Manasquan came to life in the final quarter.
"I have to give the kids a lot of credit," Bilodeau said. "To have that pressure (of being the number one team) from day one and being able to maintain it, get to this point with one loss with the quality of schedule we have played I think is impressive. They showed a lot of mental toughness dealing with the pressure."
Whereas Holmdel's pestering, pressure defense forced Manasquan into 14 first-half turnovers and threw the Warriors out of sync, Toms River North's 2-3 zone and penchant for an up-tempo game was exactly what Manasquan needed to break out.
"I feel like we did a good job of taking the fourth quarter against Holmdel and carrying it over into this game," Galvan said. "That was our thing going into this game. We didn't want to sit back, relax and let them come at us. Let's try to go up by 20 and keep it that way."
"If we can get out and run like we want to, the score should be in the sixties and seventies," Bilodeau said. "I think we were one of the higher-scoring teams in the Shore during the regular-season so we know we're going to have games like this tonight. Honestly, we spend more time talking about how many points the other team is going to score."
After the Warriors failed to hit a three-pointer in the win over Holmdel, they came back with a 6-for-16 effort on Saturday. Collins hit a pair of first-quarter threes out of the left corner to break the game open and soften up the Toms River North zone further for penetration by Flanagan and Roy.
"Playing against Holmdel, they really made us struggle offensively," Roy said. "Our defense really won us that game, so we knew coming into this game that defense was going to be huge and that really fed into our offense."
In last year's championship game, Manasquan was within four points of Ranney early in the fourth quarter before the Panthers pulled away. Brad McCabe scored 33 points on nine three-pointers to lead the Warriors in that game while Roy, Galvan and Flanagan, combined for 21. This time around, the trio took center stage, with Roy nearly matching McCabe's scoring total and, more importantly, doing so in a win.
"It definitely felt better than last year, even thought last year was almost like a victory," Galvan said. "Not in our eyes - we really thought we could win that game - but a bunch of other people thought we would get blown out. This year wasn't as tough as it should have been - they have a great team - but it feels really good to win."
Manasquan 75, Toms River North 49
| | | | | | |
| --- | --- | --- | --- | --- | --- |
| | 1 | 2 | 3 | 4 | F |
| TR North (24-4) | 7 | 10 | 12 | 20 | 49 |
| Manasquan (27-1) | 24 | 12 | 21 | 18 | 75 |
Toms River North (49): Jakari Spence 8 6-8 24, Jarrod Pruitt 0 0-0 0, Najae Hallenbeck 2 2-4 6, Colin Baker 2 0-0 4, Mike Vansprang 0 2-2 2, Jaiden Fraser 2 3-3 7, Lamir Mitchell 1 0-0 2, Zachary Browne 0 0-0 0, Jalen Marsh 0 0-0 0, Dylan Safeer 1 2-2 4. Totals: 16 15-19 49
Manasquan (75): Kieran Flanagan 5 0-0 11, Ben Roy 13 3-5 31, Casey Mulligan 1 1-2 4, Tim McEneny 2 0-0 4, Alex Galvan 6 5-7 17, Jack Collins 3 0-0 8, Connor Walsh 0 0-0 0, Max O'Shaughnessy 0 0-0 0, Pat Woodford 0 0-0 0, Matt Soloman 0 0-0 0, Andrew Soloman 0 0-0 0, Hayden Kunz 0 0-0 0, Brett Patten 0 0-0 0, Liam Haag 0 0-0 0. Totals: 30 9-14 75
Three-pointers: Flanagan, Roy 2, Mulligan, Collins 2
More From Shore Sports Network