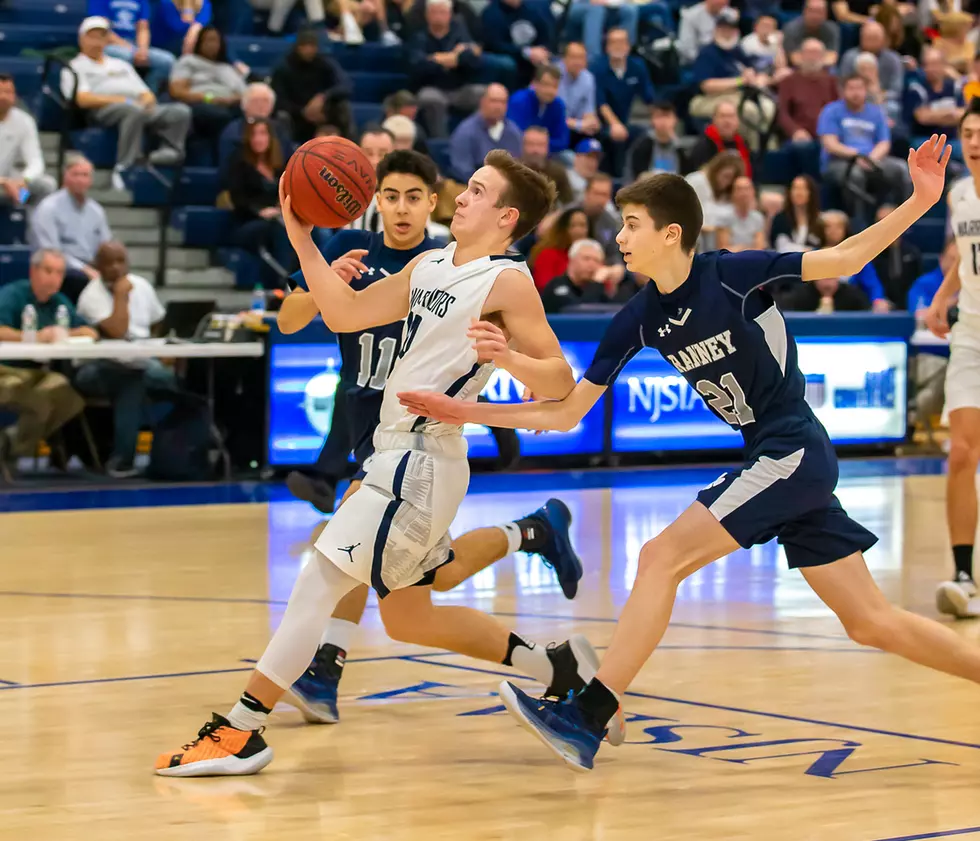 Boys Basketball – Manasquan Dominates Ranney in Title Game Reboot
Manasquan sophomore Ben Roy chased by Ranney junior Nick Troccoli (left) and junior Brandon Klatsky (right). (Photo by Paula Lopez)

Enter your number to get our free mobile app
TOMS RIVER - Sunday's Shore Conference Tournament quarterfinal was billed as a rematch of last year's entertaining SCT championship game but it turned out to be more of a reminder: Manasquan is the class of the Shore Conference this season and no one looks particularly close.
The top-seeded Warriors jumped on defending champion and No. 9 seed Ranney Sunday and never let the Panthers off the deck in a convincing 59-43 Manasquan win at RWJ Barnabas Health Arena.
For the 13th time this season, Manasquan played without star 6-foot-7 forward Alex Galvan and once again, it did not slow Manasquan down at all. Sophomore Ben Roy led a balanced scoring effort with 17 points while junior Jack Collins added 13 while connecting on three three-pointers.
"Al is an outstanding player, maybe the Player of the Year in the Shore," Bilodeau said. "That's up for the pontificators to figure out, but he is a great player, no doubt. But so are the other 14 guys on our team. I know people want to keep talking about Alex but Alex isn't playing so I don't know what to say about him. The other guys are really good."
"It's a little surprising the way we have played (without Galvan)," senior guard Kieran Flanagan said. "We also expected this is the way we could play without him and this is just going to help us in the long run when we get Galvan back. One-through-seven, you can rotate those guys any way you want to - one guy goes down and another guys steps up and we don't really change much."
Senior Tim McEneny and Flanagan also gave Manasquan all-around efforts, with McEneny contributing nine points, 12 rebounds and four assists and Flanagan putting up eight points, nine rebounds and four assists in the win.
"Our three guards broke them down pretty well," Manasquan coach Andrew Bilodeau said. "They forced some defensive help and we took advantage. Jack Collins did a great job moving without the ball, finding openings. Connor (Walsh) had a couple of easy ones just off moving and so did Timmy (McEneny) but the three guards did a great job breaking the defense down."
Flanagan also drew the assignment of guard Ranney sophomore standout and point guard Elijah Perkins for most of the game, also getting help from sophomore Casey Mulligan guarding him on the ball and McEneny, Collins and junior Connor Walsh helping in the lane.
"I thought Kieran did a good job and then we lost him for some time when he got cut over the eye and had to come out," Bilodeau said. "Casey did a good job on him, but really, Perkins is so good, you're not guarding him with one guy. I thought the other guys - Timmy, Jack and Connor - did an awesome job helping, which was the key because Perkins is going by you."
Perkins led Ranney with 10 points, seven rebounds and three steals but was not able to get on a scoring roll at any point and did not have as many opportunities to find open teammates, which he has done regularly over the course of the season. In one of Ranney's better performances this season - a 66-59 loss to Roselle Catholic - Perkins put up 14 points and 11 assists.
"I made sure to just give him a step because I knew his first step was fast," Flanagan said. "That way I knew where he was trying to go and beat him to that spot. He is definitely hard to guard, one of the fastest guys I have had to guard this year."
Junior Kyle Rhoden backed up Perkins with nine points and for the first time since debuting with Ranney five games ago, he did not post a double-double. Although Rhoden stepped out and hit a pair of three-pointers, McEneny kept the 6-9 junior from doing damage in the paint.
While Manasquan served the Shore a reminder of its dominance this season, Sunday also served as a reminder that while it has made significant progress since December, Ranney is still a much different team from the one that won back-to-back Shore Conference Tournament championships and the NJSIAA Tournament of Champions title last year.
"It's not a rematch because it's a totally different team," Bilodeau said. "I guess for some people, they were looking at it like that, but the teams are different - our team is different, their team is different."
Despite Ranney's roster looking much different than a year ago, there was still a sense of satisfaction among the Manasquan players for taking out the team that beat the Warriors, 70-60, in last year's championship game.
"They beat us last year and that took a toll on us," Flanagan said. "I think the guys last year are going to love to see that we beat them tonight."
Next up for Manasquan is a fourth-seeded Holmdel squad that pushed the warriors to the limit in a 46-40 Manasquan win on Jan. 30 - the second of two Class A Central divisional meetings between the teams. Manasquan won the first game, 67-40.
Galvan made his return to the lineup from an ankle injury in that second meeting after missing eight games and is hoping to be ready to return again against Holmdel once Thursday arrives, although his availability for the coming week is still questionable because of a bruised shin.
Manasquan is 12-1 without Galvan, with the lone loss a 45-43 defeat at the hands of Roselle Catholic. With or without the All-Shore forward, Manasquan will be the team to beat at the end of this week and heading into the Central Jersey Group II Tournament.
"We are expecting every team's best," Flanagan said. "They have nothing to lose and we have everything to lose. We've got a target on our back right now because everybody wants to beat us."
More From Shore Sports Network