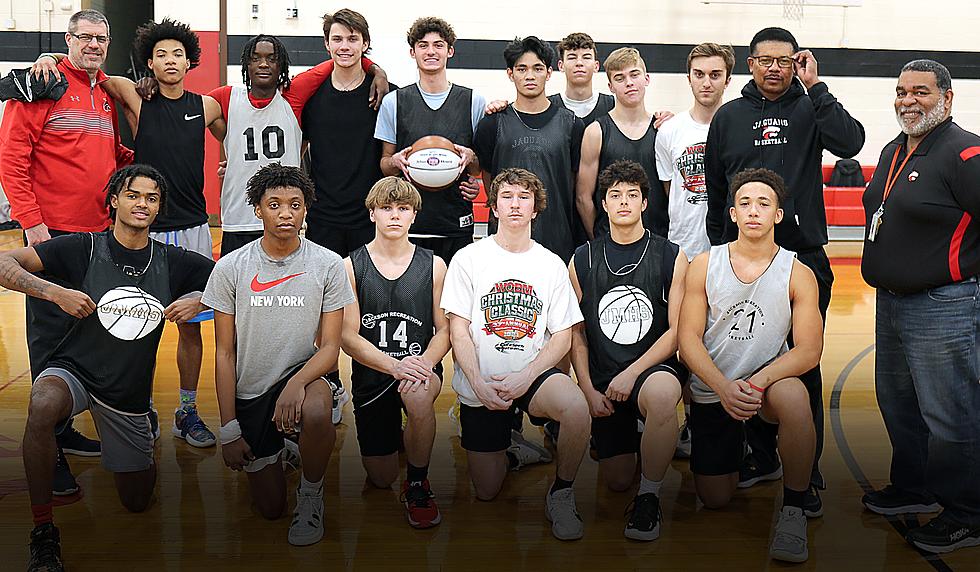 Boys Basketball – Jersey Mike's Week 4 Team of the Week: Jackson Memorial
Photo by Steve Meyer

By the final few games of the shortened 2021 high school basketball season in New Jersey, the Jackson Memorial boys basketball team had all of the pieces in place to become a contender in the Shore Conference Class A South division, as well as one of the Top 10 teams in the conference altogether.
At this time last year, however, the pieces did not yet fit together. Midway through January of 2022, however, it is clear that the vision second-year coach Randy Holmes brought over from his alma mater, Lakewood, is starting to take shape.
"The guys are learning to trust the process," Holmes said. "We had to learn them and they had to learn us as coaches and the different philosophies. We have made a concerted effort to put guys in a position where they can succeed."
Winners of six straight, Jackson Memorial rattled off four wins last week over Raritan, Toms River South, Manchester and Toms River East, then opened up this week with a come-from-behind win at Brick Memorial. Three of those wins -- Raritan, Manchester and Brick Memorial -- were over teams ranked at the time of the win and with the Jaguars stacking victories over noteworthy opponents, they are the fourth Jersey Mike's Team of the Week in 2022.
In a span of about 24 hours, Jackson Memorial went from third place in the Class A South standings to a three-way tie for first thanks to its win over Brick Memorial on Monday, followed by Central Regional's loss to Toms River North on Tuesday.
It was the work Jackson Memorial did prior to the Brick Memorial win, however, that earned the Jaguars the Team of the Week nod. It started on Martin Luther King Jr. Monday, when Jackson Memorial held then-ranked-No. 9 Raritan to 12 second-half points in a 53-42 win.
"We have talent," Jackson Memorial junior Samir Padilla said. "It's all about defense. When we start making plays and forcing turnovers with our defense, we get a lot of guys involved and we feed off it."
The Raritan win was a statement for the Jaguars, who had jumped into the Top 10, but then fell out with losses to Brick Memorial and Central. It only, however, improved them to 5-4 and with consistency still to prove, Jackson Memorial kept its collective foot on the gas with a win over Toms River South on Tuesday, setting up a showdown with another Shore Sports Network Top 10 team on Thursday, Jan. 20.
The Jaguars blitzed the Hawks out of the gate with a 10-0 run, but by the first minute of the first quarter, Manchester had taken its first lead. The teams battled to a tie at the end of regulation and it was Jackson Memorial that had the legs left to finish the job, 60-53.
The week ended with a win over Toms River East, giving Jackson Memorial the rare 4-0 week with two wins over teams ranked among the Shore's Top 10. All that fed into the start of the current week and the big road win over Brick Memorial, in which the Jaguars overcame a 12-point third-quarter deficit to win, 53-45.
Last year, Jackson Memorial experienced its share of growing pains in Holmes's first year as head coach, some the result of inexperience and some the result of COVID-related restrictions. The Jaguars had a handful of senior holdovers, some emerging underclass players and a pair of transfers from Lakewood in Padilla and Respect Tyleek.
Neither Padilla nor Tyleek had as much impact as they did as freshmen at Lakewood in 2019-20 due to being ineligible because of NJSIAA transfer rules. Meanwhile, current starters Steven Bado and juniors Charlie Meglio and Keith Adame were still gaining their footing as emerging team leaders.
With an offseason to work out the kinks and blend the two Lakewood transfers with the program mainstays, Jackson Memorial set itself up for a solid start to the season that has only gotten better over the last two weeks.
"This is our first year actually all playing together," Padilla said. "The first year me and Respect came here was the COVID year and wasn't really an actual season. We're just getting to know each other and it's getting better every day."
More From Shore Sports Network