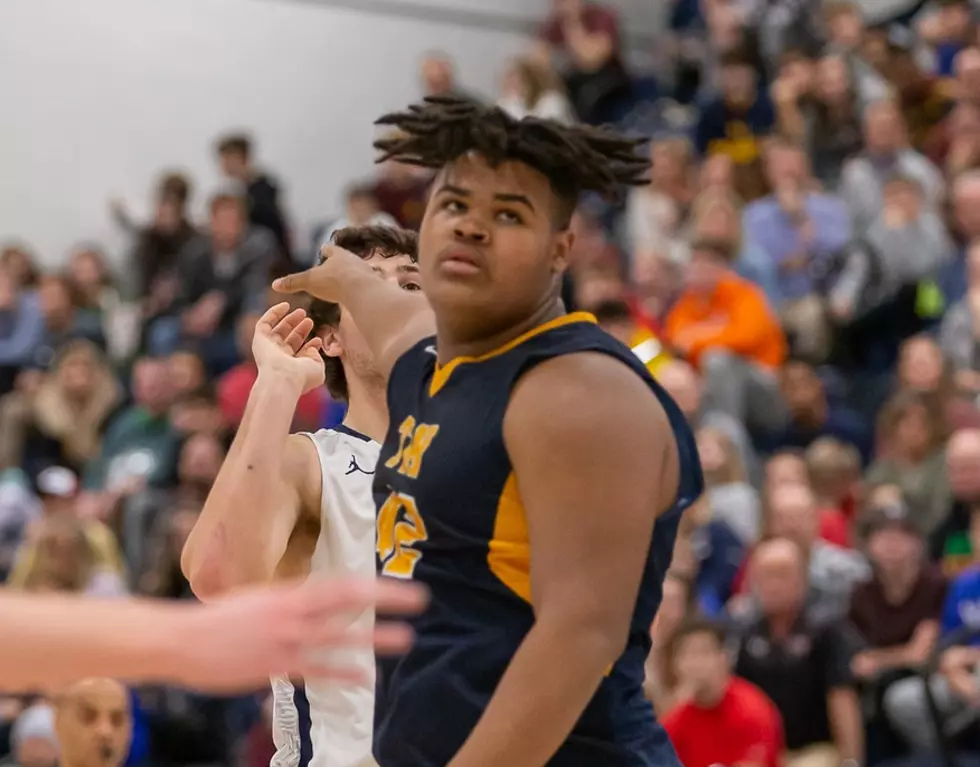 Boys Basketball – Highlights: Hallenbeck's Big Half Sparks TR North to Win Over Wall
Toms River North senior Najae Hallenbeck. Photo by Paula Lopez)

Enter your number to get our free mobile app
BAYVILLE - Senior center Najae Hallenbeck is the only Shore Conference player averaging better than 20 points and 10 rebounds and it is not hard to see why upon looking over the 6-foot-6, 280-pound wrecking ball.
Hallenbeck indeed bullies his way through the paint for a large chunk of his scoring but on Saturday against Wall - the No. 8 team in the Shore Sports Network Top 10 - the Toms River North big man showed his offensive game is about a lot more than just power.
Hallenbeck had the half of a lifetime, scoring 25 points while grabbing 10 rebounds before the intermission as the No. 2 Mariners distanced themselves from the Crimson Knights in a 66-50 win at Central.
The teams were tied at 17 after one quarter before Toms River North blew open the game with a 27-10 second quarter. Hallenbeck accounted for most of that damage, racking up 17 of the 27 points. In the process, he showed hits touch around the basket, as well as away from it by going 6-for-7 from the field with two three-pointers and 3-for-3 from the foul line.
"I was feeling it all night," Hallenbeck said. "It was just because my teammates look for me down low and also kick it to me outside so I can do my thing.
"When I'm open I shoot them. Sometimes I get a little bit of space and I start going wild."
The 17-point second-quarter advantage was too much to overcome for Wall, which got off to a strong start against the Shore's No. 1 team. Senior Quinn Calabrese scored six of his 11 points in the first quarter as Wall grabbed a 17-13 lead before the Mariners knotted it up by the end of the period.
Senior Jakari Spence backed up Hallenbeck with 16 points and seven assists, while junior Logan Peters led Wall with 12 points.
More From Shore Sports Network