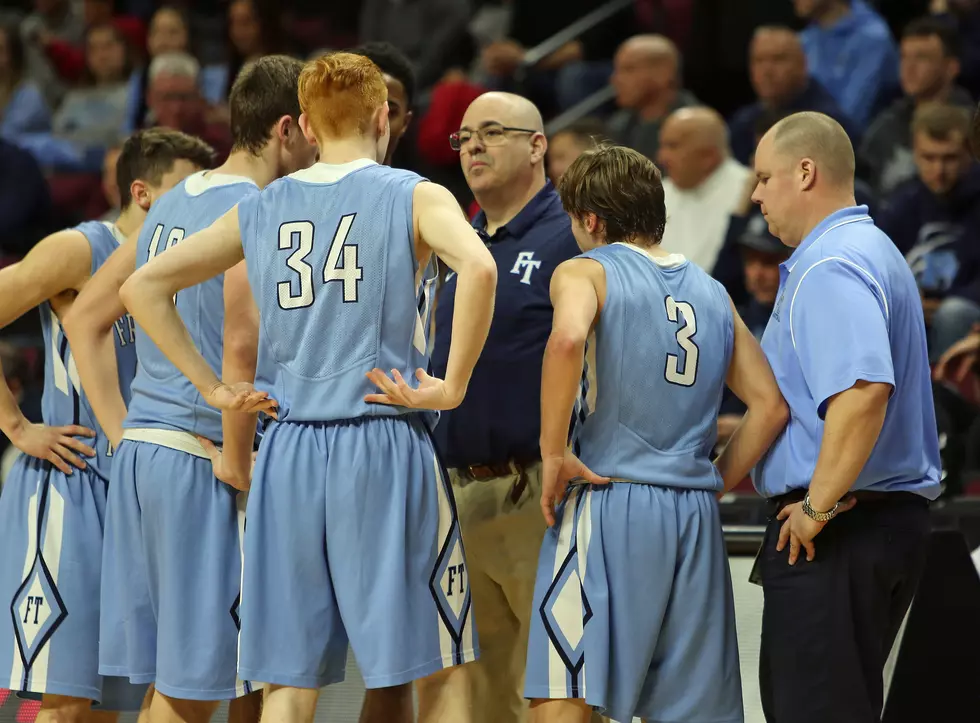 Boys Basketball – Golub Resigns as Freehold Township Boys Basketball Coach
Freehold Township coach Brian Golub surrounded by his players and assistant Todd Smith. (Photo by Ray Richardson)

For more than 40 years, Brian Golub has considered himself a Freehold Township Patriot and over the last 28, people in different corners of the state and throughout the Shore Conference have come to know the boys basketball program that he crafted in his image.
It would be fair to say Golub built the program into what it is today, but that is not the word he would choose to use.
"It's never been about Brian Golub," Golub said, reflecting on his 28 seasons as head coach, which followed three as an assistant and four as a player in the program. "It's always been about Freehold Township basketball. I was very fortunate to play and coach with coaches I admired who helped lay the foundation for what it has become."
Whatever words he chooses, Golub took Freehold Township basketball to heights it had not seen prior to his nearly-three-decade run as head coach. On Friday morning, he informed his team and athletic director Adam Brusotti that he is resigning as boys basketball coach, according to a media release from the Brusotti and confirmed by Golub.
"I had a good friend in coaching tell me when I asked him how I'll know when it's time to walk away, and he just told me, 'Don't worry, you'll know," Golub said. "It's been a challenge for the last few years, ever since COVID, and this year, we had to deal with some things that were new for me.
"Anybody who has has coached and has really tried to take it seriously knows how time-consuming coaching basketball is. You get done with a game and you immediately have to find video of the next opponent and you spend the next day watching video of your next opponent. Then you're getting in the gym to practice. Then there is summer basketball, there is fall basketball, which have become huge. I have always been all-in and I always told myself that as soon as I feel like I don't want to pour myself into the job anymore, that's when it would be time."
From the time he took over Freehold Township for the 1995-96 season, Golub has poured himself into the Patriots program and delivered results that none of his predecessors did. In his first season as head coach, he led the Patriots to the first of seven NJSIAA Central Jersey Group IV championship game appearances on his watch, averaging one title appearance every four years.
The first six times Freehold Township made it to the sectional final, it ended in heartbreak for Golub and his players. On the seventh try, the Patriots finally broke through, beating Trenton on the road in the 2019 Central Group IV final to claim Freehold Township's first boys basketball sectional championship.
Golub still laments his older players experiencing the heartbreak of those first six title games, but those same players were quick to reach out to Golub when he and Freehold Township won their elusive title and again when they found out his time as head coach was coming to a close.
"The wins and championships are great, but when you have a chance to meet kids when they are 13 or 14 years old, teach and coach them and then see them get married and turn into successful professionals and leaders and parents, that's when it's all about," Golub said. "I remember what my coaches meant to me and the impact they had on my life, and to get text messages and calls from guys I used to coach telling me what an impact I had on them, it doesn't get better than that."
Following its championship triumph, the 2018-19 team added one more win by beating Cherokee in the Group IV semifinals, at the time making Freehold Township the first Shore Conference team to reach a Group IV championship game since the 1981 Neptune team shocked Camden to earn a spot in the Group IV final, then finished off the championship with a win over Malcolm X Shabazz.
Golub was named Shore Sports Network Boys Basketball Coach of the Year for the 2018-19 season and this past year, he led Freehold Township to its 12th Shore Conference division championship, with the Patriots winning the Class A North public division championship. Three times during his tenure, Golub guided the Patriots to outright Class A North championships, with the Colts beating out Christian Brothers Academy and the rest of the perennially-competitive Class A North field in 2006-07, 2011-12 and 2016-17.
Freehold Township's 2006-07 team might have been Golub's best team. That season, the Patriots won the program's only Shore Conference Tournament championship in reaching the final for the first and only time in program history as well. That team also made it to the Central Jersey Group IV championship game that season.
For context, during Golub's 28 seasons, Freehold Township is one of 13 boys programs in the 47-team Shore Conference to win a championship.
In total, Golub won 418 games in his 28 seasons, including the three outright division championships, nine public division titles, four holiday tournament championships, reached seven NJSIAA sectional championship games, won a Shore Conference Tournament title and won a Central Jersey Group IV championship on the way to reaching the Group IV final.
This season also marked the seventh time in Golub's tenure that Freehold Township won 20 or more games.
Golub officially informed his team of his decision Friday morning and he coached Thursday's 55-42 loss to Marlboro in the Central Group IV quarterfinals knowing his time as coach was ending. I recent years, Golub stepped down as coach of the cross country and track-and-field teams, giving his attention to basketball for the remainder of his coaching career at his alma mater.
During his three decades as a coach at Freehold Township, Golub was known as a fiery coach who preached defense-first and fine-tuned his teams into high-pressure, fast-paced outfits. For a the bulk of his career, he paced the sideline sucking on lollipops -- which his wife Linda, began distributing to fans at games as it people caught on.
Golub also saw two sons, Justin and Jason, through graduation at Freehold Township, with Jason playing for his father as the lone senior on the 2019-20 team.
"I was talking to my wife, and she brought up a great point: our two sons grew up in that gym," Golub said. "From the time they were infants, running around at practice and after games to the time Jason was a senior playing for me, they were there the whole way. It's been a huge part of not only my life, but my family's life and there is no way I would have been able to do it for as long as I did without their support."
With the book closed as a high-school coach at his alma mater, Golub said he hopes to remain in coaching, most likely at the youth level in order to teach the fundamentals he would like to see become more prevalent again.
"I still have a love for the game and I'm still as competitive as ever," Golub said. "Hopefully, there is an opportunity to help out with the younger kids in Freehold at the travel level or rec level, if they will have me. It's a great game that I'll always have a passion to share that love for the game. I don't know what that's going to look like, but I'm planning on continuing to do it."
Famous declassified government secrets
Stacker
looks at the top 30 declassified government secrets, from Operation Paperclip to previously unknown Cold War facts. There's no conspiracy in these slides—these government secrets are all true to history.
More From Shore Sports Network