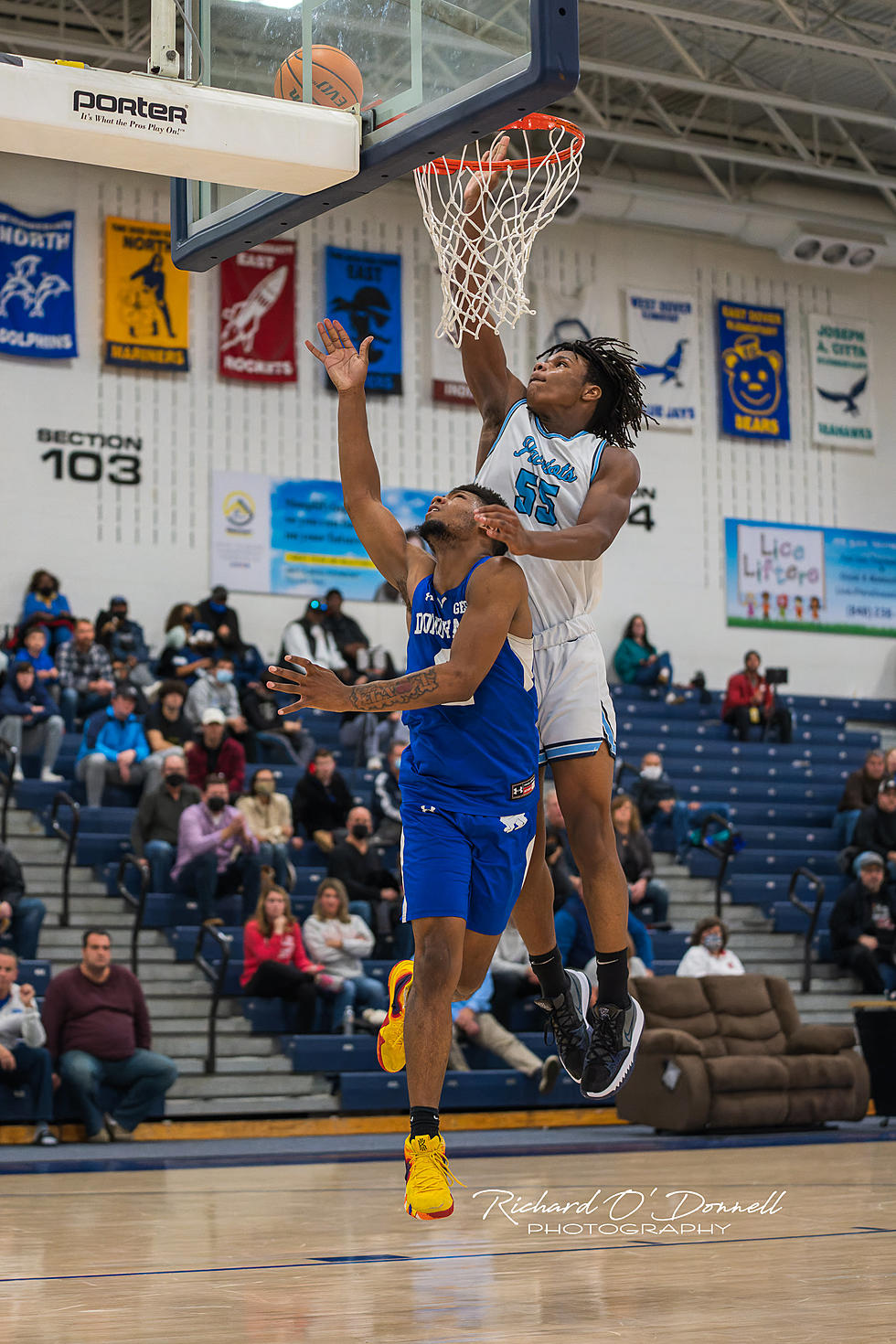 Boys Basketball – Freehold Twp. Continues Dominance Over Howell
Freehold Township junior Jayden Holmes-Cotter challenges a shot by Donovan Catholic senior Jalin Butler. (Photo: Richard E. O'Donnell)

FREEHOLD TWP. -- The Freehold Township and Howell boys basketball programs play every year and over the last decade, it has been an event when Howell gets the better of the intra-district rivalry. That is because since the start of the 2011-12 season, Howell has won just once in 19 games against the Patriots.
Although only juniors, Freehold Township starters Jayden Holmes-Cotter and Malachi Harris knew two things: this year's Howell team came into Freehold Township's gym Thursday expecting this to be the year it got the better of the Patriots and, secondly, that it was up to Holmes-Cotter and Harris not to let that happen.
Freehold Township closed the first quarter with a big run and shut down a potent Howell offense to pick up a much-needed 55-38 win over the Rebels in a Shore Conference Class A North showdown Thursday night.
"This was the first game where I felt like we looked like a Freehold Township team," Patriots coach Brian Golub said. "Offensively, we still have work to do, but our energy and execution on defense was the best it's been this year, maybe even the last two years, so that was encouraging."
Holmes-Cotter led the Patriots with 19 points and 11 rebounds while Harris poured in 17 points, including a 7-for-7 effort from the free-throw line in the fourth quarter to ensure Howell had no chance of rallying from its sizable deficit.
"We knew coming in what our job was," Harris said. "We played these guys last year and twice in the summer, so we knew what they were about."
"We were at practice yesterday and our focus was just on beating Howell," Holmes-Cotter said. "I don't know the last time Howell beat us but we wanted to make sure it didn't happen tonight."
Howell's only win over Freehold Township in the last 10 seasons came back in 2017-18 and the Rebels came out Thursday looking to add to add a win to their 1-18 record against the Patriots since 2011-12.
The night got off to a positive start, as Howell jumped out to to an 8-4 lead in the first three minutes, but it was all Freehold Township from there. The Patriots finished the first quarter on a 12-0 run and held Howell to six points over the next 16 minutes of game clock. Against Freehold Township's high-pressure, swarming defense, the Rebels committed 13 turnovers in the first half alone, finished with 17 for the game, shot 22.6 percent from the field (12-for-53) and 12.9 percent (4-for-31) from three-point range.
"I think the effort was outstanding," Holmes-Cotter said. "It was the best we have played this year. We were locked in defensively and we didn't let up."
Entering Thursday's game, Howell was averaging a shade under 62 points in its four wins, with the lone loss coming against a Lenape team that is currently ranked No. 6 in the entire state.
Senior Joe Dupuis led Howell with 18 points and five rebounds and junior teammate Damien Padilla contributed eight points and 11 rebounds in the loss. Seniors Zach Emery and Dylan McVeigh entered the game as Howell's top two scorers on a per-game basis and the Patriots held the duo to a combined seven points on 2-for-15 shooting.
"We spent a lot of time learning their offense and preparing to defend them," Golub said. "I'm not going to lie: they had a poor shooting night. Part of that was we challenged shots and part of that was we were able to make them a little uncomfortable shooting not within their offense. They run a really nice pattern and they get a lot of good looks off it, the set a lot of good screens and we were trying to not let them get into those sets and get those screens that get their shooters those open looks."
While Howell came into Thursday's game off to an ideal 4-1 start, Freehold Township was in danger of falling back below .500 following a 67-65 loss to Holmdel on Tuesday. The Patriots dealt with a bout of the flu throughout the roster in the season's opening days and suffered a first-round loss to Donovan Catholic in the WOBM Christmas Classic -- a game in which Harris did not play.
"This team is still learning how to be tough at the varsity level," Golub said. "In years past, a lot of these kids would have been on the jayvee and gotten beaten up practicing with the varsity and had 20-something games to get better. We didn't have any of that this year, so we have had to be patient, we have had to coach them hard and try to help them learn from their mistakes, because when you don't have experience, mistakes are going to happen."
Harris showed an ability to manage the offense and find open teammates as a sophomore in an abbreviated, nine-game 2021 season. Over the past two games, the junior point guard has began to make his mark as a scorer with 28 points over the past three days.
"I'm starting to relax more and associate myself with the offense," Harris said. "I'm just trying to contribute whatever I can.
"Again, it's a kid without a ton of experience, but he's got talent," Golub said of Harris. "He made his free throws tonight, which was a huge step. It's great to see him handle and make the decisions he made. Sometimes, he is a little too unselfish and sometimes he's a little too selfish. He is still learning that IQ part of the game -- running the team, keeping people happy and it's my job to keep helping him with him with that."
While Harris begins to emerge, Holmes-Cotter continues to be a force for Freehold Township. The 6-foot-5 forward has traded in baby fat for muscle, which has turned him from a promising varsity starter as an underclassmen to a physical presence as a junior. On top of giving opponents problems on the offensive glass and in the post, Holmes-Cotter has improved his face-up game and his shot while become more active and imposing on the defensive end.
"In the locker room, coach brought up the 2007 team (that won the Shore Conference Tournament championship) and he said when they had a big lead, they always put their foot on people's throats," Holmes-Cotter said. "We had a big lead, but we couldn't let them get back in it. That's one thing I have definitely learned so far is you have to play with energy for four quarters and you can't stop until it's over."
More From Shore Sports Network