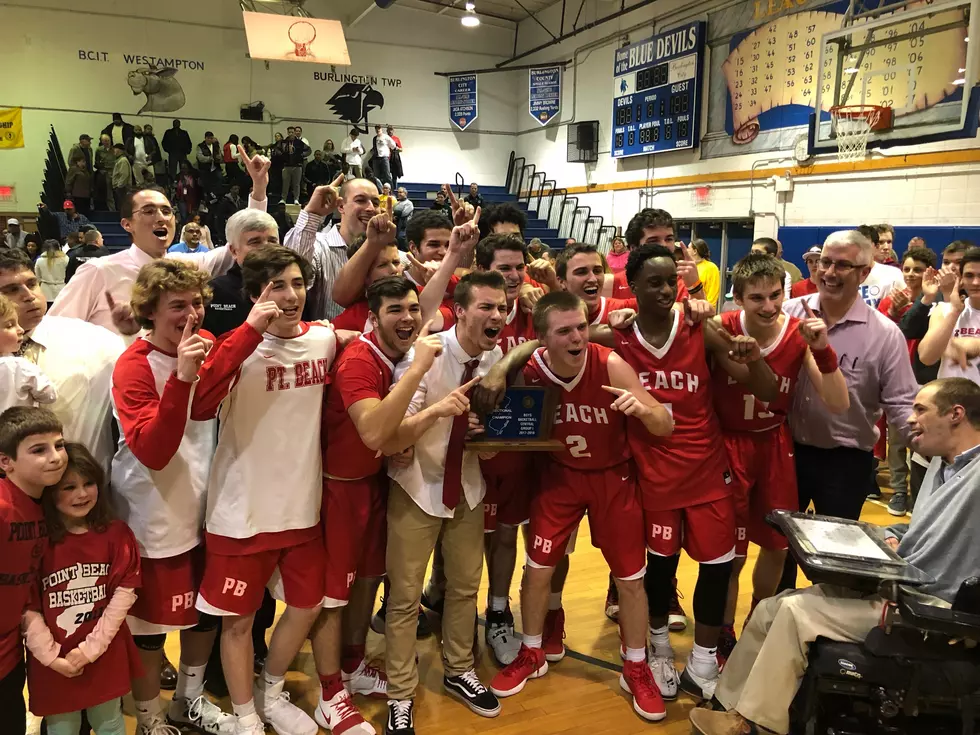 Boys Basketball – Looking for Next Challenge, Catania Steps Down at Point Beach
Photo by Robert Badders.

Enter your number to get our free mobile app
The Point Pleasant Beach boys basketball program had a basketball tradition when Nick Catania took over as head coach before the 2004-05 season but the program's best days - at least at that time - were well behind it.
As it turned out, the best days for the Garnet Gulls and Catania were still to come.
After leading Point Beach to unprecedented success for the program during his 16-year tenure, Catania stepped down as head coach of the Garnet Gulls, he said in a text on Tuesday.
"When I was younger, older coaches would always tell me, 'You'll know when it's time,'" Catania said. "I have always thought about other opportunities but I haven't even considered leaving until the last couple of years.
"If I'm not 100-percent invested, I owe it to the kids to let somebody take over who is. I don't want to be the guy who is only part of the way in. Beach is all I have know as a head coach and I am looking for that next challenge. I have done it here and I want to see if I can do it somewhere else."
Catania said he does not have a new job lined up.
"I don't know what it's going to be," he said. "I think I'm ready for something bigger but it could be anything - it could be youth basketball. I'm just looking forward to the next challenge."
Under Catania, Point Beach transformed from an also-ran in the small-school division of the Shore Conference into a perennial contender in the Class B Central division and NJSIAA Group I Tournament. During a nine-season stretch spanning 2009-10 until 2017-18, Point Beach won four division titles, played in five NJSIAA sectional finals and reached the Shore Conference Tournament quarterfinals five times - including three trips to the semifinals.
Those years playing into the late rounds of the conference and state tournaments yielded three Central Jersey Group I championships, a first-ever overall Group I championships and trip to the Tournament of Champions in 2013, and a first ever Shore Conference Tournament championship in 2014.
"We had won something like five or seven games combined in the three years before I took over," Catania said. "Winning the Shore Conference Tournament was the furthest thing from my mind when I took over - I couldn't even imagine what that would even look like at a small school like Beach.
"My goal was just to give the kids what every other program was giving their kids. If they were in the weight room for two hours, I wanted us to be there for two-and-a-half. If they were in the gym for three hours on Saturday, I wanted us to go four. Our mentality was nobody was going to outwork us and as long as we did our part, we would let the chips fall where they may."
Point Beach's first taste of success during Catania's tenure coincided with the arrival of Jarelle Reischel from Germany for his sophomore season in 2008-09. Point Beach was still young during that season and endured its share of ups and downs, but in the following season, the Garnet Gulls made it to the Shore Conference Tournament quarterfinals, as well as the South Jersey Group I championship game. Although Point Beach lost both games, Reischel was named Kerwin Award winner as a junior and still had one more season to get the program to the next level.
Reischel could not win Point Beach and Catania a championship during his senior season in 2010-11 but it was a crucial season for the program, nonetheless. The Garnet Gulls knocked off top-seeded Christian Brothers Academy in the SCT quarterfinals - the first major statement win within the Shore Conference during Catania's tenure.
One of Point Beach's key contributors off the bench in 2010-11 was scrappy freshman Matt Farrell and the experience he got during those big games in his first high school season was the foundation to one of the best Shore Conference careers of the last several decades.
Point Beach was again young during a run-of-the-mill 2011-12 season but with a host of talent back and even more entering the program in 2012-13, the Garnet Gulls were about to take off.
With Farrell maturing into an All-Shore point guard as a junior, 6-foot-8 wing Dom Uhl transferring from Germany and versatile 6-3 guard Noah Yates returning to his hometown after living in North Carolina for two years, Point Beach had a core that would make them a team-to-beat in the Shore and in Group I over the next two seasons.
With seniors P.J. Kineavy and Riley Calzonetti to go with the junior trio of Farrell, Uhl and Yates, Point Beach reached the championship game of the Shore Conference Tournament for the first time since 1963, but lost to Lakewood at Monmouth University.
The Gulls did not stay grounded for long, though, and won the program's first ever overall Group I championship by beating Bound Brook in the Central Group I final, Paulsboro in the Group I semifinal and Dayton in the state final. In the program's first ever Tournament of Champions appearance, Point Beach took Group IV champion Atlantic City to double-overtime before ultimately falling, 80-73.
The following season, Point Beach rode Farrell, Uhl and Yates to a standard-setting 29-2 campaign that included a 49-41 win over CBA for the program's first ever Shore Conference Tournament championship. Point Beach again won the Central Jersey Group I title, this time beating Shore Regional in the final. The careers of Farrell, Uhl and Yates ended in the next round, when Pitman knocked off Point Beach at RWJ Barnabas Health Arena.
Point Beach would reload the following season, led by 2014 holdover Mike Frauenheim, Jackson Memorial transfer Jesse Hill and St. Anthony's transfer Jimmy Panzini. The Garnet Gulls made it back to the sectional final against Shore, but the Blue Devils had enough firepower to beat the home team this time.
Danny Frauenheim and Trevor Covey were key contributors as freshmen on that 2015 team and formed the core of the team over the ensuing three seasons. The rapid rise of both Mater Dei Prep and Ranney into statewide powerhouses knocked Point Beach off its perch as annual B Central favorite, but the competition paid off once Frauenheim and Covey were seniors in 2018-17.
With the addition of combo guard Mohamed Traore aiding them, Frauenheim and Covey led Point Beach back to the SCT quarterfinals and eventually to the Central Group I final once again. This time, the Garnet Gulls would have to win it on the road - the only road sectional final Point Beach played under Catania. Frauenheim, Covey and Co. delivered by beating Burlington City in overtime, 53-47. Burlington City would go on to win each of the next two sectional titles in CJ I.
Following the third of of three titles under Catania, Point Beach endured one of its worst seasons, finishing 1-21 during an injury-riddled 2018-19 campaign. In his final season at the helm, Catania got Point Beach back on track by leading the Gulls to a 14-13 finish, a competitive one-round stay in the Shore Conference Tournament and a first-round win in the NJSIAA Central Jersey Group I bracket.
Catania made a fast recovery and returned to work in time to coach his team through the 2013-14 season, which turned out to be the programs best season.
Former players took to social media Tuesday to express their gratitude toward their high-school coach.
"Can't say enough about this man," 2018 graduate Josh Yates said in a post on Twitter. "Always showed up with passion and intensity. Dealt with scrutiny and outside noise but always did what was best for his players. (He) helped me become who I am today...(I'm) glad I was able to help him win a title at beach. Thank you coach!"
"The absolute best in the business, no question," 2015 graduate Chris Schifano said via Twitter. "Nobody understands the amount of hours and effort he put into developing his players on and off the court. The memories made will last a lifetime. (I'm) so proud to call him my coach!"
Catania sent more than a dozen players to play college basketball over the last decade, with Reischel (Rice and Rhode Island), Farrell (Notre Dame) and Uhl (Iowa) all going on to play at major programs and Noah Yates going to Yale to play football.
"All those accomplishments for the program are because of the players and because of the assistants that put in all the hard work," Catania said. "You get into coaching for the relationships, so to see and hear the response from a lot of the guys that played for me - that's what it's all about. My phone has been blowing up and it's been pretty overwhelming."
Next year's Point Beach team will be without this year's leading scorer, Jake Clark, who poured in 18.1 points per game as a senior after missing nearly all of his junior campaign due to injury. Freshman Chris Venturoso averaged 13.5 points and 6.1 rebounds and is set to be Point Beach's top returner on a what was again a young team around Clark this past season.
"I felt like this team got a lot out of this season," Catania said. "Going 14-13 with a young team, I feel like this should be where Beach is every year, at worst. They have ten guys coming back, they are hard-working kids and I think they have a chance to be pretty good for multiple years. I'm looking forward to following them."
More From Shore Sports Network