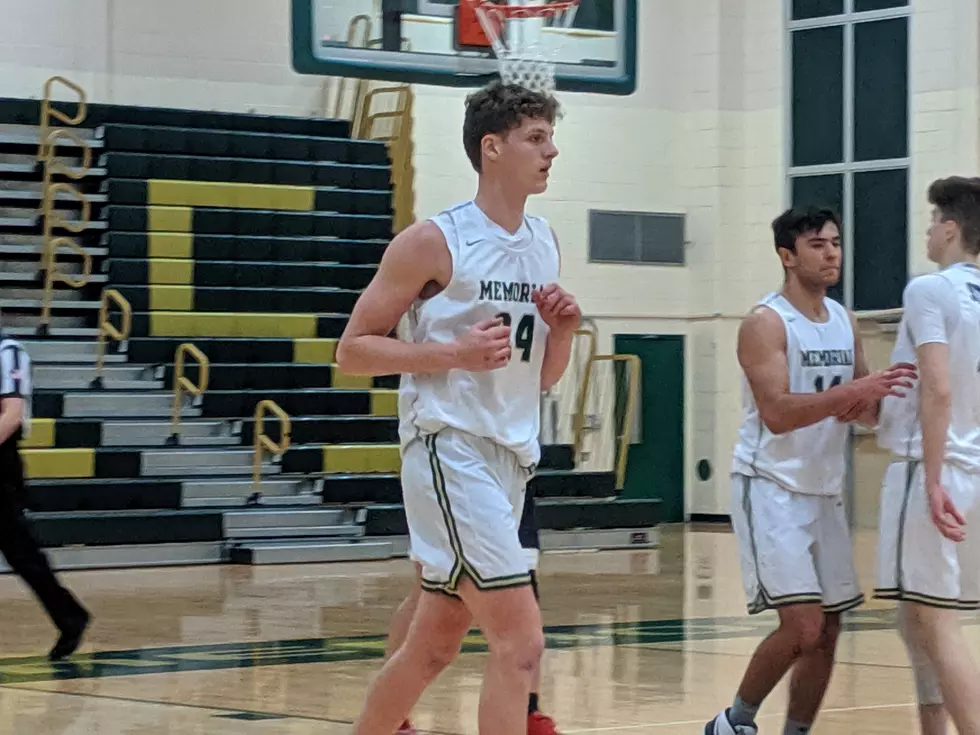 Boys Basketball – Braaten, Brick Memorial Storm to 2-0 Start
Brick Memorial junior Luke Braaten. (Photo by Matt Manley)

Enter your number to get our free mobile app
BRICK TWP. - With a well-balanced core of returning contributors from last year's team, the Brick Memorial boys basketball squad entered 2021 with the foundation for a successful season.
As much as it has helped the Mustangs to return seniors Jake Dombrowski and T.J. McArthur to the starting lineup, it a player who missed last year due to injury that has been the x-factor in the Mustangs' strong start this winter.
Luke Braaten - Brick Memorial's 6-foot-7 junior center - is fully healed from a lower-back injury that kept him out of action as a sophomore and has been a force during the early part of 2021. On Thursday night against Jackson Memorial, he fought off a constant barrage of double-teams to post 13 points, 10 rebounds, four assists and two blocks in the Mustangs' 54-41 win over the Jaguars to secure a 2-0 start.
"After being injured last year, I was just really excited to get back on the court and finally get indoors," Braaten said. "I was working all offseason so I knew when the time came, I was going to do what I had to do."
"With him healthy, it changes everything that we do," Brick Memorial coach Mike Pelkey said. "It gives us so many more options because we have about three or four kids who can shoot it too. And Luke can shoot it too. He can play on the outside, he can play on the inside and when we throw him the ball early, we try to establish him in the post early and they have to make adjustments. When they start doubling in, he is a good passer so he gives us open looks. It's a luxury we haven't had in a while."
Braaten offered a glimpse of what was to come when the games started to count by putting up 20 first-half points in a scrimmage rout of Barnegat, then delivered 19 of his team's 49 points Tuesday in the first of two wins over Jackson Memorial during the opening week of the season.
With Jackson Memorial privy to Braaten's ability to impact the game, the Jaguars made a more concerted effort to contain the Mustangs center on Thursday.
"They're fresh on your mind and they make adjustments, so you have to adjust too and keep playing," Braaten said. "I noticed a little bit more double (teams). I should have got (the ball) out faster on some of the doubles. I got caught in them."
That opened the game up for other players on Brick Memorial, with Dombrowski rising to the occasion by scoring a game-high 16 points and dishing out three assists. The senior guard scored 10 of his points during the third quarter, when Brick Memorial outscored Jackson Memorial, 18-7, to take a 46-25 lead.
"It helps to have (Braaten)," Dombrowski said. "Now we have a big man that is consistently putting up points."
Brick Memorial's sophomore quartet also gave the Mustangs a strong performance on Thursday, led by Brady Leach's eight points off the bench. Josh Michigan scored six points, Dorian Alston had five and Brian Starrett dished out three assists to round out the production from the Mustangs Class of 2023.
The two wins over Jackson Memorial are an important first step for Brick Memorial in its attempt to finish first place in its six-team pod, which also includes Brick, Central Regional, Howell and Lakewood. Jackson Memorial is still waiting on Lakewood transfers Samir Padilla and Respect Tyleek to become eligible and while the current roster tries to learn a new system under new coach Randy Holmes, the Mustangs took advantage by dealing the Jaguars two decisive losses. Junior Steven Bado led Jackson Memorial on Thursday with 12 points.
"It's tough. You don't want to set too many goals because you could be down for two weeks," Pelkey said, referencing the specter of COVID-19 hanging over the season. "Coming in, we wanted to win our pod and then get into that top eight (in the Shore Conference) at the end of the year, if eight teams make it that far. It would be a privilege to play in that group to end the year."
More From Shore Sports Network