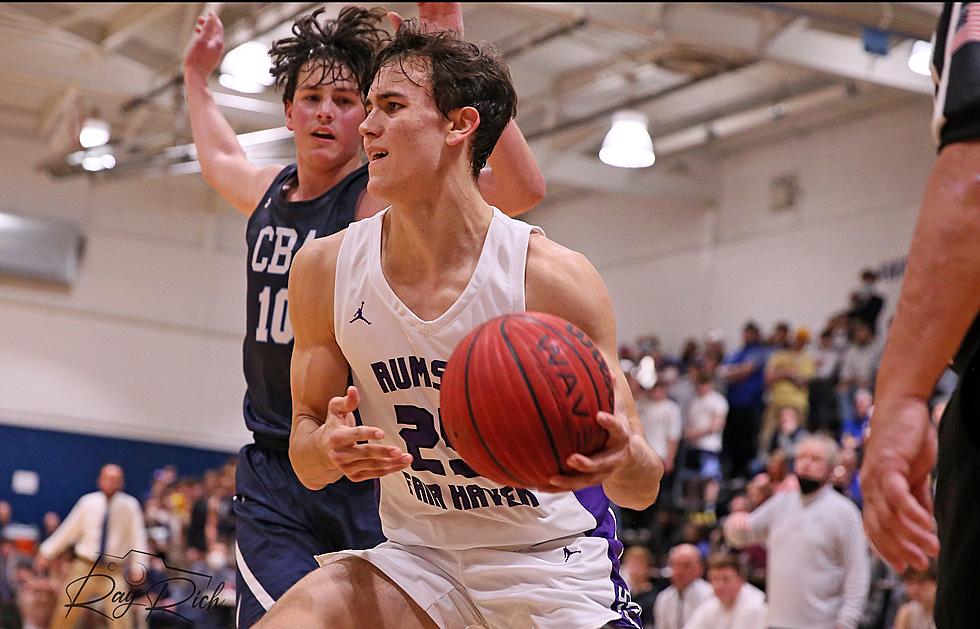 Boys Basketball – 2022 NJSIAA Tournament Preview: Group II
Rumson-Fair Haven senior Scott Gyimesi guarded by CBA freshman Justin Fuerbacher. (Photo: Ray Rich Photography)

It took an act of God to prevent Camden from winning the 2020 Group II championship and it might take something similar in 2022 (furiously knocking wood).
You can never start handing out championships before a tournament starts, let alone before a season starts, but Camden winning the Group II championship in 2022 has been a foregone conclusion ever since we knew there would be a state tournament in 2022. The Panthers are loaded, nationally-ranked and motivated to finally get back to the Tournament of Champions for the first time since winning the whole thing in 2000 -- the last time a public school has finished as New Jersey's No. 1 team.
With that being said, Camden has been anything but a shoo-in over the last 20 years and have, instead, been one of the state's most snake-bitten teams. Even before COVID-19 took away a chance to win Group II and, possibly, the Tournament of Champions in 2020 and 2021, the Panthers had been to eight group championship games between Groups II and III since 2000 and lost all eight, including four in a row from 2014 to 2017.
When it comes to making it to the Group II final, however, Camden has been one of the state's best over the last decade and if everyone stays healthy, the Panthers are a near-lock to overcome the likes of Manchester, Sterling and Haddonfield to win the South Jersey Group II section.
As for Central Jersey, Rumson-Fair Haven will have home-court advantage as the No. 1 seed, which bodes well for the Bulldogs, who are seeking their third sectional championship in the last six years. Holmdel has been a dangerous state tournament team over the years and could very well stand in Rumson's way come the sectional semifinals, while Raritan also stands as a legitimate contender from the Shore Conference.
For a closer look at the Central and South sections of Group II, read on.
Shore Teams in the Field: No. 1 Rumson-Fair Haven, No. 4 Holmdel, No. 6 Raritan, No. 15 Monmouth
Defending Champion (2020): Manasquan
Top Seed: Rumson-Fair Haven
Favorite: Rumson-Fair Haven
Darkhorse: No. 14 A.L. Johnson. Not many potential upsets jump off the page beyond the first round, but Johnson is noteworthy because it is a team comfortably over .500 that is a bottom-three seed. With a first-round matchup vs. a South River squad that just made the jump from Group I to Group II, there may a chance to take advantage for the Crusaders. Monmouth is another road team to watch, the potential to make a multi-game run as a No. 15 seed.
Bracket Breakdown: Three Shore Conference Class A Central teams reside in Central Jersey Group II and the No. 1 team among them – and among all the teams in the sectional looks primed to win it. Rumson is still licking its wounds after suffering a quarterfinal loss to CBA in the Shore Conference Tournament, but the Bulldogs will be at home, where they have been unstoppable this season. Raritan, meanwhile is a team with a chance to make a deep run as well behind its season group of senior and junior veterans. Holmdel will be capable of winning two games, but would have to solve a Rumson team that gave the Hornets fits in the semifinals.
Championship Prediction: Rumson over Bound Brook. The home court is a major plus for Rumson, which has taken out Red Bank Catholic and Newark East Side in its gym this season. Bound Brook could get tested as early as round one vs. Monmouth and could certainly be in for a battle against either Raritan or South River. As for Rumson, the Bulldogs should be ready to regroup, although their success may hinge on staying hot from beyond the three-point arc. Again, with respect to that part of the game, it helps to be at home.
Round-by-Round Predictions
(1) Rumson-Fair Haven over (16) Metuchen
(8) Delaware Valley over (9) Hillside
(12) New Providence over (5) Governor Livingston
(4) Holmdel over (13) Middlesex
(14) A.L. Johnson over (3) South River
(6) Raritan over (11) Roselle
(7) Nottingham over (10) Spotswood
(2) Bound Brook over (15) Monmouth
Quarterfinals
(1) Rumson-Fair Haven over (8) Delaware Valley
(4) Holmdel over (12) New Providence
(6) Raritan over (14) A.L. Johnson
(2) Bound Brook over (7) Nottingham
Semifinals
(1) Rumson-Fair Haven over (4) Holmdel
(2) Bound Brook over (6) Raritan
Championship
(1) Rumson-Fair Haven over (2) Bound Brook
Shore Teams in the Field: No. 5 Manchester, No. 7 Point Boro
Defending Champion (2020): No. 1 Camden
Top Seed: Camden
Favorite: Camden
Darkhorse: No. 6 Middle Twp. In a section that is home to Camden, there really isn't a darkhorse to win the championship, because Camden is just that much of a favorite. Middle gets the nod as a No. 6 seed with a favorable first-round matchup and an outside shot to take out a Haddonfield team that is still very good, but not what it was a few years ago when the Bulldogs were beating Camden in the sectional final. No. 13 Haddon Heights has won seven of eight and could be a foil to No. 4 Overbook and potentially Manchester, but again, Camden looms.
Bracket Breakdown: Point Boro comes out of the Shore and at least catches a break with Camden on the other side of the bracket. The Panthers can absolutely give Sterling trouble if both teams win their way into the quarterfinals. Manchester is not so lucky, with the Hawks winning a school-record 21 games and being rewarded with an opportunity to play nationally-ranked Camden if the Panthers can close out their two games and Manchester can get by its two – with the quarterfinal game, very likely, being on the road for the Class B South champion Hawks.
Championship Prediction: Camden over Sterling. The Panthers are as close to a lock as it gets with all its Divison I talent and former NBA player as head coach (Rick Brunson). Sterling, meanwhile, beat Haddonfield twice during the regular season and appears to be a tough matchup for the Bulldogs, but Haddonfield still has a capable roster and a quality coaching staff.
Round-by-Round Predictions
Opening Round
(1) Camden over (16) Oakcrest
(8) Collingswood over (9) Medford Tech
(5) Manchester over (12) Haddon Twp.
(4) Overbrook over (13) Haddon Heights
(3) Haddonfield over (14) Lower Cape May
(6) Middle Twp. over (11) Pennsauken Tech
(7) Point Boro over (10) Cinnaminson
(2) Sterling over (15) Mastery Camden
Quarterfinals
(1) Camden over (8) Collingswood
(5) Manchester over (4) Overbrook
(6) Middle Twp. over (3) Haddonfield
(2) Sterling over (7) Point Boro
Semifinals
(1) Camden over (5) Manchester
(2) Sterling over (6) Middle Twp.
Championship
(1) Camden over (2) Sterling
More From Shore Sports Network