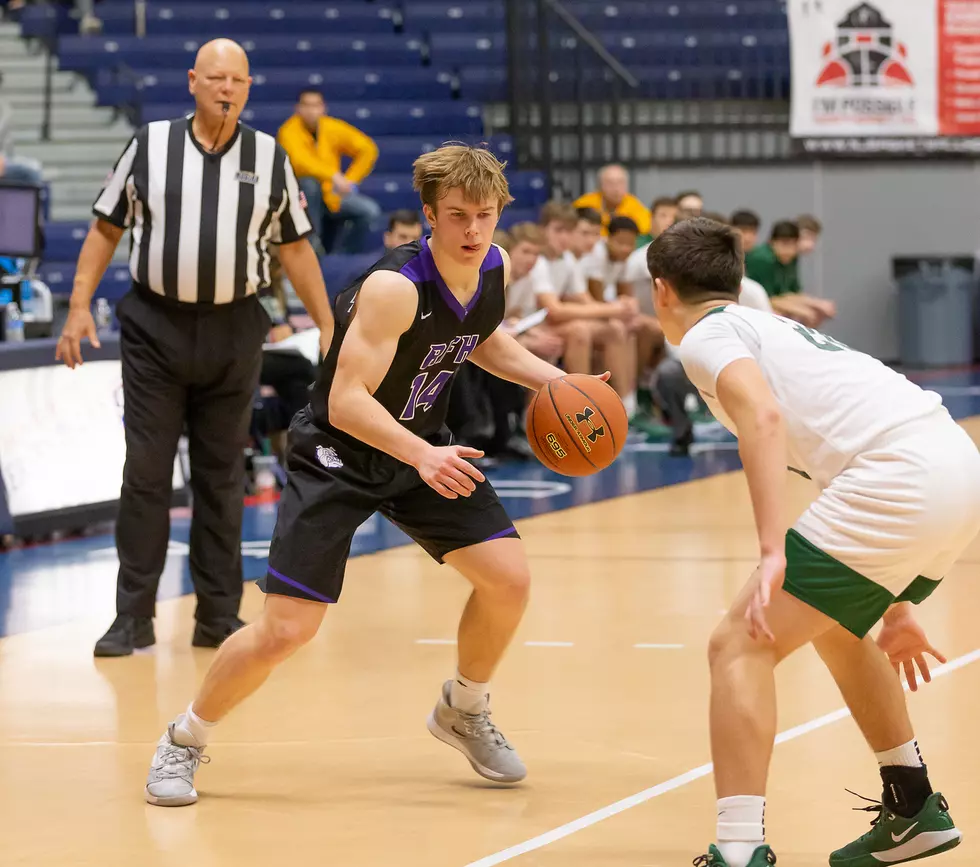 Boys Basketball – 2021 Season Preview: Rumson-Fair Haven
Rumson-Fair Haven junior Geoff Schroeder. (Photo by Paula Lopez)

Enter your number to get our free mobile app
For a team that has built a reputation as one of the Shore's top public-school programs since Chris Champeau took over 12 seasons ago, Rumson had a relatively non-descript season by its standards. Considering how young the Bulldogs were and what they were replacing from 2019, a 17-win season that saw a number of new faces emerge as building blocks for the next two seasons was an overall win for Champeau's team.
The one known commodity heading into last year who is also back in the fold in 2021 is junior guard Geoff Schroeder. The six-foot Schroeder was the third-leading scorer on the team as a freshman and the top scorer last year while playing with some inexperienced varsity players. He has developed a solid rapport with classmate Scott Gymesi, a 6-5 power forward who grew into Rumson's best inside threat in his first varsity season last year
The rest of the starting five will be a senior trio, although one of the spots could go down to the wire between two seniors. Senior Jackson Patton is a lock for the first five after proving himself as a contributor last season and Robbie Sypeck also has a hold on one of the spots coming off his varsity debut last year. The fifth will go to either Ryan Patterson or Jake Hermann – two seniors with good size at the guard position.
Champeau went deep into his bench early in the 2019-20 season before settling on a more conventional rotation down the stretch and the expanded rotation could be a feature again in 2021 thanks to a well-rounded group of juniors – many of whom are standouts in another sport – and sophomore Luke Mikolycheck. All those juniors should make Rumson a dangerous team over the next two seasons and will mean a heated rivalry with pod-mate Red Bank Catholic, which the Bulldogs are scheduled to face in the final week of the 2021 regular season.
Head Coach: Chris Champeau, 12th season
2019-20 Record: 17-11 (9-5, third in Class A Central)
2020 Postseason Performance: Lost in Shore Conference Tournament first round (Ocean); reached Central Jersey Group II quarterfinals (lost to Manasquan)
Disclaimer: Projected lineups listed in the 2021 Shore Sports Network Preview are not necessarily directly from coaches. Some are, while others are projections from Shore Sports Network staff. In either case, the projected lineup is fluid and could change leading up to the start of the season and beyond. Check back for periodic updates to every team's projected starting lineup on shoresportsnetwork.com.
Geoff Schroeder, Jr., 6-0, Guard (RS)
Jackson Patton, Sr., 5-11, Guard (R)
Robbie Sypeck, Sr., 6-1, Guard (R)
Ryan Patterson, Sr., 6-1, Guard
Scott Gyimesi, Jr., 6-4, Forward (RS)
Jack Carroll, 6-4, Forward
Shane Shovelin, 6-1, Guard
John Baker, 6-5, Forward/Center
Jake Hermann, Sr., 6-2, Guard
Nacho Bryson, Jr., 6-3, Guard
Cal Famula, Jr., 6-2, Guard
Trent Sloan, Jr., 6-3, Forward
Charlie Jones, Jr., 6-5, Forward
Aidan Moriarty, Jr., 6-2, Forward
Matt Rigby, Jr., 6-2, Forward
Luke Mikolycheck, So., 6-2, Guard
Boo Schaud, Jr., 5-10, Guard
Owen Sullivan, Jr., 5-10, Guard
R – Returning Varsity Player
Player to Watch: Geoff Schroeder
A standout in both football (as a running back) and basketball, Schroeder has been producing from the moment he stepped on a varsity court as a freshman. He scored 33 points in a showcase game vs. Middletown North in his first year, then hit the 30-point mark again during a sophomore campaign that saw him average 17.1 points, 2.1 assists and 1.8 steals.
Big Shoes to Fill: Jackson Patton
Jack Carroll is the most significant statistical loss for Rumson after he put up 14.4 points per game as a senior, but Drew Frankel and his prowess as both a defender, distributor and leader might be even tougher to replicate. Patton will have to handle a lot of that responsibility, potentially slotting in as the third scorer next to Schroeder and Gymisi while also taking some pressure off Schroeder by digging in on defense and handling the ball.
Impact Newcomer: Aidan Moriarty
Another member of Rumson's hard-hitting football team, Moriarty will bring a physicality to the lineup that not many other players on the Bulldogs or any other team will. Champeau is leaning toward a four-guard starting lineup – a common choice for the always-up-tempo Bulldogs – but having Moriarty as an option to pair with Gymesi to give Rumson a more physical lineup makes the 6-2 junior a valuable weapon.
X-Factor: Take care of business, finish strong
The way the schedule breaks down, the last week of the season vs. Red Bank Catholic will be what decides whether this talented version of the Bulldogs gets to play for a nominal Shore Conference championship in the top postseason pod during the first week of March. In order for it to matter, though, Rumson will have to get through a potential road block in Red Bank to open the season but the rest of the schedule does not have another opponent that is likely to push for one of those championship pod spots. That will be good news if Rumson handles its business and wins all of those games, but the chance to make a lasting statement to the postseason seeding committee will be against RBC to close out the season.
Jan. 27 at Red Bank, 6:30 p.m.
Jan. 29 vs. Red Bank, 7 p.m.
Feb. 2 at Long Branch, 5:15 p.m.
Feb. 4 vs. Long Branch, 7 p.m.
Feb. 6 vs. Middletown North, 1 p.m.
Feb. 8 at Shore, 6:30 p.m.
Feb. 10 vs. Shore, 7 p.m.
Feb. 13 at Middletown South, 1 p.m.
Feb. 16 vs. Monmouth, 7 p.m.
Feb. 18 at Monmouth, 6:45 p.m.
Feb. 22 vs. Red Bank Catholic, 7 p.m.
Feb. 24 at Red Bank Catholic, 6:45 p.m.