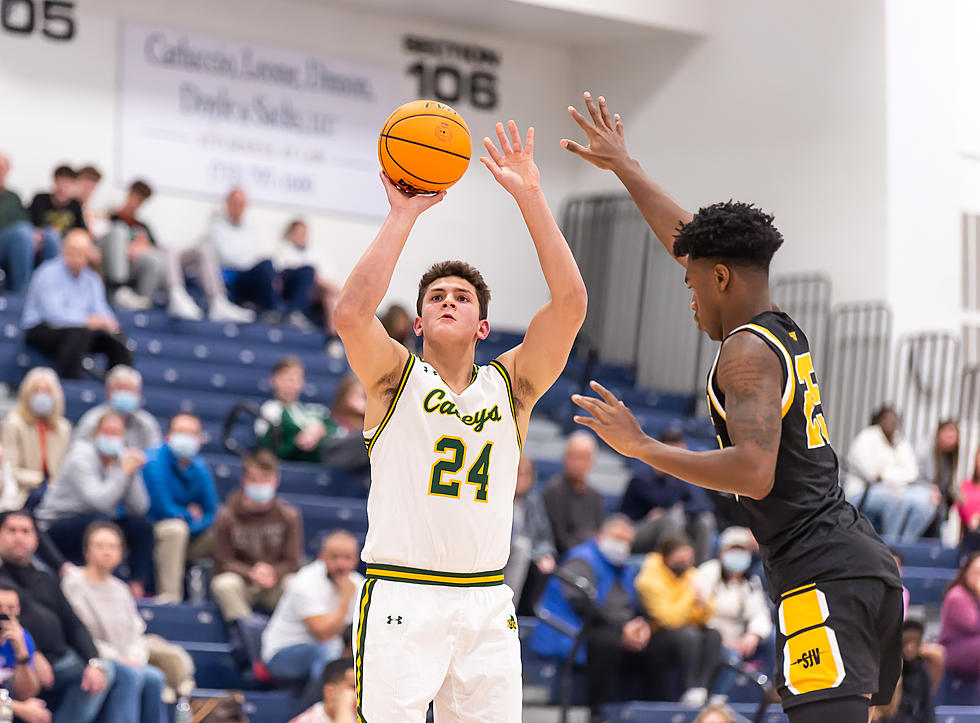 Boys Basketball – 2021-22 Shore Sports Network All-Shore Second and Third Teams
Red Bank Catholic senior Alex Bauman rises for a shot over St. John Vianney senior Nate Williams. (Photo: Tom Smith | tspsportsimages.com)

2021-22 Shore Sports Network All-Shore Second and Third Teams
Click Here for the First Team
Second Team
Isaac Hester, Jr., 6-0, Guard, Ranney
Key Stats: 19.3 points, 43 3-pointers
Hester took the Shore Conference by storm last season during a First-Team All-Shore campaign and, despite settling for a second team spot, was an even better scorer this season when his team needed someone to pick up the lost production of losing three impact starters (one to graduation and two to transfers). Hester finished seventh in the conference in points per game and stepped up his scoring in several big moments. He carried Ranney to two key divisional wins over Keyport (including a career-high 29 points in a hard-fought road win) and after struggling in a loss at Manasquan in the Shore Conference Tournament, he bounced back by averaging 22.7 points over Ranney's last seven games – including 26 in the Panthers' last three state tournament games. After leading Ranney back to the South Jersey Non-Public B final this season, Hester will enter his senior season within 100 points of 1,000 for his career.
D.J. Thomson, Sr., 6-3, Guard/Forward, Keyport
Key Stats: 24.3 points, 4.2 rebounds, 3.5 assists, 2.5 steals, 1,724 career points
There might have been more attention, accolades and a bigger stage out there for Thomson had he decided to find his way to a higher-profile high school, but he decided to stay in his hometown for high school and get Keyport back to a place it hasn't been in 18 years. Thomson made an immediate impact as a freshman, when he scored nearly 16 points per game, and went to another level again last season during an All-Shore junior campaign. This year, Thomson not only raised the bar for himself by leading the Shore Conference in scoring average and becoming Keyport's second-leading all-time scorer (1,724), but he also led his Red Raiders to a 19-win season, a Shore Conference Class B Central public division title and a Central Jersey Group I sectional final appearance. Those were all firsts since 2004, leaving Thomson with a major basketball legacy at Keyport before he heads to East Stroudsburg to play football in the fall.
Alex Bauman, Sr., 6-5, Guard/Forward, Red Bank Catholic
Key Stats: 10.9 points, 9.9 rebounds, 3.9 assists, 1.5 blocks
Another football star doing his thing on the basketball court, Bauman helped lead Red Bank Catholic to one of its best season ever before shipping off to Tulane in the fall to play for the Green Wave football team. Bauman has shaped his game to fit RBC's roster over the last two years. When the Caseys have needed him to throw his weight around inside, he proved more than capable. Over the last two years, Red Bank Catholic did not have a traditional point guard, so Bauman has been a primary ball-handler most games, which resulted in one of the Shore's most well-rounded stat lines. With his near double-double average to go with four assists per night, as well as his leadership on defense, Bauman sparked the Caseys to a season to remember and something upon which RBC's young core can build.
Jayden Holmes-Cotter, Jr., 6-5, Forward/Center, Freehold Township
Key Stats: 20.9 points, 11.5 rebounds, 0.88 blocks
Holmes-Cotter got some starts as a freshman and was a reliable producer as a sophomore a season ago, making him a likely candidate to break out as a junior. What the 6-5 junior did, though, surpassed most expectations and it started with him coming into the season in outstanding shape. Holmes-Cotter went from a wide center to a wide forward with some bounce and a newly-integrated face-up game. By the numbers, the result was the Shore's only player to average 20 points and more than 10 rebounds, highlighted by two moments: a buzzer-beater to beat Middletown North in the Shore Conference Tournament first round and a 43-point, 22-rebound outburst in a win over Donovan Catholic.
Justin Soranno, Sr., 6-6, Forward/Center, Central
Key Stats: 19.3 points, 9.1 rebounds, 1.9 assists, 1.7 steals, 1.8 blocks
A four-year starter for Central, Soranno capped his career with a second straight All-Shore campaign, this time as a second-teamer. He finished in the top 10 in scoring (sixth) and was just outside the top 10 in both rebounding (11th) and blocked shots (13th) on a per-game basis. Soranno stormed out of the gate with 35 points and 12 rebounds and another two of his 11 double-doubles game in Central's biggest regular-season wins of the year – A South wins over Jackson Memorial (20 points and 12 rebounds) and Brick Memorial (20 and 10). Soranno capped his senior season by averaging 21 points in three tournament games and graduates with 1,286 points.
C.J. Ruoff, Sr., 6-3, Guard, Red Bank Catholic
Key Stats: 11.6 points, 3.6 rebounds, 3.0 assists, 76% FT
Another member of what might have been Red Bank Catholic's best team ever, Ruoff was a steady scorer and perimeter defender – a versatile player on a team full of them. Ruoff led the Caseys in scoring with 11.6 points per game, which is a number that reflects how balanced RBC was as a scoring attack. When they needed scoring, Ruoff was there to deliver. His five highest-scoring games of the season came against either ranked teams in the Shore, ranked teams in the state, or in a tournament game. He scored 19 and 18 in the two games against Rutgers Prep – one a regular-season win and the other a narrow loss in the South Jersey Non-Public A final – put up 18 against Manchester and 19 vs. Manasquan in the Shore Conference Tournament, and scored a season-high 26 in a state-tournament win over Camden Catholic. Ruoff caps a stellar three-year varsity career with 804 points, which could very well have been more than 1,000 with a full 2020-21 season.
Third Team
D'Maari Brown, Sr., 5-9, Guard, Manchester
Key Stats: 13.4 points, 5.7 assists, 3.8 steals, 80 3-pointers, 82% FT
Brown finished his career off right, finishing second in the Shore Conference in both three-pointers made and assists per game, giving Manchester very tough cover as the team's point guard. His ability to play with the ball and off it made for games in which he distributed, scored or just did both. Brown was the second-leading scorer on Manchester's best team in almost two decades and departs with more than 700 career points.
Matt Solomon, Sr., 6-7, Forward, Manasquan
Key Stats: 10.8 points, 10.1 rebounds, 1.4 assists, 0.68 blocks
Having come off the bench as Manasquan's sixth man last year, Solomon spent his offseason focused on refining his game to be ready to start. While doing that, he also had to step up as a leader, particularly after classmate Ben Roy suffered a torn ACL in October. Solomon handled both challenges masterfully, averaging a double-double while leading the Warriors in the front court and in the locker room on the way to another 25-win season for Manasquan.
Zack Molod, Sr., 5-11, Guard, Marlboro
Key Stats: 13.0 points, 2.5 assists, 2.0 steals, 56 3-pointers
How important was Molod to Marlboro's success. He missed four games while following COVID-19 protocol and the Mustangs went 2-2, suffering two of their three losses on the season and to teams (CBA and Red Bank Catholic) that Marlboro beat when Molod was in the lineup. Up until Marlboro's loss to Elizabeth in the Group IV final, Marlboro was 26-1 with Molod in the lineup. In his return to the lineup, Molod scored 25 points in a win at Robbinsville – one of three 20-plus-point performances for the senior guard, with another coming in the Central Group IV final vs. Trenton.
Luke Braaten, Sr., 6-7, Center, Brick Memorial
Key Stats: 13.6 points, 11.2 rebounds, 1.6 assists, 4.0 blocks
Braaten appeared poised for a huge junior season, but if the shortened schedule was not enough to suppress that effort, a back injury three games into the year was. That followed an injury-plagued sophomore season, so Braaten was motivated to deliver in his senior season and did not disappoint. He was one of seven players at the Shore to average a double-double, one of three players at the Shore to post four blocks per game, and the only one of those double-double players to reach that four-block plateau. Braaten had two 10-block games, one of which was part of a triple-double in a win over Toms River North.
Samir Padilla, Jr., 5-10, Guard, Jackson Memorial
Key Stats: 13.4 points, 1.5 assists, 3.64 steals, 52 3-pointers
While Braaten lost most of his 2021 season due to injury, Padilla missed a chunk of his due to transfer rules and COVID-related cancelations. After playing only six games for Jackson Memorial last season following a transfer from Lakewood, Padilla made his full impact this season for a resurgent Jaguars team. He averaged 21 points and 5.5 steals in two Shore Conference Tournament wins, which put Jackson Memorial in the SCT quarterfinals for the first time in eight years. Padilla also scored 17 in a 62-49 win over Northern Burlington to put the Jaguars in the NJSIAA sectional semifinal round for the first time in 10 years.
Will Bradley, Jr., 6-2, Guard/Forward, Christian Brothers Academy
Key Stats: 11.5 points, 3.0 rebounds, 1.2 assists, 52 3-pointers
Like Red Bank Catholic, CBA enjoyed its success this season behind a balanced offense, which Bradley led by scoring 11.5 points per game. Bradley greatly improved his shooting and the rest of his offensive game came along with it. He had back-to-back huge games in the last two rounds of the Buc Classic, scoring 26 points in a win over No. 5 Rumson-Fair Haven and 18 in a championship win over No. 7 Ranney. Bradley also scored a team-high 15 points in another win over 21-4 Rumson in the Shore Conference quarterfinals.
All-Shore Final Vote: Pick the Last Two Players on the 2021-22 All-Shore Team
More From Shore Sports Network