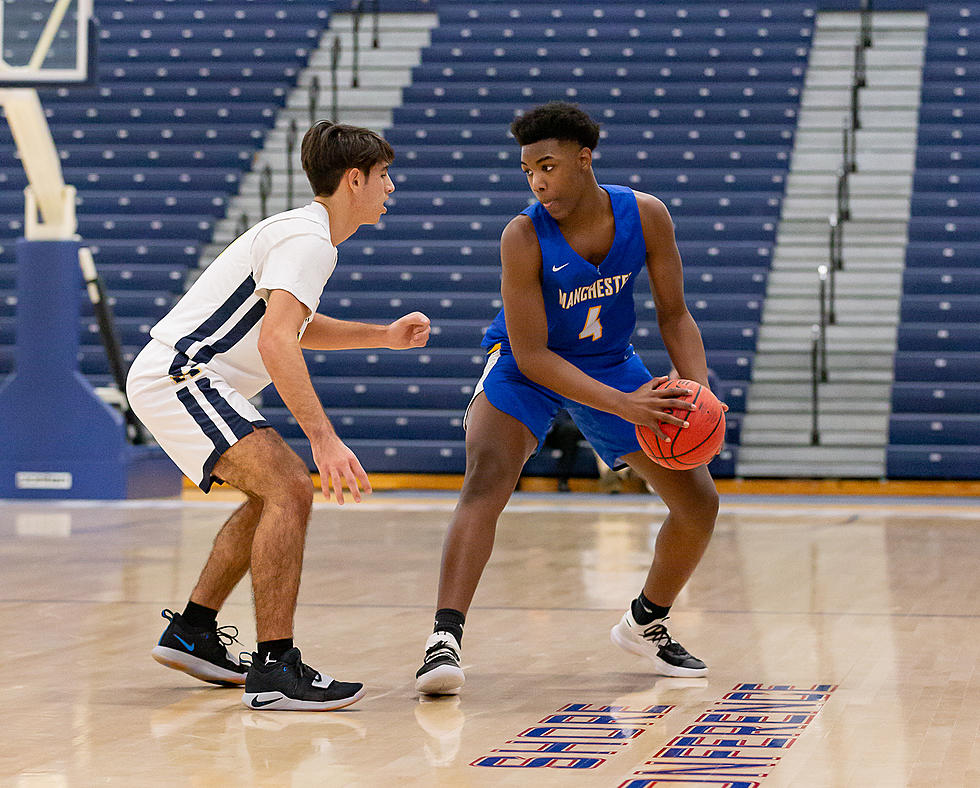 Boys Basketball – 2021-22 Shore Conference Season Preview: Class B South
Manchester junior Savon Myers. (Photo by Paula Lopez)

There is only one team in the Shore Conference Class B South division that has won any part of a division championship in the last decade and that team a Lakewood squad coming off a 0-8 season in 2021. The Piners won division titles in 11 out of 12 seasons from 2008-09 to 2019-20 and the only programs to get a sniff of any sort of division title during that stretch was Donovan Catholic (as overall and non-public champion in both 2008-09 and 2009-10), Point Pleasant Boro and Jackson Liberty – the latter two of which are no longer in Class B South.
All that makes the upcoming season an exciting one for a number of the reloaded teams of the Class B South division, of which there are a few. Manchester brings back most of its team that just missed out on a spot in the Shore Conference Playoff Championship Pod, while Lacey, Donovan Catholic and Brick all bring back the majority of their lineups as well.
Manchester opens up the season with what appears to be a leg up on the competition, but there is enough talent back that a number of other programs should still warrant some attention along the way in 2021-22.
In predicted order of finish
Manchester
In a Shore Conference basketball season that more resembled the college football postseason dynamic than a normal high-school basketball schedule, Manchester lost a couple of regular-season games that ended up costing the Hawks a shot at playing in the championship pod of the Shore Conference postseason. A COVID shutdown did not help and the Hawks were also still relatively light on impact seniors.
While it remains to be seen how COVID impacts another boys basketball season, Manchester will have no shortage of senior leaders in 2021-22. Savon Myers leads that group after posting a huge statistical junior season in which he finished in the Shore's top 10 in rebounds, assists and steals per game while finishing as the No. 13 scorer in the conference – all adding up to a Third Team All-Shore selection. Classmate D'Maari Brown also returns off a strong junior campaign in which he averaged double-figures in scoring to go with four assists per game, while Jordan Dupont is another senior who has been contributing since his freshman year.
Brandon Sogness and Amari Ayala-Petty are two more seniors of note for Manchester, with Ayala-Petty transferring from division rival Donovan Catholic and set to join the starting lineup after sitting for the first 30 days of the season. Evan Weiner will provide some size as the replacement in the starting lineup for Wyatt Haselbauer, who transferred to Red Bank Catholic. Jaymere Watts is another newcomer who will join the team once a broken finger heals and at 6-foot-4, he is a sophomore who can make an impact in a lot of different facets of the game.
With Petty in and Haselbauer out, this senior class looks different than it did when it came in as a promising group of freshmen four years ago, but it is still one of the more talented rosters in Ocean County and among the most promising in the entire Shore Conference. If the Hawks can get whole and healthy while also making the pieces all fit together, they will be in play for a trip to the Shore Conference Tournament quarterfinals and perhaps a nice run in the NJSIAA South Jersey Group II Tournament (as long as they are on the side of the bracket opposite Camden).
Head Coach: Ryan Ramsay, 17th season
2021 Record: 9-4 (6-0 in Pod C)
RS – Returning Starter
R – Returning Varsity Player
Projected Lineup
D'Maari Brown, Sr., 5-9, Guard (RS)
Amari Ayala-Petty, Sr., 6-2, Guard (Transfer from Donovan Catholic)
Savon Myers, Sr., 6-5, Guard (RS)
Jordan Dupont, Sr., 5-11, Guard (RS)
Evan Weiner, Jr., 6-7, Forward (R)
Key Losses
Wyatt Haselbauer, Sr., 6-7, Forward (Transferred to Red Bank Catholic)
Josh Glenn, 6-2, Guard
Gavin Clark, 6-4, Guard/Forward
Sean Snead, 6-3, Guard/Forward
Off the Bench
Brandon Sogness, Sr., 5-11 (R)
Jaymere Watts, So., 6-4
Ezekiel Luster, Sr., 6-2
Javion Glenn, Jr., 6-3
Eli Casalan, Jr., 5-9
Tre Ross, So., 5-11
Josh Love, So., 5-8
Josh Horowitz, So., 5-10
Lacey
Like Manchester did one year prior, Lacey broke in a freshman class during the 2019-20 season that had the promise of big things down the road and added to it with the transfer of Class of 2023 wing Chris Venturoso from Point Pleasant beach ahead of the 2020-21 school year. With Venturoso, Troy Buxton, Carson Howard and Dylan Hall all in the starting five last year, Lacey had a team that had serious NJSIAA sectional championship contender potential.
Those aspirations took a major hit with the transfer of Howard – an athletic 6-foot-6 forward who led the Shore Conference in rebounding and finished top 10 in scoring and blocked shots as a sophomore in 2021 – to Archbishop Wood in Pennsylvania. That leaves Lacey without what would have been its top scorer and primary inside presence, meaning the remaining players will have to pick up the slack. On the plus side, Buxton, Venturoso and Hall are all back, giving the Lions a trio of experienced, capable guards that can give opponents fits.
Ryan Fitzgerald will be another junior in the starting five, with he and senior Mike Abode hoping to help Venturoso with some of the frontcourt responsibilities, particularly on the boards. Junior Logan Hupke will be the tallest option in the Lacey rotation at 6-foot-5, while Dylan O'Rourke leads a host of senior options off the bench. The sting of losing Howard might take some time to wear off for a Lacey team that last made a sectional final in 2012, but the Lions still have enough talent to fight for a top spot in Class B South and reach both postseason tournaments.
Head Coach: Sean McAndrew, fifth season
2021 Record: 5-6 (3-2 in Pod A)
Projected Lineup
RS – Returning Starter
R – Returning Varsity Player
Dylan Hall, Jr., 5-10, Guard (RS)
Troy Buxton, Jr., 6-2, Guard (RS)
Chris Venturoso, Jr., 6-2, Guard/Forward (RS)
Ryan Fitzgerald, Jr., 6-0, Guard/Forward
Mike Abode, Sr., 6-1, Forward (R)
Key Losses
Carson Howard, Jr., 6-6, Center (Transferred to Archbishop Wood, Pa.)
Jacob Bowles, Sr., 6-2, Forward (RS)
Patrick Zuccarelli, Sr., 6-1, Forward
Owen Tracey, Sr., 5-8, Guard
Off the Bench
Connor Davis, Sr., 6-0
Logan Hupke, Jr., 6-5, Forward
Dylan O'Rourke, Sr., 5-10 (R)
Andrew Tobia, Sr., 5-10
Mike Yorke, Sr., 5-11
Donovan Catholic
Donovan Catholic is another Class B South team that did not play with a lot of seniors in the lineup last year, but will still look a little bit different in 2021-22. On the down side, in addition to the graduation of do-it-all athlete Trevor Pruitt, the Griffins lost leading scorer Amari Ayala-Petty, who transferred to Manchester. Junior Brian Farrell – who came on strong at in 2021 – could also miss time as he recovers from a back injury, according to coach Mike Kearney. On the bright side, most of the rest of the team returns after showing some promise at different points in 2021 and will incorporate some key new pieces to a deep rotation.
That depth will serve the Griffins well until Farrell is healthy, with seniors Alex Melon and 6-6 Dylan Orosz helping to lead the way. Junior Peter Farlekas also played big minutes as a sophomore – some as a starter – and senior Kyree Drake comes over from Mater Dei Prep after averaging 3.7 assists as a junior for the Seraphs. Senior Vinny Coburn will also be in play for a starting spot after proving his worth last year with a six three-pointer game at Matawan in the Shore Conference postseason.
Standout football player Jalin Butler is also in the fold this year and 6-5 forward Dan Schwartz is back after missing 2021 due to injury. Those two will lead a group of newcomers who will provide depth and some key contributions for a Griffins team that is hoping to be able to climb back to the top of the Class B South ranks.
Update: This portion of the post was edited to correct a reporting error. Brian Farrell is recovering from a back injury, not a foot injury.
Head Coach: Mike Kearney, 24th season
2021 Record: 5-9 (4-3 in Pod A)
Projected Lineup
RS – Returning Starter
R – Returning Varsity Player
Kyree Drake, Sr., 5-8, Guard (Transfer from Mater Dei Prep)
Alex Melon, Sr., 6-0, Guard (RS)
Brian Farrell, Jr., 6-2, Guard (RS)
Dylan Orosz, Sr., 6-6, Forward (RS)
Peter Farlekas, Jr., 6-3, Forward (RS)
Key Losses
Amari Ayala-Petty, Sr., 6-1, Guard (Transferred to Manchester)
Trevor Pruitt, 6-2, Guard/Forward
Sean Farrell, 6-1, Forward
Off the Bench
Vinny Coburn, Sr., 6-2
Jalin Butler, Sr., 6-2
Dan Schwartz, Sr., 6-5
T.J. Johnson, Jr., 6-0
Anthony Perrelli, Sr., 6-1
Caron McNair, Sr., 6-4
Nick D'Addetta, Jr., 6-1
Dylan Espineli, Jr., 5-10
Dyshawn Daniels, Jr., 5-10
Florian Lamaitre, Sr., 6-0
Gavin Degnan, Jr., 6-0
Brick
After a pair of solid seasons in 2017-18 and 2018-19, Brick went into a hard rebuild in 2019-20 and appeared to come out the other end by the conclusion of the 2021 season. The Green Dragons finished with a winning record, pulled out some close wins and beat rival Brick Memorial on a buzzer-beater – all while running out a lineup that featured a lot of players who are back for this season. One noteworthy newcomer is head coach Chris Cordiano, who succeeds Mike Gawronski after working on his staff.
Cordiano has a nice group with which to get started, led by senior Jack Dougard and junior Alex Jenkoski. Dougard is a versatile player who can operate on multiple offensive levels and Jenkoski is a well-rounded scorer. Giuseppe Johnson is another versatile player back in the starting lineup while Robert Giovine and Stephen Novak jump into the starting five. Giovine will take care of some of the ball-handling and key defensive duties as a first-year starter, while Novak will be the team's center.
There will be some varsity know-how coming off the bench in Nick Verdesco, Abdul Rahimi and Ryan Roetger, while the Dragons will work in a pair of promising underclassmen in freshman Jayden Johnson and sophomore Aidan Dvorak. With other teams also bringing back all-division talent and proven rotation players, it is going to take a big jump for Brick to make a play for one of the top two or three spots in the division, but after last year, the Green Dragons now feel comfortable with their foundation.
Head Coach: Chris Cordiano, first season
2021 Record: 7-5 (4-1 in Pod B)
Projected Lineup
RS – Returning Starter
R – Returning Varsity Player
Robert Giovine, Sr., 6-0, Guard (R)
Alex Jenkoski, Jr., 6-2, Guard (RS)
Stephen Novak, Jr., 6-3, Center (R)
Jack Dougard, Sr., 6-4, Guard/Forward (RS)
Giuseppi Johnson, Sr., 6-0, Forward (RS)
Key Losses
Ty Williams, 6-0, Guard
Ryan Duffy, 6-1, Forward
Off the Bench
Nick Verdesco, Jr., 5-9 (R)
Jayden Johnson, Fr.
Aidan Dvorak, So.
Abdul Rahimi, Jr. (R)
Chris Wharton, Jr.
Justin Kurc, Sr.
Mike Fitzgerald, Sr. (Transfer from Liberty-Bethlehem, Pa.)
Ryan Roetger, Sr. (R)
RJ Reinhold, Sr.
Mike Lacerda, Sr.
Davion Moquete, Sr.
Pinelands
Another team that had some positive moments in 2021 after some tough times in 2019-20, Pinelands will be looking to build on a modest four-win season by winning the kind of close games that went against the Wildcats last season. Pinelands was 1-3 in games decided by one basket and that does not include a wild overtime loss at Jackson Liberty that ended with a six-point margin. The Wildcats will also need to overcome the loss of Josh Kline, who was a reliable crunch-time scorer and facilitator for his team.
Another top scorer and clutch player is back from last year, with senior Rian O'Rouke looking to take over as the leader for Pinelands. Classmate Aiden Skeie will have a greater role as well, with fellow senior guards Darren Barreau and Daniel McCarthy also joining the starting lineup after playing on the varsity squad last year. The newcomer among the starting five is Ocean City transfer Collin Reid, who gives the Wildcats a projected starting five that is all seniors and all guards.
For size, interior play and youth, Pinelands will lead on the bench. Junior Michael Hall can come off the bench when coach Fred Johnson is in need of frontcourt help, while two of Pinelands's four promising sophomores Eric Cicarelli and Ethan Woods, can play down low. Along with sophomore Liam Villanger, Andrew and Aiden Falduto are also key guards off the bench, which should provide Pinelands with some help as the Wildcats look to climb back to the top-half of the B South standings.
Head Coach: Fred Johnson, sixth season
2021 Record: 4-10 (1-7 in Pod C)
Projected Lineup
RS – Returning Starter
R – Returning Varsity Player
Rian O'Rourke, Sr., 5-8, Guard (RS)
Aiden Skeie, Sr., 5-10, Guard (RS)
Darren Barreau, Sr., 5-7, Guard (R)
Daniel McCarthy, Sr., 6-1, Guard (R)
Collin Reid, Sr., 6-0, Guard (Transfer from Ocean City)
Key Losses
Josh Kline, 5-7, Guard
Andrew Jenkins, 6-1, Forward
Matt Cyphert, Jr., 6-4, Forward
Off the Bench
Andrew Falduto, Sr., 5-10 (R)
Chris Mitchell, Sr., 5-9 (R)
Ashish Gainder, Jr., Guard (R)
Michael Hall., Jr., Forward
Jake Parnell, Sr., Guard
Boaz Kilasi, Jr., Guard
Aiden Falduto, So., Guard
Liam Villanger, So., Guard
Eric Cicarelli, So., Forward
Ethan Woods, So., Forward
Barnegat
Barnegat is in the midst of a strong five-year run, during which the Bengals have posted four winning seasons – all with a winning percentage no worse than .667. The aberration was an 11-15 season in 2018-19 in which Barnegat had to work in a mostly-new lineup and wound up holding its own during the season and setting itself up nicely for a 20-win season the following year.
That is all relevant because once again, the Bengals won't have a whole lot of experience in the starting lineup. The lone regular due back was John Hudak, who suffered a season-ending knee injury and will miss his senior campaign. That puts the onus on the returning trio of senior Logan Kreudl and juniors Shikeith Terry and Gabe Terry – all of whom lettered but none of whom played major minutes. Junior JoJo Bivins and sophomore Jamari Smith will help out in the starting lineup as well, with freshmen Mason Krey and Johnnel Johnson looking to make an immediate impact in their first year.
Although the roster is thin on experience, Barnegat is getting close to the point of earning the benefit of the doubt when it comes to expectations, assuming the Bengals have not already arrived at that point. There could be some growing pains and the division as a whole has a lot of returning talent back, but Barnegat should be a tough opponent throughout, especially as this year's group gains experience.
Head Coach: Mike Puorro, eighth season
2021 Record: 10-5 (4-2 in Pod C)
Projected Lineup
RS – Returning Starter
R – Returning Varsity Player
Logan Kreudl, Sr., 6-0, Guard (R)
Shikeith Gordon, Jr., 5-11, Guard (R)
JoJo Bivins, Jr., Guard, 6-0
Jamari Smith, So., 6-0, Guard
Gabe Terry, Jr., 6-3, Forward (R)
Key Losses
Tyler Quinn, 6-1, Guard
Jaxon Baker, 6-0, Guard
Laurence Davis, 6-1, Guard
Logan Armstrong, 6-2, Guard
Andrew Vernieri, 6-0, Guard
Jared Krey, 6-2, Forward
John Hudak, Sr., 5-10, Guard (Injured; out for season)
Off the Bench
Mason Krey, Fr., 5-9
Johnnel Johnson, Fr., 5-9
Connor Darmstatter, Sr., 6-4
Tamell Smith, So., 6-0
Alex Churney, So., 5-11
Amir Allan, Sr., 6-3
Michael Gomez, Sr., 6-3
Lakewood
Last year was the most challenging season in the rich history of Lakewood boys basketball – one that would have confounded anyone who knew of the Piners' storied past and did not see that kind of nosedive coming. Others around the program were ready for the downward trend, but the margins of defeat and the points scored during the eight-game schedule reached levels that were hard to fathom considering how great of a program Lakewood as been.
This year's group, now led by head football coach and longtime basketball assistant L.J. Clark, is determined to bury 2021 and all its challenges by regaining some semblance of what was lost. There are more players in the mix this season, starting with returning starter Matt Vargas and four other juniors in the starting lineup. Derrich Marsh came over from Central as a 6-2 guard and Jamier Rivera will offer some size a 6-4. Jayvon Gonzalez and Keyon Tims round out the starting five and both Solomon Brown and Zahmir Anderson got some run last year.
Clark's main focus is getting Lakewood back to defending at a level that Lakewood fans are more used to seeing and letting the offense follow suit. There is major ground to make up, but the hope among the Piners is that last year was a unique situation that will turn into a footnote in Lakewood history – history that the Piners are still hoping to add to in the coming years.
Head Coach: L.J. Clark, first season
2021 Record: 0-8 (0-8 in Pod B)
Projected Contributors
RS – Returning Starter
R – Returning Varsity Player
Matt Vargas, Sr., 5-6, Guard (RS)
Derrick Marsh, Jr., 6-2, Guard (Transfer from Central)
Jayvon Gonzalez, Jr., 6-1, Guard
Jamier Rivera, Jr., 6-4, Forward
Keyon Tims, Jr., 6-0, Forward
Key Losses
Alex Scretching, 6-3, Forward
Off the Bench
Solomon Brown, Jr., 6-2 (R)
Zahmir Anderson, So., 5-11 (R)
Kuri Wallace, Sr.
Lamir Clark, Sr.
Jalen London, Sr.
Andre Peace, Sr.
Division Starting Five (With 2021 Stats)
Savon Myers, Sr., Guard, Manchester (17.8 points, 12.6 rebounds, 4.2 assists, 3.9 steals, 1.5 blocks)
Troy Buxton, Jr., Guard, Lacey (14.1 points, 4.0 assists, 25 3-pointers)
D'Maari Brown, Sr., Guard, Manchester (11.5 points, 4.0 assists, 2.6 steals, 25 3-pointers)
Chris Venturoso, Jr., Forward, Lacey (15.5 points, 5.6 rebounds)
Amari Ayala-Petty, Sr., Guard, Manchester (12.5 points, 1.8 steals)
In the Rotation
Rian O'Rourke, Sr., Guard, Pinelands (8.5 points, 23 3-pointers)
Jack Dougard, Sr., Forward, Brick (10.0 points)
Dylan Orosz, Sr., Forward, Donovan Catholic (10.0 points)
Breakout Players to Watch
Alex Jenkoski, Jr., Guard, Brick
Brian Farrell, Jr., Guard, Donovan Catholic
Evan Weiner, Jr., Forward, Manchester
Aiden Skeie, Sr., Guard, Pinelands
Dylan Hall, Jr., Guard, Lacey
More From Shore Sports Network