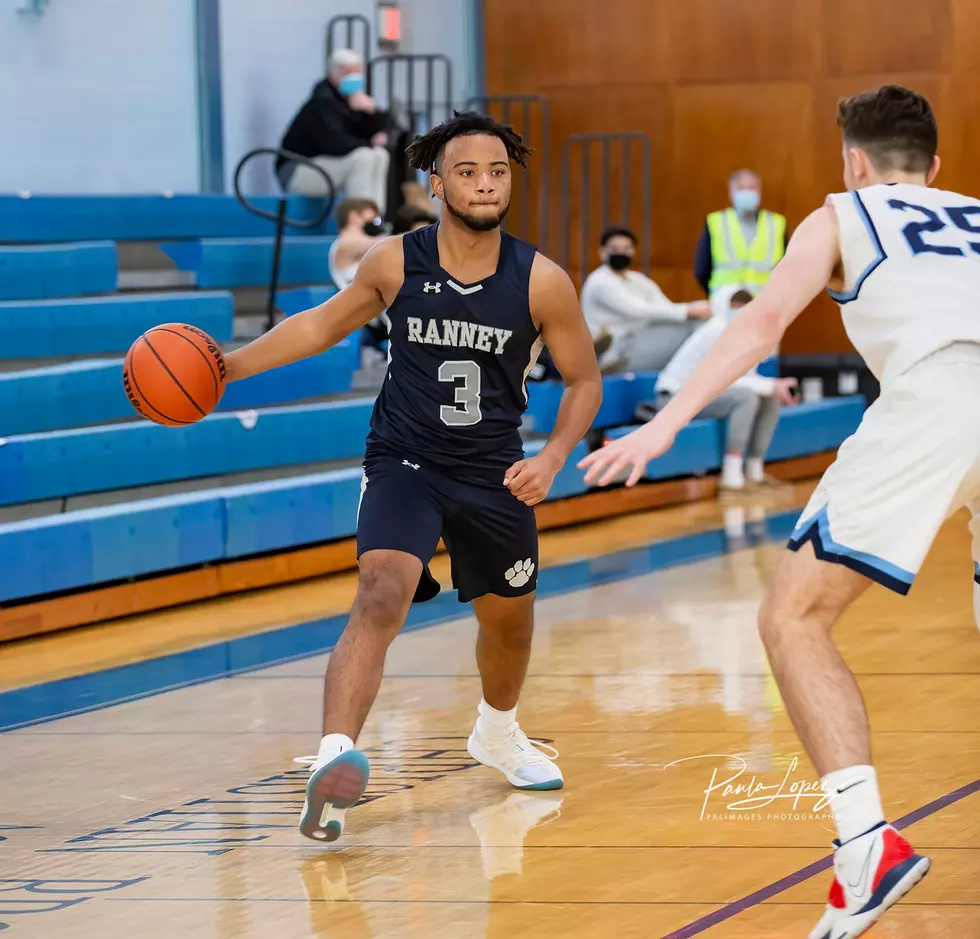 Boys Basketball – 10 Burning Questions Heading Into the 2021-22 Shore Conference Season
Ranney sophomore Isaac Hester. (Photo by Paula Lopez)

With the high-school basketball season set to begin at the end of the week, we're not far off from finding out the answers to some of the most pressing questions surrounding Shore Conference boys basketball heading into 2022. Here is a look at some of those questions.
What is the fallout at the Shore Conference from several impact losses to transfer and injury?
There is a lot of returning impact talent at the Shore Conference and there would have been even more if not for a number of noteworthy transfers (Elijah Perkins from Ranney to Camden; Carson Howard from Lacey to Archbishop Wood; Ryan Zan from Ranney to Rutgers Prep) and injuries (Ben Roy at Manasquan and Colin Ackerman at Wall due to torn ACL's). There are also some transfers within the Shore Conference that change the landscape, namely Wyatt Haselbauer from Manchester to Red Bank Catholic, Amari-Ayala Petty from Donovan Catholic to Manchester and Kyree Drake from Mater Dei Prep to Donovan Catholic. Throw in Jackson Memorial adding Mehki Cherry from Norwalk High School in Connecticut, and there are some roster changes that are sure to have an impact on the way the season plays out.
Can Marlboro exorcise its championship demons?
Each of the last two years, Marlboro's season ended in crushing fashion. The Mustangs reached the 2020 NJSIAA Central Jersey Group IV championship game and lost to South Brunswick on a layup at the buzzer. Last year, the responded by making it to the championship game of the Shore Conference Playoff Championship Pod and had Manasquan on the ropes before losing on another last-second layup in overtime. The good news for Marlboro is the Mustangs return five starters from that team and an up-and-coming group of bench players who will be exceedingly motivated to win the Shore Conference title they just missed out on last year and the state sectional title they narrowly missed a year prior.
Is Red Bank Catholic emerging as the new non-public power at the Shore?
When all was said and done in 2021, Ranney asserted itself as the best non-public program in the Shore Conference by beating CBA for a second time to finish third in the Shore Conference Championship Pod. Since then, however, Ranney has lost Elijah Perkins and Ryan Zan to transfers and Red Bank Catholic brings back most of its core (seniors Alex Bauman, C.J. Ruoff and Cyril Arvanitis), plus some interesting depth pieces (Manchester transfer Wyatt Haselbauer) and some significant young talent (sophomores Zach Meeks and Gioacchino Panzini). Ranney will not give it up easy, though, with seniors T.J. Braswell-Brown, Brandon Klatsky and Charles Anyichie looking to take one more shot at a Shore Conference title and junior Isaac Hester, junior Zack Davis and sophomore Drew Buck on hand to make an impact each of the next two years. Oh and by the way: CBA is still lurking with a young core that could make the Colts a problem opponent come tournament time.
Has Ranney come back to the pack? For how long?
Staying on the non-public pecking order, Ranney has pretty clearly lost more than it gained over the offseason. In addition to losing Perkins and Zan, they also graduated Kyle Rhoden, Brian Day and Nick Troccoli while only likely pushing one new player – senior Sahill Patla – into the rotation. If you are following the math, that is six players out of the Shore's deepest rotation with just one added, meaning Ranney will likely use six or seven players on the regular as opposed to 11. Still, the starting lineup still has a nice mix of size and skill, so the 2021-22 version of the Panthers should still be a factor in the championship hunt.
Can Manasquan's youth movement make a championship impact?
There were already going to be some questions for Manasquan heading into this season after four starters graduated from the 2021 team. Then, when the news that Ben Roy suffered a torn ACL broke, it moved the Warriors into the throws of a youth movement. That does not, however, mean it is a conventional rebuilding year for Manasquan, which has yearly winning aspirations and enough young talent to continue to dream big in 2022. Senior Matt Solomon and sophomore Ryan Frauenheim will be the experienced players in the lineup and freshman point guard Darius Adams leads the group of newcomers who will have a loaded schedule with which to contend.
When will Toms River North's official division winning streak end?
Since none of the pod games were official Shore Conference division games, Toms River North's 74-game Class A South winning streak is still technically intact, even though the Mariners lost to Southern – a traditional Class A South team – during the first week of the season. Toms River North's first official division game (the Mariners open the WOBM Christmas Classic against Brick Memorial) is not until Jan. 4 but its first four A South opponents all present a serious challenge: at Central, at Jackson Memorial, home vs. Southern and at Brick Memorial.
Who is the best team in Ocean County?
Toms River North was the undisputed best team in Ocean County from 2014-15 to 2019-20 and made a claim to that distinction last year by finishing third in the Shore Conference Playoff Pod B. The Mariners will be in the mix this season, but if not Toms River North, than who? The Class A South race could be a heated one, with Southern coming off a big year, Jackson Memorial returning significant talent, Brick Memorial returning to health and Central Regional also coming off a strong finish to 2021. Then there is Manchester, which boasts a talented senior class that was in the mix for a spot in the championship pod a year ago. It is not an obvious call at the moment, but the teams in the conversation are all worthy of a look, as well as consideration for the Shore Top 10.
Is St. John Vianney primed for a major leap?
The Lancers were hoping their talent would be enough to overcome the overall youth of the roster and while St. John Vianney had its moments, the program did not make a huge jump during the unpredictable 2021 season. This year, however, the Lancers bring back all their main pieces – led by senior Nate Williams and sophomore Dylan Seay – from a year ago and are hoping to grow into a team that can compete with the top programs in the Shore Conference and beyond. Finishing in the Shore Conference Top 10 is squarely on the table and if all goes well, a top-five finish is not out of the question.
Some big-time programs of recent vintage (CBA, Neptune, Holmdel, Wall) graduated strong senior classes. What to make of those big names with new faces?
The situation at those four programs varies in the levels of optimism for success in 2022 and beyond. For CBA, the Colts will start only one senior in returning point guard Pat Lautato, but juniors Joe White and Will Bradley appeared primed to make a leap forward on a team that is still in the top-five conversation. Neptune is another major name in Shore Conference basketball hoping to rely on the program pipeline, with Oneil Campbell looking to pick up the slack following the graduation of Sam Fagan. Holmdel lost its three top scorers from a year ago and has no players back from the 2020 SCT semifinal team, but the Hornets have a strong class of sophomores and freshmen that could set them up for a late run in 2022 and certainly into next season. Wall's immediate future is in question with the loss of Colin Ackerman for the season with a torn ACL and the Crimson Knights will look to develop some young talent over the course of the schedule.
Are Manchester, Howell and Keyport feeling the pressure with senior-heavy teams?
When programs that have not won a lot or do not regularly come close to winning championships, there is always enthusiasm when a class of players comes along that can change that. It also, however, means pressure to win when that group reaches senior status, which is where the three aforementioned teams find themselves. Manchester is no stranger to talented players, but this year's senior class gives the Hawks the kind of depth that will given them a chance to do damage late in the year. Of course, in a tough Shore Conference and a South Jersey Group II bracket that includes Camden, the task is a daunting one. Howell, meanwhile, has perhaps, its best group since the Rebels made the SCT quarterfinals in 2011, but again, have to get through a tough Class A North division and postseason fields. Keyport could be a factor in Group I with a senior group led by D.J. Thomson, but the Class B Central schedule includes Ranney and Mater Dei Prep.
More From Shore Sports Network