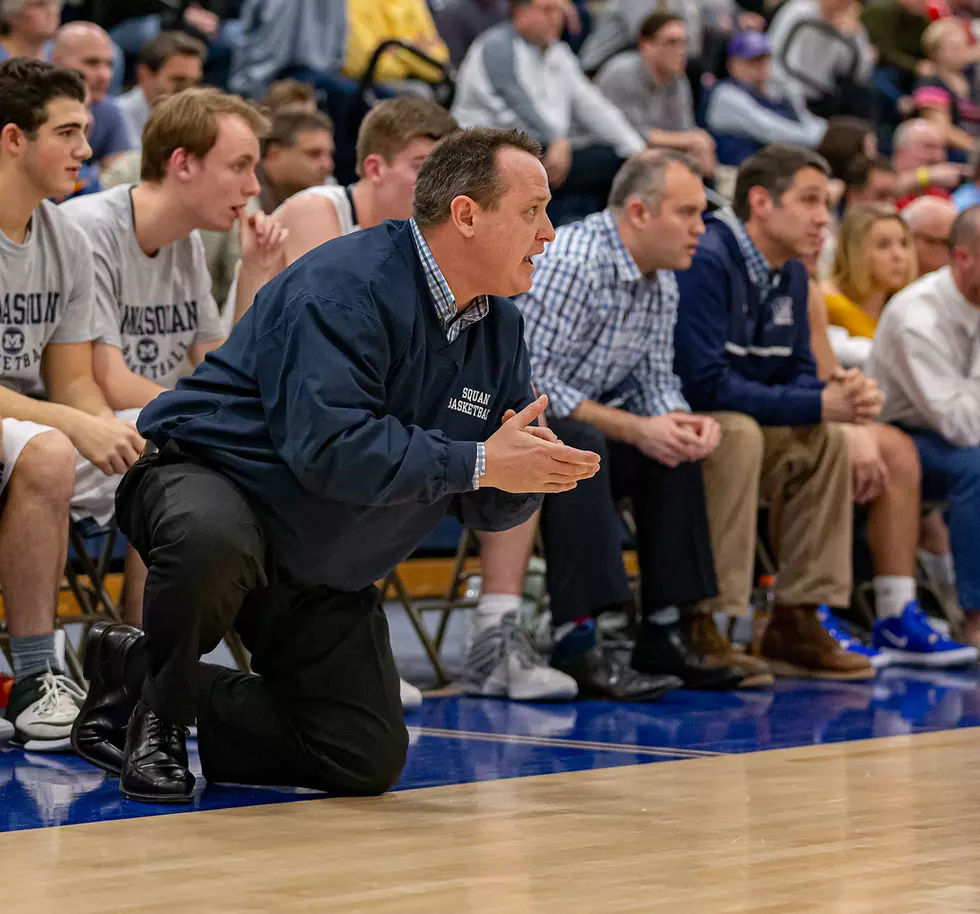 Bilodeau's Health Scare Puts Assistant Coaches in Spotlight During Jersey Shore Playoff Time
Manasquan Coach Andrew Bilodeau. (Photo by Paula Lopez)

Ryan Ritchey walked into the gym at Neptune High School last Monday, Feb. 22, expecting it to be like any other night as the junior varsity boys basketball coach and varsity assistant for the No. 3 team in New Jersey and No. 1 at the Shore.
When he got there, he was informed that on this night, he would be the Manasquan's head varsity coach.
Just minutes before Ritchey arrived, Manasquan head coach Andrew Bilodeau left on the advice of the athletic trainer on site with an elevated pulse, dizziness and general fatigue and checked into a hospital for evaluation.
Bilodeau tested positive for COVID-19 while Manasquan's varsity team was shut down for two weeks and was cleared to return on Feb. 15, but his current health complications have kept him away from the team since that night he left Neptune High School.
"All of us have been touched by some story in the last year," said Bilodeau, who has two brothers on his team who lost their father to COVID-19 on Feb. 9. "You really have to take this sort of thing seriously. I have been ordered to stay away from the gym so that's that until the story changes. Thursday, I stopped by to see the team, but I can't stay around too long. The worry is, if my pulse stays up where it was, you can have some serious issues."
In his place, Ritchey has taken over the team with the help of the other two assistants – freshman coach Colin Eldridge and varsity assistant Sean Fitzgerald. Manasquan shook off Neptune after a close game through three quarters and went on to win all four games during the last week with Bilodeau either at home or in the hospital.
The last two of those wins were against a Trenton Catholic team ranked No. 13 in the state and against a Life Center Academy squad that also beat Trenton Catholic but is not ranked because it is not an NJSIAA member school.
Bilodeau said he is scheduled to see a heart specialist on Monday in hopes of getting a proper diagnosis on his condition. He said he had no underlying conditions that made him especially at-risk of complications from contracting the coronavirus and that his undisclosed heart issue, as he is calling it, came as a surprise.
"The people smarter than I am have told me to stay calm and not to get my heart rate up, so I'm just doing as I'm told until we can figure out exactly what's going on," Bilodeau said. "I can tell you I have found out not as many people hate me as I thought. I have been touched by the outreach. It has been really nice."
Bilodeau's absence has put one of his coaching philosophies to the test. During last season, when he was named Shore Sports Network Coach of the Year for leading the Warriors to a 31-1 record, he said this about his approach:
"I asked (former Lakewood coach) Bob Nastase what the key to coaching was and he said 'Stay out of the way of the players and your assistant coaches. Don't screw it up.'"
Ritchey has seen that approach first-hand from the time Bilodeau plucked him from Sea Girt Middle School to join his staff at the high school.
"When we first talked about bringing me on as an assistant, he said to me, 'I don't want a yes-man," Ritchey recalled. "I want you to be involved as much as you think you need to be and if you want to try something, go for it. If you are going to be a yes-man, I don't want you coaching with me.'
"He prepares me and the other coaches so well and it trickles down to the players. It's almost like we don't even have to go to practice. If we're not there, the guys know the routine and they can run it themselves. He has done a great job grooming me and grooming the team to be ready for any situation so when a fluke situation like this comes up, they can handle it."
Eldridge joined Bilodeau in similar fashion after coaching at Brielle Middle School and Fitzgerald was the head coach at Long Branch last season, with prior stops as an assistant at both Hudson Catholic and Roselle Catholic.
"With Colin and Ryan, I just happened to see them coaching when I would go out to do outreach at our middle schools and I really liked the way they coached," Bilodeau said. "You go out and you want to see some of the kids who are going to be coming up through the ranks but I also like to watch coaches. I think it's a great way to find coaching talent and it's worked out well for us.
"In Sean's case, he had been a head coach at Long Branch and I was familiar with him from his time up at Hudson Catholic and Roselle Catholic," Bilodeau said. "Sean is a great head coach and he'll be a great head coach again, but we're really lucky to have him this year."
Manasquan's group of assistants have been running all aspects of the team with Bilodeau out, but the head coach has stayed in contact with his coaches and even his players, giving the team pregame talks in the locker room via speakerphone.
"His talks are usually short and sweet," Ritchey said. "He trusts me, he trusts us as a staff. It's usually just 'Do your thing' and talking about the core tenants of the program: 'Squan toughness, defend, rebound, stay together.' When we talk, it's usually just about the how the players are doing rather than anything basketball related."
Depending how his visit to the doctor goes, the over-the-phone pep talks may be the extent of Bilodeau's interaction with the team the rest of the way. If that is the case, he has a trio of assistants prepared to lead Manasquan into the final week of the season with a chance to finish 12-0, defend its Shore Conference Tournament championship and finish within the top three in New Jersey for the first time in program history.
Ritchey and Manasquan's assistant coaching staff has been the spotlight this week, but every one of the teams in the Shore Conference, New Jersey and around the country leans on people outside of the head coach to make the machine work. Here are the stories of each of the other seven coaching staffs that will be competing this week in the Championship Pod of the Shore Conference Postseason.
Red Bank Catholic: Replacing the Irreplaceable
Red Bank Catholic coach Tyler Schmelz filled an opening on his staff by bringing aboard former St. John Vianney and Caldwell College standout Mike Balkovic, but there was one opening that he couldn't fill and never will.
Schmelz's father, Steve, passed away right before the start of the regular season in late January after a battle with cancer and with his passing, Schmelz lost both a father and his best resource as a coach. Steve Schmelz put in countless hours scouting to help his son and always had advice to share after every game.
"He did a ton of scouting for us," Schmelz said of his father. "He was one of the smartest basketball people around, without question. He obviously wasn't coaching on our staff, but he was the after-game sounding board for me. I lost that, so I have had to rely even more on my coaches here and they have been amazing."
The void left by Steve Schmelz has not been filled, but Tyler and is staff have developed some workarounds and based on the 9-0 start to the Caseys' season, they have been effective. Balkovic, who also spent time playing professionally in Spain, has been a big reason since he joined a staff that also includes Mike Rotando and former RBC head coach Devitt Gilroy.
"I made it a point between me and Mike (Balkovic) to really grind it out on the scouting side because that's what my dad would have wanted," Schmelz said. "We've done our best with it and it has helped, but you still have to go out and play."
Balkovic is part of an assistant coach pipeline Schmelz has established that runs from the Jersey Shore Basketball League team his father's business – Sea View Jeep – has long sponsored, to the bench at RBC. Balkovic was a player on that JSBL team, as were past Schemlz assistants Matt McMullen and Roy Mabrey. Balkovic, who was an assistant under Bob Klatt at Wall for each of the Crimson Knights' two NJSIAA sectional championships in 2019 and 2020, replaced Mabrey on the staff.
"I had to fill roles and those are the people that I knew and that I liked and I could get along with," Schmelz said. "You don't want to be coaching with somebody you don't like. I really want people I know have positive vibes and positive energy for our team and I feel like we have that."
Neptune: Too Good to Let Go
When Neptune met Manasquan at the beginning of the final week of the regular season, Neptune coach Joe Fagan and Bilodeau had a lot of shared experience to talk about and none of it had to do with basketball.
Like Bilodeau, Fagan contracted COVID-19 and battled the virus while his team was shut down from all activity for two weeks. Fagan reported feeling fatigued with a fever, but when his team was able to return, so too was its head coach.
During the two-week stoppage, however, Fagan needed the help. First-year varsity assistant a jayvee coach Jesse Ryan came to the rescue, picking up on the scouting work and organizational duties while Fagan was not feeling up to it.
"That's where Jesse did help me a lot because he was keeping up on the games and the scouts and coming up with different ideas when I was (sick)," Fagan said. "Jesse does a ton of the scouting for me and he is really good at it. He'll break down the film for me and send the clips to me that he thinks I should look at, so that aspect has been great."
Now that the coaching staff is whole again, Ryan – a former head coach at Freehold Boro – remains a key figure in the program, as does freshman coach and assistant Jay Dorsey.
"I want a guy who is going to question you and keep challenging you as a coach, even during the game," Fagan said. "To me, as an assistant, you're not as emotionally attached to the game so you can see things clearer and if you have a good mind, you can really add some value. You can't have enough good guys on the bench."
Neptune attempted to keep its varsity and jayvee teams together at practices and Fagan wound up contracting the virus from a jayvee player. He did, however, keep the freshmen separate, meaning he has seen less of Dorsey than he usually does while entrusting him to work with the youngest players in the Neptune program.
"I was lucky to get an ex-head-coach in the Shore Conference on my staff, so when I had that opportunity, I wanted him around," Fagan said. "He's too good to not have him around every day. That's what we believe the process is: having jayvee and varsity in together and working together. In our case, that didn't work out as well, but from a basketball perspective, I always felt that was important."
Marlboro: An Island unto Himself
While Fagan was adamant about keeping his varsity and jayvee teams together, Marlboro head coach Mike Nausedas did not get a say in the matter: Marlboro required its teams to not only practice separately but prohibited the use of swing players – players who play some minutes on jayvee and are then available to play varsity.
For that reason, Nausedas has not seen much of his sub-varsity coaches in person, leaning only on volunteer assistant Christian Cremeni for help on the bench. Freshman coach Matt Murphy and jayvee coach Joe DeNora, meanwhile, are on their own working with the players who were assigned to those respective teams at the beginning of the season.
"The way I usually run practice is jayvee and varsity in the same gym and we do skills drills and any concepts I want to go over to start, and then I kick them (jayvee) into the other gym," Nausedas said. "So I haven't taught the jayvee anything (this year). I'm kind of a control freak so that bothers me a little bit because I haven't been involved in the direct teaching."
DeNora and Cremeni have worked with Nausedas in all nine of his seasons as head coach of the Mustangs. He wasn't familiar with their basketball knowledge but was more interested in a specific character trait instead of specific experience.
"Nine years ago, I knew no one in this area," Nausedas said. "I'm a Middlesex County guy so to get an assistant, it was all about loyalty. I saw what went on in Marlboro – I have been there 17 years as a teacher and now nine as a head coach at the high school. I saw that there was no loyalty as far as coaches and parents and getting too involved. So it was about loyalty.
"Once I found my guys, it was about teaching them. These guys had no basketball experience. I taught them what I know and what I have learned from my mentors."
Murphy, who was the head coach at Marlboro in the early 2000's, joined Nausedas at the beginning of last season as the freshman coach.
"I had no idea who he was when I got hired," Nausedas said. "He has been a perfect fit for the freshman team. He is awesome and when he is with me, he is unbelievable. I can't wait until next week because I am going to have him again on the bench."
Holmdel: Staying On-Message
Like Nausedas, Holmdel coach Sean Devaney has kept his original assistant on board from day one at his current job. John Bird coached Holmdel's freshman team for 14 years before deciding he would rather just assist Devaney in the varsity games, which Bird has done for the past three seasons.
"The last few years, as we get older, he was like, 'I think I want to just come up and be a varsity assistant,'" Devaney said of Bird. "And, of course, I said, 'You picked a good time,' because we have been pretty good. So now he can say, 'We weren't this good before I got here.'"
Devaney and Bird go back to their days as students at Mater Dei High School, where they struck up a friendship and stayed close while both became head coaches in the area – Devaney for an extremely successful run at Raritan before coming to Holmdel, and Bird at Henry Hudson.
While Devaney falls squarely into the "old school" category of coaching, he has adapted his basketball philosophy as the game has changed over the last decade or two. In that sense, Devaney is open to working with assistants who offer up different ways to play the game but there are certain things on which Devaney refuses to compromise and his assistant coaches cannot either, as far as he is concerned.
"The kids need to hear the same thing over and over again in order for it to click," Devaney said. "Sometimes guys have their own ideas about what you should do; they may speak it, but sometimes it doesn't come off like they mean it. We have guys that have total buy-in to what we do and they can preach it and speak in the locker room and it's all in the same language.
"You want to adapt. For instance, dribble-drive offense has become the big thing. People don't really screen too much anymore. Basketball changes a lot but certain things – your culture, what you tolerate, what you don't tolerate, what your non-negotiables are – you don't want to change. That's what I mean about the assistants buying in."
Christian Brothers Academy: From Pupil to Boss
Just as Devaney went to high school with his current assistant, CBA head coach Geoff Billet also met one of his current assistants in high school. The one major difference: Billet's assistant was his coach in high school.
Bill Hazelton was once a head coach at Union High School and upon moving to the Jersey Shore after retiring from that job in the early 1990's, he reached out to then-coach Ed Wicelinski about joining his staff. Billet came aboard the program at the same time and thus began a player-coach relationship that has become a head-coach-assistant-coach relationship.
"He always had great relationship with the kids," Billet said of Hazelton. "He was great with me when I played. When we do a Zoom call and his face comes on the screen, the reaction from the kids is still awesome. They love seeing him. He is not as involved on the court as he used to be, but he still has a tremendous impact on our players."
Bob O'Connor – who was at both CBA and Rutgers along with Billet – has also been an assistant from the time Billet took over the program as the successor to Wicelinski in 2007.
"He keeps everything in order," Billet said of O'Connor. "He is good at the things I'm not good at. He makes sure the kids know where they are supposed to be, when they are supposed to be there. He's on top of stats and a lot of that information. And he's been great on the bench too, giving input and talking to the kids."
Dave Walsh and Steve Bazzaz are the newer additions to Billet's staff. Walsh came on as a varsity assistant, following in the footsteps of current Shore Conference head coaches Ryan Finch (St. John Vianney) and Tahj Holden (Ranney). Bazzazz, meanwhile, is the jayvee coach and also moonlights as a color commentator on the Monmouth University Men's Basketball broadcasts on ESPN.
Southern: Man of Many Roles
As a head coach at Southern, John Pampalone has presided as head coach over the most successful program in Ocean County during his tenure. The catch? That would be the Southern boys lacrosse program.
In his 13 seasons as head lacrosse coach, Pampalone helped elevate Southern into the standard in Ocean County by leading the Rams back-to-back NJSIAA sectional championships in 2013 and 2014, the lone Shore Conference Tournament title ever by an Ocean County team (2015) and a 49-game divisional winning streak that remains active heading into this spring.
While he hasn't been leading a perennial lacrosse contender at the Shore, Pampalone has has been a valuable coach in the boys basketball program – mostly as an assistant. Last year, however, the head coaching position opened up and Pampalone ascended to the role.
Now, he is the head coach of two sports that play back-to-back seasons, which means he requires his assistants in both sports to be on the ready depending on the time of the year.
"I rely on my assistants a lot," Pampalone said. "My lacrosse assistant takes care of our winter program while I'm coaching basketball and during the spring, my assistants will set up whatever it is we're doing for basketball. It's sort of a mixed bag in the summer but it makes it a lot easier knowing I have great assistants."
Whether it is lacrosse or basketball, assistant or head coach, Pampalone has put his coaching chops on display in Manahawkin. On the hardwood, he led Southern to 18 wins in his first season in 2019-20 and he has the Rams in the championship pod of the Shore Conference playoffs thanks to a 10-1 record that includes a 10-game winning streak heading into the Rams' quarterfinal game at Ranney on Monday.
Joe Nagy and Brandon Snyder were assistants in the program with Pampalone under predecessor Eric Fierro and have retained important roles with Pampalone in charge. Snyder played at Southern while Pampalone was an assistant and Nagy was a player at Southern while Pampalone was an assistant at Toms River South.
"My assistants have handled a lot of the COVID procedures, which we have done a pretty thorough job with," Pampalone said. "We have been fortunate to only have one game canceled and that was the result of what happened at another school. Knock wood, we'll be able to get through just about a full season and those guys have done a great job keeping up with everything we have to do and our players are buying in."
Pampalone has opted for the coordinator model of team management, with Nagy coordinating the offense, Snyder handling the defense and Pampalone overseeing the process and marrying the two into a cohesive gameplan.
"I find it works for us because those guys are good at what they do and I can just kind of oversee things and figure out how to make them work together," Pampalone said. "I'm very familiar with it from doing it with the lacrosse team so we have found a way to make it work for us."
Ranney: Back to (High) School
When Tahj Holden took over the Ranney program in 2015, he envisioned running it like a college team. Twelve years after he left the University of Maryland with an NCAA Championship under his belt, Holden hoped to use his high-level college experience to turn Ranney into a statewide power now that Scottie Lewis and Bryan Antoine were leading an influx of basketball talent into the school.
The only problem is the players he was about to be coaching were not college players. They were high school kids, many of them freshmen.
Fortunately for Holden, he had the opportunity to keep two coaches on staff that were at the school prior to his arrival in Rich Sherman and the late Bill Drennan. Sherman was a longtime head coach at Shore Regional and was an assistant under Holden's predecessor, Drew Eldridge. Holden also had another link to Sherman, whose wife was Holden's kindergarten teacher.
"Coach Sherman is a guy that just wanted to coach," Holden said. "He loves to coach and he was excited to have opportunity to coach the players that were coming into the program. A lot of people were interested in coaching that year and I was thankful to have coach Sherman because he knew the players who were already here and the school, which I didn't."
Drennan was also a head coach at multiple stops in North Jersey before ending up at the Ranney School and helped Holden transition to a high school head coach while also acclimating Lewis and Antoine to high school basketball. Drennan stepped down after Holden's first season passed away a little more than a year later.
Needing a new assistant, Holden brought on John Tierney following Tierney's resignation from the head coaching position at Pinelands. Tierney brought a gregarious personality to the bench to complement the more even-keeled Holden and the dry wit of Sherman.
"They are just good people, which I think makes going to practice and games so much easier," Holden said. "And they both have their strengths. Tierney is phenomenal when it comes to film and getting all tape that we need. By the time I'm ready to watch the next opponent, he already has 20-to-30 clips ready to roll.
"Sherman doesn't have a day job like we do so he will spend two or three hours before I get to practice breaking down the stats and studying the other team. By the time I get to practice, I'm ready to jump right in because of the work they do."
Holden has also brought things full circle by bringing back Eldridge as the jayvee coach for this season after Eldridge made stops as an assistant at Mater Dei Prep and as the head coach at Henry Hudson. After being separated from the varsity team along with the jayvee squad, Eldridge will be on the varsity bench this week for the first time all season.
The result has been a collaborative effort that is especially helpful on a team that goes 10-deep in its rotation.
"We're much better when we collaborate," Holden said. "We work well together, so I feel like we're at our best when we're just throwing around ideas and when it's time to make the call, that's my job as the head coach. The majority of the time, I'm going to go with they say."
More From Shore Sports Network